Sommige cryptocurrencies worden geproduceerd door middel van mining. Hoe dit proces precies in elkaar steekt kun je lezen op onze Crypto Insiders Academy-pagina 'Wat is Bitcoin en altcoin Mining?'. In de begindagen van Bitcoin (BTC) en andere cryptovaluta was het delven van crypto relatief gemakkelijk, zelfs de centrale processor (CPU) van een laptop was toen al genoeg. Omdat de moeilijkheidsgraad voor veel mining-algoritmen toeneemt zodra de mining activiteit en de vraag toeneemt is de behoefte aan krachtigere hardware echter ook hard toegenomen.
GPU-mining
Na de CPU's werden GPU's (de chips in videokaarten of grafische kaarten) populair. Deze zijn veel efficiënter voor mining omdat de algoritmen parallel uitgevoerd kunnen worden. De efficiëntie van een videokaart hangt af van verschillende factoren, zoals hoe recent de chiparchitectuur is, de hoeveelheid en het soort geheugen van de videokaart en hoeveel stroom de grafische kaart verbruikt. Over het algemeen is de meest recente generatie videokaarten van een bepaalde fabrikant het meest efficiënt. Op dit moment kun je kiezen uit producten met een chip van AMD en Nvidia, en binnenkort staat Intel vermoedelijk ook op dit lijstje.
Nu cryptomining een begrip is geworden zijn er ook speciale videokaarten voor cryptomining. Deze hebben vaak geen display-uitgangen, kleurige poespas, aangepaste koelers en zelfs aangepaste hardware. Zo verkoopt Nvidia de CMP-reeks, een aantal mining-accelerators op basis van videokaarten die uitsluitend geschikt zijn voor mining. Als je de kaart ook zou willen gebruiken voor mining, dan zul je voor een reguliere grafische kaart moeten kiezen.
Naast videokaarten heeft een mining rig op basis van deze acceleratoren dezelfde onderdelen als een reguliere computer nodig. Daaronder valt een CPU, een moederbord, werkgeheugen, een voeding en een opslagmedium voor het besturingssysteem en de gedolven coins. Daarbij geldt dat elk onderdeel stroom verbruikt. Dus hoe meer videokaarten je in je mining rig hebt, hoe efficiënter het is. Handig hierbij is dat sommige fabrikanten moederborden verkopen met extreem veel aansluitingen, die je met een omweg kunt gebruiken om de videokaarten aan te sluiten. Zo zijn moederborden met plek voor wel twintig kaarten geen uitzondering. Op een normaal ontwerp passen er vaak maar een stuk of vier.
Daarnaast is het aan te raden om de videokaarten waar mogelijk te overklokken en te undervolten, dit doe je met behulp van de software van de fabrikant. Hierdoor kun je in het beste geval betere prestaties bereiken tegen een lager verbruik. Populaire cryptovaluta voor gpu-mining zijn op het moment van schrijven Ethereum (ETH), Ethereum Classic (ETC), Dogecoin (DOGE), Litecoin (LTC) en Monero (XMR).
Ook FPGA's (Field-Programmable Gate Arrays) kunnen worden ingezet. Dit zijn programmeerbare chips die je af kunt stemmen op het gebruiksdoel. Echter zijn dit over het algemeen erg dure producten en zijn ze dus minder aantrekkelijk voor cryptomining.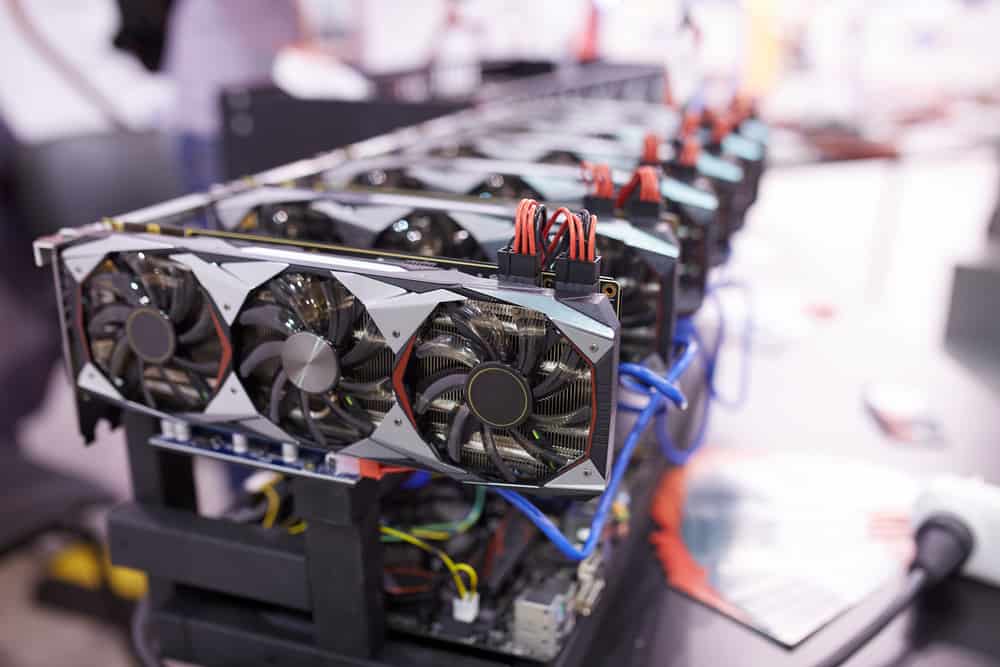 ASIC-mining
Tegenwoordig is de concurrentie binnen het mining landschap zo groot geworden dat zelfs videokaarten niet altijd lucratief meer zijn. Dit heeft gezorgd voor de komst van de ASIC-miner. 'ASIC' staat voor Application-Specific Integrated Circuit en is dus specifiek voor één doel ontworpen. ASIC-mining hardware kan dus ook uitsluitend gebruikt worden voor het delven van crypto met een specifiek hashing algoritme.
De overgrote meerderheid van de fabrikanten van ASIC-mining hardware is volgens ASIC Miner Value Chinees. De grootste namen zijn Bitmain, MicroBT, Canaan en Ebang. Volgens onderzoekers van BitMEX hadden deze vier Chinese bedrijven in 2019 ongeveer 97% van de markt in handen. Het mag benadrukt worden dat oplichterij veel voorkomt bij vermeende aanbieders van ASIC-miners. Officiële sites worden vervalst, en sommige verkooppunten zijn malafide. Het is dus van groot belang om goed op te passen bij welke bedrijven je je ASIC's koopt.
Hieronder vind je een lijstje van efficiënte mining-ASIC's, anno begin 2022. De beste hardware is momenteel veelal afkomstig van Bitmain.
Efficiënte ASIC-hardware voor crypto mining anno 2022
Geschikt voor algoritme
Cryptovaluta
Rekenkracht
Verbruik

Bitmain Antminer S19j Pro

SHA-256

Bitcoin + forks

104 TH/s

3050 watt

MicroBT Whatsminer M30s++

SHA-256

Bitcoin + forks

112 TH/s

3472 watt

Bitmain Antminer L7 (9,5 GH/s)

Scrypt

Litecoin (LTC)

9500 MH/s

3425 watt

Bitmain Antminer E9

EtHash

ETH, ETC, UBIQ, MUSIC, PIRL, EGEM, CLO, QKC

3 GH/s

2556 watt

Jasminer X4 Brick

EtHash

ETH, ETC, UBIQ, MUSIC, PIRL, EGEM, CLO, QKC

65 MH/s

30 watt
De rekenkracht van je mining rig meet je in hashes per seconde (H/s). Een enkele videokaart doet vaak een aantal megahash per seconde (MH/s), een moderne ASIC is doorgaans geschikt voor tientallen tot zo'n 100 terahashes per seconde (TH/s). Het hangt af van de specifieke cryptovaluta en de bijbehorende moeilijkheidsgraad wat de uiteindelijke waarde zal zijn. Zo zijn deze uiterst krachtige ASIC's vaak specifiek bedoeld voor Bitcoin en crypto's met een vergelijkbaar algoritme.
Efficiëntie crypto-mining
Als je rekenkracht afzet ten opzichte van het stroomverbruik weet je de efficiëntie van je mining hardware. Ook koeling is belangrijk voor cryptomining. Omdat de hardware gebruikmaakt van computerchips (halfgeleiders) moeten ze koel gehouden worden. Ook geldt dat als ze extra koel blijven ze minder verbruiken, waardoor de efficiëntie toeneemt. ASIC's kun je net als videokaarten overklokken en undervolten. Sommige cryptominers zijn inmiddels overgestapt op immersive cooling. Dit houdt in dat de hardware wordt ondergedompeld in een niet-geleidende olie. Deze olie wordt gebruikt om de warmte op een zo efficiënt mogelijke manier af te voeren.
Met een mining calculator kun je berekenen wat je aan crypto verdient, en hoe dit zich verhoudt tot de stroomkosten. Hierbij wordt rekening gehouden met de moeilijkheidsgraad van het minen. Voorbeelden van goede tools zijn de mining calculator van NiceHash (voor Ethereum) en WhatToMine (voor allerhande Proof-of-Work-coins).