Dit is de guide over "Wat is Blockchain?". In deze guide leer je binnen 3 minuten alles wat je moet weten over deze revolutionaire technologie. Mocht je meer willen leren over Bitcoin, altcoins, blockchain of crypto. Lees dan een van onze andere guides in de Crypto Academy. 
Wat is blockchaintechnologie?
Blockchain is best een technisch en ingewikkeld concept waardoor mensen het nog steeds kunnen ervaren als een onderwerp om te mijden. Echter is de blockchaintechnologie een potentieel revolutionair concept waar mogelijk veel of zelfs alle industrieën over een jaar of tien op draaien, kortom; het is handig om te weten hoe de technologie nou eigenlijk werkt. Hieronder wordt een poging gewaagd om Blockchain zo simpel mogelijk uit te leggen.
Het probleem van digitaal geld
Bitcoin was niet het eerste initiatief voor digitaal geld. Er zijn in het verleden diverse  projecten geweest om een digitale valuta te creëren, maar deze zijn niet succesvol gebleken. Het grote te overwinnen obstakel bleek het zogenoemde "double spending", oftewel de mogelijkheid om hetzelfde geld nog een keer uit te geven.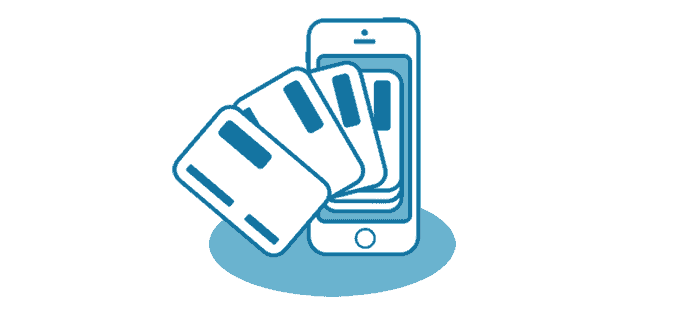 Stel je voor dat je bij dat de bakker een brood koopt met een 2 euro munt. Op het moment van overdracht verdwijnt deze munt in de kassa. Nu kun je dezelfde 2 euro munt niet nog een keer spenderen in een andere winkel. Op het moment van afrekenen, kon de kassière direct bevestigen dat je had betaald en kreeg jij in ruil voor jouw geld een brood.
Bitcoin is echter een digitale valuta en geen contant geld. Kortom, Bitcointransacties hebben de mogelijkheid om gekopieerd en opnieuw gespendeerd te worden.
In het voorbeeld met de bakker heb je contant betaald, dus de betaling werd onmiddellijk bevestigd en geverifieerd door een ander persoon. Wanneer dit verificatiemechanisme ontbreekt in het geval van digitale valuta zoals Bitcoin, kan dit leiden tot dubbele uitgaven. Technisch gezien kan dan iedereen digitaal geld kopiëren en ergens anders spenderen.
Exact hier ligt het unieke aspect van de blockchaintechnologie.
Enter Blockchain
Bitcoin tackelt het probleem van de dubbele besteding door een bevestigingsmechanisme te hanteren en een universeel grootboek te onderhouden (genaamd blockchain), vergelijkbaar met het traditionele monetaire systeem.
De blockchain van Bitcoin onderhoudt vanaf het prille begin van de operatie in 2009 een chronologisch geordend transactieboek voorzien van tijdstempels.
Elke 10 minuten wordt een block (dat wil zeggen een groep transacties) aan het grootboek toegevoegd. Daarnaast bevatten alle knooppunten, ook wel 'nodes' genoemd, op het Bitcoin netwerk een kopie van dit grootboek (de blockchain).
Wat zou Bitcoin zijn zonder blockchain? Eigenlijk heel weinig. De hele essentie van zowel Bitcoin als alle andere cryptocurrencies is decentralisatie, en de blockchain realiseert dit voor het Bitcoin project. Decentralisatie houdt in dat er transacties plaats kunnen vinden zonder tussenkomst van een centrale autoriteit zoals een bank.
Hoe werkt een blockchain?
Stel je het volgende voor: Henk stuurt geld naar Anne, Anne koopt op haar beurt een brood bij bakker Jan en stuurt het geld naar Jan om hem te betalen.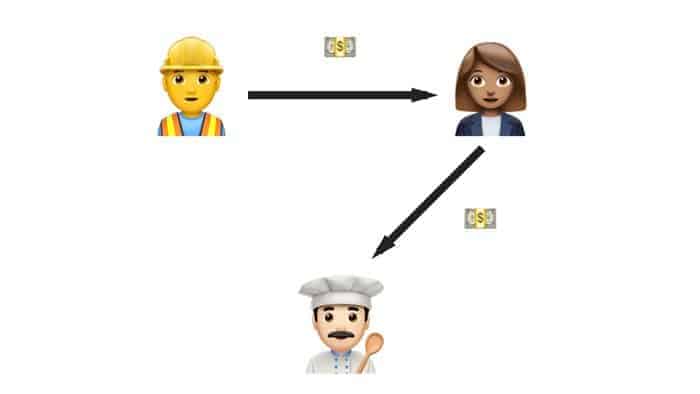 Om een stabiel geldsysteem te hebben, moet er worden bijgehouden waar het geld naartoe is gegaan en wie het geld nu heeft. Binnen het conventionele geldsysteem gaat een transactie van punt A naar punt B met tussenkomst van een bank. De bank overziet en beheert alle transacties, en houdt daarnaast alle balansen bij.
Wat Satoshi Nakamoto (de oprichter van Bitcoin) heeft gedaan, om de noodzaak van een centraal punt te kunnen omzeilen, is de data organiseren op een blockchain die decentraal bijhoudt waar welk bedrag naar toe gaat en wie het nu bezit.
Een blockchain werkt door middel van het verzamelen van transacties. Deze verzamelde transacties worden vervolgens in een block verwerkt met extra informatie (een zogeheten 'hash' van zowel dit block als de hash van het vorige block, hierover later meer).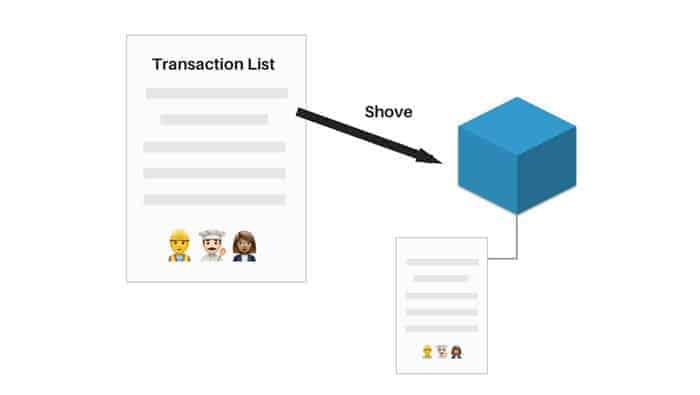 Daarna wordt er gezorgd dat het nieuwe block naar het vorige block verwijst, welke weer transacties bevat die dus vlak daarvoor in de tijd hebben plaats gevonden.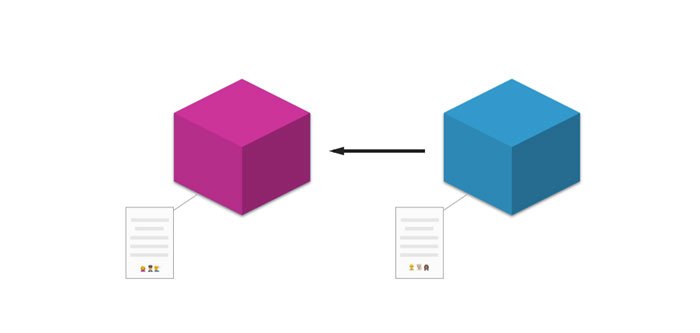 Wanneer het nieuwe block naar het vorige block verwijst, en dit bij elk opvolgende block wordt herhaald krijg je dus een ketting van blocks, oftewel een blockchain. Op deze manier wordt er voor gezorgd dat je praktisch elke transactie uit het verleden kunt terug zien in eerdere blocks. Ja, zelfs de allereerste transactie die ooit plaats heeft gevonden.
Waarom?
Om even terug te grijpen op de voorbeeldtransactie van Anne aan Jan:
In het nieuwe block staat de betaling voor het brood van Anne aan Jan. In het vorige block staat datzelfde geld geregistreerd als een transactie van Henk aan Anne.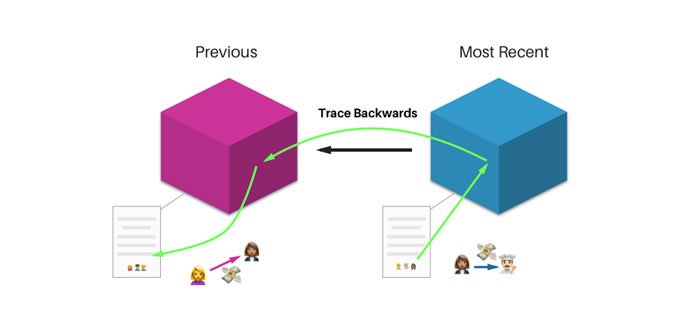 In essentie is een blockchain een unieke manier om data te organiseren, die ons vertelt wie waar geld naartoe heeft verzonden en wie het geld nu heeft zonder tussenkomst van een centrale autoriteit zoals een bank of andere instantie.
Om het concept blockchain volledig te kunnen begrijpen raden wij aan om het artikel "wat is mining?" hierna te lezen.