Een death cross is een patroon dat technische analisten gebruiken bij het analyseren van de koers van een aandeel of cryptocurrency. Dit patroon vormt zich door een specifieke technische indicator, namelijk de moving average (MA). Een moving average is het gemiddelde van x aantal datapunten waardoor er een vloeiende lijn wordt gevormd van de gemiddelde koers over een bepaalde periode. 
Een death cross ontstaat wanneer er een lagere MA de paden kruist met een hogere MA. Dit zou bijvoorbeeld de MA kunnen zijn over de afgelopen 50 dagen die kruist met de 200 dagen MA. Als de korte MA de bovenkant van de lange MA kruist, ontstaat er een death cross. Volgens de theorie zou een death cross een teken zijn dat de markt hard zal corrigeren. De death cross is dus een bearish patroon.
Een death cross zou door verschillende soorten handelaren met verschillende MA's toegepast kunnen worden. Een korte termijn trader zou bijvoorbeeld kleine MA's gebruiken als de 5 dagen en de 15 dagen, omdat zij op korte termijn snel moeten kunnen anticiperen. Een lange-termijn-investeerder zou bijvoorbeeld weer de 50 dagen en 200 dagen MA gebruiken. Het is namelijk ook zo dat hoe langer de periode hoe betrouwbaarder het signaal is.
Waar je op moet letten bij een death cross?
Hoewel het concept van een death cross erg gemakkelijk te begrijpen is zijn er wel een aantal valkuilen omtrent het toepassen. Doordat de death cross gebruik maakt van moving averages lopen de lijnen iets achter op de actuele koers. Moving averages nemen namelijk het gemiddelde van een x aantal historische koers datapunten. Hierdoor moet iets al gebeurd zijn voordat de indicator pas de juiste informatie heeft. Dit wordt ook wel het 'lagging' effect genoemd, of een lagging indicator. 
Het gevaar van een death cross
Het kan dus vaak voorkomen dat de koers al hard gedaald is, voordat de MA's elkaar pas kruisen. Op het moment dat de death cross bevestigd is, mis je sowieso al een groot gedeelte van de daling. Daarnaast hoeft het ook niet altijd voor te komen dat de koers verder daalt of nog überhaupt daalt; er zal altijd kans zijn op een vals alarm. Hoewel de MA's elkaar kruisen, kan het voorkomen dat de koers helemaal niet meer naar beneden gaat maar juist weer begint met een stijging. 
Bitcoin death cross
Doordat handelaren cryptocurrencies ook op basis van technische analyse kunnen verhandelen is het ook mogelijk om verschillende MA's in te stellen op je grafieken. Een death cross is hierdoor ook te gebruiken als indicator voor een bepaalde handelsstrategie. Death crosses komen namelijk ook vaak genoeg voor bij cryptocurrencies zoals bitcoin (BTC)
Geschiedenis van golden crosses 
Een voorbeeld is de death cross die plaatsvond in juli 2021. Dit is een voorbeeld van een succesvolle death cross. Op het moment dat de lijnen door elkaar heen gingen daalde de koers verder. Vanaf het moment dat het patroon bevestigd was tot de bodem had een investeerder bijna 18% winst kunnen maken. Wat wel opvalt is dat de koers al erg hard was gedaald voordat de death cross pas zichtbaar was. Dit is een goed voorbeeld van het lagging effect.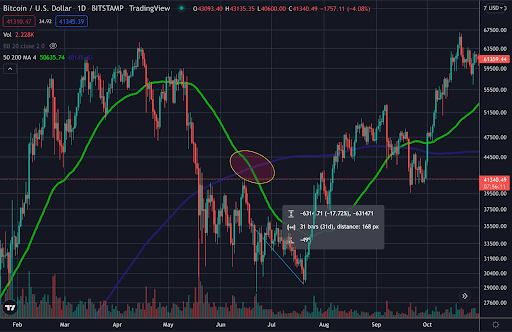 Een goed voorbeeld van een valse death cross is te zien in de onderstaande grafiek. Op 30 maart 2018 kregen we een death cross te zien op de grafiek van bitcoin. De bitcoin koers wist heel kort een daling in te zetten, maar wist daarna toch snel te herstellen en heeft uiteindelijk zelfs een winst van 40% behaald. Hierbij zouden handelaren dus op een verkeerd been gezet worden als ze dachten dat de trend verder naar beneden zou gaan. Op dit moment kunnen we echter zien dat de koers uiteindelijk toch nog daalde.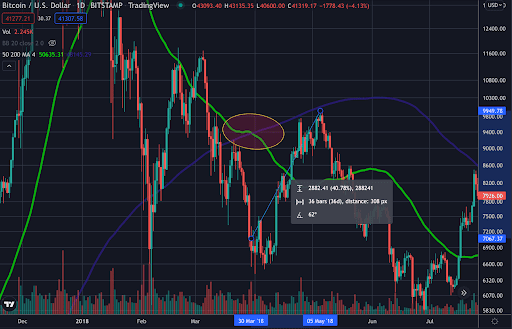 Is een death cross een zekerheid?
Zoals eerder vermeld is een death cross dus een lagging indicator. De indicator op de grafiek loopt achter op de huidige koers. Hierdoor zal je niet van tevoren een signaal krijgen dat er een daling aan zit te komen, maar pas nadat de daling al is ingezet. Hierdoor is het dus goed opletten geblazen of de indicator nog wel geldig is en of het niet te laat is. Hierdoor zouden wij zeggen dat de death cross geen 100% zekerheid geeft op een directe daling. Dit blijkt ook uit voorbeelden uit de geschiedenis van bitcoin. Let dus goed op hoe je deze indicator gebruikt. Probeer deze indicator altijd te combineren met andere indicatoren om een betrouwbaarder resultaat te krijgen.