Je hebt ongetwijfeld wel eens gehoord dat bitcoin (BTC) en de meeste andere cryptocurrencies ontstaan door een proces dat we mining noemen. Het bitcoin mining netwerk is een netwerk van computers dat alle computerkracht gebruiken om de oplossing voor een nieuw blok voor de blockchain te vinden. De gelukkige miner die er als eerste in slaagt om een oplossing te vinden en deze met het netwerk te communiceren krijgt namelijk een beloning in de vorm van nieuwe bitcoin. Dit noemen we ook wel de block reward, die bestaat uit de subsidie per blok en de transactiekosten van alle transacties in het blok.
Om bitcoin of andere cryptocurrencies te minen heb je een zogenaamde mining rig nodig. Zonder gespecialiseerde hardware ga je het tegenwoordig niet meer redden om rendabel bitcoin te minen. In een relatief kort tijdsbestek is bitcoin mining van een hobbyproject voor nerds verworden tot een ware miljardenindustrie waar beursgenoteerde miners elkaar de tent uitvechten. Dat betekent echter niet dat het onmogelijk is om als consument mee te doen in dit proces. Je kunt gewoon een eigen mining rig kopen, je aansluiten bij een mining pool en beginnen met het minen van bitcoin. In hoeverre dat rendabel is hangt af van de energiekosten, maar het kan ook zijn dat je er de voorkeur aan geeft om KYC-vrije bitcoin te bezitten. In dat laatste geval is mining ook interessant, omdat je jouw bitcoin op deze manier niet koopt bij een broker of exchange. Niemand hoeft te weten dat jij een bitcoin miner bent.
Mining rigs vergelijken
Er zijn enorm veel verschillende mining rigs verkrijgbaar op de markt, wat het zeker als beginner lastig kan maken om je weg te vinden in deze industrie. De meest populaire bitcoin mining rig van dit moment is ongetwijfeld de Antminer S19 Pro. Deze machine heeft de hoogste hash rate, efficiëntie en consumeert relatief gezien weinig energie. Afhankelijk van de koers van bitcoin en de hash rate in het netwerk pak je met een Antminer S19 Pro op het moment van schrijven een winst van ongeveer 12 dollar per dag, uitgaande van energiekosten van 0,10 dollar cent per kilowattuur.
Een andere populaire machine is de AvolonMiner A1166 Pro die een hash rate van 81TH/s kan overleggen. Dat is minder dan de 110TH/s van de Antminer S19 Pro, maar de kosten voor deze machine liggen dan ook een lager. Voor de Antminer S19 Pro betaal je namelijk 12.500 dollar, terwijl je voor de AvalonMiner A1166 Pro 12.000 dollar kwijt bent.
Dan hebben we ook nog de Whatsminer M30 S++ van MicroBT, welke qua hash rate één van de snelste apparaten van de markt is. Met een hash rate van 112 TH/s, die overigens met plus of min 5 procent kan schommelen, zijn er weinig apparaten die sneller minen dan de nieuwste Whatsminer van MicroBT. Het nadeel is de stroomconsumptie die bij dit apparaat wat hoger ligt dan bij de concurrentie. Waardoor het belangrijk is om lage stroomkosten te hebben als je met de Whatsminer M30 S++ aan de slag gaat. Bij het kopen van een mining rig zijn er dus een aantal dingen waar je op moet letten. Met name de hash rate, het stroomverbruik en de prijs zijn belangrijke factoren.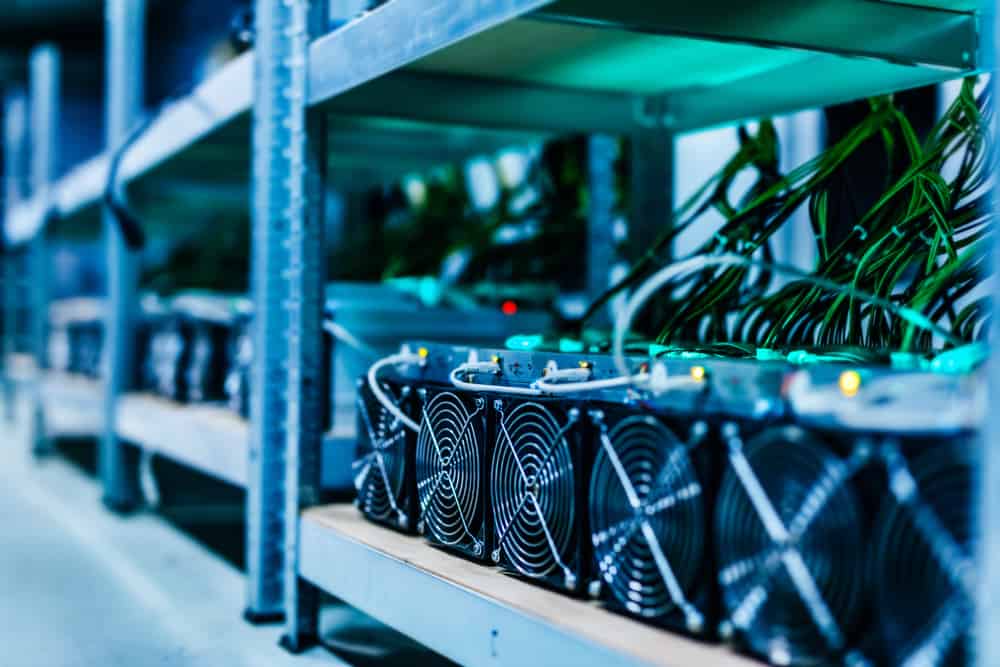 Mining rig kopen
In het vorige onderdeel hebben we al mining rigs met elkaar vergeleken en laten zien waar je op moet letten bij de aanschaf van een mining rig. Daarbij is het belangrijk om te weten dat er vanwege de chip tekorten enorme vertragingen zijn bij de leveringen van vrijwel alle producenten van mining rigs. Niemand zit er natuurlijk op te wachten om nu te betalen en pas over een half jaar of langer zijn mining rigs te ontvangen. Dan mis je in principe een half jaar aan mining-inkomsten, terwijl je vaak wel al hebt betaald. Als je vertrouwen hebt in bitcoin of een andere cryptocurrency, dan kun je er beter voor kiezen om je geld daar een half jaar te stallen zodat je eventuele koerswinst niet hoeft te missen.
Er zijn verschillende plekken waar je terecht kunt voor het kopen van je eigen miners. Een populaire partij die al even meeloopt in de industrie is EUCryptoMining maar er zijn er nog veel meer te vinden waar je mining rigs kunt kopen. Het belangrijkste is dat je altijd even controleert of ze ingeschreven staan in het land van vestiging en of je ervaringen van klanten kunt vinden. Als laatste is het belangrijk om de levertijden te controleren en ze van tevoren daar ook even over te contacten om je bevindingen te verifiëren.
Minen zonder mining rig
Je kunt er ook voor kiezen om bitcoin te minen zonder zelf een mining rig te kopen. In principe betaal je dan een partij om alles voor jou te regelen. Zij kopen dan de apparaten waarmee jij aangeeft te willen minen, pluggen deze in het netwerk, voorzien ze van stroom en onderhouden de apparaten indien dat nodig is. Een populaire partij die deze dienstverlening aanbiedt is Compass Mining die deze dienstverlening aanbieden met de slogan "Nu kan iedereen bitcoin minen."
Het enige probleem is dat deze partij de afgelopen maanden ook niet onder de leveringsproblemen en tekorten binnen de markt is uitgekomen. Veel klanten van Compass Mining wachten momenteel veel langer dan initieel werd aangegeven op het activeren van hun miners.
Een andere manier om bitcoin te minen zonder dat je zelf mining rigs hoeft aan te schaffen is door aandelen van beursgenoteerde miners te kopen. Hiermee investeer je feitelijk gezien in bedrijven die zich specialiseren binnen deze industrie en hoef je nergens aan te denken. Als jij ervan overtuigd bent dat bitcoin mining rendabeler is dan het simpelweg investeren in bitcoin zelf, dan kan dit een interessante optie zijn.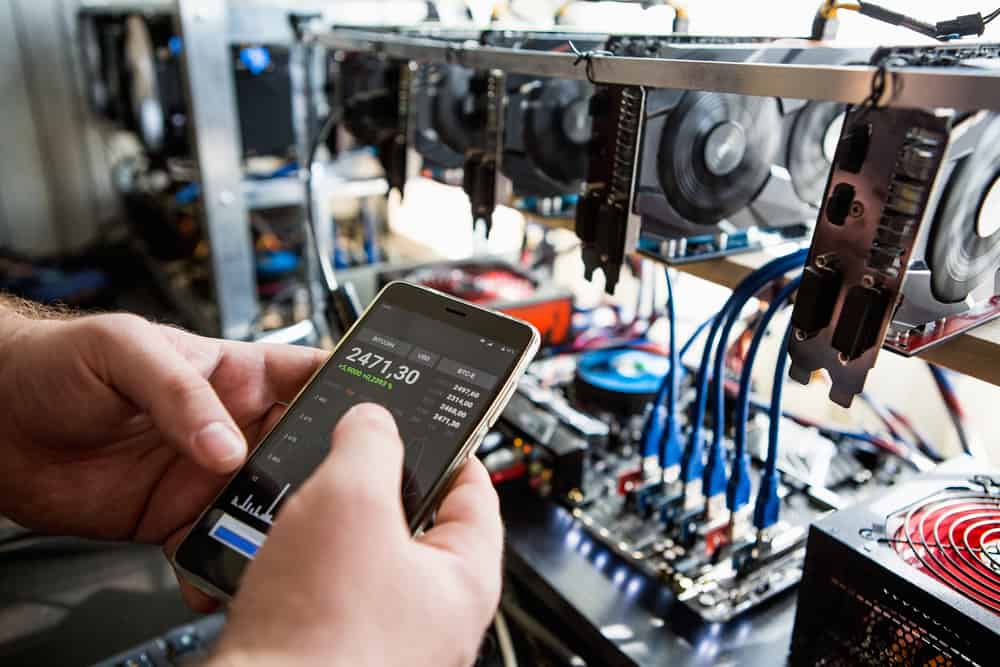 Verschillende rigs voor verschillende cryptocurrencies
Als laatste is het belangrijk om te beseffen dat niet iedere mining rig geschikt is voor alle cryptocurrencies. Om bitcoin te minen heb je bijvoorbeeld een mining rig nodig die is gespecialiseerd in het produceren van SHA-256 hashes. Terwijl Ethereum (ETH) Keccak-256 gebruikt.
Waar als bitcoin miner alleen voor de dag kunt komen met een CPU-miner, heb je binnen de Ethereum mining-wereld een voordeel met een GPU-miner. Je kunt dus niet een mining rig kopen die gespecialiseerd is in het minen van Ethereum en deze vervolgens gebruiken voor bitcoin als dat ineens meer rendabel is.
Iedere cryptocurrency maakt weer gebruik van een ander hashing algoritme, waar een specifieke soort mining rig het beste bij past. Zoek dus van tevoren goed uit welke cryptocurrency jij wilt minen en welke soort mining rig je daarvoor nodig hebt, zodat je niet voor onaangename verrassingen komt te staan.