De moving average is misschien wel de term die we in de technische analyse het meeste voorbij zien komen. In het Engels klinkt de term heel spannend, maar in het Nederlandse betekent het simpelweg het voortschrijdend gemiddelde. Als we bijvoorbeeld de 21-daagse moving average op de bitcoin (BTC) grafiek plakken, dan wordt ieder datapunt in de lijn gevormd door de gemiddelde bitcoin koers van de afgelopen 21 dagen. Dat ziet er als volgt uit.
De moving average wordt in de technische analyse het meeste gebruikt om een nieuwe trend te identificeren of om steun- en weerstandsniveaus te bepalen. Als een activa continu naar beneden afketst van de moving average, dan is dat een weerstandsniveau. Is het andersom? Dan spreken we van een steunniveau. Doorbreekt de koers na lange tijd een steun- of weerstandspunt in de grafiek? Dan spreken we van een uitbraak en daarna kan het ineens hard gaan met de koers.
Waarom is de moving average zo belangrijk?
Het interessante aan technische analyse is dat het vrijwel allemaal gebaseerd is op menselijke psychologie. Iedereen kijkt naar dezelfde grafiek en iedereen kent dezelfde 'regels' die op de technische analyse van toepassing zijn. Hebben we lang tegen een bepaalde moving average aangehikt als weerstandsniveau en breken we er doorheen? Dan is dat voor veel handelaren een teken om te kopen. Fundamenteel gezien is er met het doorbreken van het weerstandsniveau niets veranderd aan bitcoin. Toch is het doorbreken van de lijn voor technische analisten een teken om bitcoin in te kopen of om in vakjargon te spreken om 'long te gaan.'
 In die zin is de technische analyse een soort 'self-fulfilling prophecy.' Na een doorbraak van het weerstandsniveau van de moving average denken we dat de koers omhoog gaat en omdat we dat massaal denken gaat de koers ook omhoog. Het is bijna alsof je met de hele markt afspreekt: "als bitcoin op dit punt komt, dan kopen we allemaal massaal in!" In die zin is technische analyse pure psychologie. Het klinkt vaak alleen simpeler dan dat het lijkt, want wat is het juiste moment om in te kopen? Doe je dat net voordat de moving average wordt doorbroken of wacht je op bevestiging? Timing, geduld en een gezonde dosis geluk zijn niet onbelangrijk bij de technische analyse. Het is geen hogere wiskunde en je kunt niet altijd gelijk hebben.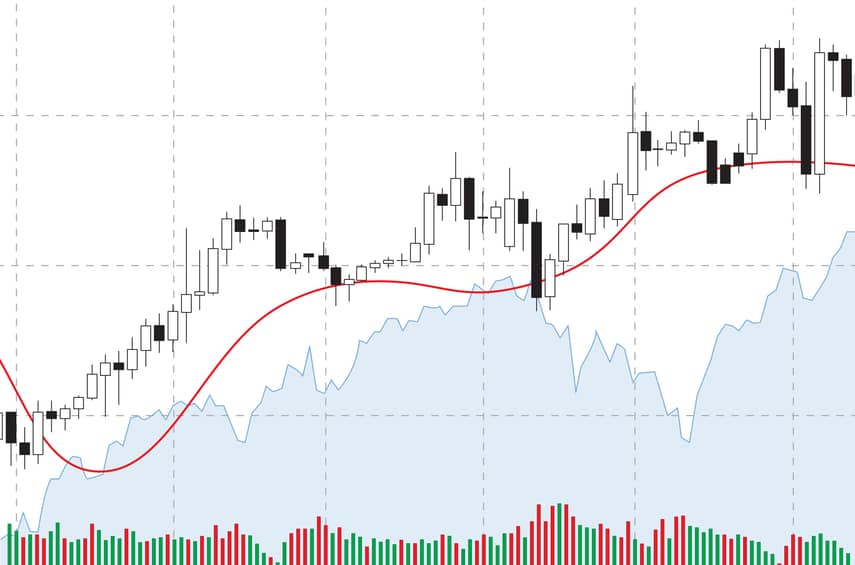 Bitcoin (BTC) moving average
De moving average wordt voor bitcoin grotendeels gebruikt op de manier zoals hierboven reeds is beschreven. Je kunt met de moving average een idee krijgen van waar de markt naartoe beweegt. Op korte termijn kan de koers nogal wisselvallig zijn, maar door de gegevens te vangen in een gemiddelde van een aantal dagen kan je de ruis uitfilteren. Zo zijn binnen bitcoin de 50-daagse en 200-daagse moving average twee belangrijke gemiddelden die veel in de gaten gehouden worden. Als het 50-daagse gemiddelde het 200-daagse gemiddelde naar boven doorkruist, dan noemen we dat een golden cross.
Vaak zie je dat de bitcoin koers na een golden cross een paar agressieve stijgingen laat zien. Handelaren zijn dan ook meer dan euforisch als dit zich voordoet. Het tegenovergestelde kan ook gebeuren, dat het 50-daagse gemiddelde het 200-daagse gemiddelde naar beneden doorkruist. Dan spreken we van een death cross en ziet het er over het algemeen niet heel goed uit voor de bitcoin koers. Behalve hiervoor gebruiken we de moving average bij bitcoin ook om trends op de meer korte termijn te voorspellen en steun- en weerstandsniveaus te identificeren in de grafiek.
De moving average live volgen
Je kunt de moving average van bitcoin of andere cryptocurrencies live volgen op websites als Tradingview. Hier kun je uitzoeken voor welke financiële activa jij de grafiek wil zien en vervolgens allerlei in indicatoren in de grafiek plakken. Zo kun je naast de bitcoin koers ook live de moving average volgen om te zien of jij wellicht patronen kunt herkennen in de grafiek op basis waarvan je kunt handelen. Zie je dat de koers continu afketst tegen het 21-daagse gemiddelde? Dan kan het zijn dat het een slimme zet is om bij een volgend afketsen wat te verkopen. Het risico is echter dat bitcoin de keer daarop niet afketst, maar juist door de lijn heen breekt, waarna de koers een flinke sprong omhoog kan maken.
Technische analyse is wat dat betreft echt een vak en het is niet aan te raden om daar zomaar in te springen. Voordat je begint is het beter om eerst eens wat transacties op papier te doen. Gewoon voor jezelf om te kijken of je er gevoel voor hebt. Al is het lastig om 'op papier' de emotie na te bootsen die je voelt als het om echt geld gaat.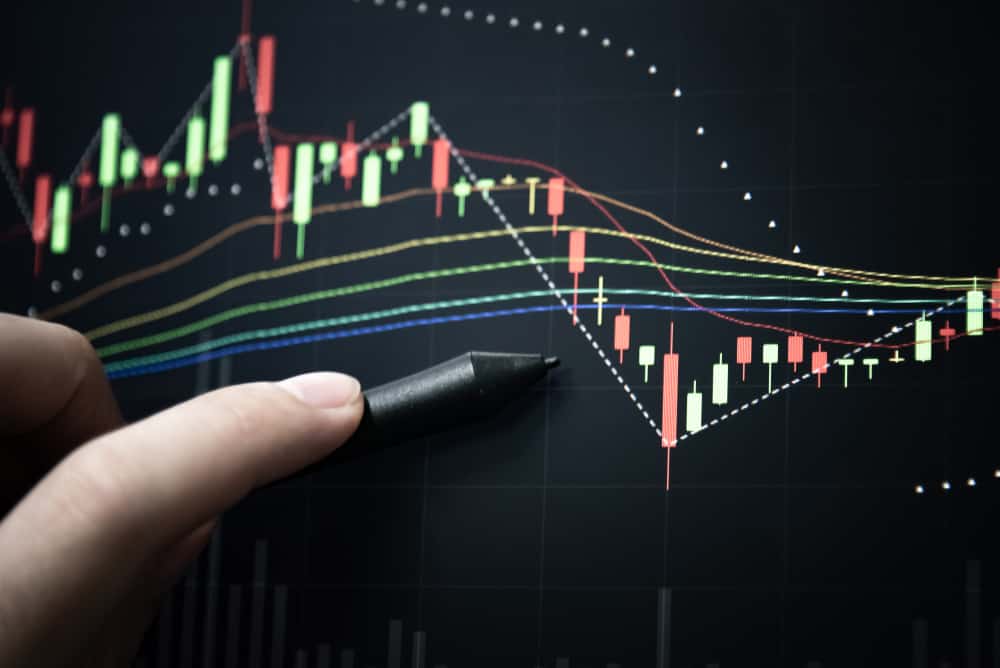 Verschillende soorten moving average
Op deze pagina hebben we het tot op heden enkel gehad over de simple moving average, wat simpelweg een gemiddelde is van de afgelopen X aantal kandelaren. Zo is de 21SMA op de dagelijkse grafiek een weergave van het 21-daagse gemiddelde van de bitcoin koers. Daarnaast heb je nog de exponential moving average en de weighted moving average.
De exponential moving average (EMA) lijkt veel op de simple moving average, maar legt via een ietwat complexe berekening meer nadruk of gewicht op de meest recente prijsveranderingen. Zo weegt de meest recente dag zwaarder mee voor de 21EMA dan de 21e dag. De weighted moving average (WMA) doet in principe hetzelfde, maar omdat de EMA dat op een exponentiële manier doet reageert de EMA sneller op prijsveranderingen. Wat vooral binnen bitcoin handig kan zijn, omdat de markt snel kan omdraaien.