Scalp trading is een vorm van handelaren waarbij je hyper-gefocust bent op de extreem korte termijn. Je probeert op de laagste timeframes geld in te zetten op een stijging of daling en daarmee snel een kleine winst binnen te slepen. Het doel van de strategie is om op dagelijkse basis een groot volume van scalp trades te draaien die alles bij elkaar opgeteld een mooie winst vormen. Het lastige aan scalp trading is dat alle actie zich vaak binnen enkele seconden afspeelt, waardoor je enorm veel discipline moet hebben in je strategie. Voordat je een scalp trade instapt moet je precies weten tegen welke koers je wil instappen, op welk punt je een stop-loss plaatst en tegen welke koers je met winst wil verkopen. Zonder strategie ben je op deze korte tijdframes kansloos en loop je risico op grote verliezen.
In tegenstelling tot investeren voor de lange termijn ben je met scalp trading puur de korte termijn bewegingen van een asset tegen elkaar uit aan het spelen. Je koopt als je een kleine stijging voorziet en verkoopt als je op basis van de grafiek een kleine daling voorziet. Om hier succesvol mee te zijn hoef je in principe niets van de asset af te weten, omdat je een scalp trading niet baseert op fundamenteel nieuws of andere zaken die je daadwerkelijk iets over de asset in kwestie leren. Je bent puur aan het speculeren op de koersbewegingen en de volatiliteit van bitcoin en de rest van de cryptomarkt, maken cryptocurrencies een interessant middel voor deze strategie.
Bitcoin scalp trading
Vanwege de volatiele aard van bitcoin (BTC) en de rest van de cryptomarkt is het onder scalp traders een populaire markt. Je kunt enkel winstgevend scalp traden als je voldoende trades op een dag kunt maken en dat is niet mogelijk in een markt die niet beweegt. Dat de bitcoin koers op de korte termijn enorme schommelingen kan maken is voor scalp traders dan ook een grote zegen. Om winstgevend te zijn met scalp trading komt het uiteindelijk allemaal aan op consistentie en snelheid. Je moet precies weten onder welke voorwaarden je wil instappen en je moet snel kunnen reageren als er zich in de grafiek een kans voordoet. Je kunt dus niet rustig achterover leunen en genietend van je bakkie koffie half naar de grafiek staren.
Vaak springen scalp traders in op explosieve bewegingen van bitcoin en andere cryptocurrencies. Schiet de koers bijvoorbeeld in korte tijd met 5 of 10 procent de lucht in? Dan is de kans aanwezig dat die beweging nog even doorzet en ze een kleine winst kunnen pakken of juist kunnen profiteren van de daling die daarna volgt. Scalp trading vergt enorm veel concentratie, discipline en een groot volume aan trades om succesvol te zijn.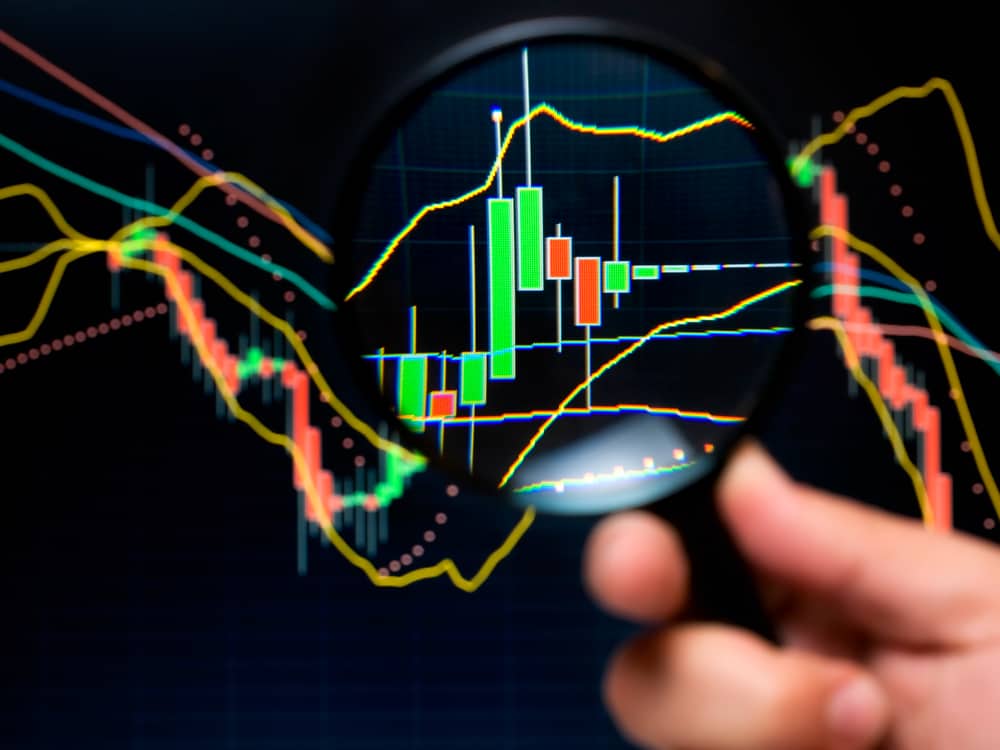 Scalp trading strategieën
Je hebt binnen scalp trading verschillende strategieën die je kunt hanteren om winst te maken. Bijvoorbeeld door binnen bepaalde bandbreedtes te handelen. Dit komt erop neer dat je in de grafiek constateert dat een bepaalde coin continu heen en weer beweegt tussen twee vaste steun- en weerstandspunten en dat je op basis van die punten in- en uitstap koersen kunt vaststellen. Zolang de coin in kwestie binnen die bandbreedte blijft handelen kun je eenvoudig winst maken. Schiet de koers door een steun- of weerstandsniveau, dan zorgt een stop-loss ervoor dat je verliezen beperkt blijven.
Een andere strategie is om te profiteren van het verschil tussen de bied- of vraagprijs van een bepaalde coin. Er zit altijd een klein verschil tussen de koers waarvoor je een coin kunt kopen en de koers waarvoor je een coin kunt verkopen. Als het verschil tussen de bied- en vraagprijs van een coin groter wordt, betekent het dat er meer kopers dan verkopers zijn of andersom. Dit kan ervoor zorgen dat de koers op korte termijn een flinke sprong of daling maakt, waar scalp traders vervolgens van profiteren. Zij houden deze spreiding tussen de bied- en vraagprijs dus altijd scherp in de gaten om hun trades te maken.
Een andere strategie voor scalp trading is arbitrage. Scalp traders die op deze manier handelen houden continu de koersen van een coin op verschillende handelsplatformen in de gaten. Als de verschillen groot worden, kopen ze de coins in op het ene platform om ze vervolgens met een snelle winst te verkopen op een ander platform. Om dit succesvol en winstgevend te doen heb je al snel meer kapitaal nodig, omdat het vaak om kleine verschillen gaat, die met weinig kapitaal niet of minder de moeite waard zijn.
Crypto versus forex scalp trading
Scalp trading binnen crypto en forex, wat staat voor foreign exchange (vreemde valuta), lijken in de meeste opzichten op elkaar. In beide markten verhandel je valutaparen tegen elkaar en ook qua infrastructuur lijken beide handelsvormen op elkaar. De prijs van zowel crypto als van forex wordt bepaald door vraag en aanbod. Daarnaast kun je beide handelsvormen het beste uitvoeren op een digitaal platform. Verder zijn er in beide markten veel bots aan het werk die geautomatiseerd trades openen voor handelaren. Met een trading bot hoef je immers je eigen emoties niet meer onder controle te houden en gaat in principe alles vanzelf.
Ondanks de gelijkenissen, die groot zijn, zitten er ook enkele significante verschillen tussen de crypto- en de forex-markt. Zo is de volatiliteit binnen crypto een stuk groter dan op de forex-markt. Wat betekent dat je winsten binnen crypto in potentie groter zijn dan bij forex, maar dit geldt uiteraard ook voor de verliezen. Binnen de forex-markt ben je vaak aangewezen op tussenpersonen, terwijl dit bij crypto niet het geval is, waardoor scalp trading in crypto goedkoper kan zijn. Verder is de crypto-markt 24 uur per dag open, terwijl de forex-markt enkel tijdens werkdagen en binnen de kantooruren open is. Je kunt je dan ook voorstellen dat veel scalp traders die al jaren binnen de forex-markten hebben gewerkt de overstap naar crypto hebben gemaakt. Simpelweg omdat ze binnen de crypto-markt meer volume kunnen draaien, meer trades per dag kunnen maken en dus meer geld kunnen verdienen.
Risico's scalp trading
Het voordeel voor scalp traders dat de crypto-markt enorm volatiel is en veel kansen biedt, is tegelijkertijd ook het grote nadeel. Zeker als onervaren trader kun je soms verrast worden door de enorme volatiliteit van bitcoin en andere cryptocurrencies. Als je vervolgens niet de benodigde discipline hebt of je stop-losses op verkeerde punten hebt ingesteld, dan kan scalp trading heel snel een enorm verliesgevende bezigheid worden. Je moet je er als beginnende scalper in ieder geval op voorbereiden dat je urenlang naar de grafieken gaat turen, een bezigheid die enorm veel energie kan kosten.