Yield farming en staking zijn twee begrippen binnen de crypto-industrie die de afgelopen periode enorm aan populariteit hebben gewonnen. Ben jij niet tevreden met de rendementen die je kunt behalen met alleen het kopen en vasthouden van je bitcoin (BTC) of ethereum (ETH)? Dan kun je ervoor kiezen om je crypto 'aan het werk' te zetten. Vooral in een bull markt kan het voor handelaren interessant zijn om op deze manier een extra rendement te pakken. Met yield farming en staking hou je namelijk in principe je crypto in bezit en krijg je voor het vastzetten (en uitlenen) daarvan een zeker rendement. Natuurlijk loop je hierbij een extra risico, maar je hoeft je crypto niet te verkopen om dat rendement te behalen. Je krijgt met yield farming en staking als het ware een beloning voor het hodlen van je crypto.
Yield farming is in essentie een methode om extra coins te genereren met de crypto die je al hebt. Het draagt de naam 'yield farming' omdat je als het ware je portfolio laat groeien door het op een bepaalde manier vast te zetten. Het proces bestaat er in de basis uit dat jij jouw crypto uitleent voor een rendement op alle verschillende DeFi-platforms die tegenwoordig beschikbaar zijn. Deze platforms sluiten jouw crypto op in een liquiditeits-pool, wat in essentie een smart contract is die alle fondsen op het platform beheert. Gebruikers van het platform kunnen die liquiditeit vervolgens inzetten om ermee te handelen, te lenen of juist om kapitaal uit te lenen.
Staking zorgt op een andere manier voor een rendement dan yield farming. Met staking ondersteun je in feite een blockchain netwerk dat draait op het Proof-of-Stake (PoS) consensus mechanisme, waar je als 'staker' in kunt deelnemen. Op het moment van schrijven kun je bijvoorbeeld ethers staken in het Ethereum 2.0 netwerk. Hiervoor lever je Ethereum 1.0 munten in en krijg je Ethereum 2.0 munten voor terug zodra het netwerk lanceert. In ruil hiervoor krijg je een rendement van enkele procenten uitbetaald in Ethereum 2.0 munten.
Yield farming voor- en nadelen
Ga je aan de slag als yield farmer dan kun je digitale assets uitlenen, bijvoorbeeld digitale dollars of andere cryptocurrencies, die vervolgens op een DeFi-platform gebruikt kunnen worden door gebruikers voor handel met marge. Het rendement dat je vangt op een DeFi-platform hangt af van de mate van vraag- en aanbod die op dat moment op het platform aanwezig is. Het grote voordeel van yield farming ten opzichte van hodlen is dat je jouw crypto kunt hodlen en tegelijkertijd een rendement kunt vangen. Door de inrichting van de smart contracts en de relatief grote marges die gebruikers van het platform moeten aanhouden om jouw crypto te kunnen lenen zijn de risico's relatief laag.
Het nadeel van yield farming is dat je in ruil voor het rendement natuurlijk een risico loopt. Als de koers in korte tijd een enorme schuiver maakt, dan kan het zijn dat het onderpand van de gebruikers van het platform niet genoeg is om de verliezen te dekken. Dat is uiteindelijk het risico dat je met yield farming neemt. Veel mensen die voor de lange termijn in crypto geloven en grote rendementen verwachten zijn daarom niet zo happig op yield farming. Zij zijn al tevreden met het rendement van crypto zelf en willen het risico niet nemen om hun vermogen te verliezen in ruil voor een relatief laag rendement.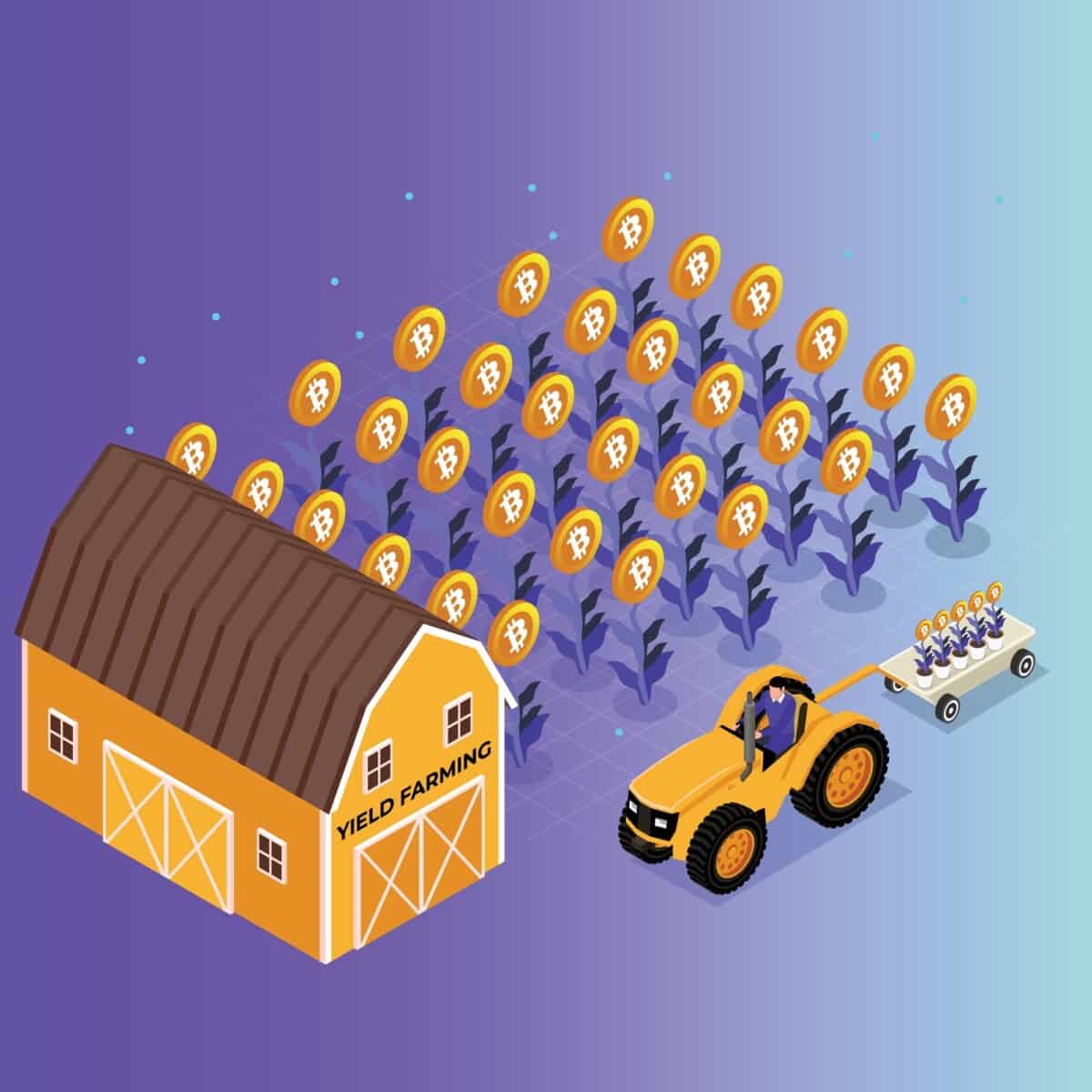 Staking voor- en nadelen
Staking en yield farming lijken in veel opzichten op elkaar. In beide gevallen zet je in principe jouw crypto voor een bepaalde periode vast in ruil voor een rendement. Het verschil tussen staking en yield farming is dat staking vaak een stuk eenvoudiger in elkaar zit. Met yield farming krijg je hogere rendementen, maar daar staat dan ook een hoger risico tegenover. De contracten zijn een stuk complexer en het komt vaker voor dat een yield-farming platform omvalt dan een PoS-chain. Zowel yield farmers als stakers verliezen geld als de waarde van de crypto in kwestie daalt, maar dat verlies had je ook gepakt als je simpelweg je munten had vastgehouden.
Cryptocurrencies die draaien op PoS zijn in principe aan inflatie onderhevige munten. De mensen die meedoen in het PoS-proces worden immers beloond in de vorm van nieuwe munten. Je kunt staking zo gebruiken als een manier om aan de inflatie in de coin in kwestie te ontsnappen en tegelijkertijd te profiteren van de positieve koersbewegingen. Als je niet meedoet aan staking, dan verliest jouw portie van de coins na de uitgifte van iedere nieuwe coin waarde ten opzichte van de rest van de hodlers die wel meedoen. Het voordeel van staking is dat je met een coin als Cardano (ADA) bijvoorbeeld alleen het risico loopt op een eventueel koersverlies, terwijl je bij yield farming ook het risico loopt dat het protocol niet goed in elkaar zit en omvalt.
Staking en yield farming opbrengsten
Ben je op zoek naar een manier om snel veel geld te verdienen? Dan ben je bij yield farming aan het juiste adres. Hierbij neem je meer risico, omdat het bij DeFi vaak om relatief jonge protocollen gaat waarvan we nog maar moeten zien of ze de tand des tijds zullen doorstaan. Het komt regelmatig voor dat een DeFi-protocol volledig verdwijnt omdat het team er met de gelden vandoor is gegaan of een hacker een gat heeft gevonden in een smart contract. Daarnaast loopt je uiteraard het risico dat de markt dingen doet waarmee men in het smart contract geen rekening had gehouden. De opbrengsten zijn vanwege deze risico's bij yield farming een stuk hoger dan bij staking.
Wil je gewoon veilig een klein rendement pakken op een crypto die je toch al van plan was om voor langere tijd vast te houden? Dan is staking een hele interessante optie. Je zal er niet heel snel heel rijk van worden, maar het kan je portfolio net die extra boost geven waar je op zit te wachten.
Welke cryptoccurencyies kun je staken?
Er zijn talloze cryptocurrencies waarmee je kunt staken. Enkele voorbeelden zijn ether in de vorm van Ethereum 2.0, Cardano, Tezos, Cosmos, Solana, Algorand, VeChain, Lisk, Luna, Polkadot en nog veel meer verschillende coins. Het is de kunst om voor jezelf te bepalen in welke munten je het meeste vertrouwen hebt om daar vervolgens je vermogen voor de lange termijn in te bewaren. Heb jij het idee dat Ethereum 2.0 de toekomst is? Dan kun je er bijvoorbeeld voor kiezen om je ethers voor een rendement van ongeveer 6 procent per jaar vast te zetten. Combineer dat rendement met de potentiële koersstijgingen van ether en je hebt dankzij staking een behoorlijk attractief extra rendement op je holdings.