BlockchainTraders is een cryptocurrency investeringsfonds van Nederlandse bodem. Het platform is in 2018 opgericht door Michiel van der Steeg en Justin Kool. Op het moment dat zij BlockchainTraders oprichtten waren beiden al enorm ervaren binnen de crypto-industrie. Het handelen in cryptocurrencies, het minen van cryptocurrencies en zelfs het participeren in Initial Coin Offerings (ICO) bleek hen erg goed af te gaan.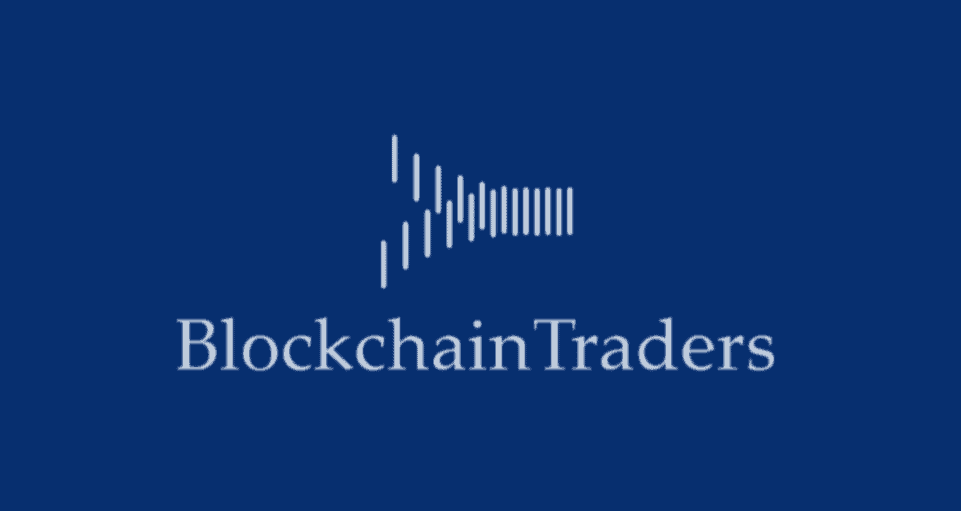 Er werden dusdanig indrukwekkende rendementen behaald dat beide heren regelmatig werden benaderd om namens anderen te handelen en te investeren in cryptocurrencies. Dit leidde er uiteindelijk toe dat BlockchainTraders werd opgericht. Het bedrijf is netjes geregistreerd bij de Autoriteit Financiële Markten (AFM) en is gevestigd in Apeldoorn.
Bekijk ook zeker onze BlockchainTraders review.
Crypto fondsen
BlockchainTraders is in de basis eigenlijk een vermogensbeheerder in de traditionele zin van het woord, maar volledig gefocust op de wereld van cryptocurrencies. Cliënten kunnen bij BlockchainTraders investeren in een twee soorten crypto-gerelateerde fondsen met beide een indrukwekkend bewezen rendement. Belangrijk om te realiseren is wel dat de fondsen van BlockchainTraders niet voor de gemiddelde persoon toegankelijk zijn. 
De crypto fondsen van BlockchainTraders bieden aan investeerders, die voor minimaal 100.000 euro willen beleggen, mogelijkheid om zonder voorkennis toch een graantje mee te pikken van de razendsnelle opkomst van de crypto-industrie. De wereld van crypto wordt steeds populairder, maar veel traditionele beleggers hebben nog weinig kennis en ervaring binnen de nieuwe industrie. Door crypto vermogensbeheerders zoals BlockchainTraders wordt dit echter een fluitje van een cent. 
BlockchainTraders
Liquidity Fund
Het Liquidity Fund werd door BlockchainTraders in 2021 gelanceerd. Dit fonds heeft de focus sterk liggen op een opkomende sector binnen de crypto industrie in het bijzonder: Decentralized Finance (DeFi). De DeFi-sector zorgt ervoor dat mensen toegang kunnen krijgen tot financiële diensten, zoals bijvoorbeeld leningen, zonder dat hier een tussenpersoon voor nodig is.  Uiteraard is DeFi al geruime tijd niet meer weg te denken uit de wereld van cryptocurrencies en de toekomst ziet er voor DeFi nog altijd erg rooskleurig uit. Het Liquidity Fund van BlockchainTraders probeert optimaal in te spelen op dit fraaie toekomstperspectief.
Dit fonds behaalt een groot deel van het rendement door het zogeheten Liquidity Mining. Een liquidity miner is een partij, in dit geval dus BlockchainTraders, die een commissie ontvangt voor het verschaffen van liquiditeit aan DeFi-protocollen. Om het rendement te maximaliseren wordt deze liquiditeit door experts van BlockchainTraders constant verplaatst tussen verschillende protocollen.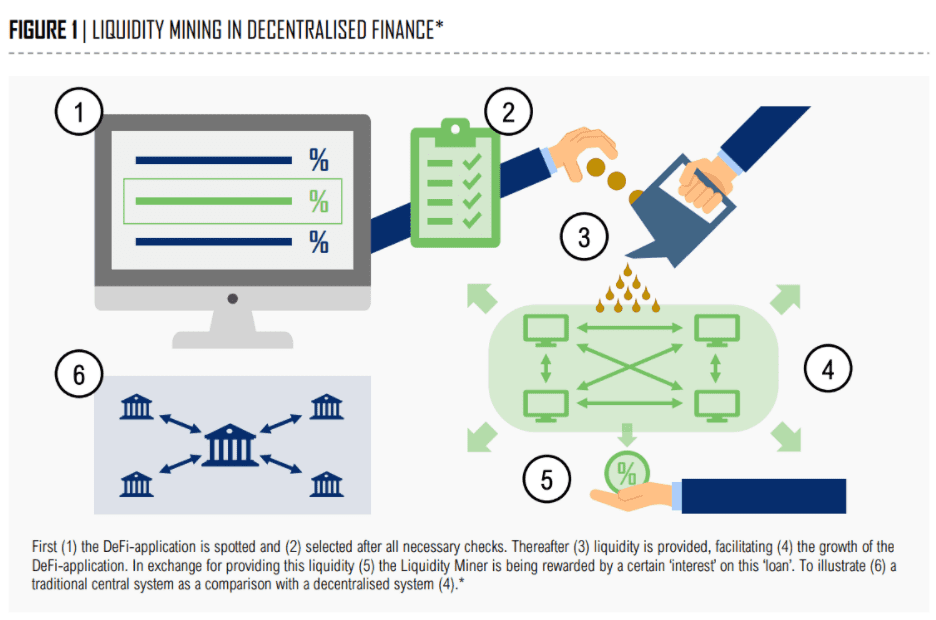 Het Liquidity Fund van BlockchainTraders werkt niet met bekende cryptocurrencies zoals bitcoin (BTC), ethereum (ETH) of cardano (ADA). In plaats daarvan werkt het met stablecoins. De waarde van stablecoins is gekoppeld aan een achterliggende valuta zoals de Amerikaanse dollar of de euro. Dit betekent feitelijk dat koersdalingen van bijvoorbeeld bitcoin geen invloed hebben op het fonds. Het is daarom een fonds met een behoorlijk laag risico. Desalniettemin zijn de jaarlijkse rendementen niet mals.
Geïnteresseerden moeten minimaal $100.000 inleggen om te participeren aan het BlockchainTrader's Liquidity Fund. Het is daarom absoluut niet weggelegd voor de gemiddelde Nederlander. Het Liquidity Fund heeft een verwacht rendement van tussen de 15% en 25%. Daar kan menig indexfonds op de beurs een puntje aan zuigen.
BlockchainTraders Growth Fund
Het andere fonds dat BlockchainTraders aanbiedt is het BlockchainTrader's Growth Fund. Dit fonds werd reeds in 2018 door het team van BlockchainTraders gelanceerd en is een traditioneler fonds dan het Liquidity Fund. Dit fonds profiteert van de gigantische groei van de crypto-industrie door te investeren in cryptocurrencies. Er wordt voornamelijk geïnvesteerd in de 20 grootste cryptocurrencies en deze crypto's worden voor een bepaalde tijd aangehouden.
Daarnaast worden een aantal van deze cryptocurrencies gebruikt om te staken. Dit is het vastzetten van cryptocurrencies op relevant platformen waarmee transacties op het desbetreffende netwerk geverifieerd worden. Als beloning krijgen stakers hiervoor een periodieke commissie.
Ook wordt er actief gehandeld in cryptocurrencies. Dit wordt voornamelijk gedaan met trading bots. Deze bots maken gebruik van extreem geavanceerde algoritmes en draaien 24 uur per dag, 7 dagen in de week. Dergelijke bots zijn over het algemeen een stuk beter in het inspelen op volatiliteit dan de gemiddelde menselijke handelaar. Ook handelen de ervaren portfolio managers van BlockchainTraders zelf ook met enige regelmaat handmatig op macro-economische trends.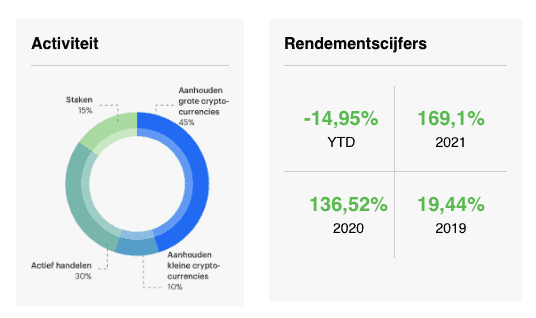 Het historische rendement van het BlockchainTrader's Growth Fund is behoorlijk imponerend. In 2021 werd er zelfs een jaarlijks rendement van bijna 200% behaald. Dit is natuurlijk niet niks. Uiteraard geldt, in tegenstelling tot het Liquidity Fund, wel dat dit fonds voor een groot deel afhankelijk is van de koersen van de crypto markt. Mocht het goed gaan met de crypto-industrie dan zal dit fonds astronomische rendementen laten zijn, maar als dit niet het geval is dan is het tegenovergestelde uiteraard ook waar.