Het is geen geheim dat het overgrote gedeelte van de handelaren in de cryptocurrencymarkt niet echt geïnteresseerd is in de technologie achter cryptocurrencies maar wel in het maken van winst. Doordat cryptocurrencies soms erg in prijs kunnen fluctueren is dit ook helemaal geen gekke instelling en is dit erg goed te realiseren. ProfitFarmers kan je helpen bij het maken van winst deze markt! ProfitFarmers geeft aan vorig jaar een winrate van 78% te hebben en geven signals die soms wel tot 300% kunnen renderen.   
Bekijk ook onze ProfitFarmers review.
Sinds kort is ProfitFarmers geheel gratis te gebruiken! Iedereen die nu een account aanmaakt kan kosteloos gebruikmaken van de service en krijgt toegang tot de volgende functionaliteiten:
Trading signals

1 take-profit target

Trade Guardian

Laddering Mode

RSI en PAS scanners

Trading Terminal
Deze functionaliteiten worden hieronder verder beschreven. Lees meer informatie over hoe gratis te beginnen met het ProfitFarmers platform!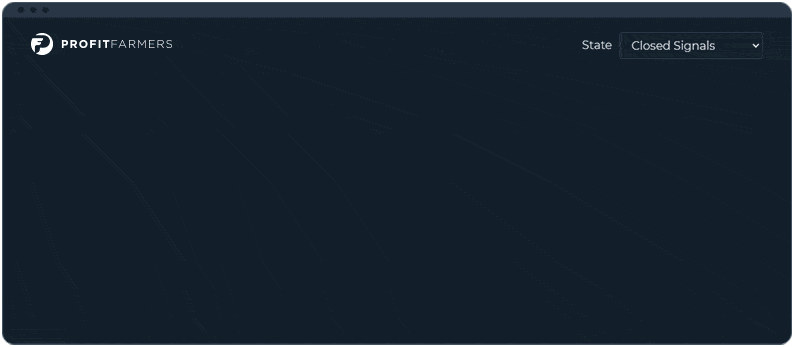 De signal dienst werkt via een API service en functioneert dus compleet los van je wallet op je Binance account. Hierdoor kan ProfitFarmers ook garanderen dan je geen commissie of transactiekosten aan ze hoeft te betalen. Hier zijn dus geen verborgen kosten aan verbonden. Mocht de service geen 60% winrate halen dan garandeert ProfitFarmers een niet goed geld terug garantie! 
Voor wie is ProfitFarmers bedoeld?
ProfitFarmers kan in principe door elke soort handelaar gebruikt worden. Zo heeft de beginnende trader die nog niet zoveel verstand heeft van de markt veel aan de automatische trading signal dienst. Deze signals bieden perfecte in- en uitstapmomenten op de markt. Alles wat de handelaar nog hoeft te doen is op een knop klikken om de trade uit te voeren. De rest wordt gedaan. Dit is ook een perfecte optie voor diegene die graag wilt profiteren van koersschommelingen zonder dat zij daar de hele dag voor achter de computer hoeft te zitten of voor als je de hele dag bezig bent met andere dingen zoals werk. 
Maar ook gevorderde handelaren kunnen veel profijt hebben van ProfitFarmers. De auto trading optie kan hier assisteren in het vinden van interessante coins om te traden. Hierbij kan dit ook wat druk wegnemen om zelf trades te plaatsen. Dit kan je immers nu automatisch laten doen door ProfitFarmers. Daarnaast biedt ProfitFarmers nog een aantal krachtige tools om te assisteren bij het vinden van cryptocurrencies met potentie. Hierbij kan je gebruik maken van de RSI scanner die laat zien welke coins zich in het overbought of oversold gebied bevinden. Daarnaast is er ook nog de price action scanner die kan assisteren bij het handelen. Hieronder gaan we verder in op deze functionaliteiten.
Welke functionaliteiten heeft ProfitFarmers?
Zoals al eerder beschreven biedt ProfitFarmers op haar platform verschillende functionaliteiten die jou kunnen helpen bij het maken van winst in de markt. 
Semi-automatische signals copy trading
Hier krijgt de gebruiker een lijst met verschillende cryptocurrencies te zien waarbij het systeem van ProfitFarmers een potentiële trade heeft gesignaleerd. Deze signalen kunnen in sommige situaties zelfs een mogelijk rendement opleveren van wel meer dan 200%.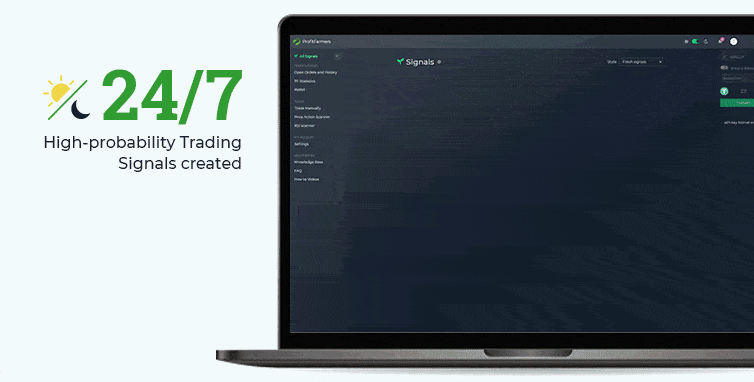 In dit overzicht kan je snel zien of een bepaalde signal nog binnen de re-entry zone zit, of een signal een target heeft behaald of dat de koers bijna uit de entry zone is. Zo kan je bepalen of je nog mee wilt doen aan de trade of dat je deze aan je voorbij laat gaan. Mocht je toch mee willen doen kan je door een simpele klik op de knop het signal volgen.
Via de instellingen bij een persoonlijke pagina kan er ingesteld worden dat de Trade Guardian aanstaat. Wanneer deze functie is ingeschakeld zal deze voor extra veiligheid zorgen met betrekking tot de signals. Wanneer een signal niet het plan volgt zoals ProfitFarmers dat heeft opgesteld zal de trade automatisch gesloten worden om de winst veilig te stellen of de verliezen te beperken.
Price action scanner
De price action scanner, ofwel prijsactie scanner, is een lijst waarop je snel kan zien wat er allemaal op de markt gebeurd. In plaats van dat je van elke coin een grafiek open moet hebben en de hele markt af moet speuren, heeft ProfitFarmers een handig overzichtje gemaakt. Zo kan je precies zien welke coin op welke time frame bullish en bearish prijsactie laat zien. Zo kan je alle coins die niks doen overslaan en alleen naar de coins kijken die mogelijk interessant voor je zijn.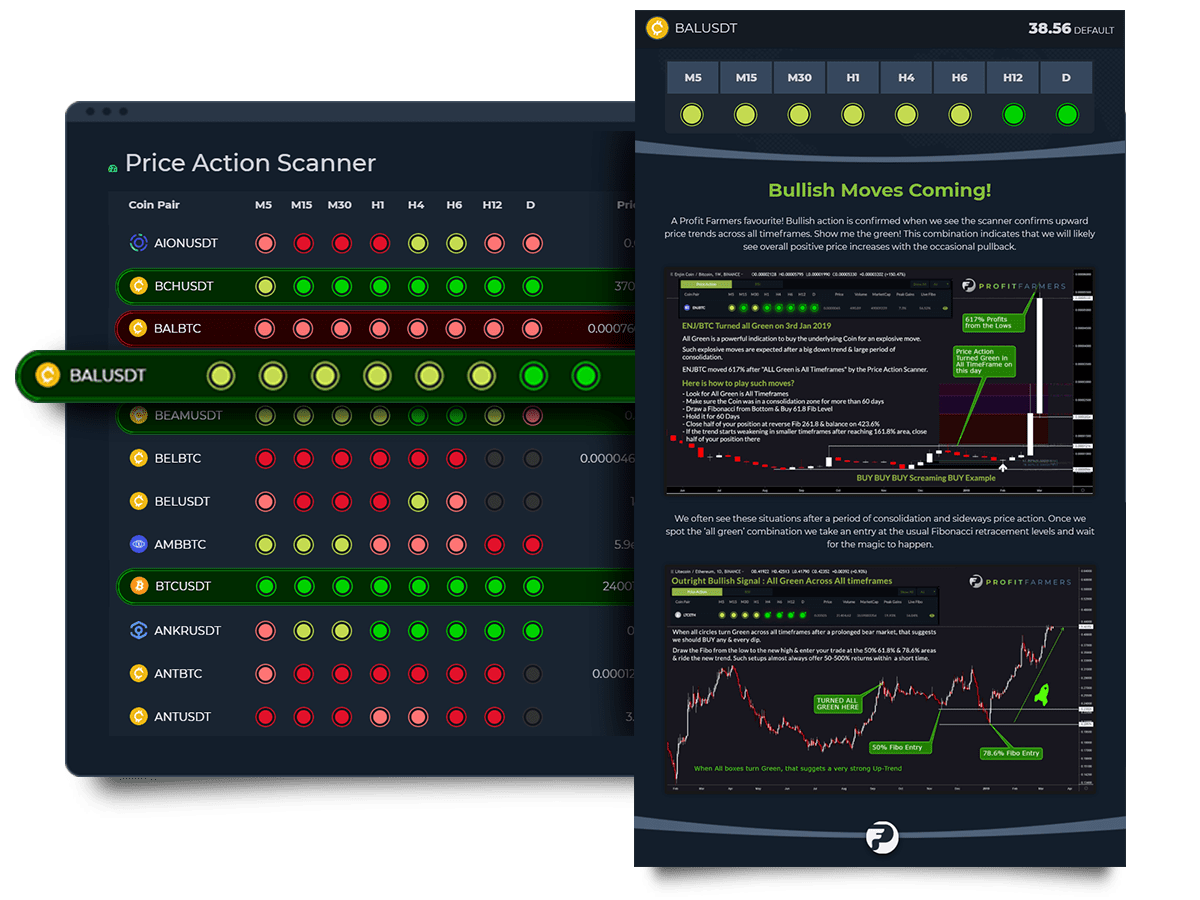 RSI scanner
De RSI scanner is vergelijkbaar met de prijsactie scanner. Dit is namelijk een lijst met alle cryptocurrencies op Binance die mogelijk interessant zijn om te verhandelen. Hier krijg je een lijst met achter verschillende time frames en waar de RSI op dat moment op staat. Mocht een coin oversold zijn is dit misschien een perfect moment om in te stappen. Deze lijst zorgt ervoor dat jij veel tijd over kan houden door niet zelf naar elke grafiek te hoeven kijken.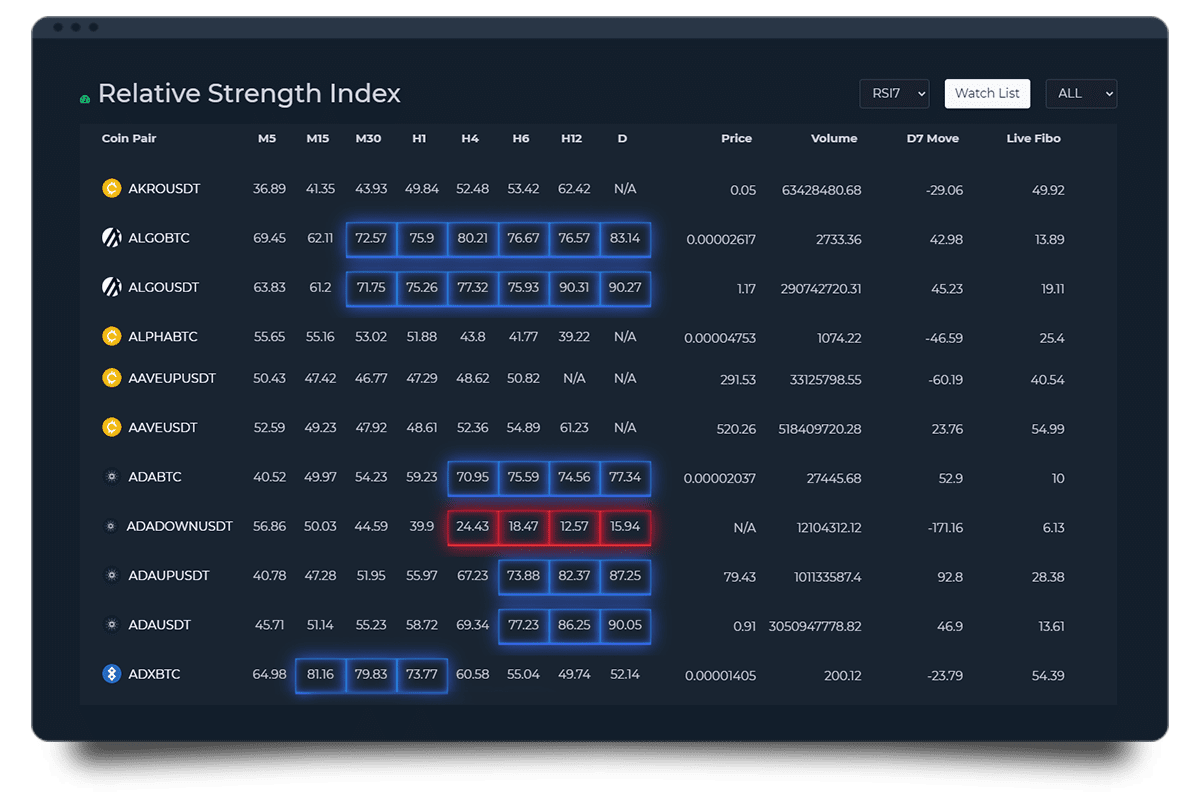 Verschillende marktupdates
Ook biedt ProfitFarmers nog verschillende marktupdates. Dit zijn updates over cryptocurrencies zoals bitcoin en wat er nog meer gebeurt binnen de wereld van cryptocurrencies. Zo heb je een paar keer per maand duidelijk nieuwsartikelen waar je weer van kan leren.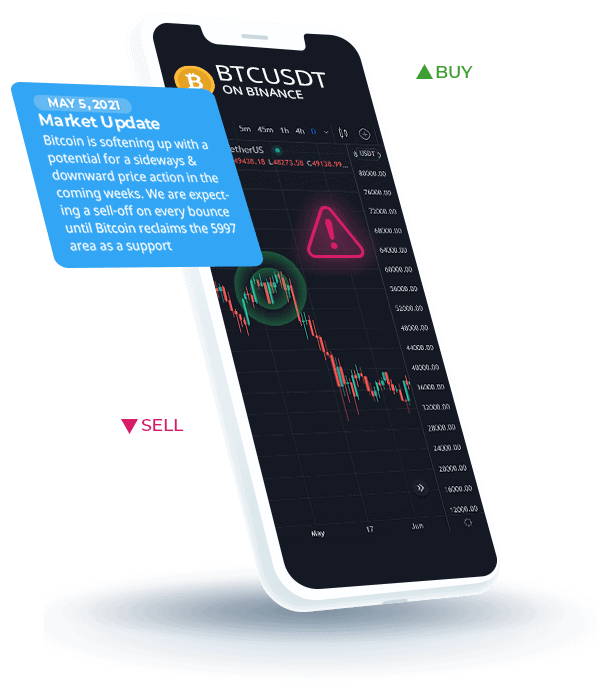 Over leren gesproken, er staan ook nog talloze educatieve video's voor je klaar die niet alleen betrekking hebben tot het platform zelf, maar ook tot verschillende technische indicatoren of andere basisprincipes in de wereld van investeren. Mocht je nog echt een beginner zijn hebben ze zelf een videoserie van 10 video's voor je klaar staan waarin de basis met je wordt doorgenomen!
Trading terminal
Tot slot kan een gebruiker van ProfitFarmers ook gebruikmaken van de trading terminal. Dit is een platform waarop je zelf trades kunt maken. Heb je bijvoorbeeld een mooie kans gezien op de RSI scan en wil je hier gebruik van maken? Dan kan je direct je trade inschieten via deze functionaliteit. Hier worden verschillende tools ter beschikking gesteld zoals een grafiek zodat je op basis van technische analyse kunt kijken naar wat de beste mogelijkheden zijn, een orderformulier waarop je verschillende soorten orders kunt inschieten en nog veel meer!