Welkom bij mijn eerste wekelijkse column over de Bitcoin (BTC) koers bij Crypto Insiders. Mijn naam is David. Ik ben een enthousiaste full-time crypto investeerder met een achtergrond in de finance en wekelijks deel ik mijn visie over Bitcoin bij Crypto insiders. Je kunt mij emailen op [email protected]
Wat een mooie tijd om deze column te beginnen want afgelopen week was wederom een turbulente week voor Bitcoin. Na een mislukte poging om de $10.000 grens te doorbreken kelderde de prijs van Bitcoin weer sterk tot een niveau van uiteindelijk $7.040. De vraag die iedereen bezighoudt is of we nu eindelijk de bodem hebben bereikt? Sommige analisten roepen koersdoelen van in de regio van $6.000 terwijl anderen weer koersdoelen van $5.000 of zelfs $3.000 noemen. Iedereen heeft een mening, maar het merendeel van de analisten heeft een koersdoel dat lager is dan het huidige niveau. Ik ben hierin gematigder. Het is niet zo dat ik een 'permabull' (permanente bull) ben, maar hoe negatiever de markt wordt des te positiever mijn 'outlook'. Daarnaast is een stukje relativering ook wel op zijn plaats. Ik heb zojuist even de opening koersen van exact één en twee jaar geleden opgezocht en die waren als volgt:
31-05-2017: $2.187,19
31-05-2016: $534,19
Bron: Coinmarketcap
Vandaag staan we op $7.500 en iedereen is pessimistisch. Ik begrijp het wel; we komen natuurlijk van een niveau van $20.000 en dan is $7.500 een flinke daling. Echter, deze volatiliteit is vaak het gevolg van groeipijnen van een nieuwe asset class en Bitcoin is hierop geen uitzondering.
Maar goed, terug naar de huidige situatie. Wat staat ons te wachten en welke factoren zijn positief en welke zijn negatief? Kijkend naar de dag-grafiek van Bitcoin vallen mij een aantal dingen op. De afgelopen weken is het handelsvolume flink afgenomen. De rallies reiken minder hoog, maar de sell-offs stoppen ook eerder. In onderstaande dag-grafiek van Bitcoin is goed te zien (lijn 3) hoe het volume afloopt. Afnemend volume is vaak een basis voor een trend omkeer in de nabije toekomst.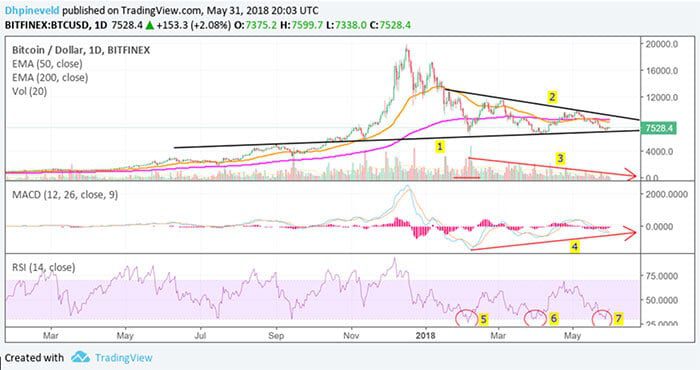 Tegelijkertijd is er een trendlijn zichtbaar geworden (lijn 1) die startte op 1 september 2017. Toen was deze trendlijn nog een 'resistance area', maar later heeft deze trendlijn als support gefungeerd op 18 oktober 2017, 24 oktober 2017, 6 februari 2018 en meerdere malen in april van dit jaar. Ook ditmaal lijkt deze trendlijn stand te houden.
Ondertussen is er ook een bullish signaal op de MACD (Moving Average Convergence Divergence) en RSI (Relative Strength Index) zichtbaar. De afgelopen maanden heeft de RSI meerdere malen het zeer lage niveau van 30 behaald (punt 5, 6 en 7 in de grafiek) waaronder ook afgelopen week. Echter, iedere keer kwam de MACD minder laag uit (lijn 4). Dit is een signaal dat de intensiteit van de sell-offs afnemen – iets wat ook te zien is in het handelsvolume – en wat een goede basis kan vormen voor een nieuwe trend omslag.
Maar we zijn er nog niet. Bovengenoemde punten bieden enkel een goede basis voor een rally, maar dat wil niet zeggen dat we die ook gelijk krijgen. Zoals ik ook al eerder aangaf reiken de rallies ook steeds lager. Trendlijn 2 toont dit aan in de afbeelding 1. Gezien de huidige omstandigheden verwacht ik een test van deze trendlijn die rondom de $9.000 ligt ergens in de komende weken, maar geduld is hier op zijn plaats. Of beter gezegd – op je handen zitten – want er zijn ook signalen dat een nieuwe rally nog niet aan de orde is en dat Bitcoin voorlopig een tijdje 'sideways' zal traden tussen de $7.000-7.500, of de daling nog iets verder doorzet. Op de korte termijn is namelijk een 'rising-wedge' zichtbaar aan het worden, welke goed is te zien op onderstaande 4-uur grafiek.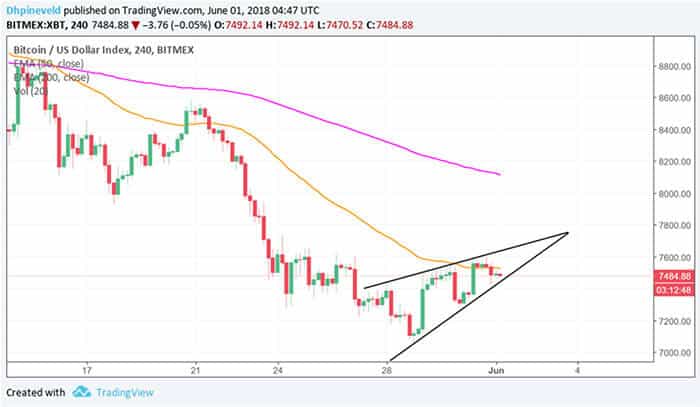 Een rising wedge is een 'bearish' patroon en de kans is dus groot dat die naar beneden zal uitbreken. Een nieuwe test van het $7.000 niveau is dan het eerste waar ik naar ga kijken. Mocht dit niveau vervolgens houden dan biedt dit een nog betere basis voor een toekomstige rally.
Maar wat als het prijsniveau van $7.000 vervolgens niet houdt? Een kleine dip tot onder de $7.000 zou in mijn optiek niet veel veranderen, maar iedere koersdaling tot onder de $6.600 is een slecht signaal en vereist een kritische kijk op de fundamenten van die situatie.
Is dit een tijd om te handelen? Persoonlijk geloof ik dat het goed is om onder de $8.000, lange termijn posities gefaseerd op te bouwen. Echter, zoals de beroemde Jesse Livermore zei in het boek Reminiscences of a Stock Operator, "There is time to go long, time to go short, and time to go fishing". Op dit moment is het niet gek om te gaan vissen totdat Bitcoin een duidelijke koers heeft gekozen.