Afgelopen week beschreef ik in mijn column dat ik persoonlijk zou wachten met het nemen van nieuwe long-posities totdat de koers van bitcoin (BTC) de $7.400-7.600 zou hebben behaald. Tijdens mijn macro-analyse die ik wekelijkse deel met onze premium members ging ik daar nog wat verder op in en gaf ik aan dat ik niet zomaar verwachtte dat de koers van bitcoin de weerstand van $9.300-9.500 zou breken en dat dit dan ook een mooi moment zou zijn om of long-posities af te sluiten ofwel zelfs short te gaan. Terwijl ik aan het reizen ben in Vietnam mis ik op een haar na mijn short entry want hoewel ik al sell orders had klaar staan net boven de $9.300 merkte ik niet tijdig genoeg op dat de koers van bitcoin al snel aan kracht verloor rond de $9.200. Shit happens en ik baalde er even goed van, want dit was in mijn optiek een hele mooie kans, maar je hand overspelen hoort er uiteraard ook bij! Maar goed, een nieuwe markt en nieuwe kansen! De koers kwam afgelopen week niet hoger dan $9.214 op cryptocurrency exchange Coinbase en niet lang daarna zette de koers een stijle neergang in waarbij de deze heel even kort support vond rond de $8.200 om vervolgens door te zakken tot een dieptepunt gisteren van $7.689. In Afbeelding 1 zie je de dagelijkse grafiek van bitcoin op Coinbase (dit is dezelfde grafiek die is gedeeld in onze premium members-groep) en hierop is goed te zien dat de koers van bitcoin exact de target heeft gehaald (blauwe lijn). Echter, nu de koers een aantal weken op rij enkel verliezen kent zijn we wel aangekomen bij een belangrijk moment, want in mijn optiek is het van belang dat de koers support vindt rond de $7.400 (mochten we daar komen) en in het uiterste geval in de regio van de $6.XXX. Laten we maar gewoon weer zoals altijd de grafieken erbij pakken om te illustreren wat ik bedoel.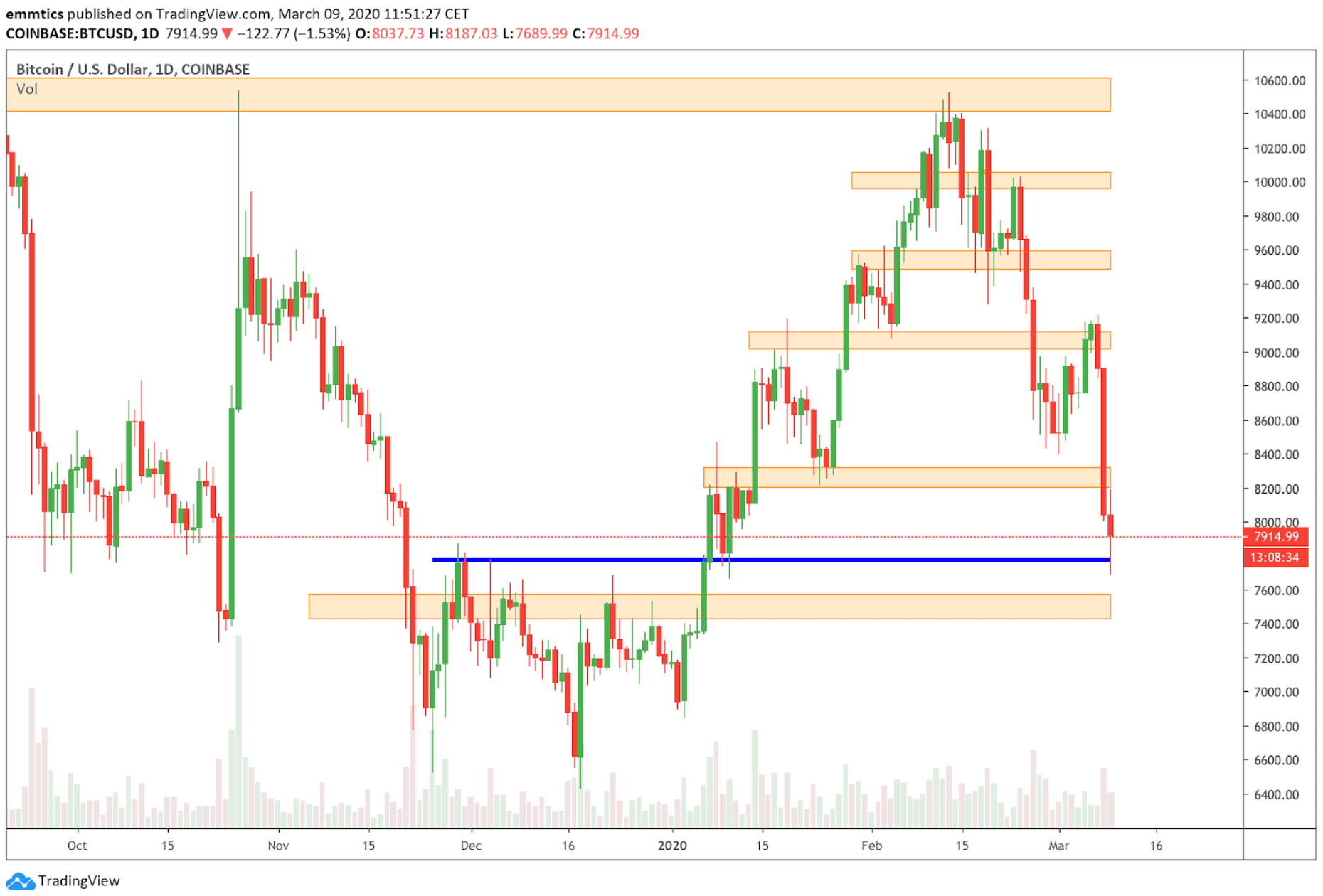 Afbeelding 1: dagelijkse grafiek van bitcoin op cryptocurrency exchange Coinbase 
In de bovenstaande grafiek van bitcoin heb ik de dagelijkse grafiek weergegeven met daarop de verschillende support- en weerstandszones alsmede mijn eerste target (blauwe lijn) voor de verwachte dip. Hoewel de neergang scherp was zie ik wel een daling in het volume en is tevens op de 4-uurs grafiek (afbeelding 2) goed te zien aan de momentum-oscillatoren dat de daling in kracht afneemt. De Relative Strength Index (RSI) toont een zeer laag niveau en de Commodity Channel Index (CCI) klimt alweer naar boven. Dit zegt NIET dat we nu al uit het bos zijn en dat alles koek en ei is, maar het biedt wel kansen voor voorzichtige long-posities (zeker op het niveau van $7.600 die we vandaag zagen) en geeft tevens vroege signalen dat de korte termijn bearish trend op een einde aan het komen is.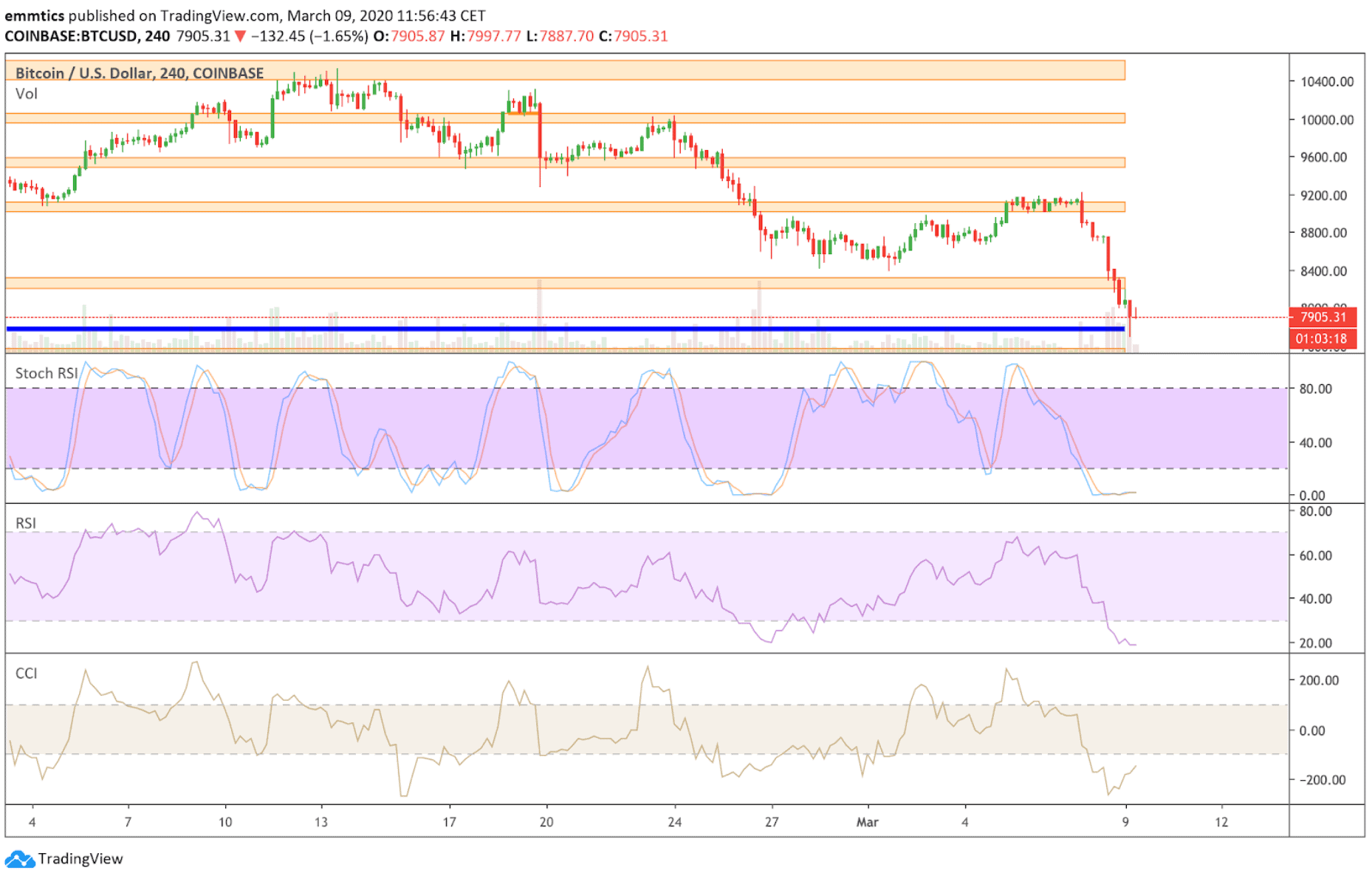 Afbeelding 2: 4-uurs grafiek van bitcoin op Coinbase
Maar goed, hoewel de signalen er zijn en ik tevens long-posities aan het vergaren ben tussen de $7.600-7.800 met een bonus op de $7.400 is het wel van belang dat het niveau van de $7.400 standhoudt! Een break door dit niveau en een daarop volgende retest van de regio van de $6.XXX zou bitcoin namelijk enorm doen wankelen. Zolang de koers in de $7.XXX blijft en dan vooral haar support vindt rond de $7.400, geloof ik dat dit een goede basis vormt voor een nieuwe rally. Een break door dit niveau zou het vertrouwen van de bulls in mijn optiek te veel beschadigen en al het bullish werk van de afgelopen weken/maanden teniet doen, en ik weet dan ook niet of de $6.XXX vervolgens stand zou houden. In dat geval zou ik de koers vooral eerst op een afstand aankijken om de situatie opnieuw te evalueren. De huidige dip lag redelijk in lijn met mijn verwachtingen maar het is nu wel belangrijk dat we of support vinden op het niveau van $7.600 die we zojuist hebben gehad of mogelijk nog een etage lager op de $7.400 maar niet veel meer dan dat.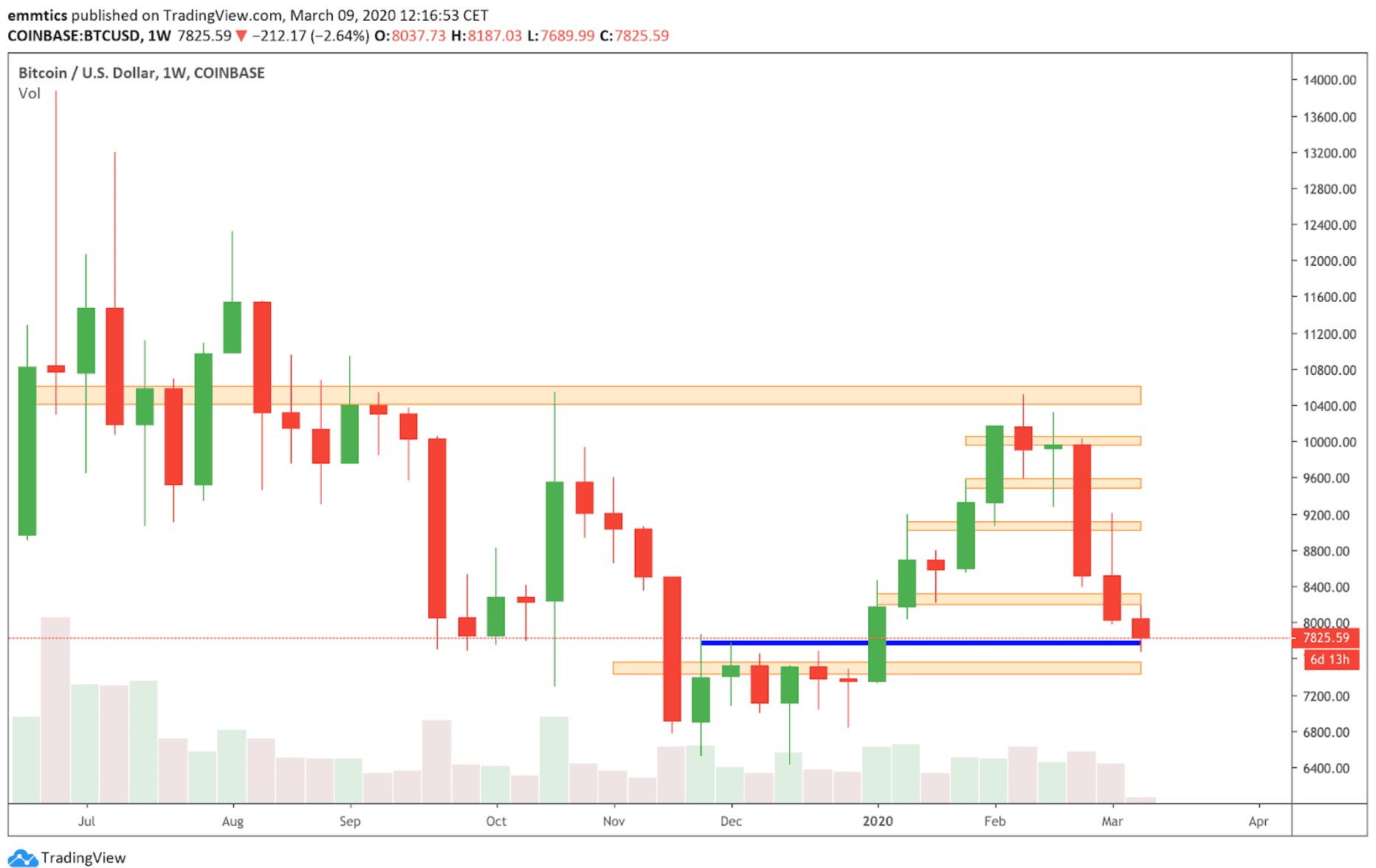 Afbeelding 3: wekelijkse grafiek van bitcoin
De wekelijkse grafiek lijkt in ieder geval mogelijkheden te bieden daar het volume van afgelopen week lager was dan de week daarvoor en de bodies van de rode candles tevens kleiner zijn. De lange wick aan de bovenkant is uiteraard wel een teken van neerwaarts momentum maar goed, dat was ook waar ik onze members juist voor waarschuwde. Een flinke bull trap lag op de loer en werd ook werkelijkheid. Op dit moment zou er nog wel eens een bear trap kunnen ontstaan, want in mijn optiek is dit NIET het moment om short te gaan en is de markt over-bearish aan het worden. De kans om short te gaan was boven de $9.000 op een niveau dat ik net heb gemist (het doet nog steeds pijn ;-)). De komende week gaat bijzonder spannend worden. Mocht de koers haar weg naar boven vinden dan komen we uiteraard de weerstandszones tegen zoals getekend in de verschillende afbeeldingen en dan zou met name de $9.200 een belangrijk niveau zijn. Voor nu weten jullie in ieder geval waar ik de komende week naar kijk.
Tot volgende week!