Terwijl ik gisteren de wekelijkse column aan het maken was met daarin de argumenten voor en tegen een verdere rally gaf de koers ondertussen haar antwoord. Het was stil in de woonkamer met alleen het geluid van het tikken op mijn toetsenbord toen ik ineens dat bekende TradingView alert geluid hoorde. Net daarvoor hing de koers constant rond de $8.000, maar de alert ging af zodra we de $8.100 zouden breken (op Coinbase). Snel open ik TradingView en navigeer naar de 5-min chart. Op dat moment stond de koers al op $8.187. De snelheid waarmee dit ging en de manier waarop zowel het volume als het momentum oppakte vertelde maar één verhaal: bitcoin gaat nu de $8.400 breken en wordt daarmee ook bullish op de maandelijkse chart! Even later piekte de koers net onder de $9.000 op $8.947 waarna het nu 'tot rust' komt rond de $8.700.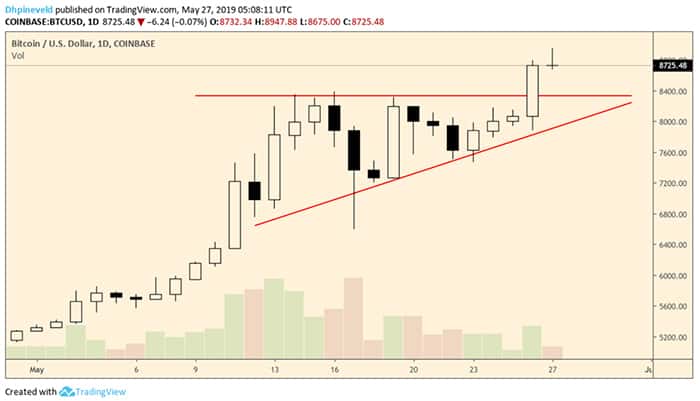 Afbeelding 1: dagelijkse grafiek bitcoin op Coinbase
De koers van bitcoin begaf zich al dagen in een ascending triangle zoals we ook uitvoerig bespraken in onze Telegramgroep. Ook al brak de koers niet de $8.400, toch vond de koers iedere keer haar support op een hoger niveau terwijl het volume afnam. Een dergelijk scenario kan natuurlijk ook naar beneden (bearish) uitbreken en dit gebeurt vaak wanneer de lange termijn trend bearish is, maar in dit geval breekt hij dus – op een kritisch niveau – bullish uit. Dit vertelt een zeer bullish verhaal en in combinatie met het feit dat de koers van bitcoin nu op alle tijdframes hogere highs heeft gemaakt laat zien dat we ons echt in bullish territory begeven.
Wen Moon? Wen Lambo?
Afgelopen week zag ik via meerdere online kanalen frustraties voorbij komen over het feit dat bitcoin 'niets deed' en constant maar rond de $8.000 bleef hangen. Dit ongeduld komt men over het algemeen duur te staan omdat er hierdoor OF teveel leverage posities worden geopend OF te grote posities an sich worden geopend. Nog geen 8(!) weken geleden begaf de koers van bitcoin zich nog onder de $4.000. Een niveau wat nu alweer ver weg lijkt. In nog geen 8 weken tijd is bitcoin meer dan 100% in waarde toegenomen. Dit is alles behalve saai. Zoek maar eens een andere asset class waarbij dit ook gebeurt en je zult zien hoe uniek dit is. Relax, wees long en enjoy the ride.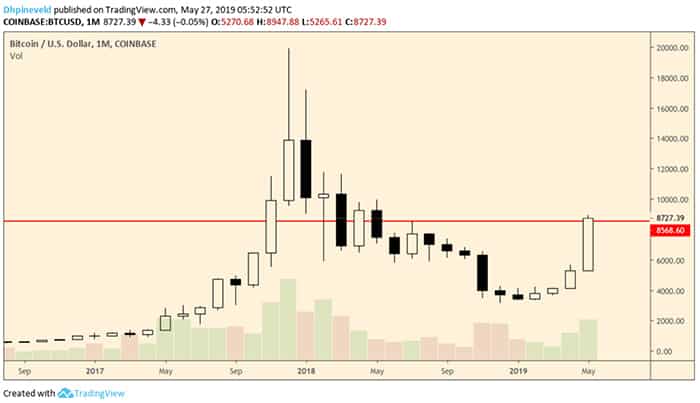 Afbeelding 2: maandelijkse grafiek bitcoin op Coinbase
In afbeelding 2 is goed te zien hoe nu ook op de maandelijkse grafiek een nieuw high is gemaakt. Dit is uiteraard geweldig nieuws maar wat je eigenlijk echt graag wilt zien is een confirmatie van deze break out. Dat houdt in dat het goed zou zijn als de koers iets terugvalt en vervolgens haar support vindt op het niveau van $8.400-$8.500. Op deze manier wordt bevestigd dat we niet hebben te maken met een fake out.
Geen dip?
De charts zijn bullish maar dat wil niet zeggen dat we nu in één rechte lijn een nieuw All-Time-High (ATH) gaan maken. Alhoewel dat bij bitcoin uiteraard mogelijk is. De kans is groter dat we in stapjes omhoog gaan gevolgd door dips (en zo nu en dan sterk dips). In de laatste bullrun hebben we geloof ik 8 of 9 keer een dip van meer dan 30% meegemaakt. Op basis van het huidige koersniveau zou dat een dip zijn helemaal terug tot een niveau van $6.000. De koersval afgelopen week tot ongeveer $7.500 was in mijn optiek geen echte dip en persoonlijk zou ik een sterke dip zeer verwelkomen. Niet alleen om mijn long term posities te vergroten maar ook om wat weak hands af te schudden en een sterkere fundering te leggen voor de bull run waar we nu in zitten. We mogen namelijk niet vergeten dat deze huidige run initieel is gestart met een flinke short squeeze en dat de markt nog vol zit met retail beleggers die in paniek zullen raken bij de eerste echte dip. Nu zul je dit natuurlijk altijd wel hebben maar het zou goed zijn als we een dergelijke shake out meemaken voordat de koers een echte poging doet de $10.000 te breken, want als de markt bestaat uit mensen die weigeren te verkopen onder de $6.000 (zelfs na een hele sterke dip) dan zorgt die fundering uiteindelijk voor het echte vertrouwen. Persoonlijk denk ik dat we nog eerst een 30% dip zien voordat we daadwerkelijk de $10.000 breken, want hoewel de koers zojuist een nieuwe yearly high heeft gemaakt worden de bearish divergences op de wekelijkse grafiek steeds groter. Dit houdt niet eeuwig stand en dit gaat zeker zorgen voor een correctie. Maar goed, bitcoin is bullish en een correctie is een kans. Geen ramp! Dat zou dus inhouden dat in het huidige scenario de break out boven de $8.500 aanvankelijk eruit ziet als een fake out (waardoor er mogelijk paniek ontstaat) maar dat we vervolgens een bear trap krijgen als de koers flink dipt en de shorts zich opstapelen. Dit zijn in mijn optiek de gouden momenten om long te gaan.
Vooralsnog zet de koers van bitcoin haar stijgende lijn voort. Ik zou persoonlijk zeer voorzichtig zijn met het gebruiken van leverage in dit soort choppy tijden en gewoon op strategische niveaus je portfolio vergroten. Geniet van de dagen dat je portfolio meer waard wordt en vergroot je portfolio wanneer je veel rood ziet.
Tot volgende week!
Wil je op de hoogte blijven van het laatste nieuws? Abonneer je dan op onze push-berichten, Facebook– of Twitter. Meediscussiëren? Meld je dan aan voor ons Telegram kanaal.