Jongens jongens jongens, wat een week was het afgelopen week. Dit is waar we al het geduld voor hebben gehad! Vorige week schreef ik nog dit: "Ik heb zelf op dit moment long posities open staan en er is een aanzienlijke kans dat de koers – zodra het de $4.250 passeert – een flinke sprong naar boven maakt, het volume weer terugkomt en de bulls de markt met vertrouwen overnemen." Hoewel ik uiteraard verdedigende stops had en rekening hield met een eventuele drop is dit het scenario wat zich heeft ontrafeld. Het moment dat de koers van bitcoin (BTC) door de $4.250 brak schoot het direct door tot een niveau van $5.106 op Bitfinex en in de dagen daarna tikte de koers zelfs $5.335 aan. Veel strategische koop orders en stop-losses stonden gepositioneerd rondom de de $4.250/$4.300 en dit stuwde de koers flink omhoog. In de dagen daarna kwam de koers weer tot rust en heeft het haar rust gevonden boven de $5.000. Op het moment van schrijven is de koers $5.190.
We hebben de $4.250 gebroken en de koers maakt al weken op rij weer een opmars. Wat zegt deze break-out over de langere termijn van de koers van bitcoin? Ik kan daar vrij bondig over zijn: Ik geloof dat de bear-trend tot haar einde is gekomen en dat we ons op dit moment in de transitie-fase begeven en dat bitcoin vanuit hier weer bullish gaat worden. Het klopt dus dat ik zeg dat bitcoin nog niet bullish is. Hoewel we een prachtige run hebben gezien de afgelopen weken geloof ik dat we eerst nog een poosje sideways zullen traden en dat vooralsnog de upside van de rally is ge-capped op de $6.000 (als we daar al komen nu).
Op basis van de grafieken en de momentum indicatoren geloof ik dat er een drop aanstaande is en dit is zichtbaar op zowel de dagelijkse als de wekelijkse grafiek. Afgelopen week beschreef ik dit scenario al (dat de momentum indicatoren 'overbought' zijn) maar door de flinke rally van deze week is dit nu nog sterker geworden. Wat er echter is veranderd ten opzichte van vorige week is dat ik nu zal overwegen in te stappen op de dip om zodoende mijn long posities te vergroten. Of zoals ze zo mooi op twitter zeggen: BTFD (buy the fucking dip). Op dit specifieke niveau heb ik niet zoveel interesse de long positie te vergroten. We liggen namelijk tegen weerstand aan en ik geloof dat de huidige rally niet door de $6.000 heen komt en daar dus wordt gestopt. Maar een dip van misschien wel 20-30% zou mijn interesse hebben.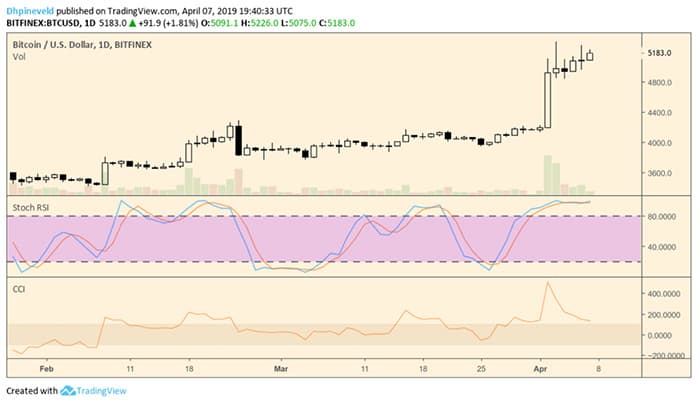 Afbeelding 1: dagelijkse grafiek bitcoin
In afbeelding 1 is de dagelijkse grafiek van bitcoin weergegeven. Hierop is duidelijk te zijn hoe de Stoch-RSI aan het pieken is en hoe tegelijkertijd de kracht aan het afnemen is (zichtbaar door de dalende CCI). Dit is een typisch voorspellende indicator dat een dip aanstaande is: de boog kan niet gespannen blijven!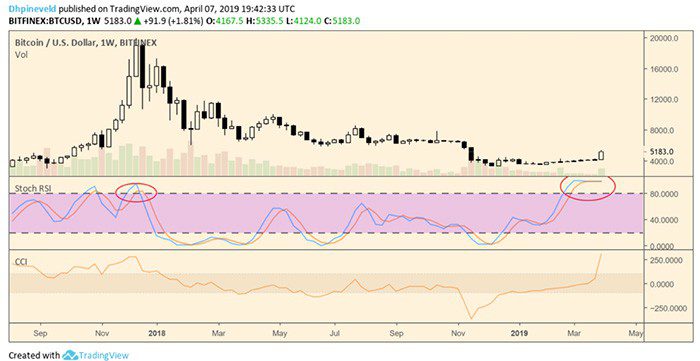 Afbeelding 2: wekelijkse grafiek bitcoin
Op de wekelijkse grafiek (afbeelding 2) is een dergelijk scenario ook zichtbaar echter is hierbij de CCI nog niet omgerold maar is die indicator wel aan het pieken. Om even een vergelijking te maken met de mate van 'overbought' heb ik tevens de Stoch-RSI omcirkeld tijdens de piek van 2017. Hierop is goed te zien dat zelfs toen deze indicator niet zo lang stand hield. Nu is dit uiteraard geen garantie dat we direct een flinke daling mee gaan maken maar de kans is wel zeer groot. Echter, zoals ik al eerder zei. Ik geloof dat de algehele trend niet meer bearish is en dat de mogelijk aankomende dip niet als een gevaar maar als een kans dient te worden gezien.
Indien de koers inderdaad naar beneden breekt. Met welke niveaus dienen we dan rekening te houden?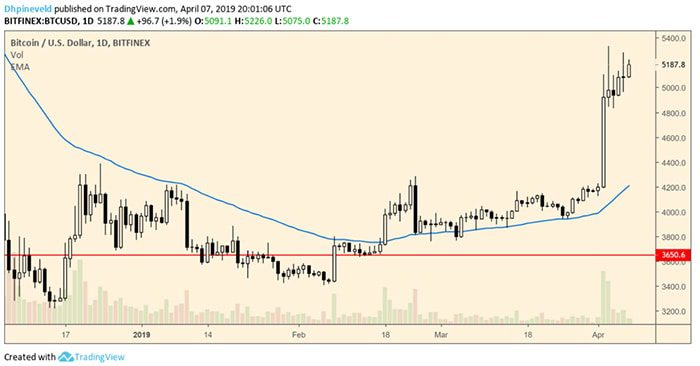 Afbeelding 3: dagelijkse grafiek bitcoin met support niveaus
In afbeelding 3 heb ik een aantal belangrijke support niveaus weergegeven waarop ik denk dat veel support zal worden gevonden. Allereerst is dat op de 50 dagen EMA waar we al een tijdje sterk support op vinden. Op dit moment komt dat overeen met – niet geheel toevallig – de $4.250. Omdat dit niveau samenkomt met de voorgaande weerstand geloof ik dat dit een sterk support niveau zal zijn. Indien dit alsnog breekt dan verwacht ik dat de volgende stop zich zal bevinden rondom de $3.600 daar we daar het de afgelopen tijd ook een sterke weerstand en support hebben ondervonden.
Zoals ik al eerder zei geloof ik dat een mogelijke dip een goede kans zal zijn om in te stappen en een lange termijn long positie op te bouwen. Desalniettemin dienen we uiteraard rekening te houden met de mogelijkheid dat ik het volledig fout heb en de koers van bitcoin naar de bodem klettert. Om deze reden zou ik persoonlijk een stop-loss zetten op het niveau van ongeveer $3.100. Dit omdat dit niveau zich onder het dieptepunt van de huidige bear trend bevindt en indien de koers dit niveau zou bereiken wij ervan uit kunnen gaan dat er meer aan de hand is dan enkel een dip. Omdat de stop-loss mogelijk relatief ver verwijderd kan zijn van het punt waarop een koop order kan worden geplaatst (bijvoorbeeld $4.250) is het van belang goed te kijken naar de 'sizing' van je positie. Het is van belang rekening te houden met de maximale exposure die je wilt dragen ten opzichte van je portfolio. Een conservatieve waarde is bijvoorbeeld 5%. Dit houdt in dat indien je stop-loss niveau wordt bereikt en de order ingaat je niet meer verliest dan 5% van je portfolio. Zodra je weet hoeveel exposure je wilt hebben op je portfolio en je tevens het stop-loss niveau weet dan kun je daaruit afleiden hoe groot je positie maximaal dient te zijn (hou hiermee rekening dat er geen garantie is dat je order op exact het stop-loss niveau wordt verwerkt, enige marge is van belang).
Terug naar de koersanalyse. Ik geloof dat afgelopen week een belangrijk teken was voor het toekomstige verloop van bitcoin en dat – zoals het er nu uitziet – we het ergste hebben gehad. Desalniettemin verwacht ik een dip en zal ik klaar staan in te stappen op dat moment. De komende week zijn mijn ogen gericht op de $4.250 en mogelijk zelfs de $3.600. Mocht de koers overigens door de huidige weerstand van $5.250 breken dan verwacht ik een aanval op de $6.000 maar ik zou zeer verbaasd zijn als dit gebeurd en de koers tevens door de barrière van $6.000 breekt (redactie: momenteel is de koers van bitcoin $5.278 op Coinmarketcap!). Het belooft in ieder geval een spannende tijd te worden en ik kijk uit naar komende week.
Tot volgend weekend!
Wil je op de hoogte blijven van het laatste nieuws? Abonneer je dan op onze push-berichten, 
Facebook
– of Twitter. Meediscussiëren? Meld je dan aan voor ons Telegram kanaal.
[ci-widget-v2]