Een nieuwe week en een nieuw dieptepunt. Zoals verwacht hield de rally maar kort stand en brak de koers toch verder naar beneden. Op Bitfinex behaalde de koers van Bitcoin een nieuwe low van $3.277 en ook bijna alle altcoins noteerde een nieuw dieptepunt afgelopen week. De afgelopen vier weken zijn zwaar geweest voor de koers van Bitcoin daar iedere week een nieuw dieptepunt werd gemaakt, maar op dit moment lijkt de druk iets af te nemen en bevindt de koers van Bitcoin zich op een vrij sterk support niveau. Laten we direct in de materie duiken want op de wekelijkse grafiek is een hoop te zien.
De reden dat ik denk dat de druk nu afneemt en we voor het moment waarschijnlijk stabiliseren rondom dit prijsniveau van ongeveer $3.000 is voornamelijk op vier redenen gestoeld:
Neerwaarts volume is sterk afgenomen

De dalingen zijn minder sterk (de candles worden steeds korter)

De CCI klimt weer op en de RSI staat op bijna een historisch laag dieptepunt

We bevinden ons op een relatief sterk support niveau
In onderstaande afbeelding heb ik de wekelijkse grafiek van Bitcoin weergegeven waarop dit allemaal goed te zien is.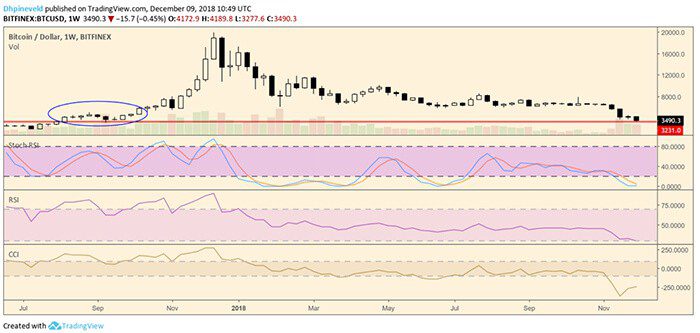 Afbeelding 1: Wekelijkse grafiek Bitcoin
Op dit moment ligt de koers van Bitcoin op een support niveau welke tot stand is gekomen in augustus en september 2017 (het blauw omcirkelde gedeelte). Ik heb een dikke rode lijn getekend waarmee te zien is dat het huidige niveau overeenkomt met de bodem van dit support niveau. Tegelijkertijd is ook goed te zien hoe de CCI weer omhoog krabbelt. Dit is een teken dat de neerwaartse kracht aan het afnemen is en dit is tevens te zien aan de korter wordende candles van de afgelopen weken. Een ander leuk detail is dat het huidige niveau van de RSI op de wekelijkse grafiek nagenoeg overeenkomt met het niveau van 12 januari 2015 (hoewel het niveau toen nog net iets lager was). 12 januari 2015 was dan ook het historische dieptepunt van de wekelijkse RSI op Bitfinex. In de wereld van de technische en fundamentele analyse zoeken wij altijd naar samenkomende signalen. Het is vrij eenvoudig om een enkele indicator te vinden die bullish of bearish is maar wanneer een groepje indicatoren hetzelfde patroon weergeven versterkt dit de waarde van die signalen. Die signalen beschrijven op dit moment een markt die tijdelijk tot rust komt en aan het neutraliseren is.
Enfin, de druk neemt dus af op het moment, maar wat betekent dat voor de gretige Bitcoin investeerder? Allereerst betekent dit NIET dat we zojuist aan een nieuwe bull run zijn begonnen. Verre van dat overigens, want de trend is nog steeds zeer negatief. Kijk voor de grap maar eens naar de MACD op de wekelijkse grafiek en je zult zien dat dit om te janken is dus wacht nog even met het verkopen van je inboedel om long te gaan met alles wat je hebt.
De huidige signalen zijn voor mij een indicatie dat we waarschijnlijk een aantal weken van side-ways trading tegemoet gaan. De selling-pressure is in mijn optiek te laag om goed door de $3.000 heen te breken op het moment, maar er is tevens geen basis voor een bull run. Het waarschijnlijke resultaat: weken waarin de koers schommelt tussen de $3.200 en $4.500. De kans op een neerwaartse break is overigens groter dan een flinke rally dus geduld en het 'blijven zitten op je handen' is zeer gepast in deze markt. Mochten we overigens flink door de $3.000 heen breken dan is de volgende halte rondom de $1.750-$1.800, maar zoveel actie verwacht ik in ieder geval niet de komende week. Op dit moment kunnen we ons maar beter richten op de aankomende feestdagen want dat wordt vast en zeker een stuk interessanter dan de koers van Bitcoin.
Tot volgende week!
Wil je op de hoogte blijven van het laatste nieuws? Abonneer je dan op onze push-berichten, 
Facebook
– of Twitter.
[ci-widget-v2]