Weer een week is voorbij en nog steeds is er geen actie omtrent de koers van Bitcoin. De koers begeeft zich al bijna een maand in de regio van $6.000 terwijl de volatiliteit is verdwenen en het volume opdroogt tot wat misschien wel het laagste niveau wordt van dit jaar (op Bitfinex). Ik bespreek al een aantal weken dat deze situatie onhoudbaar is en dat spoedig het volume en de volatiliteit zal terugkeren. Wanneer dit gebeurt zal het duidelijk worden wat de richting zal zijn van de koers van Bitcoin op zowel de korte als de middellange termijn. De momentum indicatoren zijn nagenoeg vlak dus daar halen we niet veel informatie uit maar zoals ook al eerder is besproken is de trend bearish en is een descending triangle patroon zeer sterk. Als we uitzoomen zie ik echter wel hulpvolle inzichten die mij handvatten bieden voor koers scenario's van de komende tijd.
Indien de bulls de huidige wedstrijd winnen en een sterke break-out kunnen veroorzaken uit de descending-triangle waar we al maanden in zitten dan kunnen we waarschijnlijk spreken van een bodem rondom de $6.000m maar deze kans is naar mijn idee zeer klein. Daarnaast lijkt het wel alsof de koers van Bitcoin aan het infuus hangt voor goed nieuws. De bulls willen hun positie boven de $6.000 (nog) niet opgeven omdat zij hoop hebben op het verlossende bericht van een ETF -oedkeuring of andere fundamentele game-changer voor Bitcoin, maar dit is zeer riskant en op dit moment mijns inziens naïef. Ik geloof dat de Bitcoin-ETF er uiteindelijk zal komen en ik geloof ook in massa adoptie en ik ben zeer bullish op Bitcoin en andere crypto's op de langere termijn, maar dit zal tijd nodig hebben en zal naar mijn idee niet zo snel gaan als veel mensen denken. Iedere kort durende rally van de afgelopen tijd was vaak het resultaat van een zeer positief gerucht, maar deze rallies hielden niet lang stand en tevens was iedere 'high' lager dan de vorige keer. Hoewel ik niet wil herhalen wat ik de afgelopen week heb beschreven, waarom de kans groter is op een neerwaartse break dan een langdurige rally, wil ik wel nog even de wekelijkse grafiek van Bitcoin erbij halen op de langere termijn om te illustreren dat de kans zeer aanwezig is dat de koers nog flink zal zakken.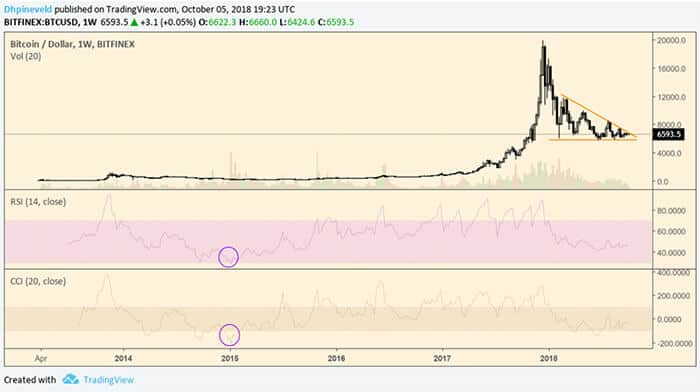 Op dit moment begeeft de RSI zich ongeveer rond de 50 en de CCI zich ongeveer rond de 0. Beide momentum indicatoren zijn nagenoeg neutraal maar ondanks dat we een flinke koersdaling hebben meegemaakt zijn deze indicatoren nog niet zeer bearish geweest. Als je dit vergelijkt met het dieptepunt van de bear market eind 2014 dan zie je dat hier nog veel neerwaarts potentieel zit. Dit, in combinatie met de eerder genoemde factoren en de descending triangle zorgt ervoor dat ik zeer op mijn hoede ben en het voordeel van de twijfel geef aan de bears.
Dat gezegd hebbende; wanneer er zo weinig volatiliteit is als nu is het normaal zeer verstandig niet te traden. Echter, mocht je op de iets langere termijn traden (bijvoorbeeld de wekelijkse grafiek) dan begrijp ik waarom bears hun $6.700+ shortposities aanhouden of bulls hun $6.300- longs aanhouden op dit moment, maar indien je geen entry hebt kunnen maken in deze regio's geloof ik dat het beter is om op dit moment de situatie aan te kijken en geen positie te nemen. De markt houdt haar adem in en vroeger dan later zullen we weten welke richting de markt neemt. Het aanschouwen duurt voort maar ik hoop op een spannende week!
Fijn weekend!
Wil je op de hoogte blijven van het laatste nieuws? Abonneer je dan op onze push-berichten, 
Facebook
– of 
Twitter
 pagina.
[ci-widget-v2]