We zijn weer een week verder en de koers van bitcoin (BTC) maakte afgelopen week even uitstapje naar boven de $10.000 om vervolgens met veel geweld weer terug te vallen in de regio van de $9.000. Het ging even heel snel want een hoop stops werden achter elkaar geactiveerd en dat leidde tot een ware verkoopgolf. Op cryptocurrency exchange Coinbase werd kort een low genoteerd van $9.280, maar al snel veerde de koers terug tot rond de $9.500 waar we ons een dag of twee begaven in de zone van $9.550-9.750. Gisteren poogden de bulls dan toch opnieuw om de $10.000 te breken en het lage volume was voor mij al direct een signaal om heel voorzichtig te zijn met een dergelijke rally. Voor mij bood het in ieder geval een mooie gelegenheid om short te gaan, want in mijn optiek is het sentiment te zwak en te wisselvallig om zomaar even op een zondagmiddag met laag volume de $10.000 te breken. Tot twee keer toe topte de koers heel even kort boven de $10.000 om vervolgens toch weer stevig terug te vallen. Het goede is echter dat de koers op dit moment support lijkt te vinden rond de $9.750 (de bovenkant van het kanaal van afgelopen dagen, zie afbeelding 1) maar hebben we nu te maken een hogere low of een lagere high? Met andere woorden, staan we aan de vooravond van een vervolg van de rally of gaan we eerst nog (een stuk) terug? Laten we de grafieken erbij pakken om te kijken wat voor mij de komende dagen belangrijk is.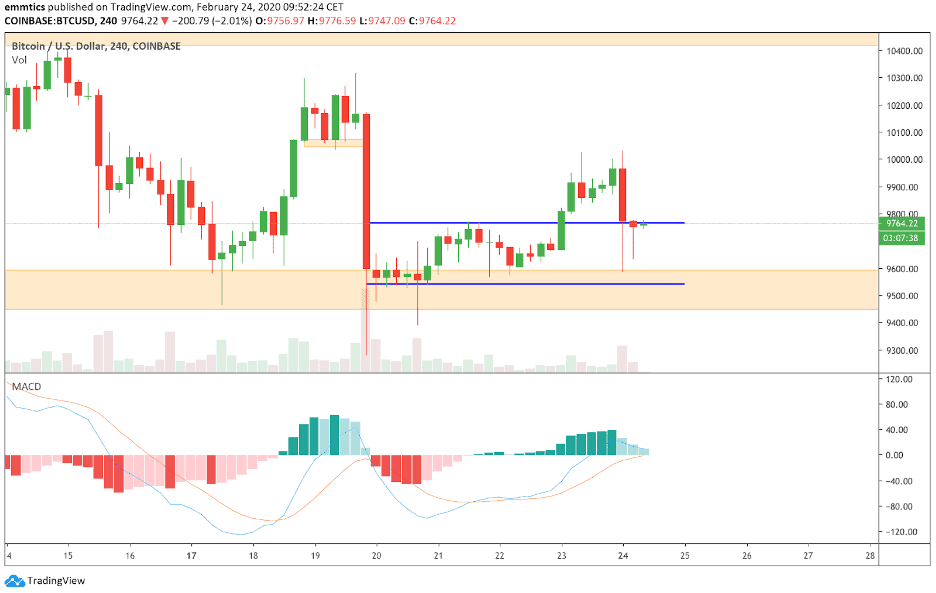 Afbeelding 1: 4 uurs-grafiek van bitcoin (BTC) op cryptocurrency exchange Coinbase
In bovenstaande afbeelding 1 heb ik de 4 uurs-grafiek van bitcoin op Coinbase weergegeven en hierop is goed te zien dat de koers van bitcoin zich net wel/net niet terug in het kanaal van afgelopen dagen begeeft. Op zich maakt die ook niet zoveel verschil want de belangrijkste observatie is dat we de afgelopen dagen hebben gezien dat de rallies langzaam en met twijfel verlopen en dat de pullbacks heel sterk zijn. Nee, in mijn optiek zijn dit geen whales die dumpen op de markt. Dit is volgens mij het gevolg van een markt waarbij men aan de ene kant heel bang is om de boot te missen indien we een flinke rally krijgen, maar tegelijkertijd ook enorm angstig is voor een bull trap en dus een nieuwe neergang. Het resultaat? Stop-losses die enorm strak staan en zodra we ook maar even dippen onder de eerste beste supportzone leidt dit tot een golf van verkooporders die ervoor zorgen dat andere stops ook worden geactiveerd. Voeg daaraan de enorme hoeveelheid leverage toe die we tegenwoordig in de markt hebben en het feest is compleet. Vervolgens hebben de slimme traders een hoop buy orders klaarstaan omdat zij weten dat dit het gevolg is van bots en stops die even flink los gaan en snel daarna veert de koers weer terug. Nadat de koers weer tot rust is gekomen komt de euforie weer terug (of moet ik zeggen FOMO?) in de markt en kruipt de koers weer langzaam omhoog (want de halving komt er toch aan we zijn toch mega bullish?!) maar niet op basis van vertrouwen. Nee men houdt de stops nog heel kort en even later zien we weer een kleine retrace die omslaat in een outright sell-off. 
De bovenstaande situatie die we nu zien in de markt zorgt ervoor dat ik een verdere dip niet uitsluit en dat ik op dit moment niet wens long te gaan omdat ik daarvoor de markt echt te schichtig vind. Er zijn voor mij twee scenario's mogelijk voor nieuwe long-posities. Ten eerste is dat als de koers zich bewijst door met vertrouwen de $10.150 te breken en hier tevens support op te vinden, of ten tweede, indien de koers terug zakt tot het sterke supportniveau van $8.800-9.100 en hier tevens support op vindt. Met name het tweede scenario heeft mijn voorkeur omdat het eerste scenario nog steeds een aanzienlijk risico met zich meedraagt voor een fake-out omdat de weerstand van $10.400-10.500 daar dan vlak boven hangt. Ik beschrijf dit eigenlijk al de afgelopen twee weken en de actie van bitcoin van de afgelopen week en dagen heeft mijn standpunt hierin enkel bevestigd. Daarnaast heeft een retrace naar $8.800-9.100 ook mijn voorkeur omdat het de markt de gelegenheid biedt het support op zowel de 200 dagen moving average (MA) alsmede de 50 dagen MA te bevestigen. Bevestigd support op deze MA's zou mogelijk de schichtigheid uit de markt kunnen doen laten verdwijnen en daarmee een belangrijk fundament vormen voor een vervolg van de rally die we begin dit jaar zagen. 
Tot op heden maakt de koers enkel lagere highs: eerst $10.500, toen $10.300 en nu $10.050 gevolgd door scherpe dips en hoewel we nu mogelijk ook te maken hebben met een hogere low is het voor mij niet voldoende om overmatig bullish te zijn op dit niveau van $9.500-9.750 en hierop nieuwe long posities te openen.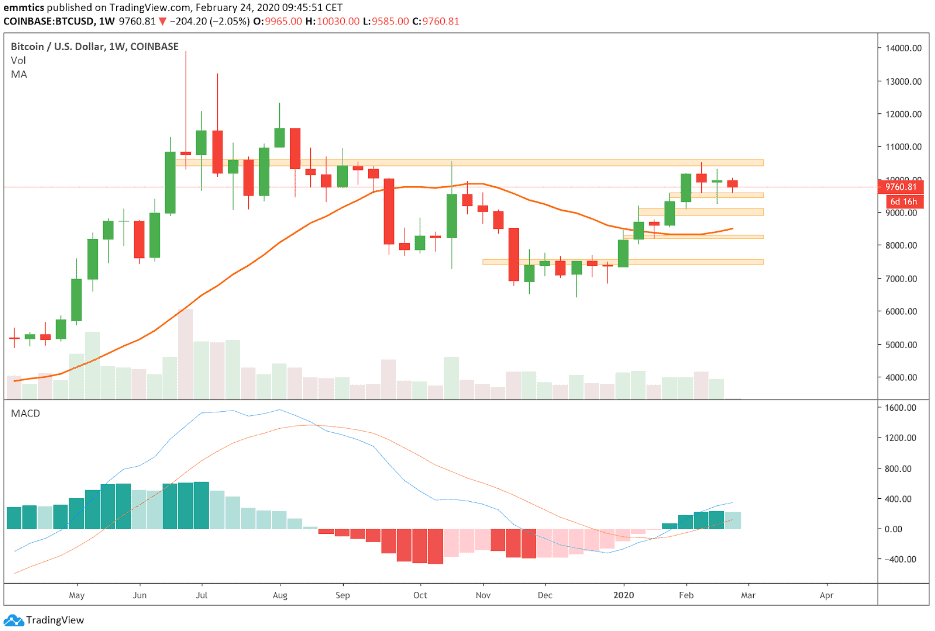 Afbeelding 2: wekelijkse grafiek van bitcoin (BTC) op cryptocurrency exchange Coinbase
Daarnaast laat de Moving Average Convergence Divergence (MACD) op zowel de 4 uurs, dagelijkse en wekelijkse grafiek voldoende ruimte zien voor nog meer neergang en zijn de momentum-oscillatoren op de wekelijkse grafiek ook naar het zuiden gedraaid. Meer te weten komen over de MACD? Afgelopen weekend nam ik een uitgebreide video op voor onze members-omgeving waarin ik de indicator uitleg en bespreek hoe de MACD je van dienst kan zijn.
Het is niet alleen maar kommer en kwel! De lange wicks aan de onderkant die we vooral goed zien op de 4 uurs-grafiek bieden uiteraard wat hoop voor de bulls, maar het is voor mij niet voldoende om nu met overtuiging long te gaan. Geduld is in een situatie als deze echt goud waard en ik blijf daarom nog even aan de zijlijn wachten met mijn longs en kijk goed naar het niveau van $8.800-9.100. Zorg dat je niet wordt uitgewickd met te korte stops en probeer het macro-overzicht in de gaten te houden want de zeeën van bitcoin zijn onstuimig op het moment en de meningen sterk verdeeld. De trend is nog steeds bullish op de wekelijkse grafiek maar laat je niet te snel uit de tent lokken want de beren liggen op de loer. Morgen ga ik een een uitgebreide video dieper in op de markt. Deze video niet missen? Meld je dan aan voor onze omgeving voor leden en probeer de eerste 30 dagen gratis! 
Tot volgende week!