Vorige week beschreef ik nog dat geduld goud was en dat bleek maar weer eens waar, want terwijl de koers van bitcoin (BTC) vorige week nog aan een dun draadje hing rond de $9.700 ten tijde van mijn vorige column staat de koers van bitcoin nu ruim $1.200 lager op $8.450. Op de korte termijn zie ik tekenen van oververmoeidheid bij de bears en ruimte voor een korte spike naar boven, maar op de wekelijkse grafiek zie ik ruimte voor een verdere retrace tot laag in de $8.000-regio of zelfs de $7.000-regio. Zoals ik al vertelde aan onze premium members zou ik persoonlijk wachten met het innemen van grote long-posities op dit niveau en afwachten totdat de kansen meer in het voordeel zijn van de bulls. Laten we zoals gebruikelijk de grafieken er maar eens bijpakken om te bespreken waar ik de komende week zoal naar zal kijken.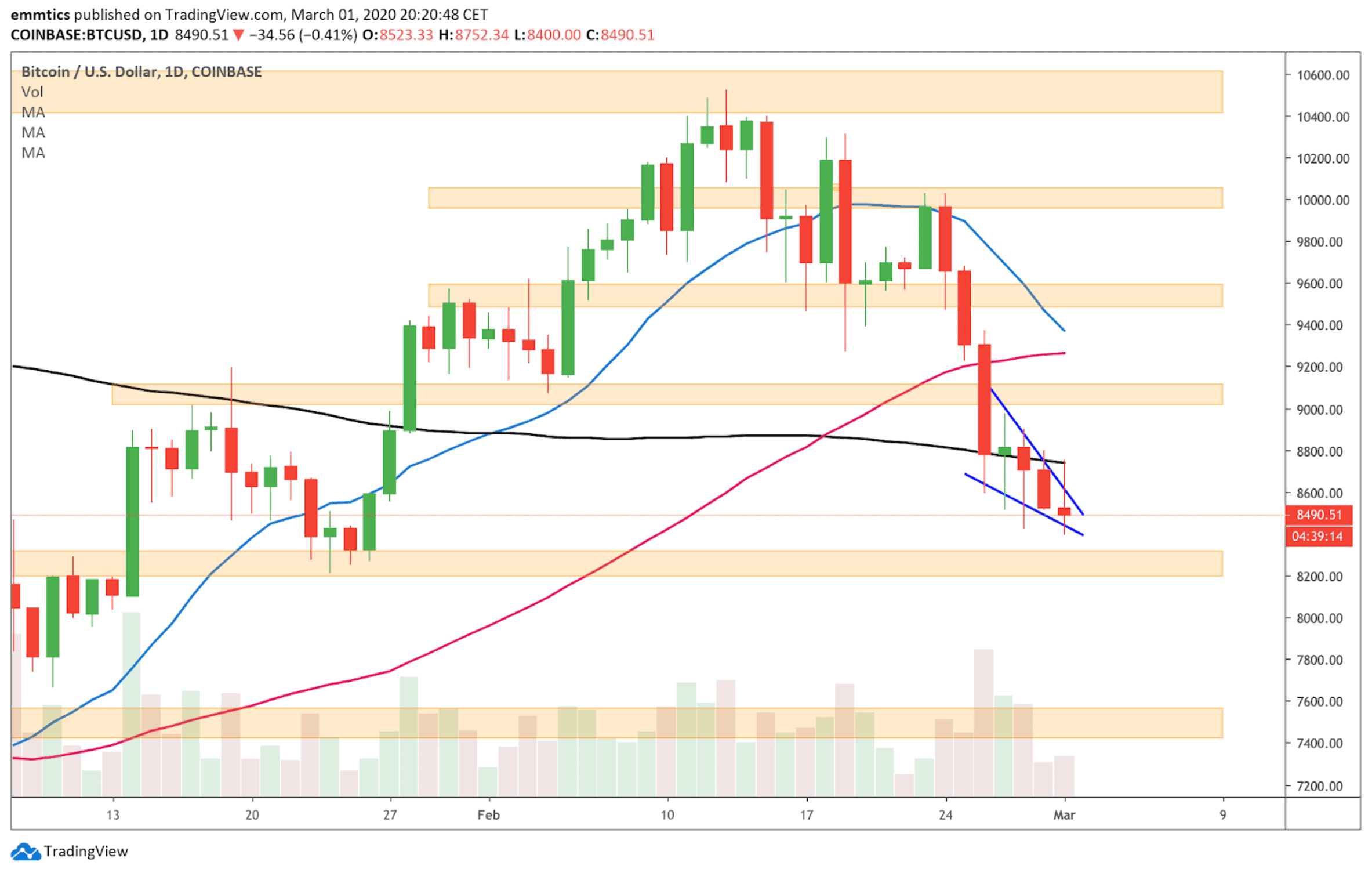 Afbeelding 1: Dagelijkse grafiek van bitcoin op cryptocurrency exchange Coinbase
In bovenstaande afbeelding heb ik de dagelijkse grafiek van bitcoin op cryptocurrency exchange Coinbase weergegeven met daarop een drietal moving averages (MA's) een aantal support- en weerstandszones en een falling wedge die overigens vooral goed zichtbaar is op de 1-uurs grafiek (afbeelding 2) op het moment. De drie MA's zijn als volgt: Zwarte lijn: 200 dagen MA, Roze lijn: 50 dagen MA, Blauwe lijn: 15 dagen MA. 
Het allereerste wat mij opvalt, en wat op dit moment tevens het meest belangrijke voor de bulls is, is dat op de dagelijkse grafiek heel goed te zien is dat de koers vandaag exact haar weerstand vond op de 200 dagen MA. We zagen even een korte rally, maar toen die rally vanmiddag van start ging waarschuwde ik onze members al om niet te snel long te gaan, omdat het risico van de 200 dagen MA boven ons hangt en dit tevens een mogelijkheid voor de markt kan zijn om een nieuwe short-positie te openen of long-posities die onder water staan met minder verlies af te sluiten. Dit wordt ook wel selling-on-strength genoemd. Ik gaf aan om te wachten op een confirmerende move door de 200 dagen MA heen of totdat de koers van bitcoin dermate interessant is en op goed support ligt en tot die tijd vooral heel rustig af te wachten. Terwijl de koers steeg kwam de 200 dagen MA steeds dichterbij en zoals we inmiddels weten was de 200 dagen MA ook de laatste halte waar de koers van bitcoin vandaag aankwam. Vervolgens zakte de koers weer flink terug maar er is wel iets wat mij op de zeer korte termijn toch wel bullish stemt en dat is dat ik duidelijk signalen zie dat de kracht van de huidige retrace sterk is afgenomen. Dit zegt uiteraard niet dat de huidige retrace over is ,want zoals ik al eerder aangaf zie ik op zowel de wekelijkse als de dagelijkse grafiek nog voldoende ruimte voor een verdere retrace, maar op de korte termijn (bijvoorbeeld de 4-uurs grafiek en korter) zou een rally naar bijvoorbeeld de $9.200 mij niet verassen. 
Terwijl ik dit schrijf dipt de koers op Coinbase tot een niveau van exact $8.400 om vervolgens terug te schieten naar de $8.500. Sinds een aantal weken is de actie nu andersom: de koers kruipt langzaam naar beneden om vervolgens scherp omhoog te schieten en dat terwijl we vanmiddag nog zijn afgewezen op de 200 dagen MA! Vergelijk dit met de actie van afgelopen weken en we kunnen duidelijk zien dat er licht aan de horizon voor de bulls begint te schijnen. Tegelijkertijd kun je in afbeelding 1 en 2 ook zien dat een falling wedge zichtbaar is (bullish patroon) en laten de momentum-indicatoren op onder andere de 1-uurs en 4uurs grafiek bullish divergences zien. Op de korte termijn kunnen we dus mogelijk een kleine rally verwachten maar de allereerste weerstand waar we vervolgens naar dienen te kijken is dan de 200 dagen MA die op dit moment rond de $8.750 ligt. Mocht dit worden gebroken dan zie ik persoonlijk de weg vrij naar koersen rond $9.200 en zelfs $9.500m want een dergelijke overwinning (de 200 dagen MA) zal de bulls het vertrouwen geven dat de huidige bodem is gezet en de koers weer verder haar weg zal vervolgen.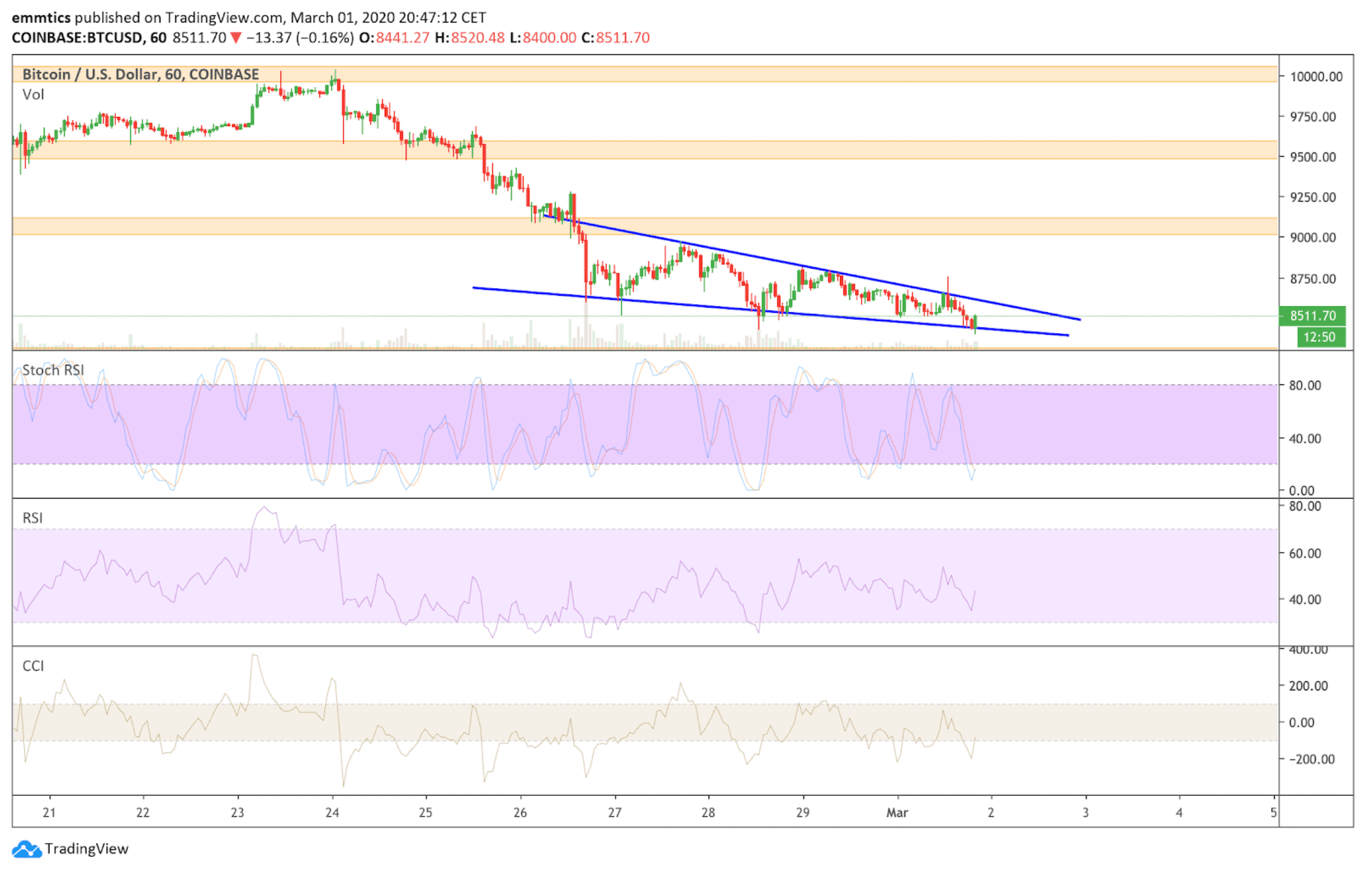 Afbeelding 2: 1-uurs grafiek van bitcoin op Coinbase met momentum-oscillatoren
Maar ook al breekt de koers van bitcoin mogelijk de 200 dagen MA dan nog zou ik de stops vrij strak onder de 200 dagen MA plaatsen, want zolang de koers van bitcoin niet met vertrouwen de $10.000 heeft gebroken en hier tevens succesvol support vindt is een verdere daling echt niet uitgesloten. Ik kan mij namelijk heel goed voorstellen dat de koers van bitcoin abrupt tot stilstand komt ergens in de $9.000-regio en dan met name rond de $9.300-9.500 om vervolgens het laatste beetje vertrouwen van de bulls op de korte termijn te vernietigen en indien dat gebeurt, dan gaan we weer regelrecht door de 200 dagen MA en maken we zeer waarschijnlijk ook een nieuwe low voor dit jaar.
Persoonlijk heb ik al een geruime tijd de regio van $7.400 op het oog en hoewel die aanvankelijk vrij ver weg leek komt dit niveau nu steeds dichterbij en wordt deze entry steeds reëler. Dit niveau komt met name voort uit de wekelijkse grafiek (afbeelding 3) waarop goed te zien is dat dit naar verwachting een goede supportzone zal vormen. Een bijzonder detail, welke ook mooi is te zien op afbeelding 3, is dat de koers van bitcoin op dit moment exact haar support vindt op de 21 weken MA. Maar goed, hoewel dit voor nu er goed uitziet en dit voor een korte termijn long trade een uitstekende entry is, laat de lange rode wekelijkse candle zien dat het nog echt te vroeg is om overmatig bullish te zijn.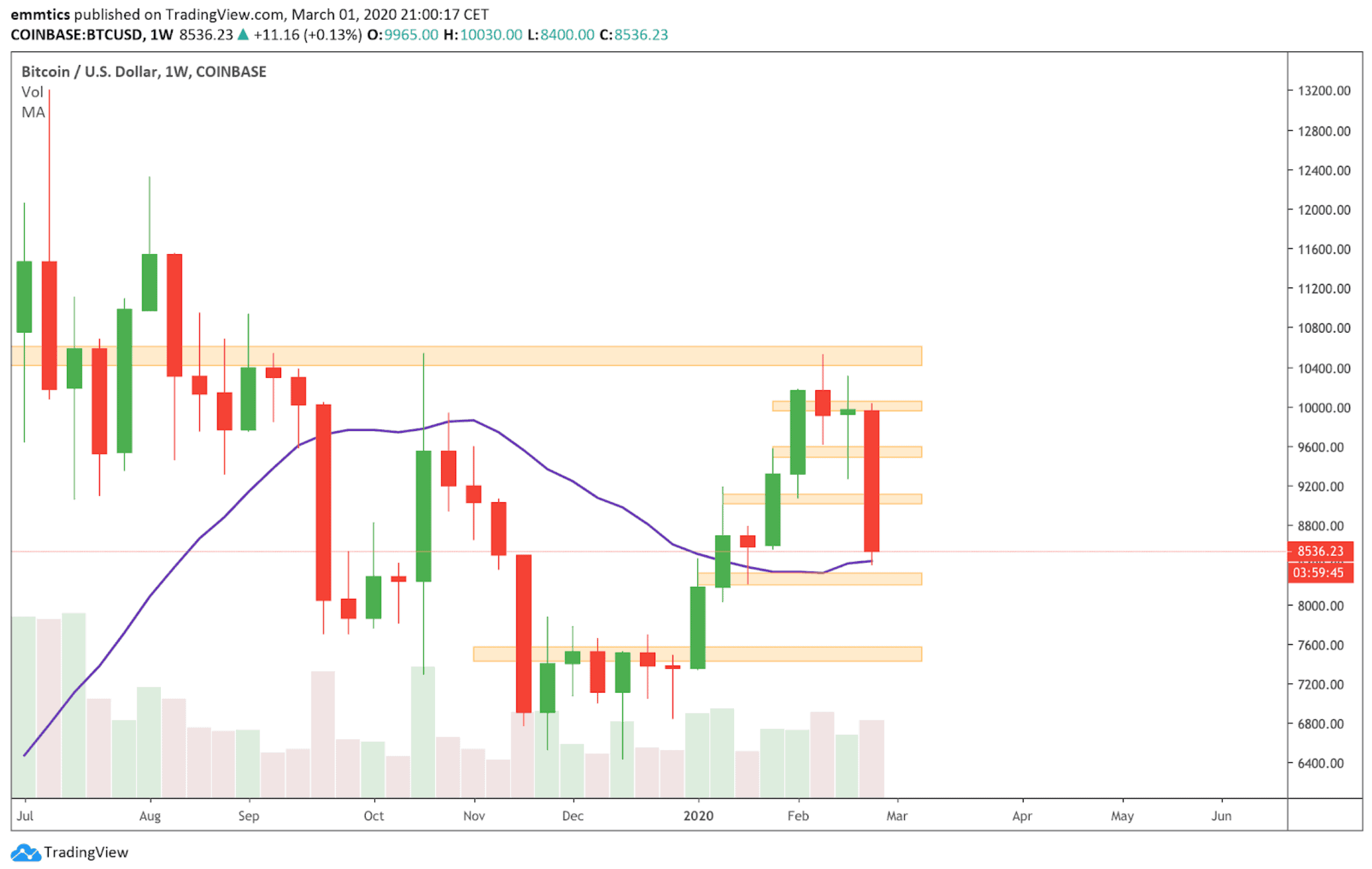 Afbeelding 3: wekelijkse grafiek van bitcoin
Het is uiteraard een hoop speculatie wat ik zojuist heb beschreven maar goed, dat is ook wat we aan de het doen zijn! De komende week biedt vast en zeker een hoop kansen voor snelle trades, zowel long als short, maar voor de niet-daytrader zou ik wachten totdat de koers minimaal de 200 dagen MA breekt of dat de koers support vind op ofwel de $8.200 (de eerstvolgende supportzone) ofwel op $7.400-7.600. De grafiek zit vol met gemengde signalen en zoals ik vaker heb beschreven is het op dit soort momenten behulpzaam om uit te zoomen naar de wekelijkse grafiek, geduld te hebben en vooral niet te snel te reageren.
Tot volgende week!