Bitcoin en de gehele crypto markt waren de afgelopen week weinig interessant en vervolgde daarmee haar pad van side-ways trading van de afgelopen weken. Na een korte dip tot het $5700 niveau klom de koers weer snel omhoog tot rondom de $6100 en zorgde het nieuws dat Tether $250.000.000 had bijgeprint voor een kortstondige maar sterke spurt tot het niveau van $6300. Yes! Goed nieuws had eindelijk weer eens effect op de prijs!
Het prijsniveau van $6300 bleek echter het plafond van deze bounce en dit werd gevolgd door een week waarin de markt verdeeld was en de volatiliteit en het volume laag waren. Bitcoin staat op een kruispunt. Laten we eens kijken naar the good, the bad and the ugly!
The Good
Het support rondom de $5750 is sterker dan de meeste beren volgens mij hadden verwacht. Dit is te zien aan de lange schaduwen (vooral zichtbaar op de 1h en 4h charts) van de verschillende candles en het toenemende volume op dit niveau. Iedere keer dat de koers van Bitcoin haar entree maakt rondom dit niveau zijn er een hoop kopers op de markt die de koers weer snel omhoog stuwen. Op dit moment zijn er een hoop beren gevangen met hun shorts rondom het $5700 niveau die zeer nerveus zullen worden indien Bitcoin weer een beetje terug veert. Tegelijkertijd is het volume laag en is het neerwaartse momentum sterk aan het afnemen.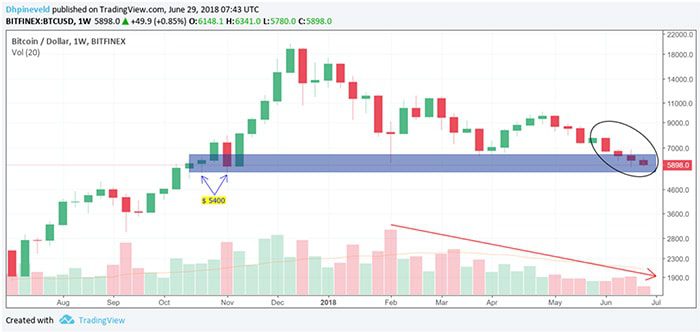 Afbeelding 1: Bitcoin weekly chart
In bovenstaande afbeelding is duidelijk te zien hoe Bitcoin de afgelopen 4 weken iedere keer de week afsloot op een lager niveau. De 'real-bodies' van de candles worden echter steeds kleiner en het volume (ja weer het volume) neemt ook af. Dit laat duidelijk zien dat het neerwaartse momentum aan het afnemen is, iets wat tevens wordt bevestigd door verschillende momentum indicatoren zoals de MACD en de Stoch-RSI. Mede om dit feit snap ik overigens persoonlijk ook niet de korte termijn speculatieve short-plays van sommige traders op dit niveau. Het support tot de $5400 is sterk en er zal een hele hoop nodig zijn om dit te breken. Vanuit een Risk-Reward perspectief is een short-play hier niet aantrekkelijk omdat een bounce richting de $6800 en zelfs $7000+ veel aannemelijker is.
The Bad
Het support op $6000 is gebroken en dit is geen 'false-breakout'. Een test van het niveau op $5400 is zeer aannemelijk en vervolgens zal $6000 een nieuw resistance-niveau zijn. Dit support niveau is tot stand gekomen halverwege oktober en begin november vorig jaar en is duidelijk te zien op afbeelding 1. Er liggen veel kooporders op dit niveau dus er zal waarschijnlijk veel volume ontstaan indien de koers daalt naar dit niveau.
The Ugly
Hoewel het momentum afneemt is de bear trend is nog (lang) niet over. Ik hoor veel traders hoopvol praten over een nieuw hoogtepunt dit jaar omdat Bitcoin en alle overige cryptomunten een snelle en sterke rally kunnen maken nadat de belangrijke resistance-levels rondom de $10k+ zijn weggenomen. Dit scenario is echter ver weg en naar mijn mening is het veel aannemelijker dat de volgende bull run heel rustig en langzaam begint. Het vertrouwen van de bulls is laag en iedere keer dat zij een resistance niveau hebben overwonnen geven zij deze weer gemakkelijk op indien er slecht nieuws naar buiten komt. Daarnaast zijn er ook andere factoren zoals "gedwongen verkopen van fondsen" die de prijs kunstmatig laag kunnen houden. Vertrouwen wordt vaak langzaam opgebouwd en hoewel ik denk dat in ieder geval op dit moment een groot deel van de beren terug in het bos zijn zullen deze weer snel naar buiten komen indien er ook maar een klein signaal is dat het niveau rondom $5400 breekt.  
Voor nu zijn mijn ogen gericht op de prijsniveaus van $6500 en $5400. Een move en het gedrag naar ieder van deze niveaus zal mijn interesse hebben en meer kunnen vertellen over de richting van Bitcoin op de korte termijn. Fijn weekend allemaal!