Het is weer een nieuwe week en na maanden van verveling is de actie eindelijk weer terug en wordt het weer een spannende tijd. Vorige week schreef ik al dat bitcoin (BTC) bullish aan het worden is en dat ik nog een flinke pull back verwacht voordat de trend echt begint te draaien en weer langzaam bullish wordt. Na afgelopen week heb ik hier nog meer vertrouwen in en geloof ik dat het einde in zicht is.
Afgelopen week trachtte de koers de rally nog voort te zetten en klom onder licht volume tot een niveau van $5488 op Bitfinex. De bulls waren echter te verzwakt en wisten – na weken van hogere koersen – de rally niet langer vast te houden. De koers gleed onderuit tot ongeveer $4934 op Bitfinex waarna het snel weer opklom en support vond net boven de $5000. Sindsdien is het volume weer helemaal opgedroogd en is het verrekte stil in de markt. Door de actie van afgelopen weken is het duidelijk geworden dat de bears niet meer de overhand hebben en we aan de vooravond staan van een trendwisseling.
Waarbij een bullish naar bearish trendwisseling vaak met veel geweld en volatiliteit gepaard gaat is het bij bearish naar bullish precies andersom. Dat gebeurt heel rustig. Heel geleidelijk. De basis voor een bullish trend is gelegd maar we zijn er nog niet. Ik geloof dat de koers van bitcoin op dit moment niet het vertrouwen en de kracht heeft deze rally duurzaam door te zetten. Daar is volgens mij nog een shake-out voor nodig en de bevestiging dat we nu echt de bodem hebben bereikt.
Laten we eens kijken naar de wekelijkse grafiek, want het is exact die grafiek die voor mij zo waardevol is omdat op de wekelijkse grafiek de langere termijn trends beter zichtbaar zijn dan op de kortere termijn grafieken (dagelijkse of 4h en 1h grafiek). Je kunt stellen dat ik de wekelijkse grafiek gebruik voor het bepalen van de trend en de kortere termijn grafieken voor het timen van mijn trades. Enfin, dat is allemaal mooi maar laten we eens kijken wat er te zien valt op de wekelijkse grafiek!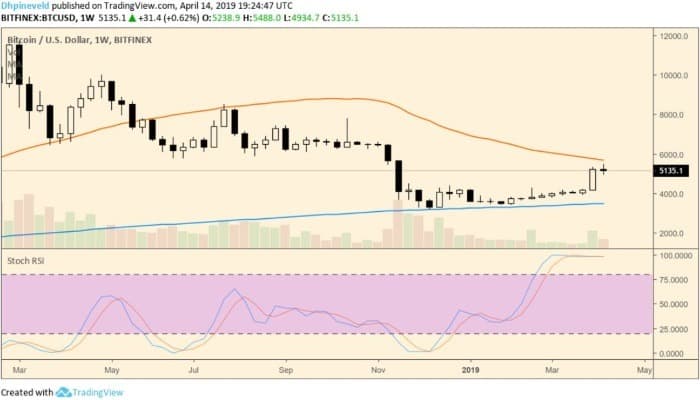 In bovenstaande wekelijkse grafiek (afbeelding 1) heb ik 3 indicatoren geplot. De Moving Average (MA) 50 weken (oranje lijn) de Moving Average 200 weken (blauwe lijn) en de Stoch-RSI (de grafiek onderaan de afbeelding). Zoals goed te zien heeft de MA50 de afgelopen tijd als een sterke weerstand gefungeerd terwijl de MA200 juist 2 keer sterk support heeft geboden. Afgelopen week beschreef ik al dat indien de rally zou voortzetten het potentieel absoluut zou zijn gemaximaliseerd bij de $6000 daar dit naar verwachting een enorm sterke weerstand zal zijn, maar dat ik persoonlijk niet verwachtte dat de rally veel verder dan $5300/5400 zou komen.
Mijn visie hierop is nog steeds ongewijzigd. Hoewel we nu support vinden boven de $5000 verwacht ik niet dat we vanuit hier een rally starten die door de MA50 breekt en de stijging voortzet. Tevens verwacht ik niet dat dit support niveau stand houdt op dit moment want daarvoor is het volume in mijn optiek te dun en de Stoch-RSI te 'overbought'. De weg van de minste weerstand is op dit moment naar beneden en ik geloof dat zodra de koers door de $5000 zakt we mogelijk een snelle dip zullen zien omdat ik denk dat er veel stop-losses rondom de $4850-$4900 verborgen zitten.
Dat wil niet zeggen dat het daarna weer kommer en kwel is. Nee, deze potentiële dip juich ik toe want ik geloof dat we hiermee een echte basis zetten voor een langdurige trendwisseling. Afgelopen week heb ik mijn long-posities afgesloten en ik zal de komende weken zoeken naar een nieuwe entry. Wat zijn de niveau's die ik in de gaten houd? Allereerst zal ik kijken naar de EMA50 op de dagelijkse grafiek (rode lijn in afbeelding 2). Deze indicator heeft een belangrijke basis gevormd in de huidige rally en dit komt op dit moment overeen met een niveau van ongeveer $4500 op Bitfinex.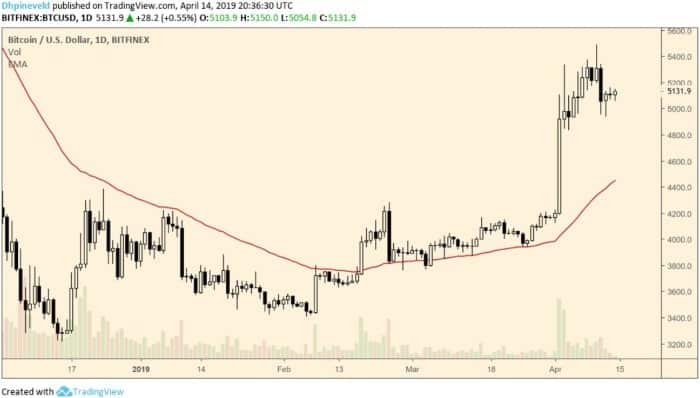 Vervolgens zal ik mijn ogen richten op de $4250 daar dit tevens een sterk support kan vormen daar het de weerstand van afgelopen weken was. Als laatste – en dat zou de absolute bonus zijn – zou ik zeer geïnteresseerd zijn in het niveau van $3600 op Bitfinex want dit komt overeen met de MA200 op de wekelijkse grafiek (afbeelding 1) en heeft tot 2 keer toe het belangrijkste support uit de bear trend van afgelopen jaar gevormd. Mocht de koers door dit niveau heen breken dan kun je alle woorden uit dit column als waardeloos beschouwen want dan is het einde nog niet in zicht en gaan we op zoek naar nieuwe bodem. Ik ben echter positief en heb er vertrouwen in dat we aan de vooravond staan van weer een mooie periode. Het beloven spannende weken te worden met mogelijk mooie kansen.
Geniet ervan en tot volgende week!
Wil je op de hoogte blijven van het laatste nieuws? Abonneer je dan op onze push-berichten, Facebook– of Twitter. Meediscussiëren? Meld je dan aan voor ons Telegram kanaal.