Nadat we twee weken geleden de $10.000 voor het eerst sinds lange tijd weer doorbraken schoot de bitcoin (BTC) koers afgelopen week door tot een niveau van $13.868 op Coinbase waarna een snelle en sterke correctie het gevolg was. Niets om je overigens zorg over te maken want na een ongelooflijke rally zoals die van afgelopen weken was dit in mijn optiek niet meer dan normaal. Mijn eerst entry zone van exact $10.300 werd geraakt waarna de koers stabiliseerde boven de $11.000. Op moment van schrijven bevindt de koers van bitcoin zich rond de $11.400 en zijn de markten tot rust aan het komen. We bespreken het eigenlijk al weken dat een retrace en consolidatie van absoluut belang is om een gezonde bull run in stand te houden. De technische indicatoren zijn al wekenlang overstrekt en veel traders verbazen zich over het gedrag van bitcoin. De koers toont een absolute hyperbolische vorm en de alts staan nagenoeg stil. Bitcoin dominantie is weer hoger dan 60%, iets dat we voor het laatst zagen in april 2017. De koers van bitcoin blaast stoom af en de wekelijkse grafiek (afbeelding 1) laat een flinke shooting star zien (bearish reversal patroon). Is het feestje over of leggen we nu de basis voor een aanval op de (All Time High ATH) van 2017? Ik verwacht van wel, maar daarvoor moet de markt wel stand houden terwijl de koers consolideert.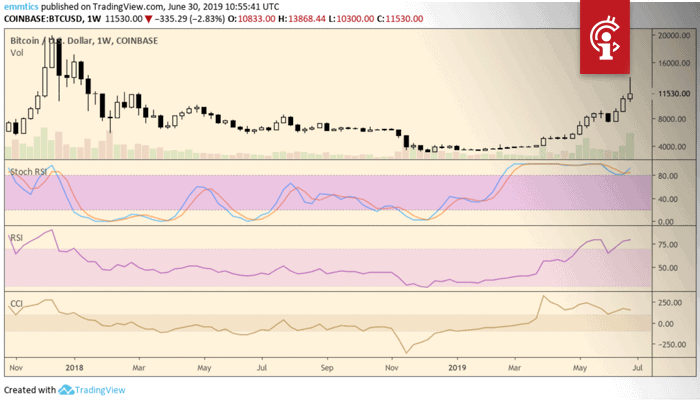 Afbeelding 1: wekelijkse bitcoin grafiek op Coinbase
In afbeelding 1 heb ik de wekelijkse grafiek van bitcoin op Coinbase weergegeven. Op deze grafiek is goed te zien hoe een shooting star zich op dit moment aan het vormen is. Nu is een shooting star normaliter een bearish reversal patroon en in combinatie met de momentum-indicatoren die allerlei bearish divergences laten zien alsmede overbought zijn is dit een situatie om extreem op je hoede voor te zijn en zal dit door veel traders als zeer bearish worden opgevat. Desalniettemin geloof ik dat het niet zo erg hoeft te zijn want zolang de koers van bitcoin boven de grens van $10.000 blijft is het momentum nog sterk intact. De formatie van de shooting star zat er al tijden aan te komen maar tot op heden is het support boven de $10.000 en zelfs $11.000 sterk gebleken. Als de koers hier de komende weken blijft hangen dan komen de technicals ook tot rust en zal dit tevens veel technische traders het vertrouwen geven in te stappen. Toch denk ik dat het niet zo lang rustig zal blijven want de markt is nerveus en zit vol spanning! In mijn optiek is het dus van belang dat de $10.000 stand houdt om ieder geval het momentum vast te houden en binnen niet afzienbare tijd een poging te doen de ATH van 2017 te breken. 
Hoewel de overhead resistance mogelijk gigantisch is tussen de $16.000 en $20.000 geloof ik wel dat we de ATH gaan breken en op zijn minst koersen van $25.000 en $30.000 gaan verkennen. Enkele fundamentele drivers hiervoor zijn het feit dat de hype rondom bitcoin nog lang niet zo groot is als dat we de vorige keer meemaakte terwijl men op dit moment ruim $11.000(!) betaalt voor 1 bitcoin. We vinden het niet eens gek meer. Daarnaast is de interesse vanuit institutionele partijen aanzienlijk toegenomen, is innovatie op gebied van massa-adoptie in volle gang en is bitcoin en crypto een bekende term in bijna alle hoeken van de maatschappij. Vergelijk dit met de situatie van 2015-2017 en je ziet het verschil en potentie. Toch moet de overhead resistance boven de $16.000 niet worden onderschat. Een hoop retail beleggers zullen naar verwachting de eerste beste mogelijkheid pakken om hun coins te verkopen en neutraal uit te stappen indien ze dit nog niet eerder met verlies hebben verkocht. Er valt uiteraard iets te zeggen voor het feit dat indien deze investeerders nog niet hebben verkocht ondanks de zware bear trend ze dat nu ook niet zullen doen maar toch ervaart een markt altijd flinke overhead resistance (zoals dat zo mooi heet) alvorens het een ATH breekt. Dit hebben we iedere keer gezien bij bitcoin in het verleden maar is tevens ook een algemene situatie bij iedere andere asset class.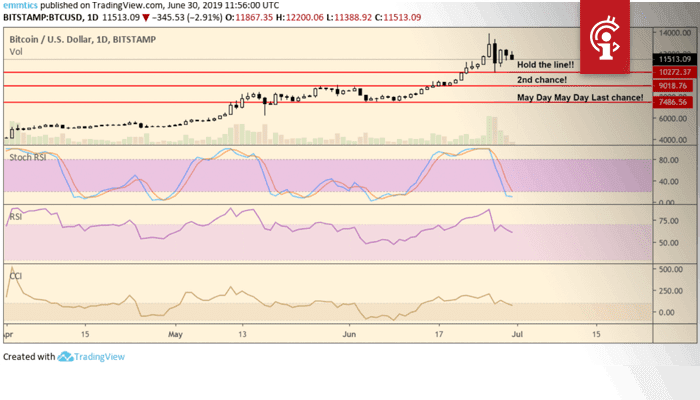 Afbeelding 2: dagelijkse bitcoin grafiek op Coinbase
Dat we vroeg of laat de ATH gaan breken ben ik van overtuigd. Echter, om het huidige momentum te behouden en hier niet op te hoeven wachten tot 2020 is het van belang dat de $10.000 houdt. Mocht de $10.000 toch breken de komende weken dan krijgen we een tweede kans bij het support niveau van $9.000. Een break door de $10.000 maar support vinden op $9.000 is nog steeds een signaal dat de bull trend sterk is en een dergelijke retrace zou tevens de momentum indicatoren hebben afgekoeld en een sterke basis bieden voor long term trades. Een break door de $9.000 wordt vervelend. Er is in dat geval een klein support niveau bij de $8.500 (wat mogelijk voldoende is als de bears al zijn verzwakt) maar het echte niveau zal liggen op de $7.000 zoals de afgelopen tijd is gebleken. In deze situatie zou het breken van een ATH iets langer duren maar is hij nog niet uit zicht. Een break door de $7.000 zou uiteraard de hele markt doen kijken naar de $6.000 maar de mogelijkheid dat de hele rally van afgelopen tijd toch een "bear market rally" was zal dan steeds meer werkelijkheid worden. Er zullen voorspellingen van $4.000 of lager de ronde doen en de euforie zal flink zijn bevroren.
Vooralsnog is dit ver weg en vrij onwaarschijnlijk maar bovenstaand verhaal is wel zeer belangrijk voor het momentum. Op dit moment ziet alles er vrij goed uit. Mijn eerste entry op $10.300 is gehit en ik zal de markt komende week met veel interesse (zoals altijd) bestuderen. Mijn overige buy zones zijn overigens nog steeds gelijk zoals eerder beschreven. De trend is bullish en ik ben long. Indien de $10.000 stand houdt is de kans dat we dit jaar nog een nieuwe ATH zien erg groot. Hold the line!
En tot volgende week!
Wil je op de hoogte blijven van het laatste nieuws? Abonneer je dan op onze push-berichten, Facebook– of Twitter. Meediscussiëren? Meld je dan aan voor ons Telegram kanaal.