De koers van bitcoin (BTC) brak afgelopen week als gevolg van sideways traden uit de downward sloping channel en vond op deze trendlijn zowel gisteren als eergisteren haar support (rode lijn afbeelding 1). Dit lijkt enigszins bullish maar tegelijkertijd ondervindt de koers hevige weerstand rond de $7.600, zijn de momentum-indicatoren op de dagelijkse grafiek overbought, lijkt de grafiek een lagere high te maken en is het volume volledig opgedroogd. Alleen de wekelijkse grafiek laat wat lichtpuntjes zien maar de dagelijkse laat twijfel zien met daarbij het voordeel van de twijfel voor de bears. Wat dat betreft is er niets veranderd met de situatie die ik beschreef in mijn column van vorige week, maar is er enkel meer contrast bijgekomen; dat wil zeggen dat ik nog meer dan vorige week wil afwachten op een mooie entry en die niet op dit niveau wens te nemen. Een confirmerende move naar boven met een succesvolle break door de $7.800 zou mijn interesse hebben of een dip in de regio van $6.000 met haar support-niveaus op $6.800, $6.500 en sub-$6.350. Totdat een van deze twee situaties ontstaat open ik geen noemenswaardige posities. Een korte termijn trader zou overigens een mooie kans kunnen zien in een short op dit niveau met een stop-loss rond de $7.700 en een target van $7.000 daar het opwaartse momentum weg lijkt te zijn en er een goede risk-reward-verhouding ligt op dit niveau. Een korte termijn long trader ziet misschien ook een mooie kans op dit niveau maar deze setup beschrijf ik later!

Afbeelding 1: dagelijkse grafiek bitcoin (BTC) op cryptocurrency exchange Coinbase
Maar goed, laten we even kijken naar de dagelijkse grafiek van Coinbase in afbeelding 1 om te onderbouwen waarom ik op dit moment afwacht en waarom ik pas overweeg nieuwe long-posities te openen bij een break door de $7.800 of indien de koers dipt in de regio van $6.000.
---
---
Wil je meer van Michiel lezen, horen en zien? Surf dan naar members.crypto-insiders.nl voor onze meest waardevolle content. Denk aan koersupdates, trading signals, educatieve video's, geschreven uitleg, Ask Me Anything-sessies en meer! Maak nu een lidmaatschap aan en probeer de eerste 30 dagen gratis! Bekijk hieronder een voorproefje:
---
---
In afbeelding 1 is op het moment goed te zien hoe de blauwe lijn, die zich bevindt rond de $7.800, als een ware muur fungeert voor de koers van bitcoin. Onthoud goed dat deze lijn eerder als support fungeerde toen de koers van bitcoin zich in het kanaal van $7.800 tot $8.400 bevond in oktober van dit jaar. Het feit dat dit support-niveau nu een redelijk sterk weerstandsniveau is stemt mij bearish en mede hierdoor wil ik eerst bewijs zien dat de bulls de koers van bitcoin door dit niveau weten te breken alvorens ik long wens te gaan in een up-move. Tegelijkertijd zien we ook dat de momentum-indicatoren op de dagelijkse grafiek overstrekt zijn en dat versterkt het bearish karakter van deze grafiek. Er zijn uiteraard ook positieve dingen te zien op de dagelijkse grafiek: de break door de neerwaartse trendlijn (rode lijn) en het support op dit niveau alsmede het support op de 20 dagen moving average (MA) van de Bollinger Bands (afbeelding 3). Echter, als ik de verschillende voors en tegens moet afwegen, zijn de gevaren in mijn optiek groter dan de kansen op dit niveau en daarom wens ik op basis van deze grafiek af te wachten met het openen van nieuwe posities. Zoals ik eerder al aangaf biedt dit uiteraard wel een mooie kans voor een short-trader.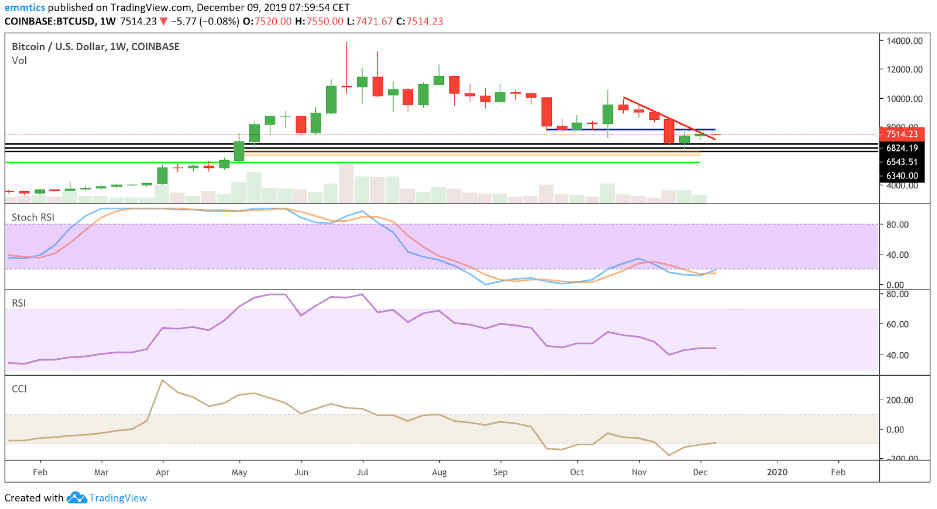 Afbeelding 2: wekelijkse grafiek bitcoin (BTC) op cryptocurrency exchange Coinbase
De wekelijkse grafiek stemt mij wat positiever, maar versterkt daarbij mijn opinie om af te wachten met het openen van long-posities nu en te wachten op een eventuele mooie entry in de $6.000-regio. Zowel de dagelijkse alsmede de wekelijkse grafiek laat zien dat er mogelijk nog wat daling in het vat zit. Desalniettemin heeft de koers van bitcoin nauwelijks nog goed haar voet in de regio van $6.000 gezet en aangezien het support hier sterk is heb ik enorm veel interesse in entries rond dit niveau. Hoewel de bulls zwak zijn op het moment, zijn de bears dat ook. Er is dus letterlijk niets veranderd in vergelijking met de afgelopen weken.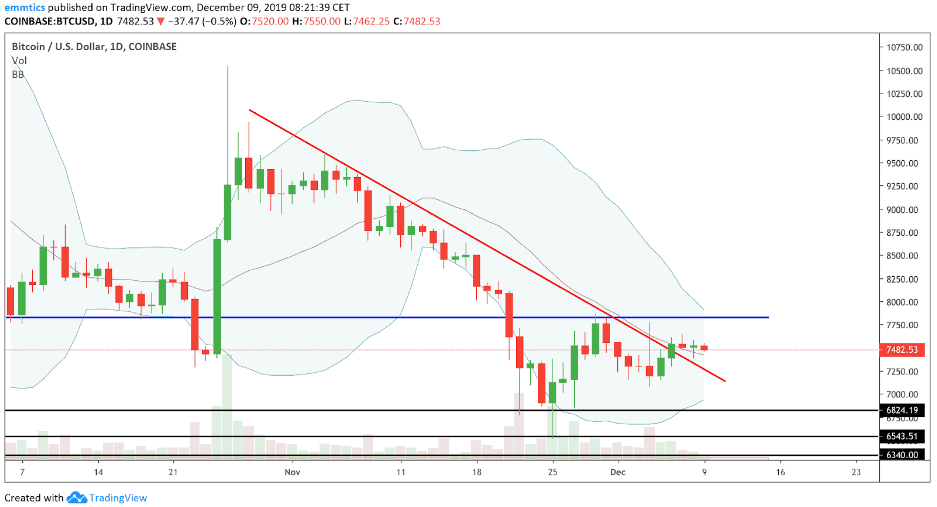 Afbeelding 3: dagelijkse grafiek bitcoin (BTC) op cryptocurrency exchange Coinbase met Bollinger Bands
Een move naar beneden heeft wat dat betreft meer mijn interesse voor het openen van nieuwe posities dan een confirmerende move naar boven. Tijdens de vorige dip in de regio van $6.000 zijn er al genoeg bitcoins gekocht en mocht de koers toch naar boven uitbreken dan ben ik tevreden met het huidige portfolio. Voor de korte termijn long-trader is er overigens ook een interessante trade mogelijk op dit moment! De koers bevindt zich, zoals je kunt zien in afbeelding 3, exact op de middellijn van de Bollinger Bands (BB). Deze middellijn is de 20 dagen MA en fungeert op dit moment als een support-niveau. Een long trade op dit niveau met een target van $7.800 (bovenkant van de BB en de weerstand die ik eerder beschreef) en een stop-loss op $7.350 zou op basis van de BB geen gekke trade-setup zijn. 
Ikzelf focus in dit geval echter liever op de grotere swings. Mocht de koers dippen dan zie ik allereerst support op $7.250 en $7.000 en vervolgens de welbekende support-niveaus in de regio van $6.000 die ik de afgelopen weken beschreef. Er is tevens een opwaartse trendlijn zichtbaar die ik morgen bespreek in mijn Macro video die zal verschijnen in onze omgeving voor Crypto Insiders, dus dat en meer bewaar ik voor dan. Voor nu zou ik zeggen spaar je krachten en hold your fire!
Tot volgende week!