Wat een geweldige week was het weer! De langverwachte correctie werd eergisteren een feit maar de koers vond al snel weer support op $7000 nadat het – afhankelijk van de cryptocurrency exchange – tot laag in de $6.000 was gezakt. Binnen onze Telegramgroep (klik hier om je daarvoor aan te melden!) deelde ik al dat mijn ogen gericht waren op de $7.600. Breken we die – zo vertelde ik – dan hebben we te maken met een zeer bullish scenario. Vanmorgen werd ik wakker en startte ik TradingView op om de stand van zaken te bekijken en ja hoor: de koers van bitcoin (BTC) was recht door de $7.600 geschoten en schommelde rond de $7.800. Een bijzondere kans doet zich voor bij verschillende altcoins omdat deze goede BTC-entries tonen en mede hierdoor heb ik de eerste lange termijn posities geopend. Koop de dip en stop het weg. Het is accumulatie-tijd! Mijn eerste target is All Time High (ATH)!
Dit klinkt natuurlijk allemaal geweldig, maar er zijn uiteraard ook een aantal kleine lettertjes en die zal ik hieronder eens rustig beschrijven, in normaal font en met een normaal lettertype.
Op alle tijdframes is de koers van bitcoin bullish BEHALVE de maandelijkse chart. In afbeelding 1 heb ik de maandelijkse grafiek weergeven van de koers van bitcoin op Coinbase.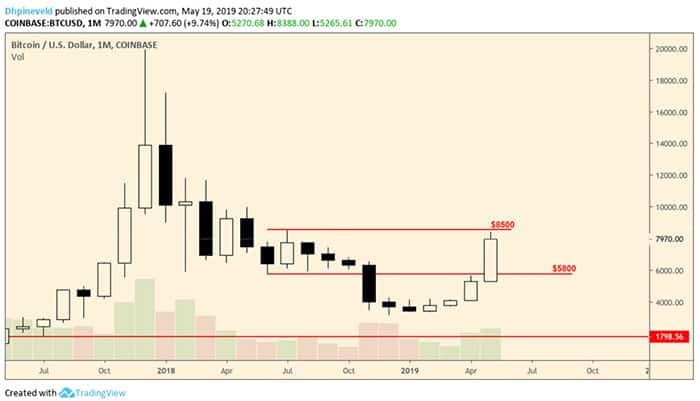 Afbeelding 1: maandelijkse grafiek bitcoin (BTC)
Om een bullish trend te hebben op de maandelijkse grafiek dient de koers van bitcoin de $8.500 te breken en daarna minimaal support te vinden op dit niveau. De $8.500 is geen makkelijke muur maar mochten we die breken dan is mijn inziens de weg open naar de $10.000.
Toch dienen we nog steeds sterk rekening te houden met een significante pullback. Ik zie hoofdzakelijk twee scenario's hoe dit zou kunnen plaatsvinden.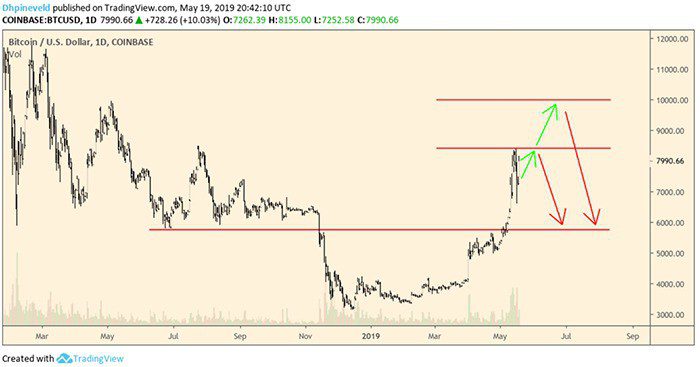 Afbeelding 2: dagelijkse grafiek bitcoin (twee scenario's)
Het eerste scenario is dat de rally van vandaag niet doorzet en dat we niet de $8.000 of $8.500 weten te breken. In dat geval is er een sterke dubbel-top aanwezig en zal de bearish trend op de maandelijkse grafiek zichtbaar blijven. In dat geval verwacht ik eerst een pull back naar de $6.500 en daarna mogelijk zelfs naar de $5.800.
Het tweede scenario is dat we de komende dagen toch $8.500 breken en gewoon regelrecht richting de $10.000 gaan. Je kunt er de klok op gelijk stellen dat veel traders hier hun profits zullen pakken en de markt op dit niveau een flinke pullback maakt. Indien de bulls geluk hebben dan houdt initieel het support op $9.000 en daarna de $8.500 stand, maar als dit niet lukt dan gaan we waarschijnlijk gewoon weer de regio van $6.000-7.000 bezoeken.
De markt heeft op dit moment een sterke mate van bullish momentum en Fear of Missing Out (FOMO) te pakken. Op slecht nieuws wordt niet tot nauwelijks gereageerd en het support is sterk. In afbeelding 3 is goed te zien op de 1-uur grafiek hoe bullish de markt is en hoe men gereed staat de dips te kopen en te traden op FOMO.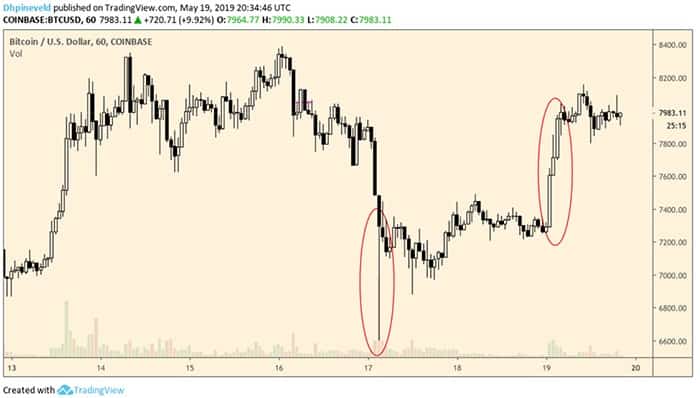 Afbeelding 3: 1 uur grafiek bitcoin 
In bovenstaande afbeelding laat de omringende wick heel duidelijk zien dat de markt vol zit met mensen die de dip willen kopen. Traders die de voorgaande rally hebben gemist of hun lange-termijn posities willen vergroten staan met grote hoeveelheden klaar om in te springen zodra de mogelijkheid zich voordoet. Het tweede omringende gedeelte laat zien hoe snel buying the dip omslaat in FOMO. Er is her en der nog wat angst in de markt maar zodra de koers gaat dan springt iedereen erin.
Het is dit gedrag samen met de ontwikkelingen van afgelopen weken (bullish sentiment, weinig reactie op slecht nieuws, kapitaal dat weer haar weg zoekt naar crypto) dat ik zeer bullish wordt voor long term holds. Nu is het zeer belangrijk om te begrijpen vanuit welk perspectief ik dit schrijf. Zoals ik al eerder aangaf is de kans zeer groot dat we een grote pullback gaan meemaken. Niet alleen omdat de grafieken dit aangeven maar ook omdat in mijn optiek iedereen het net wat teveel met elkaar eens is. Toch zijn de ontwikkelingen van afgelopen weken voor mij een reden om long-term long te gaan. Nog niet op bitcoin maar vooral op altcoins, want als gevolg van de BTC-dominantie en de weg die de koers van bitcoin heeft vrijgemaakt doen zich zeer mooie kansen voor bij verschillende altcoins (sluit je aan bij onze telegramgroep door hier te klikken om hier meer over te lezen). Omdat we nu te maken met een sterk momentum en tevens een hoge mate van FOMO zien zal naar verwachting de volatiliteit de komende tijd groot zijn. Ik ben niet van plan deze specifieke volatiliteit intensief te traden. Ik ben een portfolio aan het opbouwen dat – over de gehele linie – minimaal x10 moet gaan en daarvoor vergroot ik vanaf nu bij iedere dip strategisch mijn portfolio. Geen geneuzel met stop-losses. Gewoon naked long. Iedere keer wat meer en dan veilig wegstoppen op een Ledger. Een zeer bullish momentum tezamen met FOMO maakt het heel moeilijk om in te schatten hoe hoog koersen schieten. Ik focus mij daarom vooral op support niveaus (zoals de $6.500 of $5.800) om mijn posities te vergroten. Ik heb wel een target waarop ik een gedeelte van mijn portfolio wens te liquideren: de ATH van de vorige bullrun, want in de komende bullrun is dit het niveau wat in mijn optiek minimaal zal worden behaald.
Er is uiteraard ook een kans dat er toch iets significants mis gaat en dat zelfs de koers door de $5.800 heen breekt. Een break door de $5.800 zal pijn doen en de bear trend met een aantal maanden verlengen. In afbeelding 1 zie je een rode lijn onderaan de grafiek. Dit is een target welke ik al ruim een jaar in het vizier heb als de bodem van bitcoin. Misschien komen we er nooit maar indien we er wel komen dan zal ik zelfs mijn koelkast en stofzuiger verkopen om long te gaan. Een dergelijk scenario doet overigens ook geen afbreuk aan mijn keuze om long term bags op te bouwen. Ik ben aan het accumuleren en iedere dip is een zege, zelfs al is hij diep!
Tot volgende week!
Wil je op de hoogte blijven van het laatste nieuws? Abonneer je dan op onze push-berichten, Facebook– of Twitter. Meediscussiëren? Meld je dan aan voor ons Telegram kanaal.