Zoals verwacht stond afgelopen week in het teken van een bounce. Op Bitfinex wist de koers van $3.600 naar bijna $4.500 te stijgen in één enkele dag. De bulls waren op dreef, maar de dag erna werd weer een hoop terrein ingeleverd. Met moeite werd de grens van $4.000 verdedigd, maar toch slaagde de bulls erin de dag boven dit niveau af te sluiten.
Sinds het dieptepunt op $3.658 zit Bitcoin in een stijgend kanaal. Dit is vooral goed te zien op de kortere tijdframes. In afbeelding 1 heb ik de 4-uurs grafiek van Bitcoin weergegeven en is tevens dit kanaal geïllustreerd.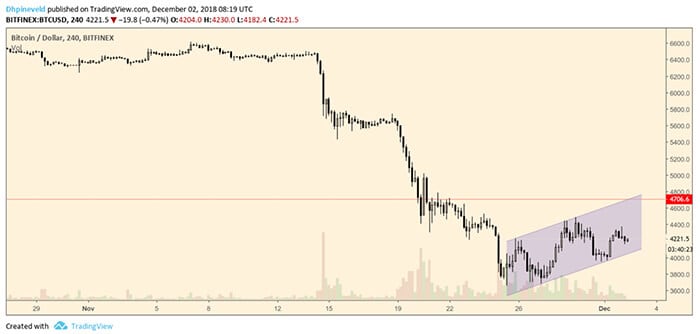 Afbeelding 1: 4-uur grafiek Bitcoin
De koers van Bitcoin zit de afgelopen dagen in een bullish trend. De dip van gisteren wist dan ook haar support te vinden op de bodem van dit stijgende kanaal. Het positieve karakter van de koers van Bitcoin is goed zichtbaar op eigenlijk alle kortere tijd frames. Op de langere tijd frames (dag/week/maand) ziet dit er echter anders uit. Daar lijkt zich een grote bear flag te vormen. In afbeelding 2 heb ik de wekelijkse grafiek weergegeven waarop dit bearish patroon goed zichtbaar is.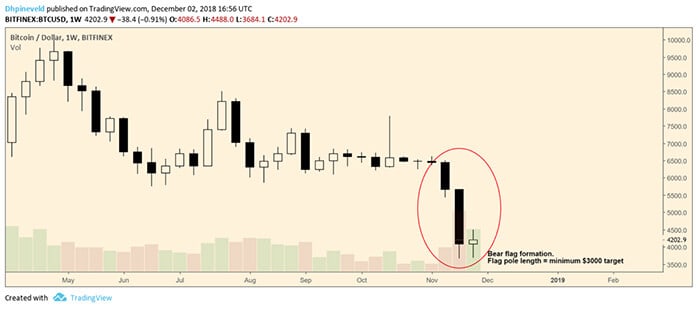 Afbeelding 2: Wekelijkse grafiek Bitcoin
Mocht de rally inderdaad niet stand houden en naar beneden uitbreken dan geeft het bear flag patroon uit afbeelding 2 ons een minimale target van $3.000. De huidige rally ondervindt op het moment een sterke weerstand rond de $4.500 en zal daarna flink haar best moeten doen om door de $4.700 heen te breken. Het is wat dat betreft vrij eenvoudig. In een bullish trend zien we dat de koers vrij eenvoudig naar boven gaat. De markt reageert sterk op positief nieuws en gering op slecht nieuws. In een bearish trend is dit precies andersom en dat is exact wat we op dit moment meemaken.
Zoals we vorige week al bespraken is een kleine rally/bounce niet meer dan normaal. Desalniettemin is de trend nog steeds zeer bearish. De koers heeft iedere keer moeite om om naar boven te krabbelen, maar valt snel naar beneden. Aangezien er nog geen sterke signalen zijn voor een omkeer van de trend maak ik gebruik van iedere rally voor het inzetten van een short-positie (sell the rally). Dit is overigens geen financieel advies. Eenieder die wenst long en/of short te gaan zal zelf zijn/haar research moeten doen.
Tot volgende week!
Wil je op de hoogte blijven van het laatste nieuws? Abonneer je dan op onze push-berichten, 
Facebook
– of Twitter.
[ci-widget-v2]