De straten van Bitcoin waren uitgestorven afgelopen week. Het jaar is natuurlijk pas net begonnen, maar het zou goed mogelijk kunnen zijn dat we afgelopen week een dieptepunt hebben neergezet wat betreft volume. Dit extreem lage volume zagen we ook eind oktober en begin november net voor die scherpe daling naar beneden vanaf de $6.000 naar de $3.500. Dit lage volume is niet lang houdbaar en is praktisch altijd een indicator van aankomende volatiliteit. Een indicator dat er een sterke move aankomt, maar in welke richting? Dat is natuurlijk de grote vraag! Zoals de lezers inmiddels wel gewend zijn ben ik niet het type analist die zegt "we gaan naar boven, of we gaan naar beneden en ga short met alles wat je hebt!" Succesvol investeren of traden is niet zo zwart-wit als veel analisten vaak doen geloven en dergelijke exotische uitspraken zijn enkel bedoeld 'sterk' over te komen en de illusie van zekerheid te creëren. Ik probeer juist de onzekerheid te omarmen en daarmee zo goed mogelijk de realiteit van de situatie te bekijken. Dus wat is mijn kijk op de situatie op het moment? Ik ben – zoals bekend – al geruime tijd bearish op de koers van Bitcoin en crypto's in het algemeen. In mijn scenario planning heb ik rekening gehouden met bewegingen tot onder de $2.000 en zelfs $1.000. Vorige week gaf ik aan dat mijn huidige focus vooral ligt op het zoeken van een langere termijn entry (en niet meer op short posities), maar tot op heden nog geen duidelijke signalen voor het openen van een dergelijke positie heb gevonden. We zijn slechts een week verder maar de situatie begint wel te veranderen. Er zijn een aantal flinke kanttekeningen, maar het 'gedrag' van de koers van Bitcoin van afgelopen week heeft mij positiever gemaakt dan ik aanzienlijk had verwacht en ik zal uitleggen waarom.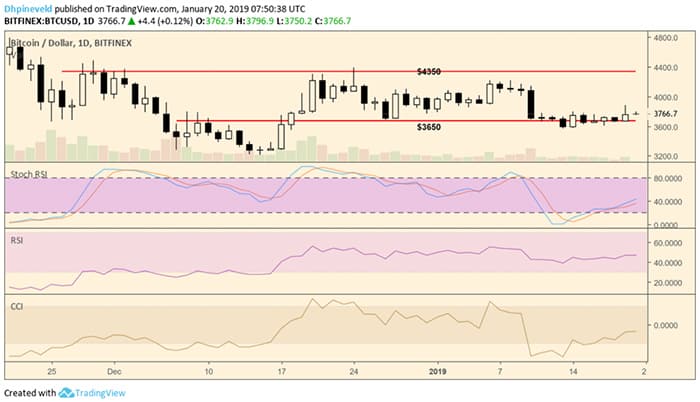 Afbeelding 1: dagelijkse grafiek Bitcoin
Nadat we afgelopen week even kort een uitstapje maakten uit het kanaal waar we al een aantal weken in zitten klom de koers weer snel terug het kanaal in en vindt tot op heden support op de bodem van dit kanaal. Afgelopen week was duidelijk een false breakout. Na de initiële scherpe drop die we afgelopen week meemaakten droogde het volume direct op en zette de sell-off niet door. Dit is iets wat we de afgelopen tijd vooral bij de bulls hebben gezien en niet bij de bears. Tevens merk ik op dat de markt steeds minder sensitief wordt voor slecht nieuws. Dit is fundamenteel een verandering en een goede basis voor een mogelijke trendwijziging die geleidelijk zal plaatsvinden.
Een korte noot over de start van een bullrun. Een bullrun start normaliter heel geleidelijk, heel rustig en vooral heel langzaam. Nadat het vertrouwen weg is uit de markt wordt dit langzaam herwonnen en dit is geen snel proces. Bear trends zijn wat dat betreft precies andersom en zijn vaak veel korter en agressiever. De manie – voorafgaand aan een bear trend – slaat snel om in paniek en een sell-off en het sentiment keert eenvoudig daar een manie geen fundamentele waarde heeft.
Tegelijkertijd lijkt zich voorzichtig een grotere ascending triangle te vormen op de dagelijkse grafiek (afbeelding 2) en is er tevens een patroon zichtbaar dat iets wegheeft van een inverted head & shoulders (maar deze vind ik niet duidelijk genoeg en vertrouw ik niet). De markt lijkt zich op dit moment te stabiliseren en omdat dit zo dicht gebeurt bij het vorige dieptepunt met een extreem laag volume is het vanuit een risk-reward perspectief vrij interessant long te gaan op dit niveau. Het is namelijk aan te nemen dat wanneer de koers van Bitcoin de komende dagen opnieuw een duikvlucht van 10% maakt (een move van ongeveer $350) we ervan uit kunnen gaan dat de paniek terug is en we een stuk dieper zullen gaan. Dit maakt het eenvoudig onze trades aan de onderkant af te dekken. Aan de andere kant is de opwaartse potentie vrij groot op het moment omdat we al zoveel neergang hebben gehad. Desalniettemin is het uiteraard vanzelfsprekend dat men uiterst voorzichtig moet zijn in deze markt en dat we op nog geen enkele manier uit het bos zijn. Er zijn namelijk ook tal van dingen op te noemen die mij niet zinnen op het moment. Op de wekelijkse grafiek lijkt zich namelijk een nare bear flag te vormen en de overhead resistance is op het moment sterk en vormt een rem op iedere rally. Tevens heb ik het idee dat er iets teveel leveraged longs open staan op het moment ten opzichte van shorts en is het lage volume ook een teken van zwakte voor bulls.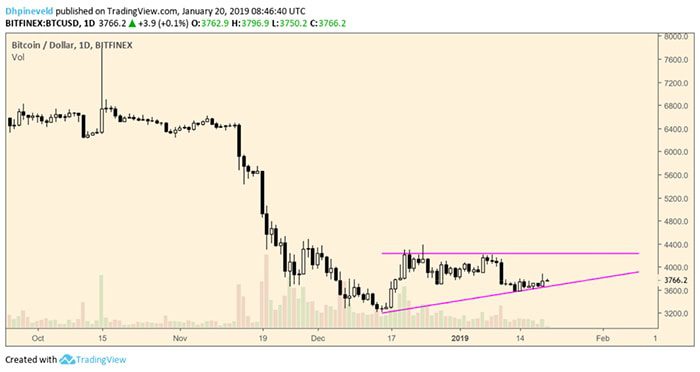 Afbeelding 2: dagelijke grafiek Bitcoin – ascending triangle
Toch ben ik op het moment marginaal bullish en dan vooral vanwege de goede risk-reward set up. Voor de korte termijn ben ik dan ook long. Echter, mocht de koers alsnog door de $3.650 breken (dus door het kanaal waar ik al een tijdje naar kijk) en mocht die break doorzetten door de $3.500 dan dient alle positiviteit uit dit bericht te worden genegeerd en is de trend nog steeds sterk bearish. De markt is nu nog stil maar zal snel weer een hoop kabaal maken. Wordt het feestelijke vreugde of schreeuwend verdriet? We gaan het spoedig zien!
Wil je op de hoogte blijven van het laatste nieuws? Abonneer je dan op onze push-berichten, 
Facebook
– of Twitter.
[ci-widget-v2]