2019 zit er op en het was een bijzonder jaar voor de koers van bitcoin waarbij een mooie basis voor een vervolg van de rally van 2019 is gelegd. Sinds het dieptepunt van de koers van bitcoin op 18 december 2018 op $3.128 heeft de koers over het algemeen een stijgende trend gekozen in 2019. De markt – zoals we dat inmiddels wel kennen bij bitcoin – overliep zichzelf een aantal keer waarbij de koers te hard steeg in een te korte tijd om vervolgens weer flink terug te zakken. Eerst tot een niveau van ongeveer $10.000 en toen tot in de $6.000-regio. Die flinke rallies die we zo nu en dan zagen alsmede het flinke volume wat ik keer op keer zag het afgelopen jaar bij een significante move naar boven blijft mij bullish stemmen en zijn voor mij tekenen dat de onderliggende trend van de markt bullish is. Het zijn voor mij ook tekenen dat het bullish momentum nog steeds sterk is en niet te veel is beschadigd na de flinke bear-run van 2018. Zodra de koers een opwaartse beweging laat zien staan er weer hordes mensen in de rij om te kopen want – zo blijkt – heel veel mensen zijn als de dood om de boot (nog eens) te missen. Dit gedrag is goed voor de slimme investeerder want het stuwt de koers naar grote hoogte en zorgt voor enorm mooie kansen. Ik heb het nu vooral over het technisch momentum zoals jullie kunnen lezen en niet over een toename van de fundamentele waarde van bitcoin (wat ongetwijfeld ook een rol speelt!)
De basis voor het optimaal benutten van die mooie kansen werd voornamelijk het afgelopen jaar en zelfs de afgelopen weken gecreëerd. Ik heb het dan over het accumuleren van bitcoin op strategisch optimale niveaus zodat bij een volgende bull run de posities al zijn ingenomen. Accumulatie gebeurt namelijk op saaie momenten en wanneer er twijfel heerst in de markt. Wanneer de markt haar stijgende trend weer heeft gevonden en dit duidelijk laat zien in de grafieken heeft het slimme geld haar posities al verworven.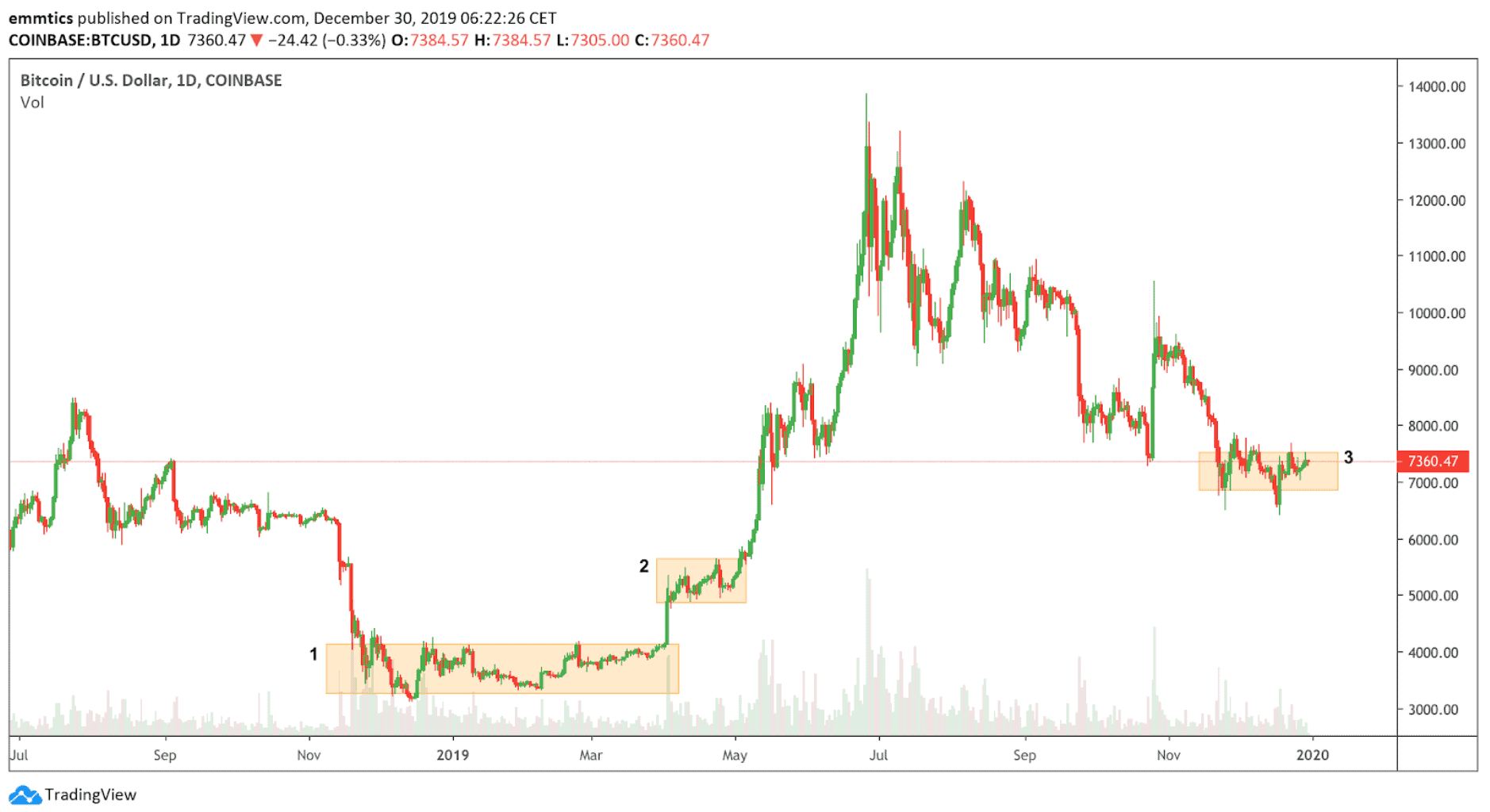 Afbeelding 1: Dagelijkse grafiek van bitcoin op cryptocurrency exchange Coinbase met accumulatie-zones
Laat ik dit eens illustreren met bovenstaande dagelijkse grafiek van bitcoin op cryptocurrency exchange Coinbase. De eerste accumulatiezone lag bij het eerste blok (aangegeven met 1) waarbij de koers zich voornamelijk begaf tussen de $3.500-4.250. Tijdens deze grote accumulatie handelde de koers van bitcoin voornamelijk sideways terwijl het volume bleef afnemen. Toen de koers vervolgens naar boven uitbrak zagen we nog even een korte periode (aangegeven met 2) waarbij posities werden vergroot of waarbij de wat conservatieve traders hun posities opende nadat zij de eerste accumulatiezone hadden gemist. Vervolgens schoot de koers flink omhoog en nam de volatiliteit hevig toe. In de periodes daarna ontstond er veel twijfel onder voornamelijk retail investeerders over wat nu te doen met de koers. Dit werd in mijn optiek gedreven door hoofdzakelijk 2 factoren:
Beleggers hadden geen sub-$6.000 posities geopend en waren onzeker over waar nu nog in te stappen.

Beleggers wilden te snel hun winsten pakken omdat de schrik van 2018 er nog flink in zat en men bang was dat de top van markt alweer bereikt was.
Uitzoomend zie ik persoonlijk juist een vrij mooi verloop waarbij wij opnieuw een kans krijgen aangereikt om voor de derde keer op een strategisch niveau bitcoin te accumuleren. We begeven ons namelijk in zone 3 op de grafiek van bitcoin in afbeelding 1. Deze accumulatiezone loopt van ongeveer $6.000 tot $7.500 maar is het sterkst in de regio van $6.000.
---
---
Wil je meer van David lezen, horen en zien? Surf dan naar members.crypto-insiders.nl voor onze meest waardevolle content. Denk aan koersupdates, trading signals, educatieve video's, geschreven uitleg, Ask Me Anything-sessies en meer! Maak nu een lidmaatschap aan en probeer de eerste 30 dagen gratis! Bekijk hieronder een voorproefje:
---
---
Jullie hebben de afgelopen weken/maanden al veelvuldig kunnen lezen dat ik keer op keer bullish wordt zodra de koers in de regio van $6.000 komt en dat heeft – buiten de huidige signalen op de dagelijkse grafiek – ook sterk te maken met het gedrag van accumulatie en mijn opvatting dat de onderliggende trend van de markt bullish is en steeds sterker wordt. 
Inzoomend op de dagelijkse grafiek die ik heb weergegeven in afbeelding 2 zien we dat de koers zich begeeft tegen de weerstand van $7.500 en moeite heeft hier doorheen te breken. Ik deelde afgelopen week al in het Telegram-discussiekanaal van onze members-omgeving dat $7.500 de eerste belangrijke weerstand is (eerst stelde ik dat de $7.800 de eerste echte weerstand was). De $7.800 blijft uiteraard een weerstand van formaat maar de $7.500 blijkt op dit moment sterker dan ik aanvankelijk dacht en de focus van de markt ligt op dit moment vooral rondom dit niveau.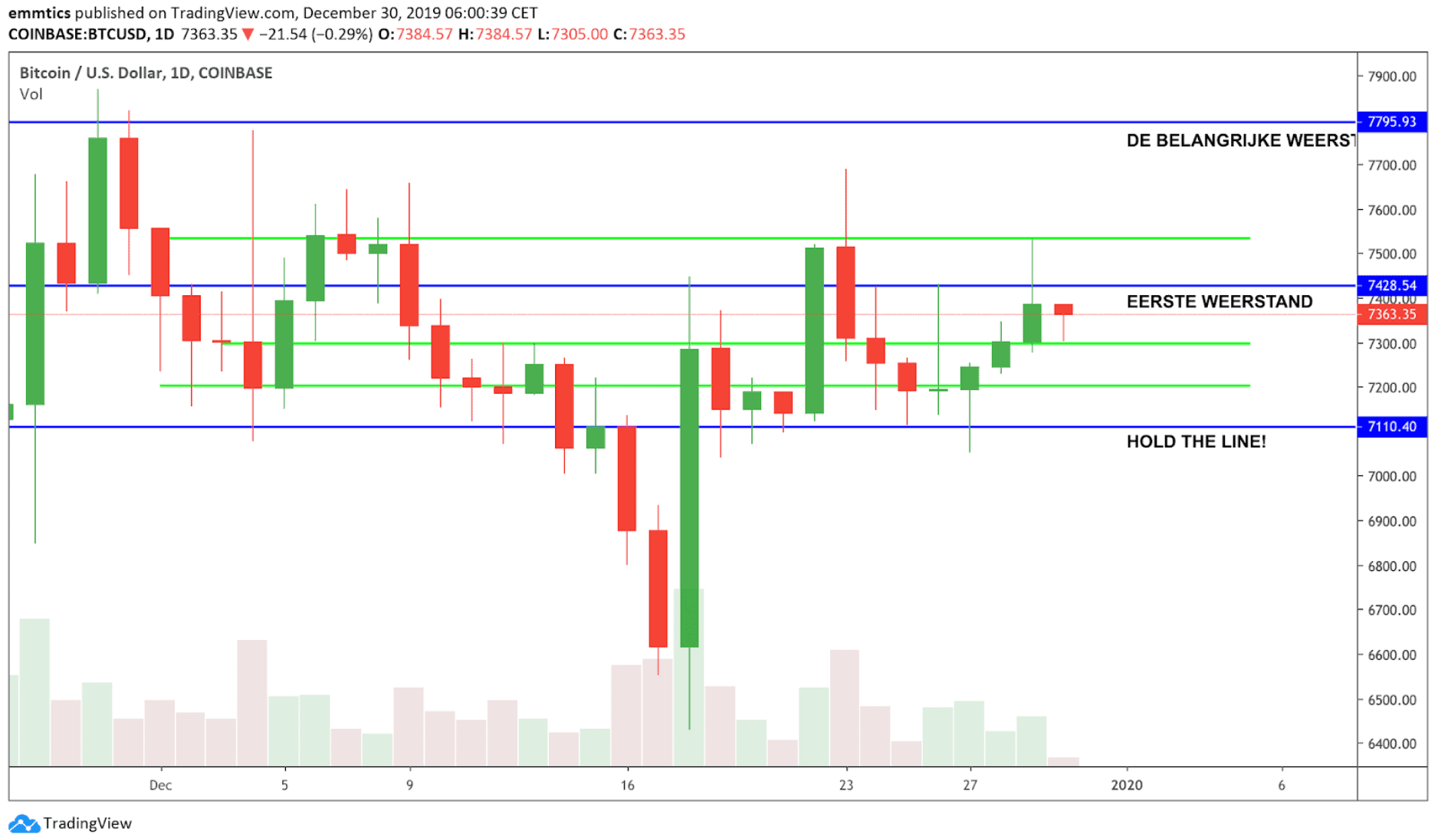 Afbeelding 2: Dagelijkse grafiek van bitcoin op cryptocurrency exchange Coinbase met weerstandsniveaus
Zoals de grafiek in afbeelding 2 goed laat zien dipte de koers afgelopen week nog even kort richting de $7.000, maar stonden traders hier massaal klaar om posities te openen. De lange wick aan de onderkant van de candle van drie dagen geleden laat dit goed zien. Vervolgens zien we wel dat de koers wederom moeite heeft om succesvol een close te maken boven de $7.500 en zien we tevens het volume opdrogen. Het zou uiteraard kunnen dat dit te maken heeft met de feestdagen maar daar wil ik op dit moment niet teveel waarde aan hechten want de gehele setup en het plaatje wijzigt hier niet door. Als de koers vanaf dit niveau terug zakt ben ik nog steeds van mening dat de $7.100 (en het liefst de $7.200) dient stand te houden om het korte termijn bullish momentum vast te houden. Dat de $7.500 de eerste belangrijke weerstand is en dat de echte bonus ligt bij het breken van de $7.800! 
Kijkend naar de maandelijkse grafiek wordt nogmaals onderstreept hoe interessant dit huidige niveau is voor het vergaren van bitcoin! In afbeelding 3 heb ik de maandelijkse grafiek van bitcoin op Coinbase weergegeven en hierop is heel mooi te zien hoe op dit moment een hammer candle zich heeft gevormd terwijl het volume afneemt. Daarnaast laat de grafiek tevens een hogere low zien. Op basis van candles en volume is dit een erg bullish plaatje!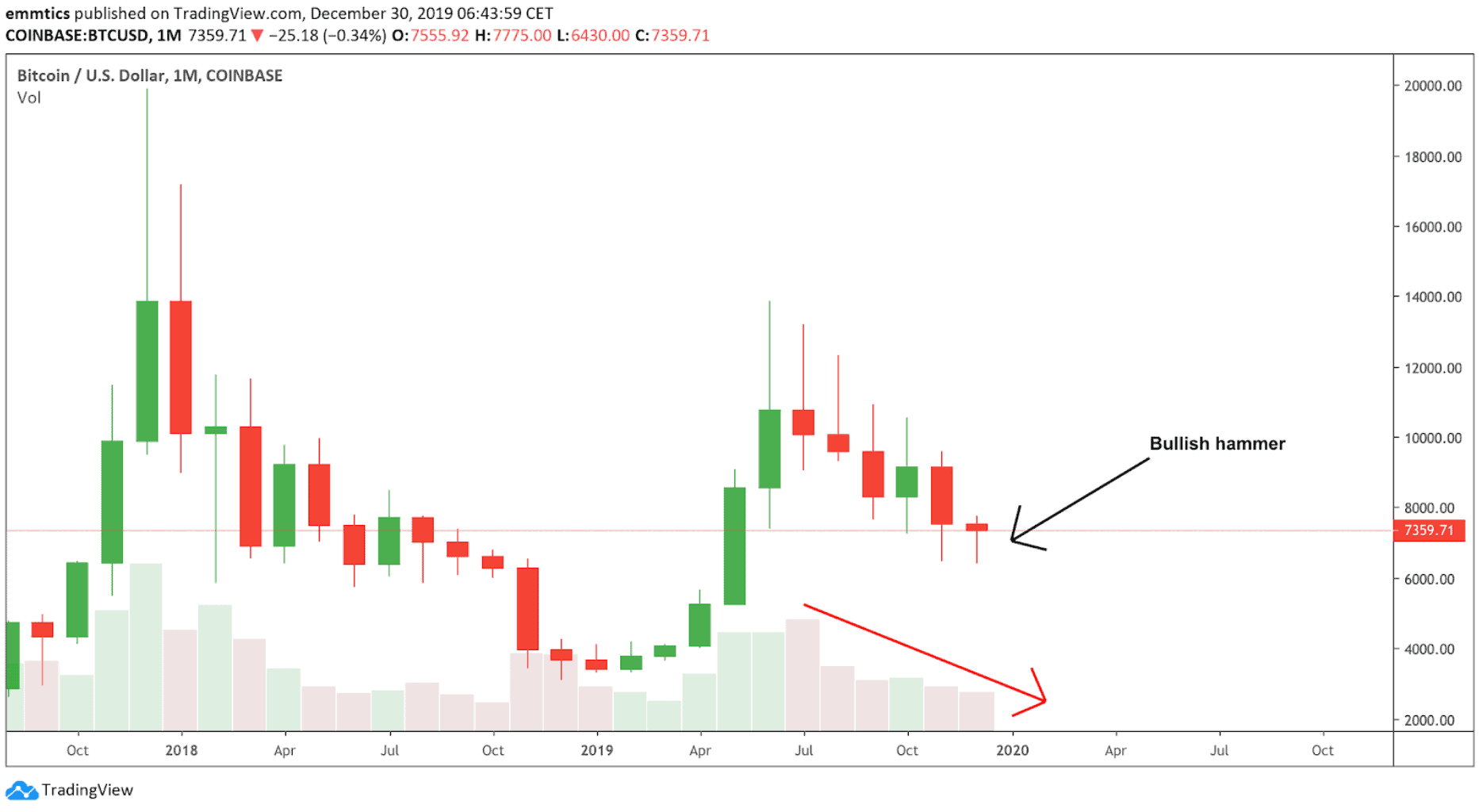 Afbeelding 3: Maandelijkse grafiek van bitcoin op cryptocurrency exchange Coinbase
2018 was het jaar van de bears, 2019 was het jaar waarin de fundamenten voor een nieuwe bull run werden gelegd en de zaadjes zijn geplant. Bitcoin believers kregen meerdere malen een prachtige kans aangereikt voor het verkrijgen van bitcoin op mooie niveaus. 2020 wordt denk ik het jaar waarin de zaadjes gaan uitgroeien tot een mooie boom. Het is misschien nog niet het jaar om te oogsten want dat zou nog wel eens 2021 kunnen zijn maar de tijd zal het leren en ik zal de koers nauwlettend in de gaten houden en mijn meningen blijven delen.
Ik wens iedereen een hele fijne jaarwisseling en tot het volgende jaar!
Wil je op de hoogte blijven van het laatste nieuws? Abonneer je dan op onze push-berichten, Facebook– of Twitter. Meediscussiëren? Meld je dan aan voor ons Telegram kanaal.