We zijn weer een week verder en de koers van bitcoin heeft wederom niet de $7.500 weten te breken en is zelfs door de low van 4 december gezakt die op $7.080 lag. Even raakte de koers zondag een niveau van $7.006 waarna de koers lichtjes opveerde tot een niveau van $7.220 op cryptocurrency exchange Coinbase maar vervolgens moesten de bulls toch weer terrein teruggeven en daalde de koers wederom tot onder de $7.100. De koers raakte zondag even kort mijn genoemde support-zone van $7.000 aan en ondervond tevens support op de onderkant van de Bollinger Bands (BB) zoals goed te zien is in afbeelding 1 waar de dagelijkse grafiek van bitcoin is weergegeven met daarop de Bollinger Bands geplot. 
Het volume is wederom laag, maar dat is ook niet zo gek in het weekend. Wat ik vooral belangrijk vind is dat de bulls keer op keer terrein moeten prijsgeven en dat we zondag ook weer een candle zien ontstaan met een lange wick aan de bovenkant. De overhead resistance is groot en de bulls glijden constant uit. De koers bevindt zich weliswaar boven de neerwaartse trendlijn waar de koers afgelopen week door heen brak als gevolg van zijwaartse actie (rode lijn afbeelding 1), maar de zwakte van de bulls doet mij vermoeden dat er een mooie entry in de nabije toekomst verscholen ligt. Het wordt mogelijk tijd om toe te slaan!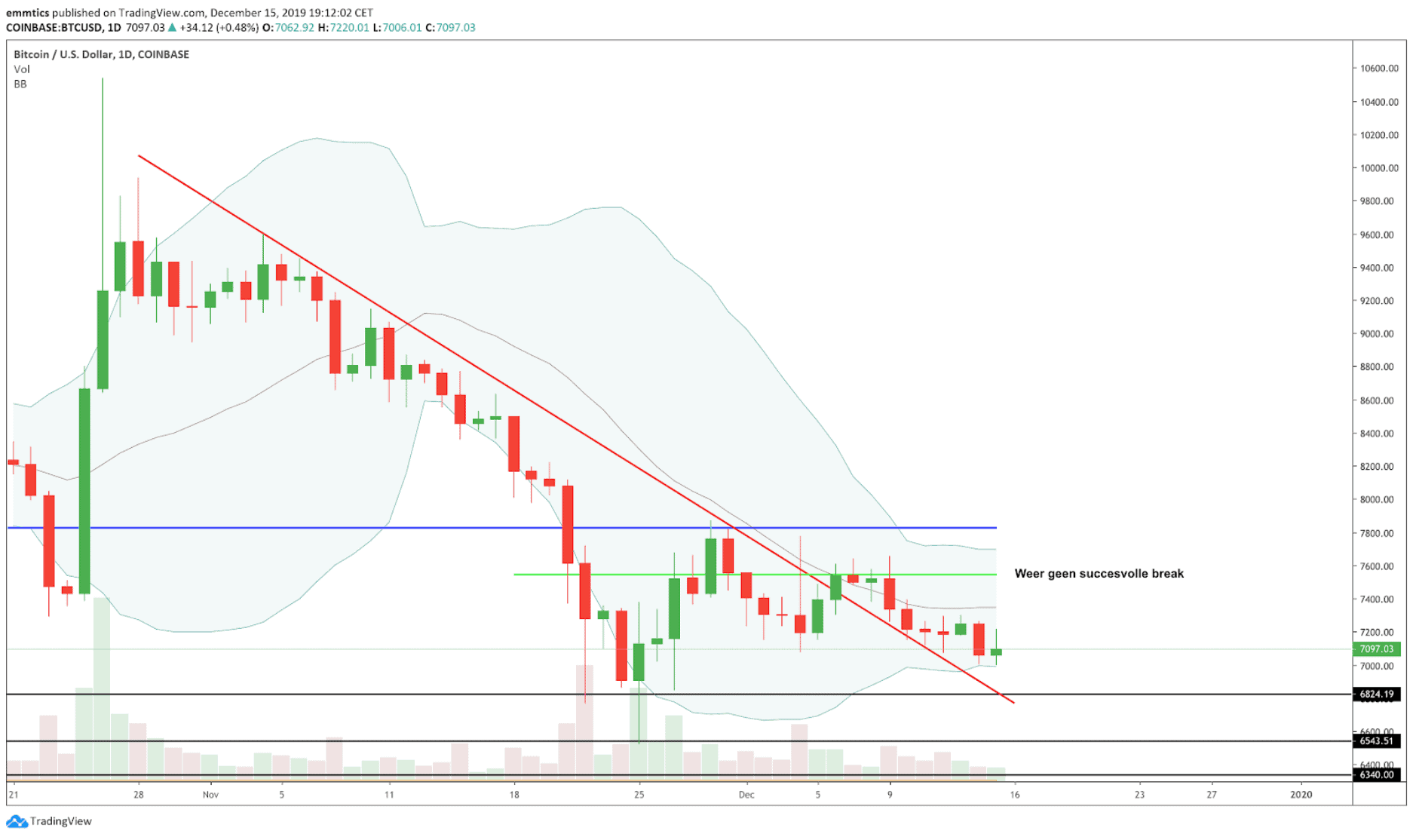 Afbeelding 1: dagelijkse grafiek van bitcoin (BTC) op Coinbase met Bollinger Bands
Ik heb het eigenlijk al vaak beschreven de afgelopen weken, maar wellicht is het nogmaals goed dit opnieuw te schrijven, want de belangrijke entries komen nu wel erg dicht bij. Mocht de koers van Bitcoin de $6.000-zone betreden, dan zie ik belangrijke support-zones op de volgende niveaus: $6.800, $6.500 en de zone van $6.000-6.350. Indien de koers toch verder gaat dan de regio van $6.000 dan zie ik de belangrijke support zones op de $5.800 en $5.500, maar zoals ik al vaker heb gezegd heb ik op dit moment niet het idee dat we daar zullen komen (maar goed, ik deel het toch graag aangezien het natuurlijk ook kan dat ik het fout heb;-)).
---
---
Wil je meer van David lezen, horen en zien? Surf dan naar members.crypto-insiders.nl voor onze meest waardevolle content. Denk aan koersupdates, trading signals, educatieve video's, geschreven uitleg, Ask Me Anything-sessies en meer! Maak nu een lidmaatschap aan en probeer de eerste 30 dagen gratis! Bekijk hieronder een voorproefje:
---
---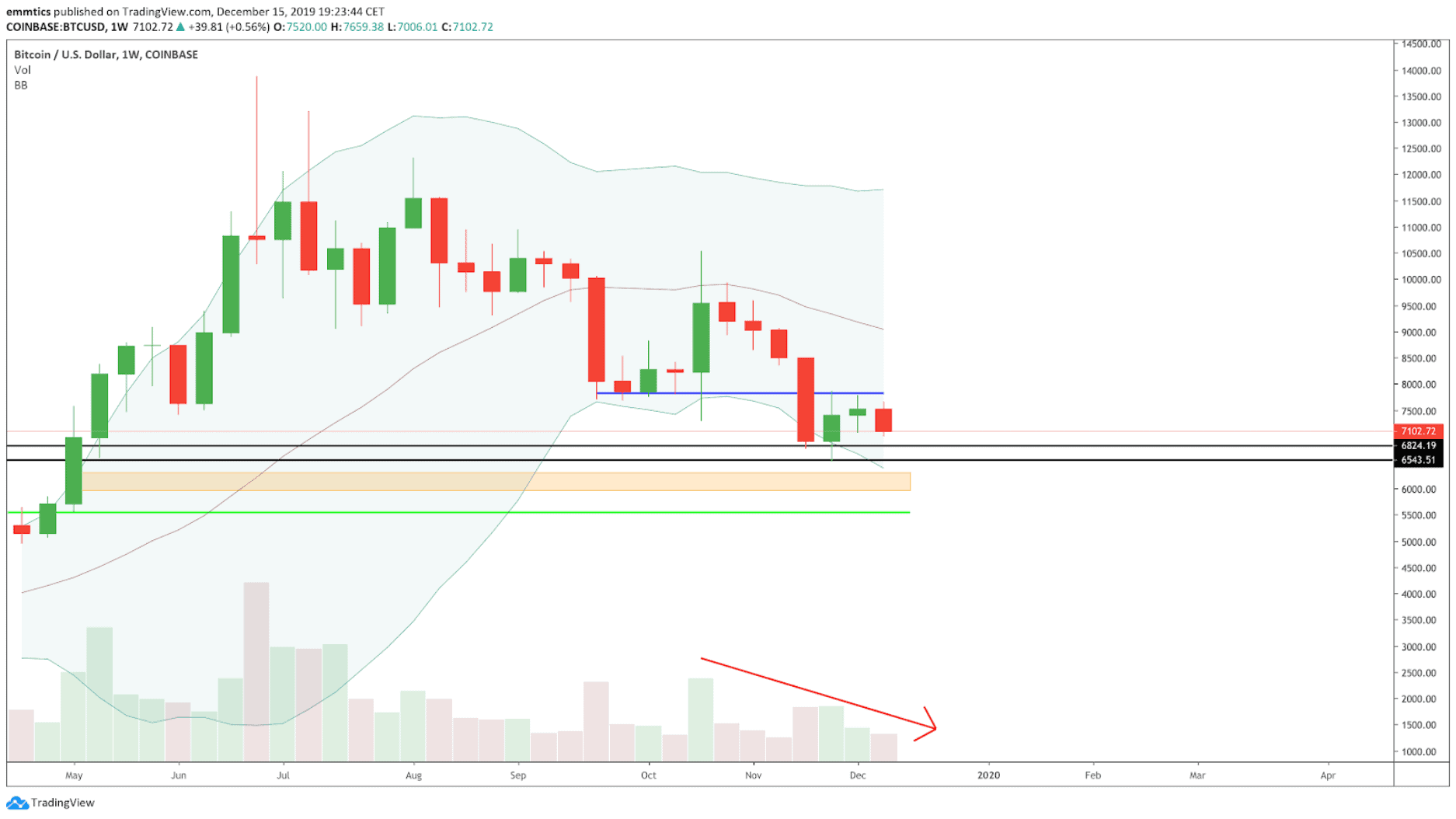 Afbeelding 2: wekelijkse grafiek van bitcoin (BTC) op Coinbase
Temeer omdat, buiten het feit dat het support in de $6.000-regio vrij sterk is, het totale volume blijft afnemen (zie afbeelding 2) en de momentum-indicatoren ook aangeven dat de bears hun kracht aan het verliezen zijn (afbeelding 3). Sterker nog, op de wekelijkse grafiek lijkt de Stoch-RSI zelfs een bullish divergence te maken en zien de momentum-indicatoren op de dagelijkse grafiek er ook vrij goed uit. Die synergie is wat ik mooi vind, maar dat betekent niet dat we op dit moment nu vol long moeten gaan. Nee, in een tijd waar alles snel gaat, is geduld in mijn optiek goud waard en dat idee heb ik zeker nu. Ik heb namelijk het idee dat er nog wat daling in het vat zet want de bulls zijn naar mijn mening te zwak om nu een goede en duurzame rally te forceren. In deze situatie zou ik op zijn minst een entry willen zien rond de eerder genoemde niveaus op $6.800 en $6.500, maar een echt mooie entry zou zich bevinden rond de $6.000-6.350 (hier komt ook de onderkant van de Bollinger Bands samen op de wekelijkse grafiek) met een absolute bonus op $5.800. Vooral een sub-$6.000 entry rond de $5.800 zie ik echt als een lucky shot maar toch zet ik alvast een paar orders klaar. Je weet het nooit en misschien is er een kleine paniek wick die de orders doet vullen en zorgt voor een prachtige entry!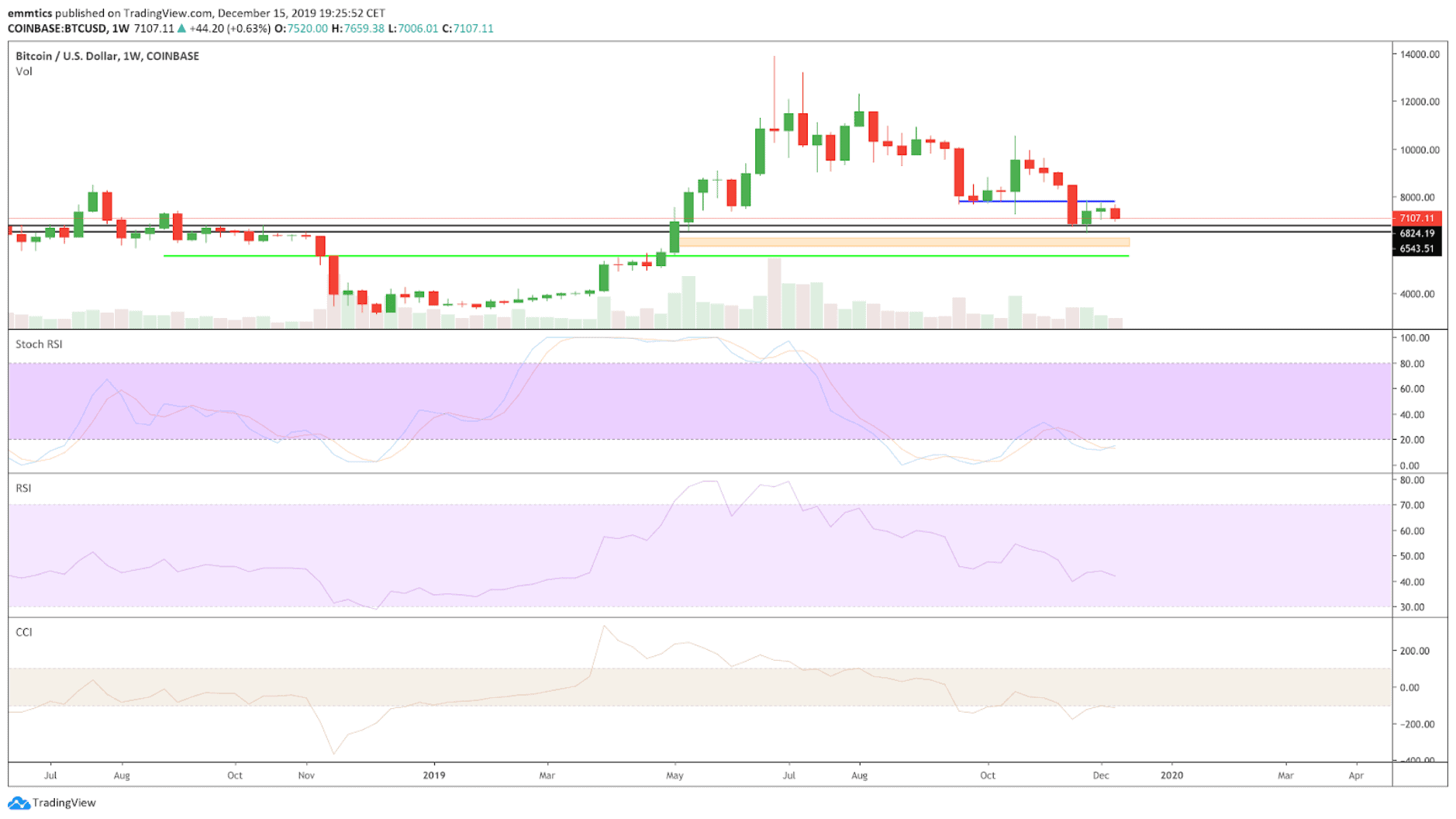 Afbeelding 3: wekelijkse grafiek van bitcoin (BTC) op Coinbase met momentum-indicatoren
Maar goed, terug naar de niveaus waar we in mijn optiek de meeste kans maken en dat zijn toch wel de $6.800 en $6.500. Maar wat nou als we op dit niveau blijven hangen en de koers niet door de $7.000 breekt? Hoewel ik de kans hierop, als gevolg van de aanhoudende zwakte van de bulls, klein acht zou ik in dit geval een rally verwelkomen daar ik tevreden ben met de $65xx-entries van afgelopen weken. Indien de koers van bitcoin toch weer begint aan een rally dan zou ik niet eerder een nieuwe long-positie overwegen dan wanneer de koers een succesvolle break door de $7.800 heeft gerealiseerd. Een rally vanaf dit niveau zou mij namelijk verrassen en ik zou in dat geval eerst bewijs willen zien voor het feit dat dit niet weer een mislukte poging wordt voor een nieuwe rally. Een break door de $7.800, die vervolgens doorzet of die vervolgens support vindt op dit niveau, zou voor mij fungeren als bewijs dat de bulls back in control zijn. Een spike naar boven met een flinke toename in volume zou dan ook zijn; een van de twee. Aangezien er op dit moment totaal geen sprake is van een situatie waarbij de bulls in controle lijken te zijn zorgt het geheel ervoor dat ik nog even afwacht. Desalniettemin sta ik klaar om toe te slaan. Dit wordt een hele spannende week en komende week zou nog wel eens de start kunnen zijn van een volatiel einde van het jaar. Ik ben er klaar voor. Jij ook? Klets mee met ons en onze leden over alles wat met bitcoin, andere cryptocurrencies en blockchain-technologie te maken heeft in ons gratis discussiekanaal op Telegram!
Tot volgende week!
Wil je op de hoogte blijven van het laatste nieuws? Abonneer je dan op onze push-berichten, Facebook– of Twitter. Meediscussiëren? Meld je dan aan voor ons Telegram kanaal.