Afgelopen week 'dipte' de koers van bitcoin tot een niveau van $7.427 op Coinbase. Een magere retrace gezien de omstandigheden en voor mij ook niet interessant genoeg om mijn long term hold posities te vergroten zoals ik vorige week beschreef in mijn column: waar koop ik de dips. Het feit dat een retrace tot op heden niet doorzet en snel haar verliezen weer in winsten weet om te zetten onderstreept nog maar eens dat de bullish trend sterk is. Op dit moment vraag ik mij echter af of het nu de bulls zijn die zo sterk zijn of de bears gewoon ongelooflijk zwak. De rally van afgelopen week is verrassend en heeft een aantal kanttekeningen. Hoewel scenario planning altijd een integraal onderdeel dient te zijn van een gezonde investerings- of trading-strategie laat het op dit moment echt haar waarde zien.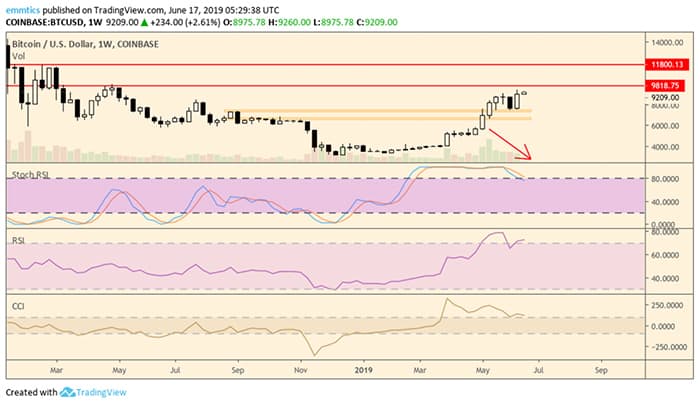 Afbeelding 1: wekelijkse bitcoin (BTC) grafiek op Coinbase
Op de dagelijkse grafiek vond de koers tot twee keer toe haar support op het niveau van $7.400. Terwijl de momentum-indicatoren van de wekelijkse grafiek enigszins begonnen om te rollen (maar nog niet noemenswaardig) waren de momentum-indicatoren op de dagelijkse grafiek al vrij bearish en acteerde de markt op deze signalen. De markt was duidelijk niet bereid langer te wachten en traders waren bang de boot te missen waardoor de koers weer haar opmars maakte. Aangezien het nieuws niet overwegend positief was laat dit zien dat de fundamentele basis van afgelopen week dun is en in mijn optiek vooral FOMO (Fear Of Missing Out) gedreven. Daarnaast neemt het volume nog steeds af terwijl we een nieuwe yearly high maakte. De koers krabbelt hoger maar de technische basis blijft maar dunner worden.
Bullish scenario
Desalniettemin is het in een bullish trend als deze belangrijk om rekening te houden met een scenario waarbij deze rally voortzet. Het is namelijk zeer goed mogelijk dat de koers van bitcoin op dit niveau of misschien iets hoger consolideert en op dat niveau een meer fundamentele basis creëert en waarbij de technische momentum-indicatoren op gezondere niveaus komen. Het is persoonlijk niet mijn meest waarschijnlijke scenario maar zeker een waar ik rekening mee hou. Dit is uiteraard ook de reden dat ik op dit moment aanzienlijke long term hold posities heb die veilig liggen opgeborgen en daar nog een hele tijd blijven liggen.
Op dit moment ligt de eerste weerstand rondom de $9.400. Dit was het niveau waar de koers gisteren tot stilstand kwam maar ook het niveau dat halverwege februari 2018 als support gold.
Als we de $9.400 breken verwacht ik een rally naar hoog in de $9.000-regio en misschien zelfs even kort de $10.000. Indien de $10.000 wordt gebroken én stand houdt, dan ligt de weg open naar de $11.800. De reden dat ik dit overigens niet zeer waarschijnlijk vind is omdat de markt 'overstrekt' is op het moment. Nadat we op de dagelijkse grafiek even weer wat gezondere niveaus zagen van bijvoorbeeld de Stoch-RSI, is deze ook weer overbought en dan hebben we het niet over de wekelijkse grafiek waarbij dit al bijna drie(!) maanden het geval is. Daarnaast blijft het volume opdrogen: een teken dat steeds minder investeerders op dit niveau hun trades durven te openen of te sluiten; een teken van onzekerheid. Nu schrijf ik al een aantal weken over dit fenomeen (dat de markt overbought is) en tot op heden is er uiteraard nog geen verandering of retrace tot stand gekomen. Dit onderstreept nog maar eens dat de bears zeer zwak zijn op het moment en dat een bullish trend duidelijk actief is. Desalniettemin zullen vroeg of laat deze momentum-indicatoren volledig omrollen. Dat is geen mogelijkheid, dat is een gegeven. Het is enkel de vraag op welk niveau dit zal plaatsvinden en in het bullish scenario zou dit boven de $10.000 gebeuren.
Bearish scenario
Aan de andere kant zou een falen van de rally allereerst zeer waarschijnlijk support zoeken op het niveau van $7.800-$8.000 en vervolgens op het niveau van $7.400. Het niveau van $7.400 was exact een jaar geleden een sterke weerstand en bewees zich afgelopen week als een goed support-niveau. De waarde en kracht van dit niveau is dus toegenomen maar een break hierdoor heen zou bearish implicaties hebben voor de korte termijn en zou de regio van $6.800 en lager zeer aannemelijk maken. In dit scenario zou mijn column van afgelopen week tot leven komen. Ik heb geduld en mijn strategie zoals ik die afgelopen week beschreef is nog ongewijzigd.
Indien de koers op een hoger niveau consolideert, dan zal ik mijn 'waar koop ik de dip'- strategie aanpassen en dit waarschijnlijk gaan gelijkstellen aan een oversold niveau op de wekelijkse grafiek. Echter is dit nog wat voorbarig om nu in steen te graveren, maar dat is wel waar ik naar zou kijken. Op dit moment hou ik dus uiteraard vast aan mijn long term holds maar vergroot ik mijn posities niet. Indien het bullish scenario werkelijkheid wordt dan ik zal een aanpassing maken in mijn buy-niveaus. Het belooft in ieder geval een mooie week te worden. Een break door de $10.000 zou uiteraard geweldig zijn en ik hoop dat het volume dan sterk terug komt. Het zou een game changer zijn want de $10.000 is een bijzonder niveau en reken maar dat de algemene media hierop inspringt. Tot volgende week!
Wil je op de hoogte blijven van het laatste nieuws? Abonneer je dan op onze push-berichten, 
Facebook
– of Twitter. Meediscussiëren? Meld je dan aan voor ons Telegram kanaal.
[ci-widget-v2]