De week is alweer voorbij en de koers hangt nog exact onder de 50 ema (afbeelding 1). De afgelopen week is er vrijwel niets gebeurd. Het volume droog op en de koers schommelde exact onder de $3.700 op Bitfinex. In de afgelopen maanden maakten we keer op keer een scherpe daling mee na dit soort momenten en hoewel de kans uitermate aanwezig is dat dit weer gebeurt geef ik de koers van bitcoin (BTC) toch het voordeel van de twijfel. Er is een sterke case te maken voor het idee dat we een daling gaan meemaken de komende weken en wellicht een nieuw dieptepunt maar toch denk ik dat de huidige bull flag formatie op de dagelijkse grafiek de overhand zal krijgen.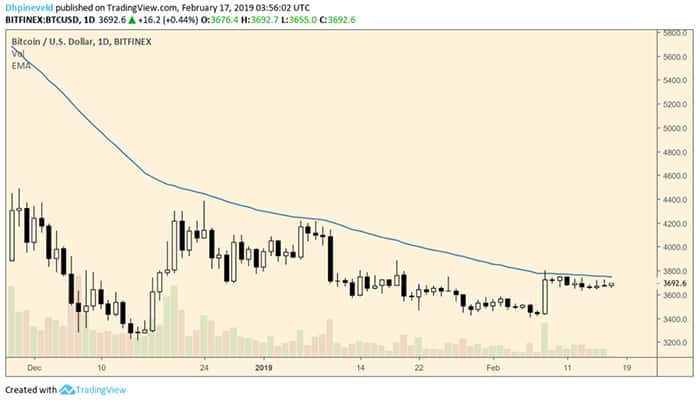 Afbeelding 1: dagelijkse grafiek bitcoin met 50 dagen EMA
In bovenstaande grafiek is duidelijk te zien hoe de koers schuurt tegen de 50 ema maar ook hoe een bull flag formatie zich heeft gevormd. Deze bull flag dient overigens wel spoedig uit te breken naar boven, want hoe langer dit op zich laat wachten des te meer de kracht van deze formatie zal afnemen.
Vanuit een trade perspectief is dit eigenlijk een vrij goede positie om short te gaan. De koers heeft namelijk net een flinke sprong gemaakt en de kracht is uit deze korte rally en de koers ligt tevens tegen een sterke weerstand. Een bekend gezegde is "sell resistance and buy support" en dat is logisch want veelal wordt een sterke weerstand of support niveau niet zomaar gebroken. Met name deze situatie zorgt voor een goede short positie omdat de stop-loss zeer goed kan worden gedefinieerd (net boven de 50 ema) en een eerste profit target zich rond de $3.500 zou begeven. Desalniettemin geloof ik, zoals ik al eerder zei, dat we naar boven zullen uitbreken. Na maanden van neergang is de markt toe aan wat positiviteit en een break door de 50 ema is haast onvermijdelijk in mijn optiek. De koers is zo dichtbij en uit persoonlijke ervaring merk ik dat de koers vaak (al is het maar voor even) toch de bovenkant van een dergelijke weerstand zal verkennen. Aangezien dit niveau een uitstekende positie is om short te gaan is dat dus niet een goede plek om long te gaan. Ongeacht het feit dat ik denk dat we de vorige koerssprong nog even zullen voortzetten is het op geen enkele manier te verantwoorden om op dit niveau long te gaan. Een long positie zou kunnen worden geopend net boven de 50 ema want, zoals we vaak zien, verandert weerstand in support nadat het succesvol wordt gebroken. Ik ben inmiddels een aantal weken geleden (zoals ik eerder al beschreef) long gegaan toen we ons in mijn optiek op support bevonden. Vanuit die positie is het verstandig deze positie aan te houden, maar zelf zou ik hem nooit op dit niveau openen. Nadat we weer een week van stilstand hebben meegemaakt verwacht ik deze week weer meer actie. Ik hoop het in ieder geval wel en we zullen dan weten of de 50 ema is verpletterd of dat deze muur toch te sterk was. Tot volgende week!
Wil je op de hoogte blijven van het laatste nieuws? Abonneer je dan op onze push-berichten, 
Facebook
– of Twitter.
[ci-widget-v2]