Niet veel later na het schrijven van mijn vorige column maakt de koers van bitcoin (BTC) een gouden dip. Het is dan 27 november 2019 en terwijl de koers zich net boven de $7.000 bevindt en initieel weerstand ondervond rond de $7.300, zakt de koers even snel naar beneden tot een niveau van $6.800. Dit was het mooie moment waar ik in mijn voorgaande column over schreef: de koers zakt naar beneden en vindt support op een belangrijke zone in de regio van $6.000 terwijl de momentum-indicatoren een bullish vooruitzicht tonen. Nadat de koers haar support vond op $6.850 op cryptocurrency exchange Coinbase om exact te zijn, schoot de koers omhoog en vervolgde het gestaag haar rally de afgelopen dagen om afgelopen vrijdag tot een hoogtepunt van $7.870 te komen op Coinbase. Sindsdien laat de koers van bitcoin een gestage retrace zien waarbij bitcoin zaterdag nog support vond rond de $7.300, maar daar gisteren doorheen zakte. Op dit moment hangt de koers boven de $7.000 en bij veel mensen heerst de vraag: was dit de dip of gaan we nog verder naar beneden dan vorige week? Laten we eens kijken.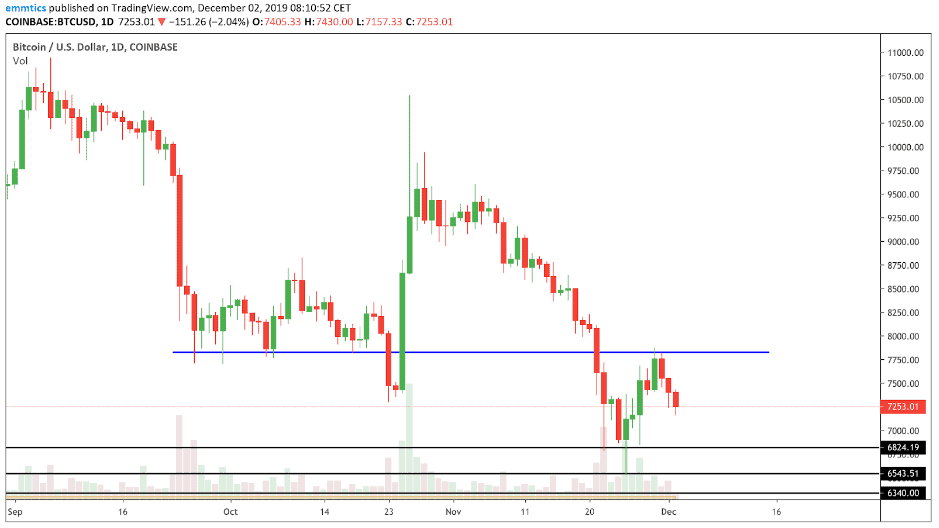 Afbeelding 1: dagelijkse bitcoin (BTC) grafiek op cryptocurrency exchange Coinbase
In bovenstaande afbeelding heb ik de dagelijkse grafiek van bitcoin weergegeven op Coinbase. Nadat we afgelopen week uiteraard support vonden op de $6.800 is de koers van bitcoin met ruim $1.000 gestegen om een hoogtepunt te noteren van $7.870 alvorens de koers terugviel tot het huidige niveau rond de $7.250. Het hoogtepunt van $7.870 komt overeen met de weerstandszone tussen de $7.700-7.800 die is weergegeven met de blauwe lijn in afbeelding 1 en die tevens het support-niveau was van het kanaal waar de koers van bitcoin in zat tijdens de consolidatie in oktober. Support wordt weerstand en dat blijft altijd een bearish fenomeen. 
Maar een retrace en twijfel zijn nu eenmaal een belangrijk en gezond onderdeel van de basis van een mogelijk nieuwe rally en het feit dat de koers van bitcoin tot stilstand kwam op dit niveau (rond de $7.870) stemt mij niet direct bearish. Ik ben uiteraard wel oplettend zoals altijd maar niet outright bearish zoals anderen dat soms wel zijn.
De huidige retrace laat nog meer diepte in het vat zien. Ik vind het overigens geen goed short-moment, want daar is het volume te laag voor, maar de momentum-indicatoren evenals de zwakke bounce naar boven zijn voor mij tekenen dat we rekening dienen te houden met een verdere retrace. Als eerste zijn mijn ogen gericht op de support-zone tussen de $7.000-7.150. Mocht dit toch niet stand houden dan gelden voor mij nog steeds de support-niveaus zoals afgelopen week beschreven. Deze zones liggen rond de $6.800, $6.500 en $6.350-6.000.
---
---
Wil je meer van David lezen, horen en zien? Surf dan naar members.crypto-insiders.nl voor onze meest waardevolle content. Denk aan koersupdates, trading signals, educatieve video's, geschreven uitleg, Ask Me Anything-sessies en meer! Maak nu een lidmaatschap aan en probeer de eerste 30 dagen gratis! Bekijk hieronder een voorproefje:
---
---
Indien de dip komende week verder doorzet, dan ben ik zeer benieuwd naar de volume-opbouw. Als het volume laag blijft terwijl we de regio van $6.000 ingaan dan zou mij dat steeds meer bullish stemmen en zou ik vrij comfortabel long-posities openen. Indien het volume extreem toeneemt dan zou ik even wachten tot een mogelijke bonus entry rond de $5.500-5.800, maar persoonlijk zie ik dit niet gebeuren en ga ik hier ook niet van uit. Ik moet eerst nog maar eens zien dat we echt weer terug de $6.000 in gaan! Mocht dat gebeuren dan denk ik tot op heden dat de verschillende support-zones in die regio sterk genoeg zullen zijn.
Dit is voor mij geen moment om long te gaan of de posities te vergroten. Dat was afgelopen week tijdens de dip, zoals ik beschreef in mijn vorige column, en tijdens de macro-update video die is gedeeld in onze premium-groep voor leden.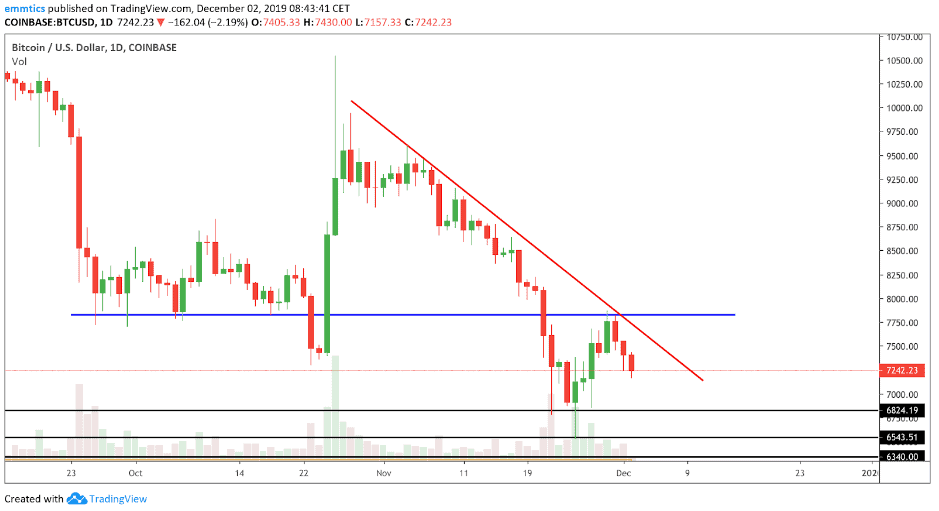 Afbeelding 2: dagelijkse bitcoin (BTC) grafiek op cryptocurrency exchange Coinbase inclusief neerwaartse trendlijn
Aan de bovenkant van de koers hebben we nu uiteraard te maken met weerstand rond de $7.300-7.400 en tevens $7.700-7.800 (top van afgelopen week plus onderkant van het kanaal in oktober). Buiten deze weerstand heeft de neerwaartse trendlijn zoals weergegeven in afbeelding 2 vooral mijn belangstelling. Sind eind oktober de retrace begon – na die gigantische korte rally (!) – heeft deze neerwaartse trendlijn als een ware muur gefungeerd en een break door deze trendlijn zou een bullish twist geven omdat het de korte termijn bearish trend op zijn minst deels zou breken. De momentum-indicatoren zijn voor mij niet heel waardevol op het moment. De Stoch-RSI op de dagelijkse grafiek is wat hoog en staat op het punt om te rollen, maar de overige indicatoren op zowel de dagelijkse alsmede de wekelijkse grafiek zijn redelijk vlak. Ik blijf komende week vooral de koers rustig aanschouwen.
Was dit de dip? Ik zie de koers persoonlijk niet zomaar door de $6.500 breken maar ben wel oplettend. Mocht de koers met laag volume nogmaals deze regio ingaan dan zou ik – zoals ik net al beschreef – eventueel interesse hebben in meer posities. Mocht het huidige support-niveau rond de $7.000 stand houden dan ben ik tevreden met de huidige situatie en wacht ik graag op confirmatie van een break door de neerwaartse trend lijn uit afbeelding 2 en de daarop volgende weerstand rond de $7.800.
Tot volgende week!
Wil je op de hoogte blijven van het laatste nieuws? Abonneer je dan op onze push-berichten, Facebook– of Twitter. Meediscussiëren? Meld je dan aan voor ons Telegram kanaal.