Bitcoin dipt! O, nee toch niet. Afgelopen donderdag piekte de koers van bitcoin even tot boven de $9.000 tot $9.090 waarna het vervolgens een duikvlucht maakte tot $7.972 op Coinbase. Een hoop traders verwachten inmiddels een sterke dip. Enerzijds omdat de grafieken een reeks aan signalen hiervoor bieden en anderzijds omdat men op zoek is naar een beter instappunt dan de huidige niveaus. Tegelijkertijd begint de FOMO (Fear Of Missing Out) steeds sterker te worden. Een nieuwe All Time High (ATH) zou al dit jaar worden bereikt – aldus een aantal influencers en je hoort er niet bij als je niet minsten een voorspelling doet van de nieuwe ATH van boven $100.000. Woorden waarvan – als ze waar worden – ik ook heel blij zou worden maar bitcoin kent in mijn optiek een hoger dan gemiddelde FOMO en panic-emotie en daardoor heeft het mij vaak veel opgeleverd hier doorheen te filteren en te kijken naar de onderliggende situatie.
Bitcoin is op dit moment bullish. Te meer omdat we na afgelopen week de maand daadwerkelijk hebben afgesloten met een close boven de piek van juli 2018. Zelfs de korte dip werd snel opgevangen en stuwde de koers tot boven de vorige maandelijkse top van $8.488.
Na maanden van alleen maar daling begint de euforie echt groot te worden. Ik merk dat, doordat de korte dip van afgelopen week zich niet wist door te zetten en enorm snel werd opgevangen door investeerders (een teken van kracht) die zeer graag tegen een korting van 10% wilden instappen, dat veel bears nu bullish worden en dat men zelfs denkt dat een sterke pull back niet meer zal gebeuren. Dit is vaak het moment waarop de correctie toch plaatsvindt. Alsof het lot ermee speelt. Bears en bulls worden het met elkaar eens en tada, daar is je correctie.
Als we nu even alle sensationele nieuwsberichten en de euforie van chat groups vergeten, wat zeggen de grafieken dan? Laten we eens kijken.
In afbeelding 1 heb ik de dagelijkse grafiek van de koers van bitcoin op Coinbase weergegeven. Wat hierop het meest zichtbaar is, is uiteraard de rising wedge met een dalend volume. De reden dat veel traders een flinke correctie verwachten is eigenlijk omdat we een hoop alignment zien bij bearish indicatoren. De rising wedge, de overbought momentum indicatoren met bearish divergences op de wekelijkse grafiek (afbeelding 2) en een piekende Money Flow Index (MFI) op tevens de wekelijkse grafiek (afbeelding 3) zijn een aantal van dit soort indicatoren. Mocht je één bearish indicator hebben – in een markt die bullish is – dan is dat vaak niet zo heel interessant maar als je een scala hebt van bearish signalen dan verandert dit en mag het niet worden genegeerd.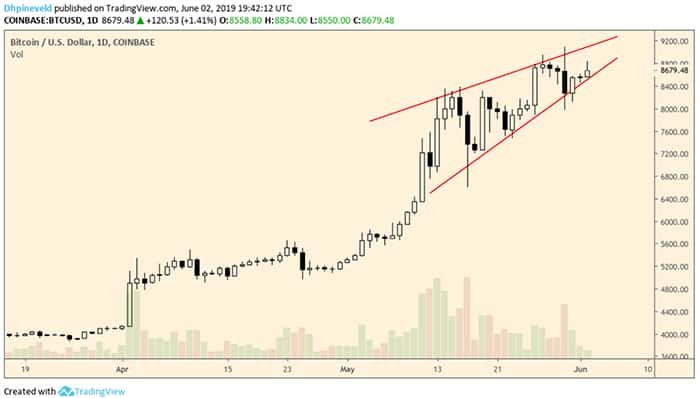 Afbeelding 1: dagelijkse grafiek bitcoin
De grote weerstand lijkt nu te liggen op de $9.200. Dit is niet alleen de top van de rising wedge maar komt ook overeen met een weerstand die zich heeft gevormd op de grafieken de afgelopen maanden en op dit moment tevens zichtbaar is op de dagelijkse bollinger bands.
Wat, een correctie?! Dus 50X short op Bitmex? Nee, zeker niet naar mijn mening. Margin trading zou ik persoonlijk altijd doen in de richting van de trend, en die is bullish op het moment. De mantra is eenvoudig. Bullish: long the dip, bearish: sell the rally. Dus relax met je Bitmex account. Althans, dat is mijn tip en daar zijn een hoop mensen het niet mee eens want anders zou Ben Delo niet de jongste miljardair van de UK zijn. Daar heb je liquidaties van portfolio's voor nodig en shorten tegen de trend in is een goede methode hiervoor ;).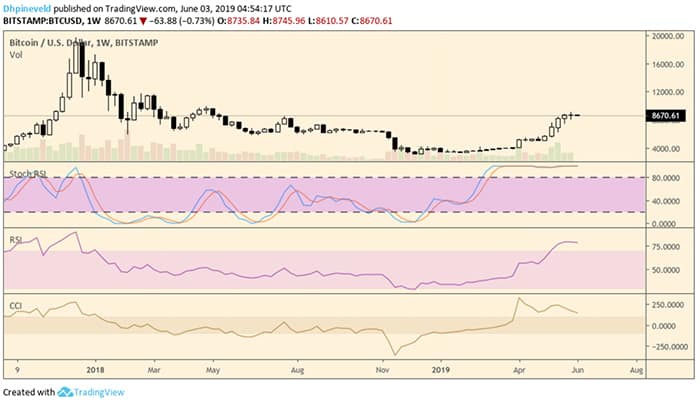 Afbeelding 2: wekelijkse grafiek bitcoin met momentum indicatoren
Bitcoin laat de afgelopen weken een bijzondere hoeveelheid kracht zien en het is goed om te zien hoe snel de bulls zich mobiliseren. De huidige situatie zorgt echter voor een dilemma en dat is volgens mij dan ook een van de redenen waarom er zoveel verwarring is. Enerzijds blijft de koers van bitcoin maar stijgen en wordt de markt steeds meer bullish, anderzijds beginnen de bearish indicatoren steeds harder te schreeuwen om een pull back van misschien wel 30%.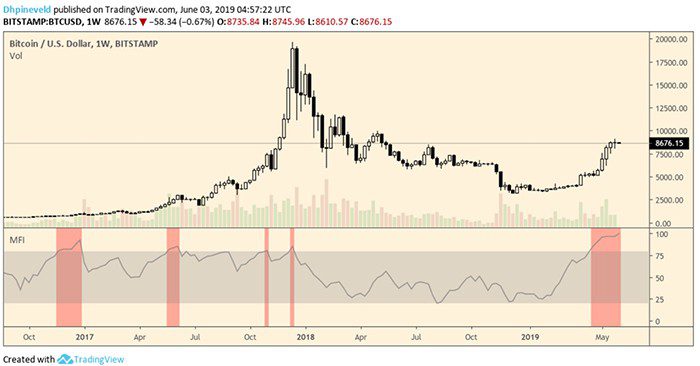 Afbeelding 3: wekelijkse grafiek bitcoin MFI
Hoe ga je hier mee om? Zoals ik afgelopen week al beschreef ben ik zelf een flinke long portfolio aan het opbouwen. Op dit moment doe ik echter niets want de huidige situatie biedt voor mij geen enkele basis om mijn portfolio te vergroten. Géén trade is ook een trade! Een break out naar boven met veel volume zou dit veranderen maar op dit moment is er voor mij geen reden op dit niveau long te gaan.
Ja er is institutionele interesse, het klopt dat het 'gewone' publiek weer interesse krijgt in crypto's. Het kan zo zijn dat bitcoin een hedge vormt tegen de trade war of inflatie op bepaalde fiat. Maar de vuist kan niet gespannen blijven en vroeg of laat zal de markt tot bedaren komen.
Gekkigheid kan lang aanhouden en daardoor kan het zomaar zijn dat we alsnog naar boven uitbreken (een reden dat je niet wilt shorten volgens mij) maar statistisch gezien is de kans groter dat we nu naar beneden uitbreken en op een lager niveau consolideren. Ja, hij kan stijgen of dalen ;). De manier om hiermee om te gaan is door een visie en geduld te hebben. Als je gelooft dat bitcoin een goede asset class is om long op te zijn de komende jaren dan moet je hierin geloven en een gezonde positie opbouwen. Niet alles in een keer op één niveau maar gefaseerd op verschillende niveaus. Tegelijkertijd moet je ook geduld hebben. Veel geduld. In een wereld waarin alles snel gaat is geduld goud waard. Dit is een van de belangrijkste lessen die ik heb geleerd in de wereld van crypto's. Een consolidatie kan weken en zelfs maanden duren. Bij de meeste mensen raakt hun geduld al op na een paar dagen van weinig beweging en dan openen ze posities waar ze helemaal niet in horen te zitten. Maak een plan en geef het de tijd. De trend is bullish maar een pull back is zeer waarschijnlijk!
Tot volgende week!
Wil je op de hoogte blijven van het laatste nieuws? Abonneer je dan op onze push-berichten, 
Facebook
– of Twitter. Meediscussiëren? Meld je dan aan voor ons Telegram kanaal.
[ci-widget-v2]