Welkom bij weer een nieuwe column over de Bitcoin koers. Afgelopen week kenmerkte zich als een week met hevige schommelingen. Dit 'choppy' klimaat was te verwachten als gevolg van de rallies op laag volume en de angst die heerst in de markt, maar ondanks deze onbeduidende volatiliteit zijn er verschillende trends zichtbaar aan het worden die ik graag met jullie wil delen. Laten we beginnen!
De markt is verdeeld. Er zijn zowel 'bullish' als 'bearish' signalen zichtbaar en dat is duidelijk te herkennen in de schommelende koers. Ondanks dat ik op de middellange termijn (6-12 maanden) zeer positief ben vanaf dit prijsniveau is er op de korte termijn nog een hoop op te lossen voor de bulls. Volume en overtuiging zijn de grootste problemen in mijn optiek, maar het zwakke vertrouwen zal waarschijnlijk momentum winnen nadat de bulls een aantal belangrijke 'resistance-levels' overwinnen en Bitcoin een aantal weken rallied. Dat gezegd hebbende wil ik jullie een aantal indicatoren laten zien die er bullish uitzien. Deze trends zijn vooral zichtbaar op de langere termijn charts. Hieronder zie je de '1 week' chart van Bitcoin.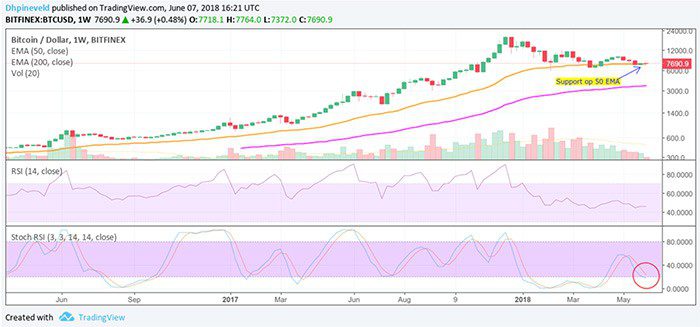 Afbeelding 1
Op afbeelding 1 is duidelijk te zien hoe Bitcoin de afgelopen tijd support heeft gevonden op de 50 dagen exponential-moving-avarage (EMA). Afgelopen week gaf ik al aan dat Bitcoin wederom support vond op dit niveau en ook deze week lijkt dit niveau stand te houden. Tegelijkertijd zie ik zeer bullish signaal op de Stoch RSI. Deze indicator geeft aan of de Relative-Strength-Index (RSI) op dit moment 'overbought' of 'oversold' is. Op de wekelijkse-grafiek is te zien dat de RSI op dit moment oversold is en dat de oscillator op het punt staat om te draaien naar boven. De stoch-rsi is een leading-indicator, wat inhoud dat deze indicator informatie geeft over de toekomstige richting van de prijs. Zoals te zien in afbeelding 1 heeft de Stoch-RSI in het verleden vrij goed een opkomende rally kunnen voorspellen. Op een kortere tijdsframe (1-dag grafiek) ziet dit er minder goed uit en lijkt de RSI overbought te zijn. Dit is voor mij een teken dat we op de korte termijn waarschijnlijk nog wat schommelingen kunnen verwachten, ook wel side-ways trading genoemd, alvorens we echt beginnen aan een duurzame rally.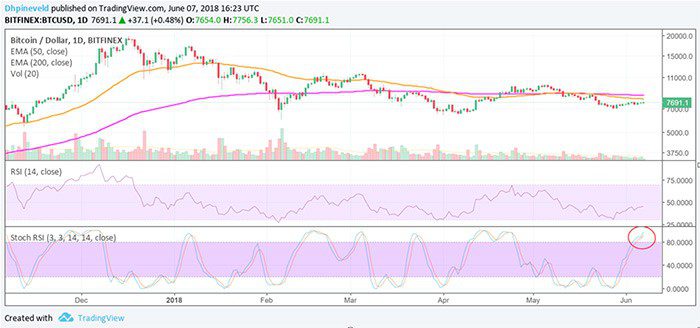 Afbeelding 2
Indien de prijs van Bitcoin weer daalt, verwacht ik allereerst support op $7600. Vervolgens zal $7500 het volgende support niveau worden. Indien de $7500 breekt dan is het de beurt aan $7400 en als dat ook niet houdt dan zal het sterkste support zich bevinden op $7200.
Aangezien het volume erg laag is zijn de meeste indicatoren vlak en toont dit een sterke verdeeldheid in de markt. Als gevolg van dit lage volume zijn de huidige support-niveaus overigens niet sterk. Laag volume betekent simpelweg dat er weinig kopers/verkopers zijn en zodra dit aanzienlijk toeneemt kunnen zowel huidige support als resistance niveaus gemakkelijk worden verbroken.
Wat zou het volume kunnen opdrijven? Dit kan natuurlijk door tal van factoren maar indien de bulls het zware resistance niveau van $7800 weten te doorbreken en te behouden dan zou dit brandstof kunnen zijn voor het vertrouwen van de bulls en een sterkere rally kunnen aanjagen. Aan de andere kant, indien het niveau van $7200 breekt dan zal het toch al zwakke vertrouwen van de bulls nog meer schaden en naar verwachting leiden tot een grotere hoeveelheid sell-volume.
Vorige week gaf ik al aan dat dit niet een klimaat is om te traden. Hiermee bedoel ik vooral op korte termijn kopen en verkopen. Het is verstandig om af te wachten welke richting Bitcoin kiest en daarvoor hebben we meer volume en een trend nodig. Afwachten is ook een keuze en zodra een trend zichtbaar wordt zal er een goed klimaat zijn om te traden. Het is nu erg stil in de markt en zodra het volume toeneemt zullen we zien welke richting Bitcoin voorlopig zal kiezen. Toen Baron Rothschild werd gevraagd naar zijn geheim voor zijn succesvolle carrière in het handelen van aandelen antwoordde hij als volgt: "I will tell you my secret if you wish.  It is this: I never buy at the bottom and I always sell too soon." en daar sluit ik mij nu volledig bij aan.