Vandaag wil ik wat dieper inzoomen op het ''overtraden''. Hier zijn velen variaties die velen zullen herkennen. Één van die vormen werd deze week bruut afgestraft en sommige traders likken nog steeds de wonden.
Leveraged trading, ook wel handelen met hefboom. Waarbij je met meer geld handelt dan dat je in portefeuille hebt. Voorbeeld; je hebt $1.000 in je wallet en gaat traden met een hefboom van x5. Dan kun je dus met $5.000 handelen. Als je iets koopt en het gaat omhoog boek je zo sneller winst. ECHTER gaat de koers tegen je in, en gaat de koers -20% van waar je hebt gekocht zou je op – $1.000 (20% van $5.000 is $1.000) staan. Je kunt dus niet langer het verlies van je positie dragen en je hele account is POEFFFF, weg!
Dit bovenstaande is wat we dus ook 3 dagen geleden zagen. Veel overleveraged traders die op de eerste de beste beweging geliquideerd worden. Dit wordt een sneeuwbaleffect voor je het weet is bitcoin $10.000 gezakt.
Een ander gevaar is letterlijk te veel traden. Door ongeduldig heen en weer te switchen krijg je het gevoel dat je altijd overal net achter het net vist. Je wacht ''geduldig'' 3-5 dagen op een coin die je getipt krijgt van een vriend. NIETS, helemaal geen beweging. Dus wat doe je? Je verkoopt en springt op een andere trein. Net op het moment dat je bent verkast komt je vorige coin toch in beweging. Automatisch kom je direct in de verleiding om met FOMO terug te keren in voorgaande geliefde project.
Om het plaatje compleet te maken…. Je beseft je dat dat niet het juiste is om te doen, totdat…. Die coin 80% is gestegen. Je gaat alsnog overstag en zodra je inkoopt begint de daling. Thanks for playing en welcome to the market!
Ik denk dat wat hierboven beschreven staat een logisch gevolg is van hoe de markt in elkaar zit. Hoe eerder je doorhebt wat je aan het doen bent, hoe groter de kans op succes. Blijf bij elke beweging nadenken waarom je dit doet. Wat gaat de switch je brengen? En bovenal, verdiep je eens in die saaie materie van risk-management.
Bitcoin (BTC)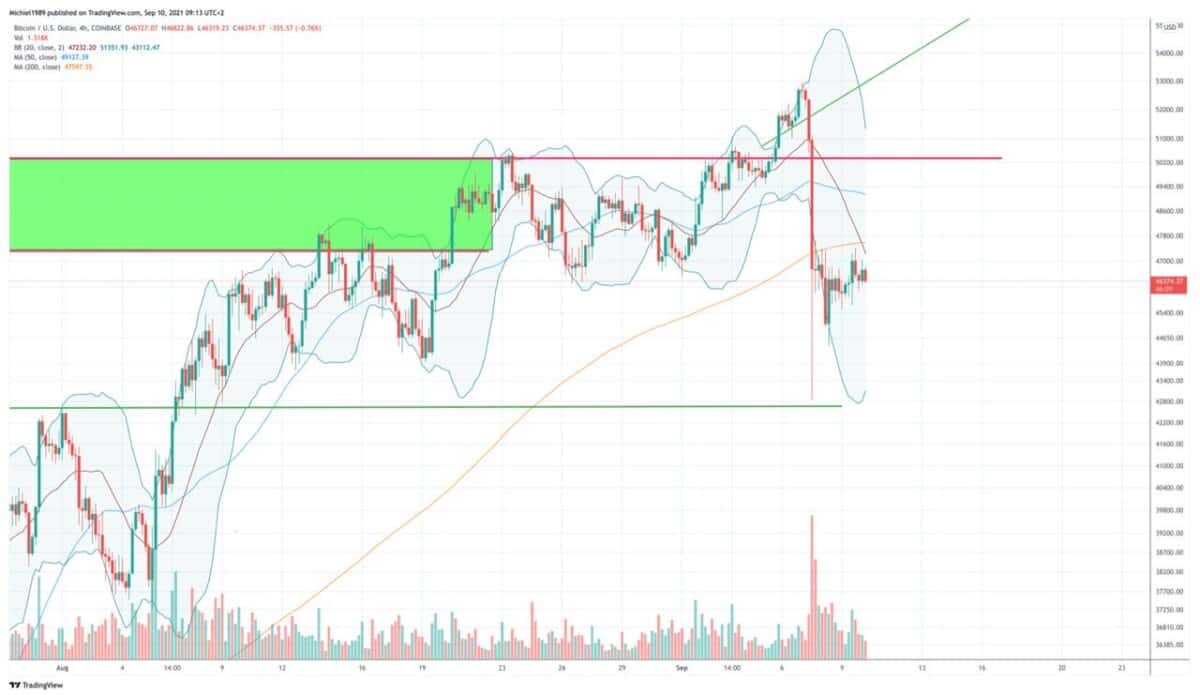 Zoals steeds al aangegeven kwam het volume onderweg naar boven niet echt los. Dit is een absoluut teken van zwakte. Mede om deze reden heb ik aanzienlijk wat winsten aan de zijlijn geparkeerd en bij bitcoin de stop verhoogd naarmate de koers steeg.
Op dit moment hangen we tussen de support van $43.000 en de weerstand van de $48.000 zone.
Een ideale situatie om te beginnen aan een herstel zou zijn; het vormen van een bullish signaal op de 4-uurs grafiek rond de $43.000. Daarmee zou er wat rust kunnen ontstaan en zouden we in theorie vrij snel verder kunnen gaan.
Uiteraard zou bij een beweging op hoger volume een korte stop richting de $40.000 prima kunnen. Daar zou dan wel veel koopvolume moeten opkomen.
Als we echt onder dat soort zones gaan geraken houd ik de 3-dagelijkse en wekelijkse medium Bollinger bands scherp in de gaten. Dit zou een zeer beroerde situatie kunnen inluiden. Een bearish retest na de top van $64.000 kun je dan niet ondenkbaar achten. Tot op heden zie ik echt wel wat gelijkenissen met 2017 en 2018.
Bottomline… Zorg dat je zelf een beeld hebt van wat JIJ denkt dat er gaat gebeuren en ga alleen handelen met een bedrag waar je je goed bij voelt.