Het vierde kwartaal is nog maar amper aangebroken en toch lijkt het de plannen al te onthullen.
Met bitcoin (BTC) die de weerstand van $52.750, de vorige top van 7 sept, weet te breken lijken we los te kunnen. Een inzet op volume nu over die $55.000 brengt ons richting de $58.000. Een vervolg naar nieuwe highs lijkt hierbij een gegeven.
Het is natuurlijk best vreemd ergens als je de gehele situatie wereldwijd bekijkt. Echter is het een feit dat dit nou eenmaal is waar we het mee moeten doen. De blockchain als technologie lijkt in deze fase definitief zijn intrede te maken in ons dagelijks leven.
Waar we de afgelopen cyclus van 2017 met name een prijs discovery zagen, is het nu echt de adoptie van de tech die baanbrekend is. Uiteraard gaat dit gepaard met een nieuwe cyclus waarin de prijs ontploft. Dit is in mijn ogen noodzakelijk om de interesse en adoptie te vergroten. Zeg nou zelf, zonder projecten die 4-10x over de kop gaan in hele korte tijd was je interesse allang weggeweest!
Hoe nu verder?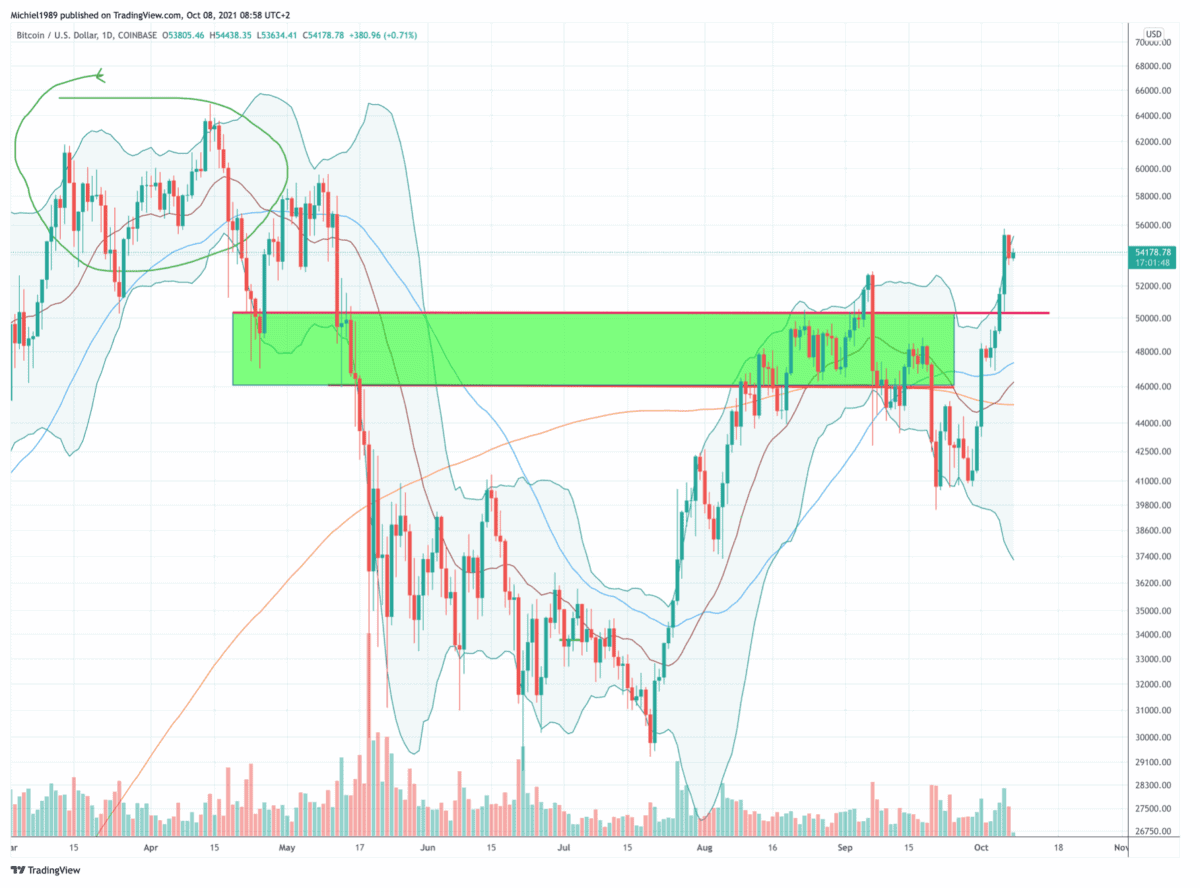 Hierboven zien we duidelijk dat bitcoin, zij het op een marginaal volume uitbreekt na de recente dip naar $40.000. De weerstandszone die steeds in de weg stond om verder te klimmen, zou nu als keiharde support moeten dienen.
Dus rond de $50.000 zouden de bulls al volle bak moeten gaan om de koers niet weg te laten glippen. Een kleun beetje speling wil je de koers dus wel geven maar echt wegzakken zou niet meer mogen.
Op een volgende beweging omhoog zou er een target liggen van $58.000. Uiteraard hebben we de ''absolute'' all time high nog als pitstop voor we wederom in de prijs-ontdekking-fase komen.
Waar zouden we heen kunnen gaan? Het is en blijft een hele lastige vraag die enkel door de tijd beantwoord kan worden. Bij nieuwe highs lijkt de $100.000 een gegeven.
Ethereum koers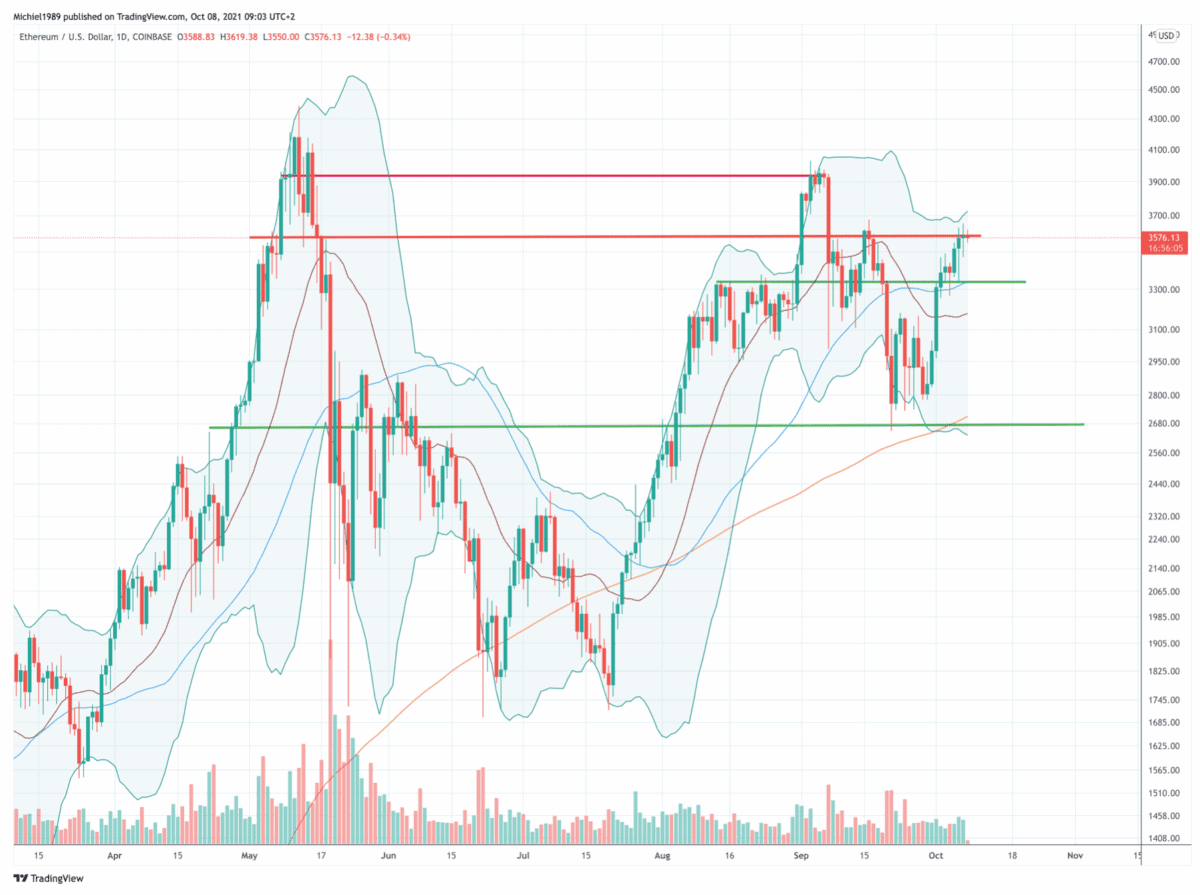 De gedoodverfde nummer 2 op de lijst hangt nog wel net in de weerstandszone. Deze lijkt te wachten op het seintje ''GO'' van Bitcoin. Zodra Ethereum de $3.600 is een push naar de $3.850-4.000 de volgende horde. Hierna wacht enkel nog de voorgaande high als korte stop alvorens ook hier nieuwe toppen genoteerd kunnen worden.
Al met al zullen de alts na een eerste run van bitcoin ongenadig hard de schade gaan inlopen. De rally die we begin dit jaar zagen zou hierbij kunnen verbleken. Alles valt of staat wel met de beweging die bitcoin op hele korte termijn gaat maken. Let the games begin!