Daar hangen we dan, aan de rand van de klif. Elke keer als we onze hand uitsteken voor hulp zakken we iets dieper weg. Komt die "hulp" nog op tijd of storten we eerst het diepe dal in? Dat is momenteel waar de koers van bitcoin zich bevindt; met een prijs rond die $9.100 is het make it or break it.
Zoals afgelopen week al aangegeven in onze omgeving voor members is er nog één laatste handreiking voor bitcoin.
De markt voor cryptocurrencies lijkt op dit moment niet los te beschouwen van de reguliere aandelenmarkt; over de komende twee jaar verwacht ik daar een heus slachtveld. Dit is dan ook de reden waarom ik alle markten zeer voorzichtig benader. Vooral geen geld verliezen is het strijdplan. Opvallend vind ik het zijwaarts bewegen van bitcoin, sinds de top van 1 juni zijn we in een downtrend geraakt; waar bijvoorbeeld de NASDAQ vrolijk aan het doorpieken is. Waar de grotere aandelen en indexen rijp lijken voor een correctie, kan dit voor bitcoin een dieper dal betekenen.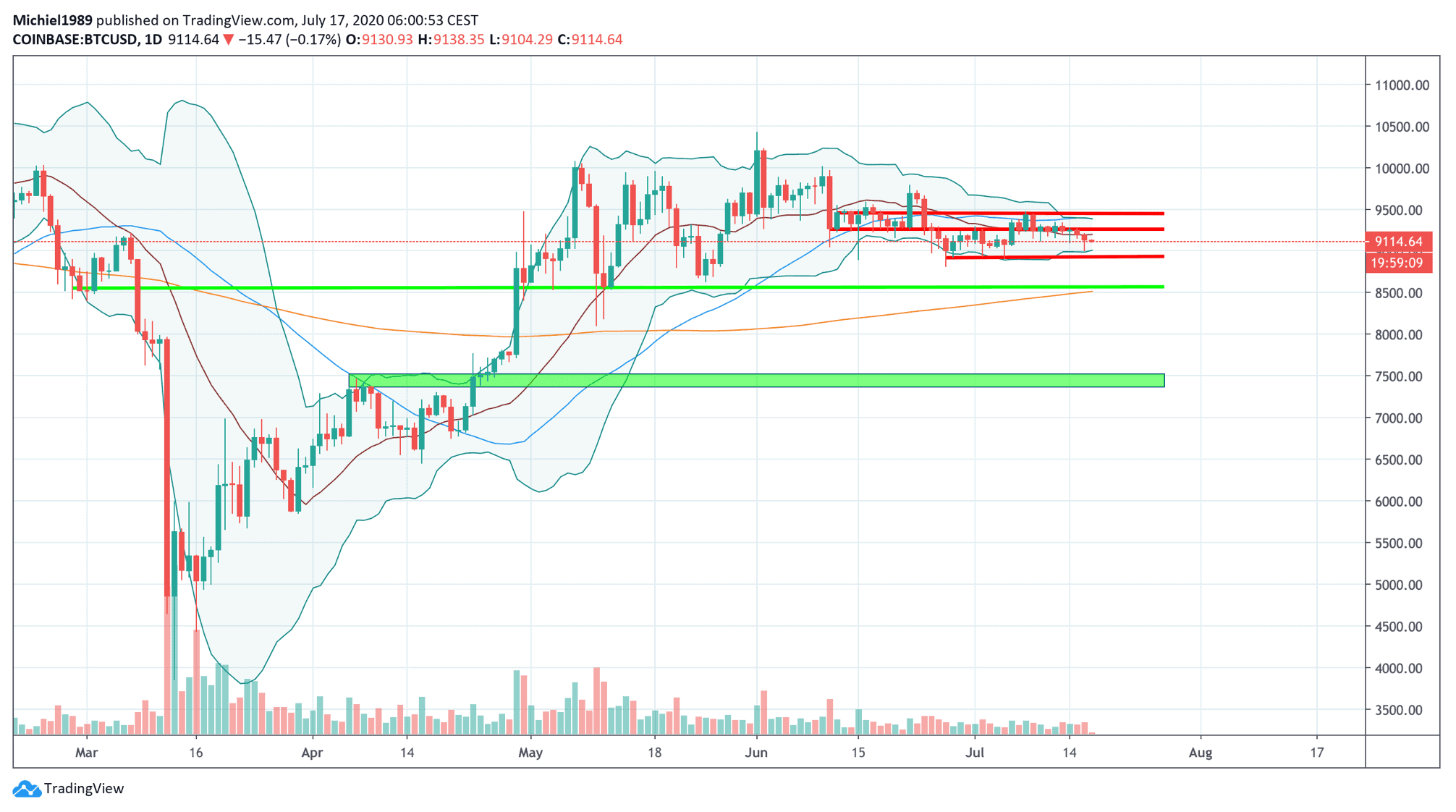 Afbeelding 1: dagelijkse grafiek van bitcoin (BTC) op cryptocurrency exchange Coinbase
Waar we momenteel vast lijken te zitten in een vacuüm is er op de dagelijkse koers een vrij overzichtelijk plaatje. De eerste weerstand ligt op $9.250 en een vrij grote zone van weerstand ligt te wachten rond de $9.450 op dit moment. Mocht de koers op de hogere tijdframes ter aarde storten dan zie ik een lichte support rond de $8.500. Echter, gezien de lange consolidatie verwacht ik dat daar geen wonderen verricht gaan worden. Met de zone rond de $7.500 lijken we meer kans te maken op het vinden van solide support, tijdelijke vaste grond onder de voeten.
Escape op lagere tijdframes
Weet bitcoin zich als als Houdini te redden uit deze benarde situatie zoals op 27 juni? Toen we weg leken te zakken onder de $8.900, maar met een spike was het gebeurd, en de koers nog bleef hangen rond die $9.000.
Dat is nu ook een mogelijkheid, met wat bullish divergences en een spike in de $8.900 kan het geklaard zijn. Dat is dan ook wel alsof je last-minute voor een voorbijrazende trein wegspringt.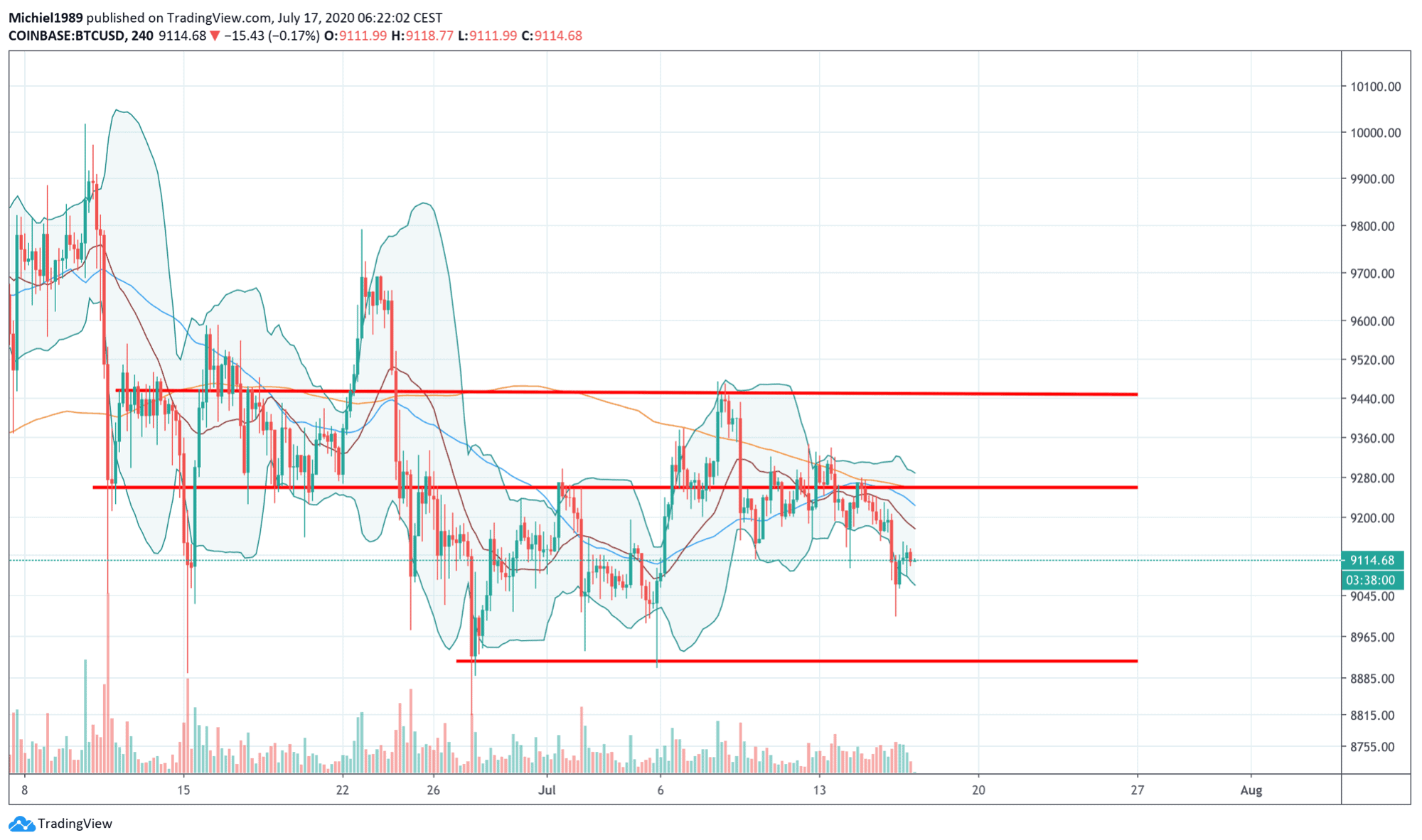 Afbeelding 2: 4-uurs grafiek van bitcoin (BTC) op cryptocurrency exchange Coinbase
Zo is hierboven iets duidelijker te zien waar de "killzones" van bitcoin zich bevinden. De Bollinger Bands van de 4-uur grafiek lijken de strijd al opgegeven te hebben. Als de hogere tijdframes ook dit pad kiezen is het tijd om te transformeren in zoef de haas of Forrest Trump. Als iedereen gaat afwachten wordt het rennen naar de nooduitgang een zooitje. Er zal niet genoeg ruimte zijn voor een escape en de koers kan genadeloos wegzakken.
Wees extra op je hoede deze dagen en laat het traden een feestje zijn van de hogere tijdframes.
Meer van mij horen en zien? Meld je dan aan in onze omgeving voor members en krijg doordeweeks koersvideo's, uitleg, interessante discussies, trading signals en meer. Kom de eerste 30 dagen gratis proberen!
Maandag 20 juli om 19:00 uur 's avonds verzorgen onze analisten Stef en John weer een live Ask Me Anything (AMA) sessie! In deze editie zullen beide heren een kritische blik werpen op de koers van bitcoin (BTC). Gaan we de komende dagen zakken of volgt er vuurwerk? Maandag blikken we terug!