De kans dat de huidige "saaiheid" van de koers van bitcoin binnenkort over zal zijn lijkt mij persoonlijk groot. Welke kant de koers op gaat breken is momenteel nog relatief onduidelijk al lijken de bears de beste kaarten in handen te hebben.
Er wordt flink geconsolideerd en ik zal, zoals ik al eerder heb gedaan voor onze members, proberen zo simpel en bondig mogelijk uit te leggen waar we nu staan. Het wedden op één paard zal denk ik voor veel mensen een lange zit gaan worden.
Het feit dat we op dit moment consolideren tegen de weerstand van $6.800 zou je als bullish kunnen opvatten. Er is dan ook nog absoluut ruimte na die vernietiging van twee weken terug om verder terug op te krabbelen.
Bij een goede doorbraak van de weerstand rond $6.800-$7.000 zou ik voor nu als target de 200 dagen moving average (MA) van de 4-uurs grafiek hebben. Deze ligt momenteel rond de $7.500. Dit is de gouden lijn met oranje cirkel in onderstaande afbeelding. Hiernaast ligt er net boven die zone de weerstand van 9 tot 12 maart, waar we kortstondig support hebben gevonden.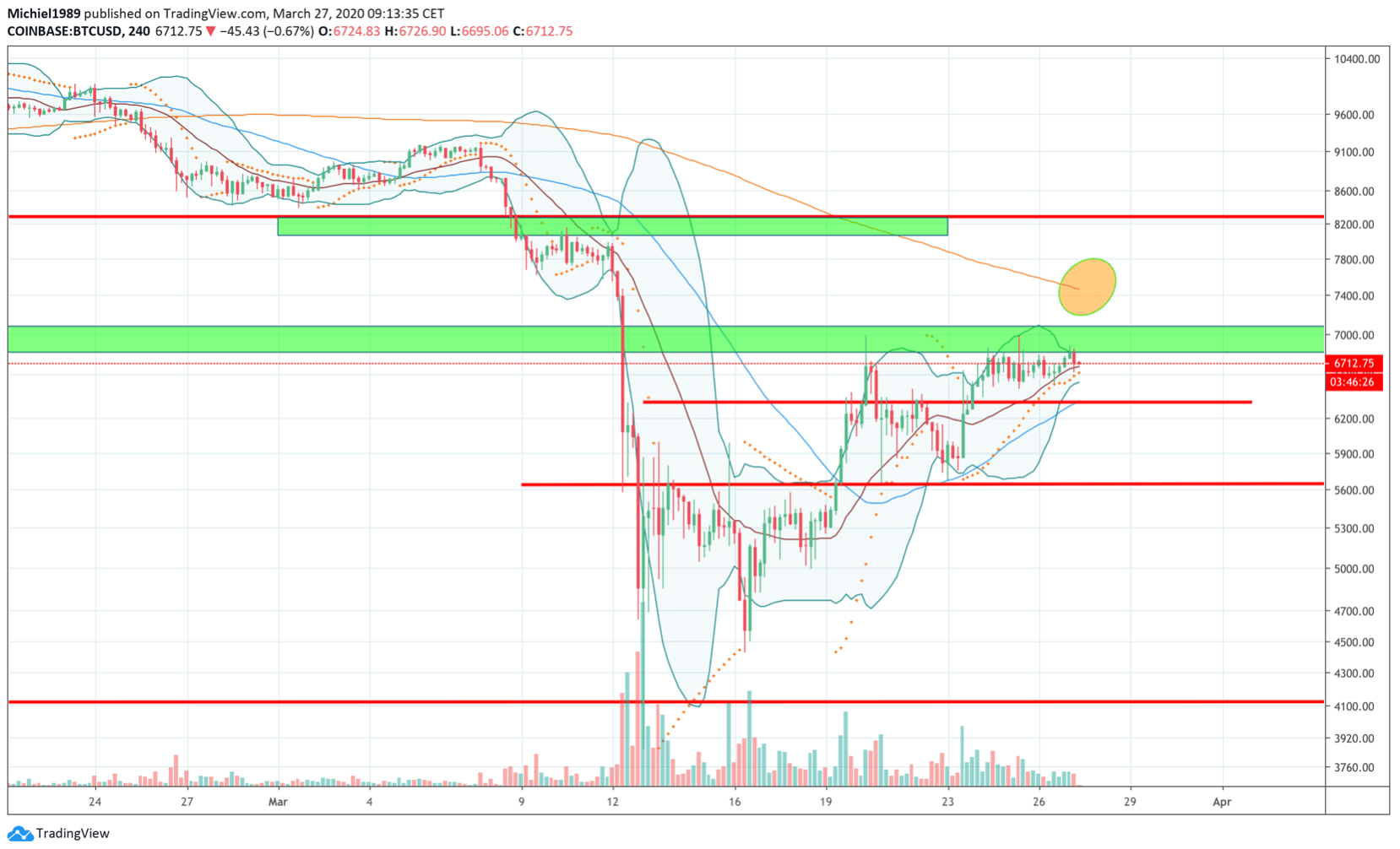 Afbeelding 1: 4-uurs grafiek van bitcoin (BTC) op cryptocurrency exchange Coinbase
Bearish case
Op bovenstaande grafiek is echter ook goed zichtbaar dat het volume sinds die enorme klapper op 12 maart aan het afnemen is en er een rising wedge ontstaat. Dit houdt in dat er op lager volume zigzaggend wordt geklommen en de rek er langzaam uitgaat.
Bij het breekpunt van $6.300 acht ik de kans groot dat we teruggaan vallen tot de support van $5.600. Indien deze zone ook opgeeft ligt mijn interesse rond de $4.800 op dit moment.
Het kan natuurlijk zijn dat de enorme lawine aan liquidaties rond 12 maart een extreme situatie heeft gecreëerd en dat we deze low niet meer gaan benaderen.
Belangrijkste punt dat ik aan de extreme bulls wil meegeven is dat er tot op heden altijd een BTFD (buy the fucking dip) -mentaliteit heeft geheerst de afgelopen 12 jaar in de reguliere markten. Mochten deze mensen, die ook gretig de afgelopen dip hebben gekocht, de deksel op de neus krijgen dan kan het een bloedbad worden. Ze zullen wellicht risicovollere assets als bitcoin van de hand doen om liquiditeit vrij te maken.
Uiteraard is dit tot op heden speculatie, maar in dit geval weten we gewoon simpelweg niet wat de economische impact gaat zijn. De geldpers staat overal in ieder geval flink te zweten. Dit is natuurlijk waarom bitcoin ooit door Satoshi gecreëerd is. Of bitcoin hierdoor gaat opbloeien gedurende de komende zware tijden gaan we snel genoeg zien!
Tip van de dag: Zorg dat je in ieder geval gewapend bent tegen beide scenario's en trade voorzichtig. Altcoins die nu, en ik citeer vele hodlers, "écht niet meer lager kunnen" kunnen echt nog 50-70% toegeven als de vitale support waar vele rondhangen opgeeft. Word member, meld je aan voor een gratis proefmaand, en blijf zo goed mogelijk op de hoogte!
Volgens onze analist David is het niet het moment om short te gaan en is hij nog steeds op zoek naar een long entry. Dat vergt wel geduld, want de situatie blijft gevaarlijk! Hoe zien de grafieken van bitcoin eruit en wat kan David je daar nog meer over vertellen? Lees het in zijn net verschenen technische analyse: Heb geduld!