Vol verwachting klopt ons hart is een liedje dat normaal alleen rond sinterklaas vaak te horen is. Echter doet dit liedje momenteel de ronde in mijn gedachte. Wat hebben we een onwaarschijnlijke dag achter de rug. We, verondersteld dat er nog lezers zijn, hebben een ware halvering gehad van de koers van bitcoin in minder dan een dag.
Waar staan we nu te midden van deze wereldwijde paniekaanval? Zolang er geen positieve verandering komt in de situatie rond het coronavirus bestaat de kans dat de reguliere markten blijven dalen. Zoals ik in onze omgeving voor members al aangaf zijn mensen in paniek en halen ze waar ze kunnen geld uit de markt. Zo zien we dit ook in de markt voor cryptocurrencies. Ik ben geen gezondheidsdeskundige maar de situatie ziet er niet naar uit komende week over te zijn.
Hoe meer landen er op slot gaan, des te groter de economische schade zal zijn, dat is logisch. Wat een gevolg kan zijn is dat kleine/grote ondernemingen gaan omvallen en hiermee een domino-effect gecreëerd wordt.
Geld blijven printen, wat Amerika op dit moment doet, zal deze schade in mijn optiek niet kunnen compenseren. Er moeten dus positieve berichten komen omtrent een vaccin of aflopende infecties of iets dergelijks om deze neerwaartse spiraal, al dan niet tijdelijk, te doorbreken.
Positieve noot en mogelijke plottwist
Gek scenario misschien, maar dit hele gedoe met 'vies' of 'besmet' cash geld kan wel voor een kanteling zorgen. Overheden zullen wellicht haast maken met het opstappen op volledig digitaal.
Hiernaast bestaat er de mogelijkheid dat banken in liquiditeitsproblemen geraken. Hierbij is het niet ondenkbaar dat mensen een opnamelimiet krijgen. Dit kan ervoor zorgen dat mensen naar alternatieve gaan kijken om toch te kunnen besteden. Bitcoin kan zoals we weten niet geblokt worden door overheden.
Staar je echter niet blind op deze hopium en zie onderstaande mogelijkheden als we op de reguliere markten ook echt door blijven zakken.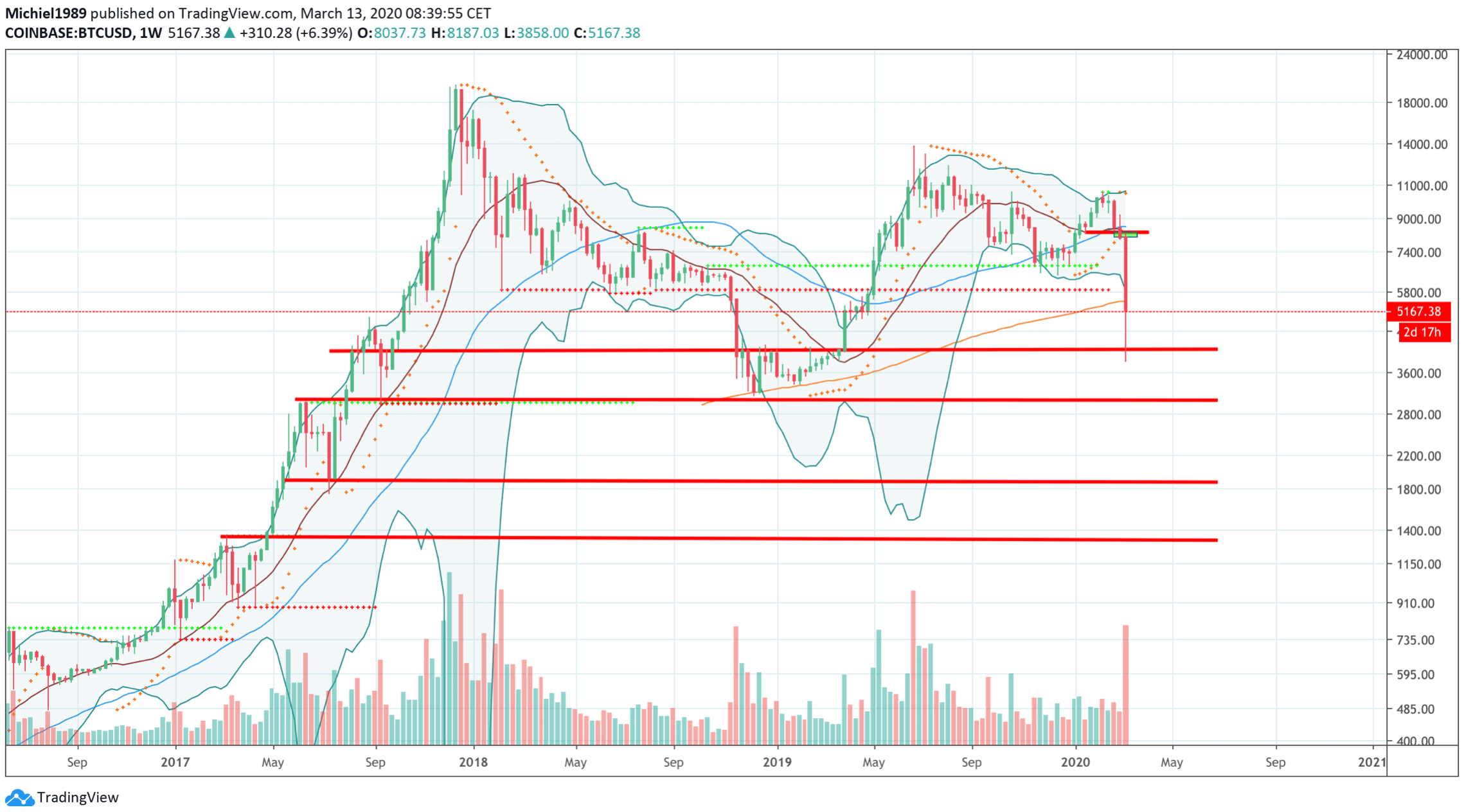 Afbeelding 1: de grafiek van bitcoin (BTC) op de wekelijkse grafiek van cryptocurrency exchange Coinbase
Raar maar waar kom ik tot bovenstaande supportzones voor nu;
We hebben tot op heden support gevonden op de $4.000 (dit is zo onwerkelijk, om deze bedragen neer te zetten) Op de belangrijke tijdframes als 4-uurs tot dagelijkse grafiek zijn er nog geen tekenen van herstel, buiten deze laatste bounce. Normaal, maar wat is normaal, zou ik graag wat bullish signalen zien alvorens ik ga kopen. Dit zou een dump naar een lagere prijs op lager volume betekenen. Dit zou zomaar eens komende week kunnen gebeuren.
De zones waar ik dan naar kijk zijn de volgende;
$3.000, die als dubbele bodem zou kunnen fungeren; denk aan 2015

$1.900 zone; de China-dip van 2017

$1.300, de piek van maart 2017
Het mag duidelijk zijn dat op dit moment de eerste weerstandszones die van $6.000 en $6.500 zullen zijn.
Onwerkelijk? ja, echter is er momenteel relatief weinig liquiditeit op de cryptocurrency exchanges en de paniek groot. Hierdoor kan er bij een grote verkooporder een groot gat ontstaan.
Ook deze keer weer geldt de regel: paniek doet de markt overdrijven! Klets je met ons mee? Ga daarvoor naar ons gratis discussiekanaal op Telegram!