Laat jij je afschrikken door een zakkende bitcoin (BTC) koers of maak je er gretig gebruik van? Dat zal de million dollar question zijn van begin 2020. Verschiet vooral niet te vroeg je kruit en wacht op bevestiging. Welke bevestiging dat is zal ik verderop benoemen bij het bespreken van het koersverloop.
Ondertussen is de ontwikkeling van blockchain volop in gang gezet door grote bedrijven. Zie bijvoorbeeld het nieuwsbericht over de Chinese internetgigant Alibaba dat eerder op Crypto Insiders verscheen. In dat bericht staat onder andere:
Ook dit jaar heeft de Alibaba DAMO Academy, het onderzoeksinstituut van 's werelds grootste e-commerce bedrijf, een rapport uitgebracht waarin 10 technologische trends voor dit jaar worden voorspeld. Verschillende ontwikkelingen worden aangestipt; van kunstmatige intelligentie tot quantum computing, van cloud computing tot blockchain-technologie.

Het instituut, waarvan de naam DAMO afkomstig is van Discovery, Adventure, Momentum and Outlook, is van mening dat het makkelijker gaat worden voor grote bedrijven om blockchain-technologie te implementeren en dat verschillende hardware op het juiste moment beschikbaar zal zijn. Daarmee zullen blockchain-applicaties volgens het instituut steeds meer in het dagelijkse leven worden opgenomen. 
Steeds vaker zien gevestigde namen de potentie van blockchain. Of deze bedrijven nu bestaande blockchain-projecten uitkiezen als platform of zelf iets ontwikkelen maakt in mijn optiek niet uit. Uiteraard zal de koers van een bestaande cryptocurrency een enorme boost krijgen als een multinational middels die crypto een dienst gaat verlenen. Blockchain, en daarmee crypto, zal meer en meer in het licht komen te staan wat onherroepelijk zal leiden tot prijsstijgingen.
Lucratieve investering of bodemloze put?
Bitcoin is nog altijd niet uit de downtrend gebroken die het eind juni 2019 heeft ingezet. Zoals in het begin van deze column te lezen is raad ik mensen aan het kruit niet te vroeg te verschieten. Na een consolidatieperiode lijkt de koers nogmaals de weg naar beneden gevonden te hebben.
De bounce van $6.400 naar $7.700 lijkt een opleving geweest te zijn voor we nu wellicht een definitieve bodem gaan vinden voor 2020.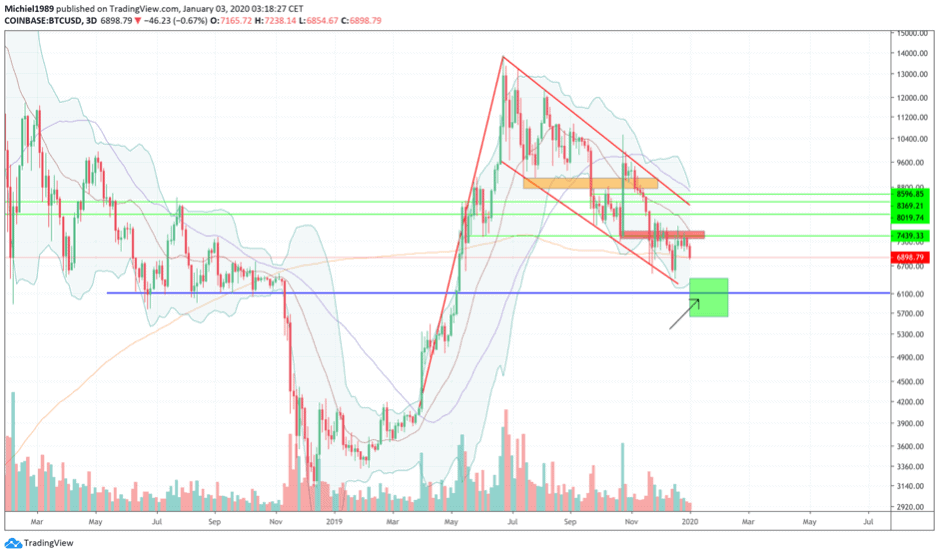 Afbeelding 1: Bitcoin-grafiek op de dagelijkse chart van cryptocurrency exchange Coinbase
Hierboven zie je de bekende groene box die nog altijd mijn zone is voor een mogelijke bodem. Met het nodige geduld en een strijdplan sta ik gereed om ten aanval te gaan tegen de bears in die prijszone. Uiteraard zouden we in de zone van $6.700-$6.500 support kunnen vinden. Echter ziet de grafiek er op dit moment uit alsof we de bodem gaan tackelen de komende dagen/weken.
Een logische bodem zou kunnen liggen rond de $6.000. In deze zone wist bitcoin te consolideren voor de enorme daling van eind 2018. We zouden kunnen doorschieten richting de $5.700 als bodem.
Een ander scenario voor mij is hetzelfde als bij de $3.200 van december 2018, toen iedereen dacht dat we die $3.000 wel zouden aantikken. Helaas voor al die mensen wisten we net boven de $3.000 support te vinden.
Enkele belangrijk signalen voor mij om toe te slaan zijn de volgende:
Volumeclimax óf daling, dus een explosieve bodem óf eentje op laag volume.

Bullish divergences op hogere tijdframes

Zeer negatief sentiment onder beleggers
Wil jij het nou als eerste horen als ik heb toegeslagen? Meld je dan nu aan als member en krijg de eerste 30 dagen gratis toegang tot onze meest exclusieve content!
Er staat weer een nieuwe wekelijkse bitcoin (BTC) koers analyse van Crypto Insider David online! Mis 'm niet!
Wil je op de hoogte blijven van het laatste nieuws? Abonneer je dan op onze push-berichten, Facebook– of Twitter. Meediscussiëren? Meld je dan aan voor ons Telegram kanaal.