Ja, dat is precies wat er constant aan de hand is in de markt. Bij een koersstijging van 2-3% worden de targets aangepast van $1.000 naar $100.000, om bij de eerstvolgende -1% terug te komen bij een target van $5.000. De markt beweegt en mensen reageren daar irrationeel op. Er is vaak maar een selecte groep die emotieloos naar een trade kijkt en deze op juiste waarde weet in te schatten. Er wordt dus constant overdreven.
Dit overdrijven zie je ook werkelijk terug in bijvoorbeeld de waarde van bitcoin. Zodra de koers zakt, valt deze vaak dieper weg dan passend is voor het bijbehorende nieuws. Dit alles wordt door paniek aangedreven. Net zo goed als dat bij goed nieuws de markt doorschiet naar boven door Fear Of Missing Out (FOMO).

Dit is met name voor nieuwe traders erg verwarrend. Want waarom wordt er vandaag $100.000 geroepen en overmorgen $1.000? Vaak worden hierdoor ondoordachte beslissingen genomen en verliest deze groep mensen onnodig veel geld.
Door in te spelen op bovenstaand menselijk "falen" is het vaak mogelijk om goed te verdienen. Zeker in volatiele markten als die van cryptocurrency. Het voornaamste ingrediënt voor succes is geduld. Je moet dus het geduld op kunnen brengen om te wachten op dat ene moment van totale paniek om te kopen.
Als we bovenstaand verhaal meenemen in de huidige koers van bitcoin (zie de afbelding hieronder) dat zou je rationeel gezien de volgende conclusies kunnen trekken: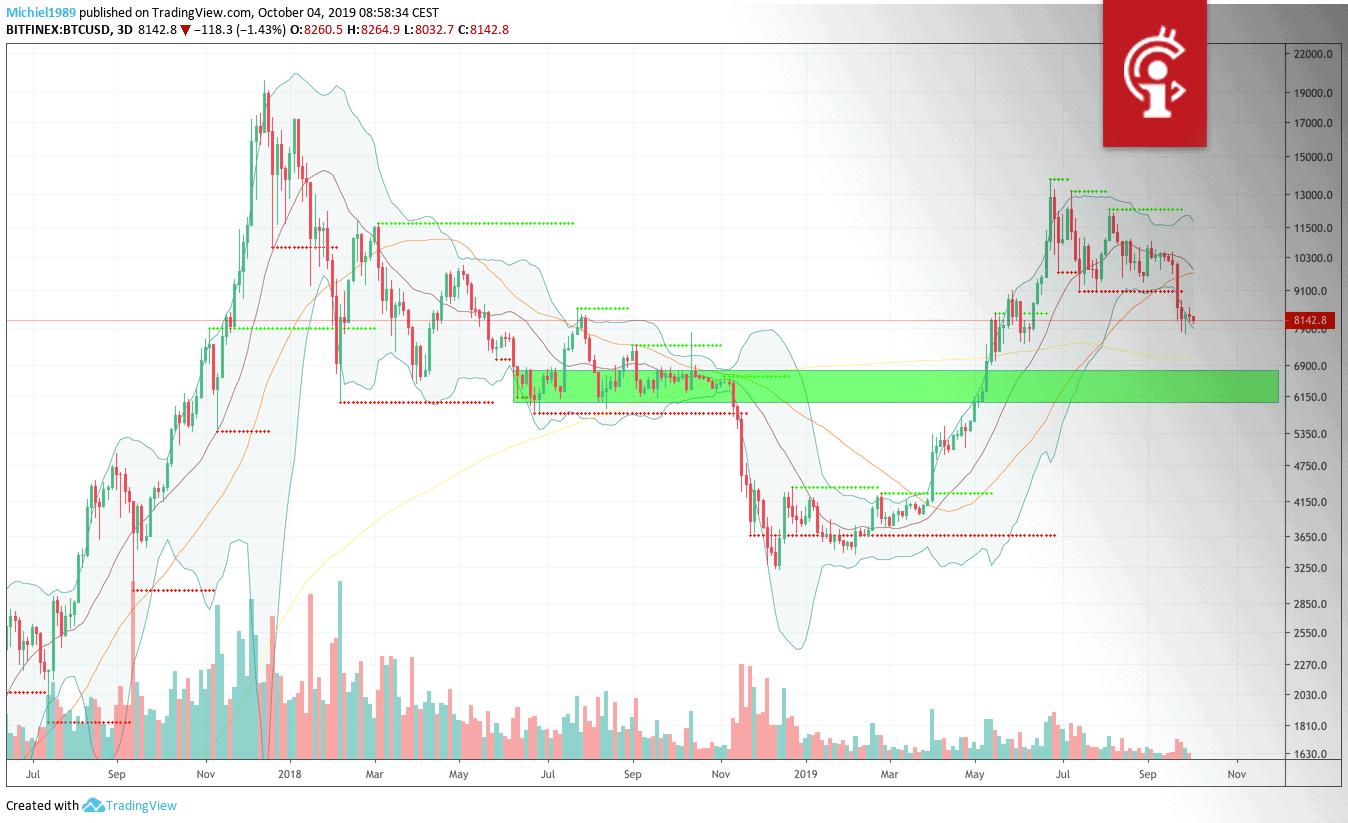 Afbeelding 1: de koers van bitcoin (BTC)
Na het dieptepunt van $3.200 is de markt positief gedraaid.

We zijn dwars door de zone van $6.000-6.500 geschoten, wat normaal een flinke weerstand zou moeten zijn. Mede door een stukje FOMO zijn we tot ver boven de $10.000 gekomen met zelfs een piek van zo'n $14.000.

Uiteraard komt er na deze enorme vermenigvuldiging een marktcorrectie. Zolang deze in of boven de groene zone support vindt (ofwel een hogere low) zouden we voort kunnen bouwen aan een mooie run richting en voorbij de $14.000.
Uiteraard kunnen we een bull trap niet uitsluiten. Dit zou van deze recente stijging een schijnbeweging maken en nieuwe lows tot ver onder de $3.000 betekenen. Echter is dit pas plausibel als we door de groene zone zakken. Een goede trader weet de risico's zo te managen dat hij of zij voorbereid is op alle scenario's en de USD-waarde van het portfolio weet te waarborgen.
Tot dusver is er dus nog weinig om je zorgen over te maken. Als ik kijk naar de dagelijkse chart zie ik rond de $3.200-$3.500 diverse koopsignalen. Hiernaast zie ik rond de $12.000-$13.000 diverse waarschuwingssignalen. Zolang een trader al deze signalen objectief heeft benaderd zou deze dus laag gekocht hebben, rond de $6.000-$6.500-zone deels verkocht hebben en gaandeweg wat van zijn positie hebben gesloten.
Na de top zijn de eerste koopsignalen gespot rond de $7.700 en deze zullen waarschijnlijk sterker worden naarmate we verder zullen zakken.
Uiteraard is dit alles achteraf vaak makkelijk praten, maar de voornaamste reden waarom dit niet lukt is het psychologische aspect van traden. Het is altijd goed om terug te kijken naar momenten waar je de mist in bent gegaan. Zo zal je na een tijd hopelijk tot de conclusie komen dat:
De markt altijd signalen afgeeft voor een grote move.

Je hier handig op kunt inspelen door geduld te bewaren en je niet mee te laten slepen in de echo's van depressie of euforie.
Wil je met mij en onze community mee discussiëren over alles wat met cryptocurrency en blockchain-technologie te maken heeft? Join dan ons gratis Telegram-kanaal door hier te klikken!
Crypto Insider David heeft weer een nieuwe bitcoin (BTC) koers weekanalyse voor je klaar staan. Wil je weten wat hij verwacht van de lange termijn? lees dan hier verder!
Wil je op de hoogte blijven van het laatste nieuws? Abonneer je dan op onze push-berichten, Facebook– of Twitter. Meediscussiëren? Meld je dan aan voor ons Telegram kanaal.