Chainges, de naar eigen zeggen eerste blockchain conferentie georganiseerd door de blockchain gemeenschap zelf, bood een breed scala aan mogelijkheden om mensen achter blockchain projecten te ontmoeten, om te netwerken, maar ook om wat op te steken. Bij beursstands, presentaties, workshops en discussiepanels was het voor alle bezoekers mogelijk om vragen te stellen en opmerkingen te maken. Het geheel zorgde ervoor dat de kloof tussen publiek, sprekers en bedrijven weer een stukje kleiner kon worden.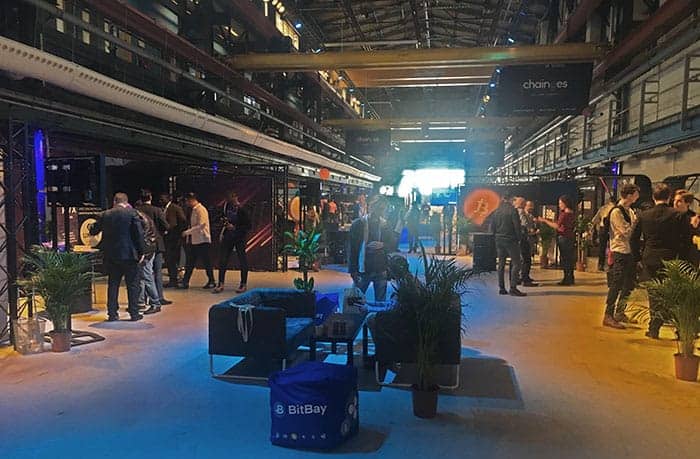 Bij binnenkomst is het overduidelijk dat het geheel financieel flink wordt bijgestaan door BitBay. De branded goodie bag die bij entree wordt aangeboden heeft dan ook de nodige BitBay kantoorartikelen in zich. Wat direct opvalt is dat er goed nagedacht is over de indeling en het uiterlijk van de conferentie. De beursstands zijn ruim opgezet en er zijn genoeg plekken waar je zittend een gesprek kan voeren. Bij de aankleding is ook de ruimte van de Kromhouthal goed benut; zo hangt er achterin, bij de 'Technology stage' een sfeervol belicht Chainges logo van industriële buizen.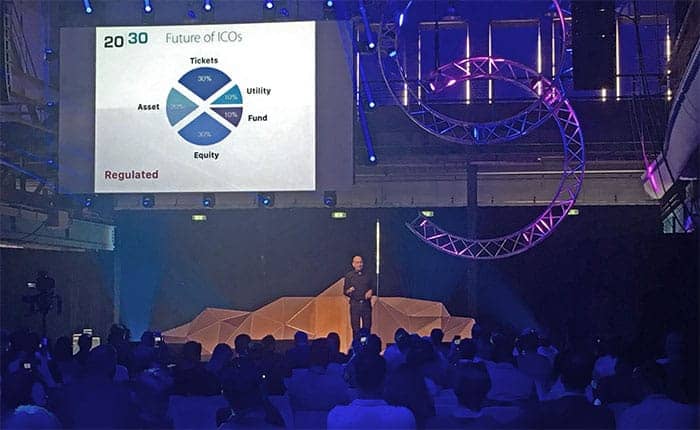 Naast de Technology stage, welke zich achterin de hal bevond, was er nog een Business stage. Deze bevond zich in een aparte ruimte en had gedurende de dag tegelijk met de Technology stage sprekers staan.
Waar ging het over op Chainges? Er waren veel blockchain bedrijven die hun beoogde product of service kwamen presenteren. Dit werd vaak gedaan aan de hand van een geconstateerd probleem, een blockchain-gerelateerde oplossing en een uitleg met betrekking tot de ontwikkeling van deze oplossing. Daarnaast was er ook aandacht voor breder georiënteerde vraagstukken omtrent blockchain. Hoeveel weten we bijvoorbeeld op voorhand over blockchain ontwikkelingen? Hoe ziet het Nederlandse blockchain ecosysteem er uit en hoe zit het met de vertegenwoordiging van vrouwen in de crypto-wereld?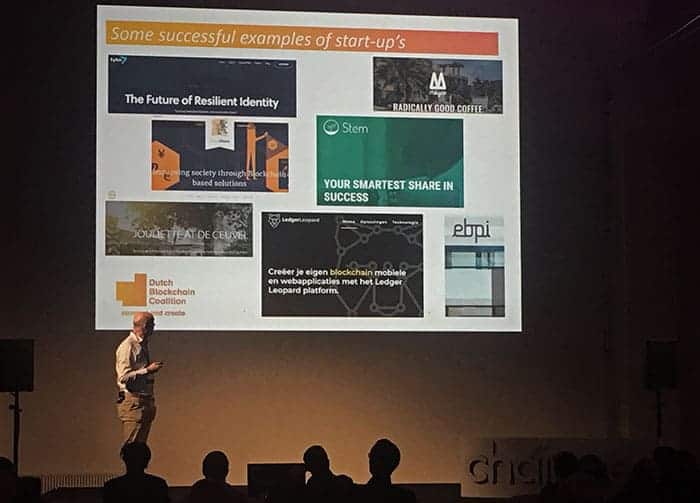 Het was voor ons helaas niet mogelijk om alle presentaties bij te wonen en alle beursstands af te gaan. Toch hebben we een lijstje weten op te stellen van interessante bedrijven, projecten en sprekers die de revue hebben gepasseerd.



Attrace is het eerste volledig gedecentraliseerde affiliate marketing platform. Het team achter Attrace heeft een platform ontwikkeld dat draait op de blockchain en advertenties kan registreren en auditten. Dit houdt in dat er volledige transparantie is, de blockchain zorgt voor veilige transacties en kosten verminderd kunnen worden met wel 95%. Voor wie niet bekend is met affiliate marketing, dit is een vorm van internetmarketing waarbij adverteerders hun partners belonen voor de gegenereerde verkopen of 'leads' die de 'affiliate' heeft aangeleverd.
Het Attrace platform past blockchain technologie toe bij affiliate marketing door een smart contract te hanteren voor elke klik of referral die wordt gegenereerd, of dit nu leidt tot verkoop of niet. Verder beweert Attrace met smart contracts fraude tegen te gaan en 'tracking' te bieden, omdat elke klik afzonderlijk kan worden bekeken. Omdat er geen affiliate netwerk nodig is, welke doorgaans 10-25% commissie rekenen, is het gebruik van het Attrace netwerk veel goedkoper. Leuk feitje is dat Attrace een Nederlands initiatief is met een kantoor op de Amsterdamse Keizersgracht.



Seal blijkt ook van Nederlandse bodem. Dit project beoogt de waardebescherming van 's werelds meest geliefde merken. Het bedrijf heeft een "product authentication platform" ontwikkeld dat twee technologieën combineert: blockchain en near-field-communication (NFC). Dit om de productie en verspreiding van namaakwaar tegen te gaan.
Het is volgens Seal makkelijk voor merken om Seal's supply-chain informatie te incorporeren in bestaande productie- en distributieprocessen. Zo is het mogelijk om Seal te implementeren in het bestelproces en in het verkoopproces. Zowel directe consumenten als klanten op de tweedehands markt zullen waarderen dat hun geld wordt besteed aan authentieke, onvervalste producten.
Middels vier componenten in de workflow van Seal wordt bovenstaande visie bewerkstelligt. 'The Seal Chip' wordt in fysieke producten verwerkt om deze te kunnen identificeren en valideren als authentiek. 'The Seal App' wordt vervolgens gebruikt om de NFC Seal chip uit te lezen met een smartphone (mits NFC compatibel). 'The Seal Token' (SEAL) is de token die wordt uitgewisseld tussen verschillende onderdelen van het Seal platform. Last but not least is er 'The Seal Network' welke een onwrikbaar blockchain database is waarin alle transacties omtrent producten met een Seal chip worden vastgelegd en gevalideerd.



Topl is een project van een hele andere orde. Het idee achter Topl is vrij simpel: door het bouwen van een open kapitaal infrastructuur geënt op ontwikkelende markten, kunnen het beleggingsrendement en de economische impact beide verbeteren. Topl's investeringsprotocol is ontworpen om investeerder in ontwikkelingslanden te helpen bij struikelblokken die de geldstromen belemmeren. Door hier hulp te bieden denkt Topl de investeringen gelijk te kunnen trekken met de grote potentie van de economie in deze ontwikkelingslanden.
Topl is van mening dat het verstandig investeren in jonge, innovatieve en lokale bedrijven één van de meest effectieve aandrijvers zal zijn voor de stimulatie van economische groei en het bewerkstelligen van een lange termijn impact op sociaal gebied.  



Frans van Ette, Coalition manager van de Dutch Blockchain Coalition, hield op de business stage een presentatie en gaf hiermee een kijk op het gebruik van blockchain in het Nederlandse bedrijfsleven. Er werd een een scala aan Nederlandse initiatieven gepresenteerd. Dit varieerde van het gebruik van blockchain door de Nederlandse Organisatie voor toegepast-natuurwetenschappelijk onderzoek (TNO) omtrent een supply-chain voor wiet tot aan een 'sharing' project van lokaal opgewekte energie.
Ook werd er ingegaan op wat de Dutch Blockchain Coalition zelf voor ogen heeft. De organisatie streeft naar de realisatie van betrouwbare en sociaal geaccepteerde blockchain applicaties en de meest gunstige omstandigheden om deze applicaties te laten floreren. Daarbij is het volgens de organisatie zaak dat de applicaties veiligheid, welvaart en welzijn bieden voor inwoners, bedrijven, instituten en overheidsorganisaties.
Uitgangspunt van de coalitie is dat verantwoordelijke innovatie, dus ook in het geval van blockchain, waarde moet creëren voor een breed scala aan doelgroepen en applicaties.



Chad Ballantyne, creative director bij Rhubarb Media, gaf een presentatie over zijn rol in de lancering van de nieuwe cryptocurrency PIVX. In de afgelopen 14 maanden was Ballantyne de taak toebedeeld om het PIVX project te hernoemen, branden en marketen. 12 maanden na het werk van Rhubard Media steeg de waarde van cryptocurrency PIVX van $0,06 naar boven de $14 met een market cap van meer dan $700 miljoen. Ballantyne's visie heeft niet alleen PIVX getransformeerd, maar transformeert nu ook langzaam de crypto cultuur.
Voorbeelden van aanbevelingen die Ballantyne samen met Rhubarb Media heeft gedaan en die door PIVX zijn doorgevoerd zijn het sponsoren van atleten en het vertalen van de website in meer dan 20 talen.
De Chainges Conference is voor al het publiek toegankelijk. Mocht je willen lezen over de afgelopen editie en in de gaten willen houden wanneer de volgende editie is? Check dan de Chainges website.