Tykn is een inspirerend blockchain-project van Nederlandse bodem. Het bedrijf, mede-opgericht door de in Koeweit geboren Toufic "Tey" Al Rjula, gebruikt 'distributed ledger technologie' om tools te ontwikkelen omtrent elektronische identificatie en authenticatie. Uiteindelijk zullen overheden en niet-gouvernementele organisaties (NGO's) deze tools, welke volledig voldoen aan de algemene verordening gegevensbescherming (AVG), kunnen gebruiken voor verschillende doeleinden. Zo is het middels de tools bijvoorbeeld mogelijk voor een overheid om identiteiten te digitaliseren en kan een organisatie in de gezondheidszorg veilig interoperabiliteite, digitale patientendossiers aanmaken. Momenteel is Tykn een samenwerking aangegaan met het 510 Data Team van het Rode Kruis omtrent een project in St. Maarten, waarbij middels een blockchain fondsen kunnen worden verspreid onder de slachtoffers van rampen. De DigiD en digitale patiëntendossier kennen we in Nederland al, maar waarom worden identiteiten door een derde beheerd en is dat wel zo veilig?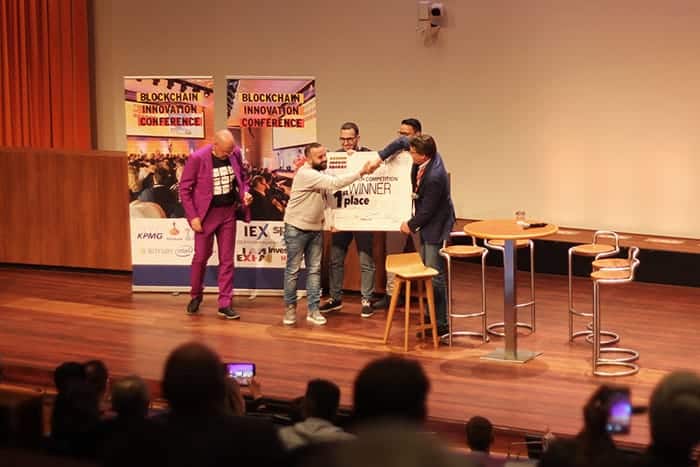 Prins Constantijn overhandigt tijdens de Blockchain Innovation conference 2018 de Best Dutch Initial Coin Offering-award aan Tykn
Het idee voor Tykn is het resultaat van een bewogen periode op persoonlijk vlak voor Tey. In 2012 kwam hij erachter dat hij 'onzichtbaar' is. Op zijn rijbewijs staat bij geboorteplaats dan ook 'Onbekend'. Dit komt doordat Tey in Koeweit werd geboren als zoon van Syrische ouders tijdens de golfoorlog. Tijdens deze oorlog werden geboorteregisters massaal vernietigd. Als gevolg daarvan heeft Tey geen geboortecertificaat en zijn ook eventuele kopieën niet te verifiëren aangezien de geboorteregisters niet meer bestaan.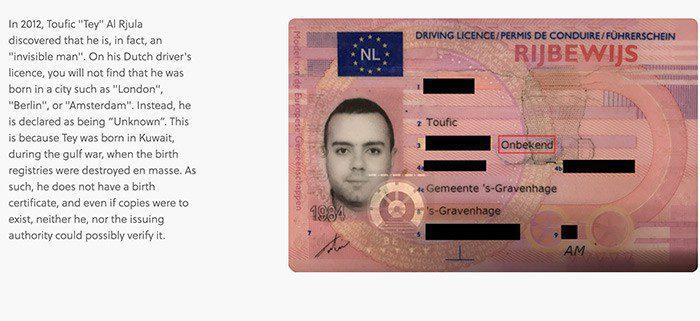 Na vijf jaar een werkvergunning te hebben gehad, verliep deze in 2014 en moest Tey asiel aanvragen in Nederland. In afwachting van zijn aanvraag verbleef Tey in een vluchtelingenkamp waar hij samen met duizenden Syrische vluchtelingen verbleef die de authenticiteit van hun papieren niet konden aantonen. Daarnaast waren veel vluchtelingen belangrijke documenten zoals diploma's ook verloren. Onderzoek wees uit dat honderdduizenden vluchtelingen in Syrische kampen geen geboorteaktes hebben en ook kinderen die in de kampen werden geboren vaak niet geregistreerd worden. Tey vond aan de hand van zijn ervaringen in de opvang inspiratie om Tykn op te richten, samen met sociaal ondernemers Khalid Maliki en Jimmy J.P. Snoek.
Tykn formuleerde drie sleutelproblemen die zij willen aanvechten. Allereerst werd het probleem omtrent papieren documenten geïdentificeerd. Deze documenten zorgen voor een duur, omslachtig proces dat gevoelig is voor fraude. Daarnaast zijn de documenten vaak niet interoperabel en leidt het in arme, afgelegen gebieden tot uitsluiting van kwetsbare groepen. Ook werd het probleem rondom centralisatie blootgelegd. Door de centralisatie van administratie is er weinig gemeenschapsgevoel en is het systeem kwetsbaar voor rampen, of deze nu door mensen of door natuurrampen worden veroorzaakt. Als laatst identificeerde Tykn de kennisleemte omtrent blockchain en distributed ledger technology van overheden, gemeenten en NGO's. Deze technologieën zouden namelijk de benodigde decentralisatie van het huidige systeem mogelijk moeten maken. Bovenstaande aspecten zouden volgens het team van Tykn aangepakt moeten worden om een nieuw ecosysteem te kunnen creëren, waarmee elektronische identificatie en authenticatie kunnen floreren. Het idee is dat een gedegen systeem ervoor zal zorgen dat minder mensen door het leven moeten gaan zonder of met een gebrekkige identiteit.
Om de geïdentificeerde sleutelproblemen aan te vechten stelt Tykn een distributed ledger platform voor genaamd 'Hyperledger Indy, welke is ontworpen door de start-up Evernym'. Dit platform zou het 'Sovrin' netwerk moeten aandrijven. Naast Tykn dragen ook bedrijven als IBM, Cisco en TNO als zogeheten 'stewards' bij aan de werkzaamheid van het platform. Het is op moment van schrijven echter nog niet zeker dat Tykn Hyperledger Indy daadwerkelijk zal gebruiken. Omdat het idee achter Tykn nog in ontwikkeling is, is ook de keuze voor de ledger nog niet in steen geschreven. Naast Sovrin bekijkt Tykn ook 'RSK' en Ethereum's 'ERC-725'. Omdat het RSK-netwerk nog in ontwikkeling is, zal eerst het Ethereum netwerk worden gebruikt. Het idee van Tykn is dat een decentraal netwerk met decentraal beheerde digitale identiteiten zal helpen om de sleutelproblemen op te lossen.
Hoe gaat Tykn verbetering brengen in de huidige processen die nog steeds veelal afhankelijk zijn van papieren documentatie? De startup zal geen persoonlijke data opslaan op de ledger, zelfs niet in versleutelde vorm. Tykn zal in plaats daarvan data opslaan op de ledger die puur en alleen het bestaan van een document bewijst. Zodoende wordt ervoor gezorgd dat persoonlijke data niet kan lekken of gestolen kan worden. Hoewel we in Nederland digitalisatie van persoonsgegevens kennen in de vorm van DigiD, is deze data alleen beschikbaar voor de overheid en instanties in de gezondheidszorg. Daarnaast is de dienst compleet gecentraliseerd waardoor het kwetsbaar is voor fraude en hacks. Tykn is ook in discussie met de Nederlandse overheid om hier verbetering in aan te brengen.
Als het gaat om de kwetsbaarheid van documenten is Tykn van plan dit in te gaan dammen door decentrale opslag. Ook data, waar bestanden uit opgemaakt zijn, zal verspreid over het netwerk worden opgeslagen. Op dit moment zijn schaalbaarheid en de veiligheid van het netwerk die daarmee gepaard gaat nog aspecten de door de startup worden onderzocht.
Het team van Tykn realiseert zich dat de ontwikkeling van tools niet voldoende zal zijn om het gewenste resultaat te behalen. Om de eerder genoemde kennisleemte omtrent blockchain en distributed ledger technology op te vullen zal Tykn zich, middels haar ZINC Foundation, actief inzetten om samen te werken met overheden, de Verenigde Naties (VN) en NGO's. De samenwerking zal niet alleen draaien om het overdragen van kennis, maar ook om het construeren van gestandaardiseerd beleid en regelgeving.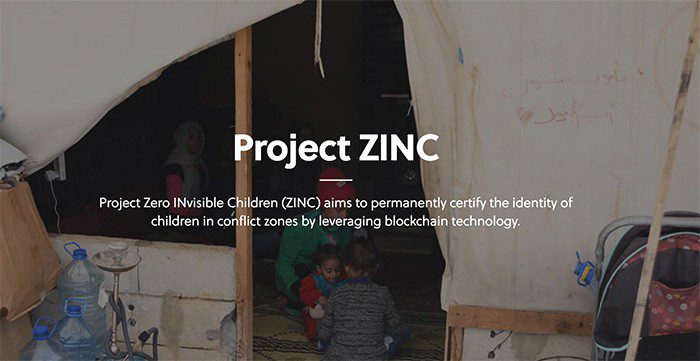 Als Tykn haar visie in de toekomst kan waarmaken zou het gewin enorm kunnen zijn. Het ontstaan van Tykn is een mooi verhaal, maar ook de uitgedachte oplossingen getuigen van een ambitieuze startup. Het feit dat, wat Tykn nastreeft, een brug slaat tussen een nieuwe, complexe, bijna ongrijpbare technologie en een praktisch maatschappelijk probleem is een mooi vooruitzicht wat adoptie betreft. Wij van Crypto Insiders zijn in ieder geval erg benieuwd naar wat Tykn ons in de toekomst zal brengen.
Wil je op de hoogte blijven van het laatste nieuws? Abonneer je dan op onze push-berichten, Facebook– of Twitter pagina.