Crypto Insiders geeft een uniek aanbod met een nieuwe serie artikelen genaamd 'Voor 't zelfde geld'. Hierin interviewen wij onze crypto coaches, analisten en andere crypto fanaten over hun standpunt in de markt. Deze keer is het de beurt aan Albert, alias AppY, een technisch analist bij Crypto Insiders.
"Ik verwacht nog een flinke dip", vertelt Albert over de bitcoin (BTC) koers. "Morgen of overmorgen is het tijd om langzaam short te gaan. Rond de $64.700 is mijn sell zone en ik verwacht dat bitcoin nog maximaal tot $69.200 stijgt voordat we even naar beneden gaan. Het lijkt erop dat de daling al is ingezet."
"De bitcoin dominance is afgelopen dagen ook aan het zakken. Dit betekent dat er geld uit bitcoin aan het stromen is. Als je vervolgens naar altcoins kijkt, zie je dat ze het heel goed doen, maar ook daar zien we langzaam de toppen naderen. Dit betekent dat de alt-markt ook een dip zal zien; een slecht teken dus."
"We zijn nu net uit de sell-zone vertrokken en we gaan nu dippen richting de $57.670. Het zou me niks verbazen als de prijs ook nog een klein stukje dieper duikt", zegt Albert. Dit betekent overigens niet dat hij bearish is. "Ik ben extreem bullish, maar deze dip kunnen we niet vermijden. Rond de $57.000 zitten alle kooporders van de markt. Vanuit daar zie ik bitcoin zeker richting de $80.000 of $90.000 gaan."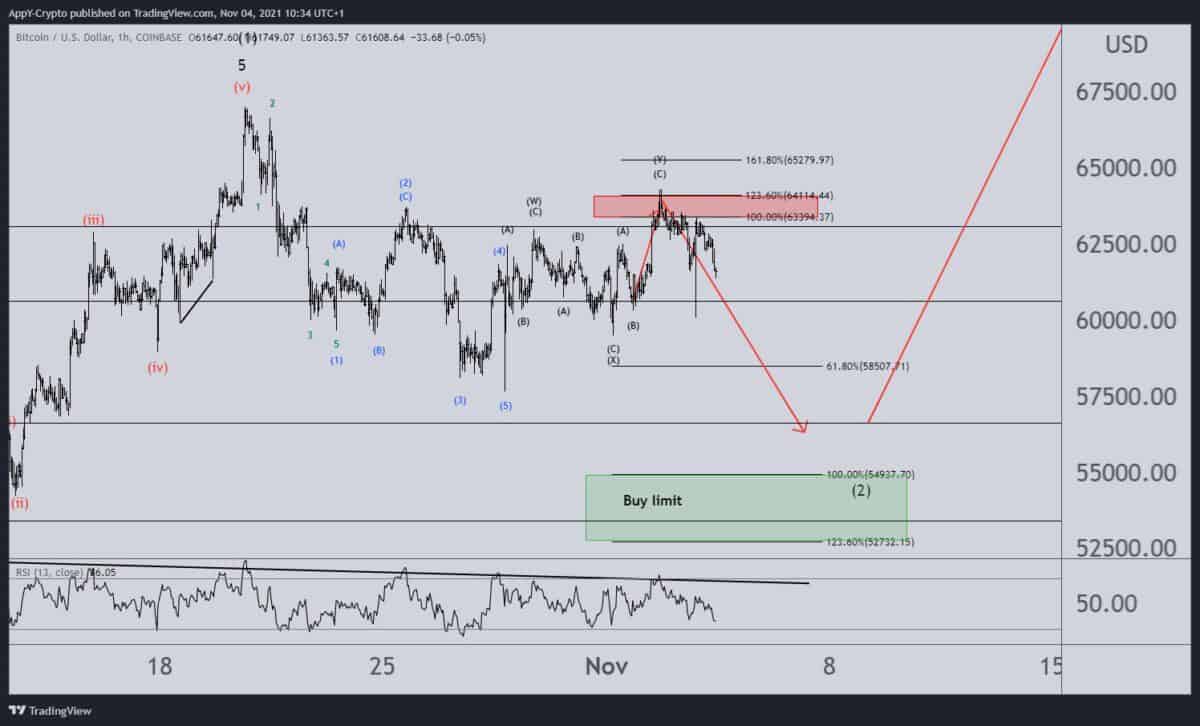 "Er komt nog wel even flinke shakeout waardoor veel long-posities met weak hands geliquideerd zullen worden. Houdt dus rekening met een korte termijn dip, maar voor de mid/lange termijn ben ik heel erg positief over de cryptomarkt. Alles tussen 58 en 56k is om op te kopen. Zelf hanteer ik bij deze buys een stoploss van $53.500, want als het erg spiked, moet je voorzichtig zijn", zegt Albert.
Ethereum (ETH)
De nummer twee van de crypto markt heeft net een nieuwe all-time high gezet. Ethereum blijft wat Albert betreft gewoon bullish op lange termijn. Toch is hij short gegaan deze week short gegaan op $4.610. "Ik denk dat ETH misschien nog een kleine leg omhoog gaat, maar hij gaat toppen rond de $4.710. Pas als de koers boven de $4.880 weet te blijven, zijn we weer bullish."
Volgens Albert maakt ethereum nog een klein spurtje omhoog voordat bitcoin alles omlaag trekt. "Ethereum gaat dan naar een nieuwe high en vervolgens kan die dan best wel flink dalen. Ik heb geen glazen bol, maar dit is wel wat mijn technische analyses mij op dit moment vertellen. De vierde wave van ETH kan richting de $4.200 gaan en zelfs tot $3.900 in een extreem geval."
Altcoins
Albert heeft een hoop altcoins op het oog waarvan enkelen tot wel tien keer kunnen stijgen. Wil jij weten welke altcoins dat zijn en waarom hij hierin zou investeren? Neem dan een kijkje in de discord community van Crypto Insiders. Hier is Albert onder zijn alias AppY altijd beschikbaar voor vragen en technische analyses.