Voor de crypto fanaten onder ons die bekend zijn met Ripple zal de achtergrond van het in 2014 opgerichte Stellar project wellicht wat bellen doen rinkelen. Net als Ripple betreft Stellar namelijk een gedecentraliseerd betalingsnetwerk dat jouw euro's automatisch, binnen enkele seconden én tegen de meest gunstige koers omrekent naar USD, om een verkoper in de Verenigde Staten te betalen.
Uiteraard gaat het hier om meer munteenheden dan de euro en de USD. Nóg een link met Ripple is dat Stellar in het leven is geroepen door niemand anders dan één van de originele oprichters van Ripple. Niet zo héél vreemd dus, die overeenkomst in toepassing. Verschil zit in het feit dat Ripple zich richt op financiële instellingen, terwijl Stellar voor ogen heeft dat de kleine man gebruik gaat maken van het Stellar netwerk. Een ander verschil is dat Stellar een non-profit organisatie is en Ripple niet.
Stellar heeft naar eigen zeggen als primair doel een veilige, snelle en betaalbare methode te ontwikkelen waarbij vormen van bezit middels blockchain technologie verhandeld kunnen worden.
Veiligheid waarborgt Stellar met het hanteren van een eigen protocol genaamd Stellar Consensus Protocol (SCP), in tegenstelling tot het gevestigde proof-of-work of het jongere proof-of-stake protocol. Meer over dit protocol lees je later in dit artikel. Snel lijkt de technologie achter Stellar zeker. Iedere transactie wordt binnen twee tot vijf seconden bevestigd op de Stellar blockchain. Met name in vergelijking met conventionele internationale betalingen via een bank, die soms dagen kunnen duren, is de technologie achter Stellar een welkome snelheidsverbetering. Ook zijn transacties via Stellar goed betaalbaar. De kosten per transactie bedragen momenteel 0.00001 XLM. Met 1 XLM ben je dus in staat om maar liefst 100.000 transacties te bekostigen. Even voor de beeldvorming, 100.000 betalingen via het Stellar netwerk kosten je, op moment van schrijven, dus ongeveer 28 hele eurocenten.
Stellar specificaties 
| | |
| --- | --- |
| Protocol | Stellar Consensus Protocol |
| Algoritme | Federated Byzantine Agreement |
| Totaal aantal | 103.000.000.000 (1% annual increase from the initial 100.000.000.000 tokens) |
Kenmerken van Stellar
Stellar is snel, heeft een ingebouwd wisselkoersmechanisme en wint het vertrouwen van gevestigde grootheden. Hieronder een korte toelichting van deze paradepaardjes
Snel genoeg voor kleine transacties
De transacties via het Stellar netwerk duren gemiddeld tussen de twee en vijf seconden. Dit betekent dat alle servers op de Stellar blockchain elke twee tot vijf seconden met elkaar communiceren om een transactie te controleren en toe te voegen aan de blockchain. Omdat de transacties binnen enkele seconden geverifieerd zijn leent Stellar zich ook voor kleine transacties in het dagelijkse leven. Je dubbele espresso reken je binnen in een oogwenk af met wat XLM, terwijl je met BTC hoogstwaarschijnlijk boze blikken vangt van ongeduldige klanten achter je.
Ingebouwde conversie
Zoals in de inleiding al besproken biedt Stellar de mogelijkheid om transacties in verschillende munteenheden te versturen naar een gebruiker die het bedrag in een andere munteenheid wilt ontvangen. Stellar maakt hierbij gebruik van een gedecentraliseerde exchange. Stel dat Fred euro's wilt verzenden naar Ria's Amerikaanse account, dan voegt Stellar automatisch een aanbod toe aan het netwerk voor de verkoop van euro's voor dollars. Het netwerk levert dan de meest gunstige wisselkoers voor de transactie. Hierbij wordt gebruik gemaakt van Stellar's Lumens (XLM) als intermediaire, digitale valuta. In bovenstaand voorbeeld wordt er dus bemiddeld tussen aanbiedingen die XLM bieden in ruil voor euro's en aanbiedingen van XLM in ruil voor USD. De gehele conversie wordt geregeld door Stellar zodat de gebruikers dit niet zelf hoeven te doen.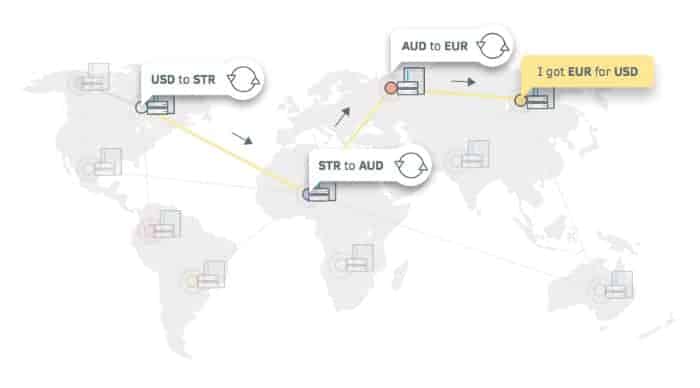 Vertrouwen
Stellar schept een hoop vertrouwen in de cryptowereld door de connecties met derde partijen, of dit nu samenwerkingen of ontwikkelingsmogelijkheden zijn. Het platform heeft op moment van schrijven samenwerkingen aangekondigd met softwaregigant IBM en de Nieuw-Zeelandse private bank KlickEx. Steun vanuit deze gevestigde namen heeft een positieve uitwerking op het draagvlak voor Stellar. De samenwerking met IBM en KlickEx is gericht op de ontwikkeling van een internationale, snelle en goedkope betaalmogelijkheid op de blockchain. De mogelijkheden voor ontwikkelaars zijn voornamelijk goed toegankelijk in vergelijking met andere projecten. Zo zijn de 'development platforms' zelf goed doorontwikkeld en zijn er 'Software Development Kits' (SDKs) beschikbaar in verschillende talen met bijbehorende handleidingen. Dit schept ook onder de programmerende crypto fanaten vertrouwen.
Technologie achter Stellar 
Het meest interessante technologische vernuft achter Stellar draait om het SCP. Middels dit consensus protocol waarborgt Stellar veiligheid terwijl er hoge transactiesnelheden worden bereikt.
Veilig en energiezuinig
De veiligheid van Stellar wordt gewaarborgd door het eerder aangehaalde SCP. Dit protocol is een manier om binnen de Stellar blockchain consensus te verkrijgen. Deze consensus of overeenstemming is nodig om de balans van een gebruiker te verifiëren vóór een transactie plaatsvindt. Kenmerkend aan SCP is dat er verificatie plaatsvindt binnen een selectie van het netwerk in plaats van het hele netwerk. Dit maakt het geheel zo snel als hierboven al werd aangegeven. Omdat Stellar SCP gebruikt en geen proof-of-work, zoals Bitcoin, is er ook geen sprake van mining. Middels mining worden blocks met enorm veel rekenkracht opgelost tegen een beloning. Dit kost veel energie. Aan de ene kant is Steller dus minder aantrekkelijk voor mensen die willen bijverdienen door te minen, aan de andere kant trekt Stellar gebruikers doordat het project minder snel kampt met overheidsbemoeienis.
Schaalbaar
SCP maakt de blockchain achter Stellar ook goed schaalbaar. Een gemiddelde transactie duurt tussen de twee en de vijf seconden en momenteel kent Stellar een geschatte maximale doorvoer van 2000 transacties per seconde. Om het even in perspectief te stellen, de maximale doorvoer van Bitcoin wordt geschat op zeven transacties per seconde. In de toekomst, met een groeiend gebruikersaantal, denkt Stellar de pas er in te kunnen houden door de verwachting dat er ook het aantal nodes zal stijgen. Nodes zijn computers (dit kunnen servers of echte gebruikers met een extra computer op zolder zijn) die bijdragen aan het SCP van Stellar.