Anycoin Direct is een Nederlandse crypto broker die in 2013 is opgericht. In dat jaar kwamen de oprichters voor het eerst in aanraking met Bitcoin. Ze geloofden al gauw in de toekomst van de digitale munt, maar zagen ook dat het een complex gebeuren was. Met name het kopen en verkopen van bitcoin was destijds niet zo eenvoudig als dat het nu is. Anycoin Direct is ontstaan vanuit de overtuiging dat zij dit beter kunnen.
Door de jaren heeft Anycoin Direct flink aan de weg getimmerd en zijn ze behoorlijk gegroeid. Deze stijgende lijn is nog altijd zichtbaar. In 2021 heeft dit geleid tot een nieuwe website met een volledig nieuw platform. Bovendien zijn ze niet alleen actief in Nederland. Eenvoudig cryptocurrencies kopen en verkopen met een persoonlijke touch doe je bij Anycoin Direct.
Anycoin Direct cryptocurrencies
Op het moment van schrijven biedt Anycoin Direct 40 cryptocurrencies aan. Uiteraard kun je bitcoin (BTC) en ethereum (ETH) kopen en verkopen, maar dus ook tal van andere coins. De selectie cryptocurrencies wordt bovendien constant gemonitord en er wordt continu gekeken naar potentiële toevoegingen. Om een bepaalde cryptocurrency toe te voegen wordt er gekeken naar een aantal aspecten. Anycoin Direct cryptocurrencies moeten voldoen aan de juiste:
Technische aspecten.

Hierbij worden de technische specificaties van het project gecontroleerd. Zaken als netwerkstabiliteit moeten ook een minimale standaard hebben.
Volumes.

Hier wordt gekeken naar het handelsvolume. Vraag en aanbod zegt veel over de populariteit van een cryptocurrency.
Bruikbaarheid.

De bruikbaarheid of

use case

is essentieel voor de waarde en lange termijn positie van een munt.
Community.

Tot slot wordt er gekeken naar de community die achter een crypto project staat. 
Dit zijn de voornaamste factoren waar naar gekeken wordt, maar het zijn zeker niet de enige factoren. Anycoin Direct heeft daarnaast voor iedere cryptocurrency een informatiepagina om meer te weten te komen over de desbetreffende munt. Een gebruiker die wil investeren in bitcoin kan bijvoorbeeld eerst wat meer kennis opdoen, dankzij de bitcoin info pagina.
Anycoin Direct features 
Anycoin Direct heeft het eenvoudig kopen en verkopen van bitcoin en cryptocurrencies een belangrijk onderdeel van hun business gemaakt, maar hier stopt het zeker niet. Anycoin Direct heeft een aantal features waardoor investeren in crypto aantrekkelijker wordt voor steeds meer mensen.
Privé Investing Service
Een van de features of diensten die Anycoin Direct aanbiedt is hun Private Investing Service. Deze service is wel uitsluitend bedoeld voor investeerders met een groot portfolio. Om van deze dienst gebruik te maken moet men namelijk minimaal €100.000 per jaar beleggen. Met deze dienst deelt Anycoin Direct op een persoonlijke manier hun expertise met geïnteresseerde investeerders. Gebruikers krijgen een persoonlijke accountmanager toegewezen om strategische beleggingsopties te bekijken. Ook bedrijven kunnen terecht bij Anycoin Direct. Voor deze institutionele beleggingen wordt een plan op maat gemaakt. 
Anycoin Direct is een betrouwbare partner met veel ervaring en een groot netwerk. Daarnaast weten ze alles te vertellen over de financiële wetgevingen die van kracht zijn in de crypto wereld.
Anycoin Direct Affiliate Programma
Anycoin Direct geeft gebruikers de kans om beloningen te ontvangen met hun affiliate programma. Het idee is simpel. Word partner van Anycoin Direct, deel je persoonlijke affiliate-link en ontvang een beloning. Deze beloning is een commissie van 0,25% voor iedere bestelling van jouw aangebrachte klanten. Wanneer je een eigen bedrijf of onderneming hebt kun je profiteren van extra opties. Deze voordelen zijn terug te vinden in het onderstaande overzicht: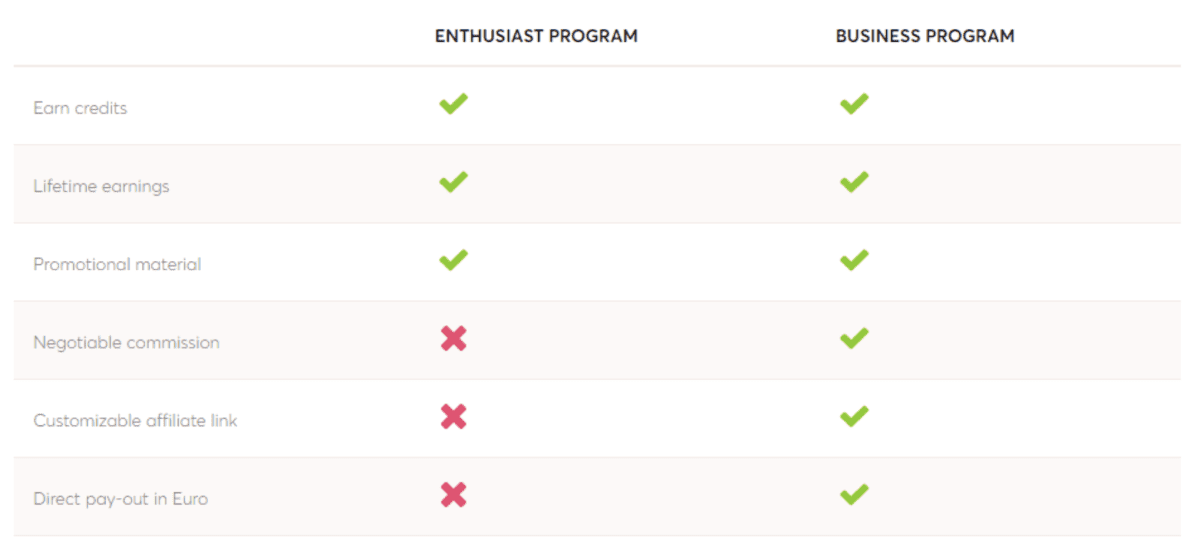 Wanneer je wilt handelen in cryptocurrencies en je gemak hierbij belangrijk vindt is Anycoin Direct zeker een kijkje waard. Anycoin Direct staat bekend als het meest gebruiksvriendelijke crypto handelsplatform van Europa; en dat is met een reden. Benieuwd naar wat deze Nederlandse crypto broker voor jou kan betekenen? Lees dan ook onze Anycoin Direct review of registreer je direct bij Anycoin Direct.