Als je bekend bent in de cryptowereld dan heb je ongetwijfeld weleens over Binance gehoord. Binance is de grootste cryptocurrency exchange ter wereld als het gaat over het dagelijkse handelsvolume. Best indrukwekkend als je bedenkt dat de beurs pas in 2017 is opgericht door de flamboyante Changpeng Zhao; een ontwikkelaar die voor de oprichting van Binance werkte aan software voor flitshandel. In die zin is de stap naar de crypto-industrie geen onverwachte voor Zhao, die met het succes van Binance in korte tijd één van de rijkste personen op aarde is geworden. Binance is oorspronkelijk opgericht in China, maar in september 2017 verhuisde het hoofdkwartier naar Japan vanwege het Chinese handelsverbod op cryptocurrencies.
Maak hier direct een account aan op Binance!
Ben je op zoek naar een nieuw thuis om cryptocurrency te kopen en verkopen? Dan is Binance een interessante optie. Op het handelsplatform van Binance kun je terecht voor een groot aanbod aan cryptocurrencyies en als er nieuwe interessante projecten opduiken kun je ervan op aan dat Binance ze snel toevoegt. Bij Binance staan gebruiksgemak, snelheid, ondersteuning, betrouwbaarheid en bereikbaarheid hoog in het vaandel. De beurs heeft uitgebreide opties voor beginners, maar ook ervaren handelaren kunnen bij Binance terecht voor meer geavanceerde mogelijkheden. Als je net begint is de spotmarkt de beste plaats om te beginnen. Hier kun je simpelweg crypto kopen en verkopen. Ben je een wat meer ervaren handelaar? Dan kun je bij Binance ook terecht voor futures en margin trading.
Binance fees
Wat transactiekosten betreft hanteert Binance een kostenstructuur die verandert op basis van je activiteit. Hoe meer je op het platform handelt hoe lager de transactiekosten worden. In beginsel betaal je 0,1 procent voor iedere transactie tot je een handelsvolume van meer dan 1 miljoen dollar in een periode van 30 dagen bereikt. Daarna gaan de transactiekosten in stappen omlaag. Een interessante optie om je transactiekosten op het platform te verlagen is via Binance Coin (BNB). Als je ervoor kiest om je transactiekosten met BNB te betalen krijg je 25 procent korting op iedere trade.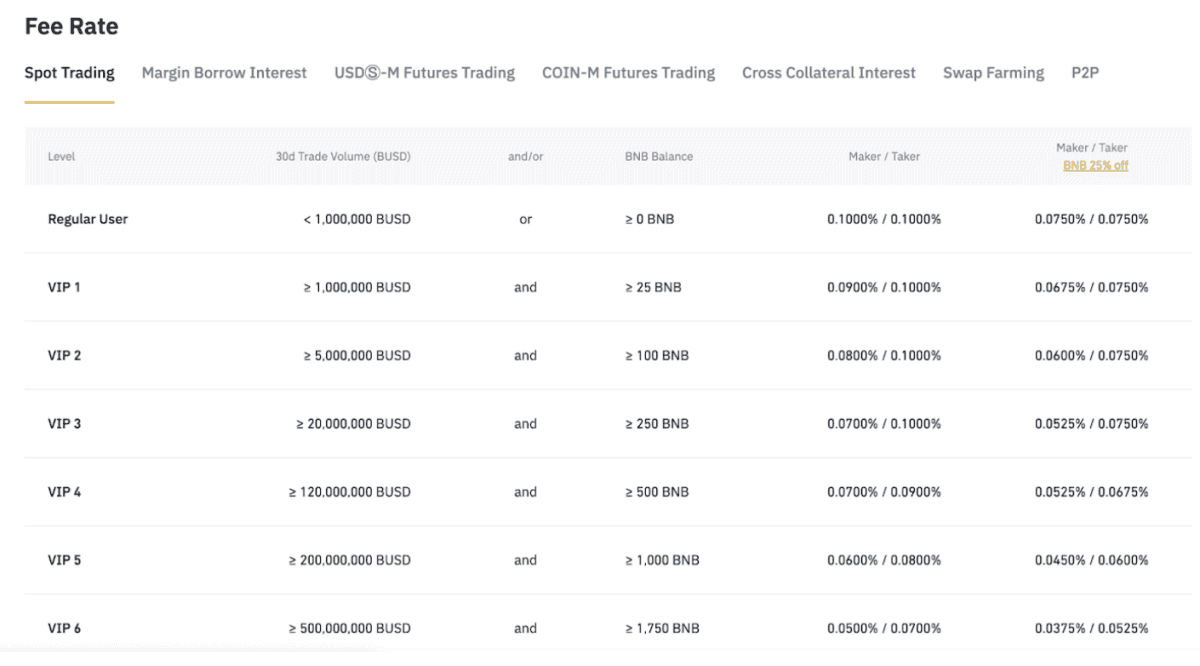 Ter vergelijking, bij het Nederlandse Bitvavo, de goedkoopste beurs in Nederland, betaal je een transactiefee van 0,25 procent op "taker" transacties en 0,15 procent op "maker" transacties. Bij een taker-transactie ga je simpelweg in op een bestaande aanbieding op de beurs en bij een maker-transactie ben jij degene die een aanbod plaatst. Over het algemeen wordt alles goedkoper bij beurzen als je een maker bent en dus zelf een aanbod in het orderboek zet. Lees hier meer over Bitvavo.
Binance betaalmethodes
Op dit moment is het mogelijk om je tegoeden bij Binance op te waarderen met SEPA-transacties (een internationale bankoverschrijving) of met een Visa of Mastercard. Voor die laatste optie betaal je 1,8 procent transactiekosten die direct in de transactie worden verwerkt. De meest eenvoudige goedkope en eenvoudige methode om je tegoeden bij Binance op te waarderen is dan ook SEPA.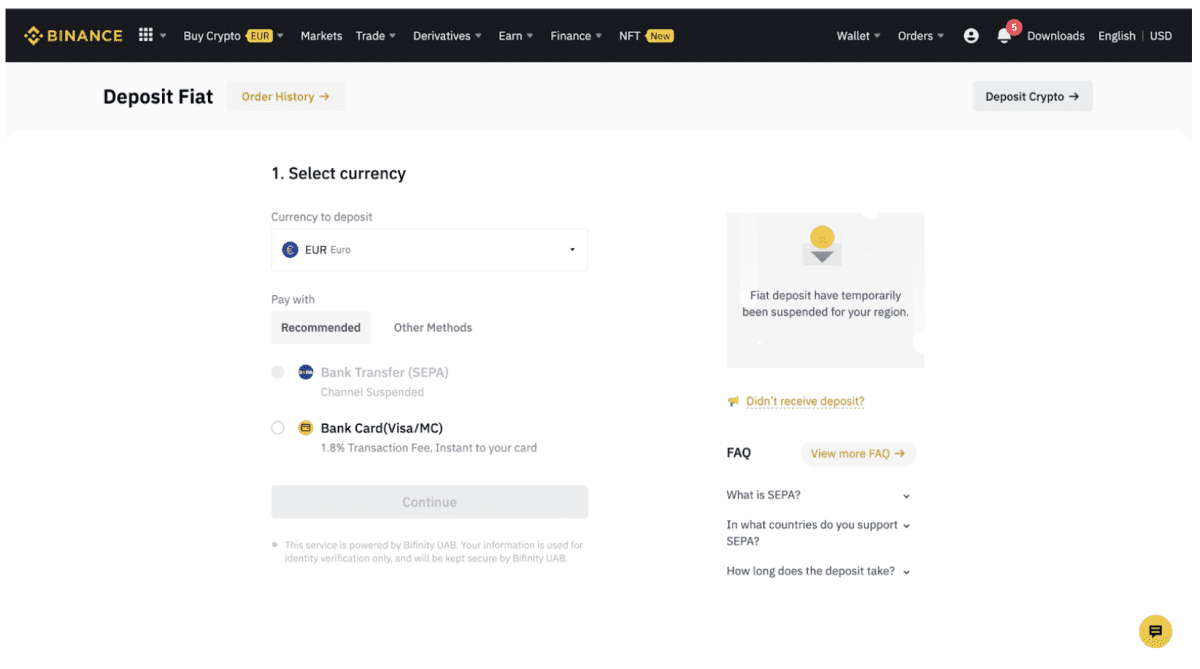 Binance iDEAL
Sinds juni 2021 is het helaas niet meer mogelijk om met iDEAL je tegoeden op te waarderen bij Binance. In eerste instantie ging het om een tijdelijke stop, maar het is op dit moment nog niet duidelijk wanneer iDEAL betalingen weer mogelijk zijn bij het platform. Wat er precies achter de iDEAL-stop zit is niet duidelijk, maar de kans is groot dat het een juridische grondslag heeft.
Binance verificatie
Tot voor kort vroeg Binance enkel en alleen om identiteitsverificatie bij grote gebruikers. Dat wil zeggen bij gebruikers die voor relatief grote volumes verhandelden op de beurs. Inmiddels is de identiteitsverificatie voor iedereen verplicht en moesten bestaande gebruikers met terugwerkende kracht alsnog een ID-kaart, rijbewijs of paspoort aan de exchange verstrekken. Bij de grote concurrenten als Coinbase en Kraken moet je aan dezelfde verificatieverplichtingen voldoen.
In totaal ben je, mits alles goed gaat, binnen 15 minuten geverifieerd en kun je aan de slag op het platform van Binance. Hiervoor krijg je een maximum van 10 pogingen in een tijdsperiode van 24 uur.
Is Binance betrouwbaar?
Binance bewijst zich al jarenlang als een betrouwbare post binnen de crypto-industrie. De enige vraagtekens die je bij de exchange kunt zetten zijn van juridische aard. Toezichthouders klagen vaak over de ontransparante structuur van Binance die het moeilijk maakt om een centraal aanspreekpunt voor het bedrijf te vinden. Ze zijn overal en nergens, wat zowel een kracht als een zwakte is. Om die reden zie je dat Binance de laatste tijd veel problemen heeft met toezichthouders in Europa en bijvoorbeeld iDEAL hebben moeten loslaten als betaaloptie. In het Verenigd Koninkrijk heeft het vergelijkbare maatregelen moeten nemen en voor de Amerikaanse markt hebben ze zelfs een afzonderlijk platform moeten bouwen. Een groot gevaar voor je cryptovermogen vormt dit echter niet, je kunt ervan op aan dat Binance niet zomaar omvalt en mocht het in grote problemen raken in Europa, dan betekent dat niet dat je tegoeden verdwijnen. Al is de kans heel klein dat het zover komt, want Binance heeft een groot juridisch team waarmee ze tot nu toe voor alle problemen een oplossing hebben gevonden.
Binance support
Binance heeft op de website een waar "Support Center" om alle vragen van klanten en bezoekers te beantwoorden. Heb je problemen met je account, wil je gegevens aanpassen in je account of kom je er om andere redenen niet helemaal uit? Dan kun je waarschijnlijk het antwoord terugvinden in het Support Center of je vraag stellen aan de support-medewerkers van Binance. Het bedrijf doet er in ieder geval alles aan om klanten zo snel mogelijk te helpen en eventuele problemen op te lossen.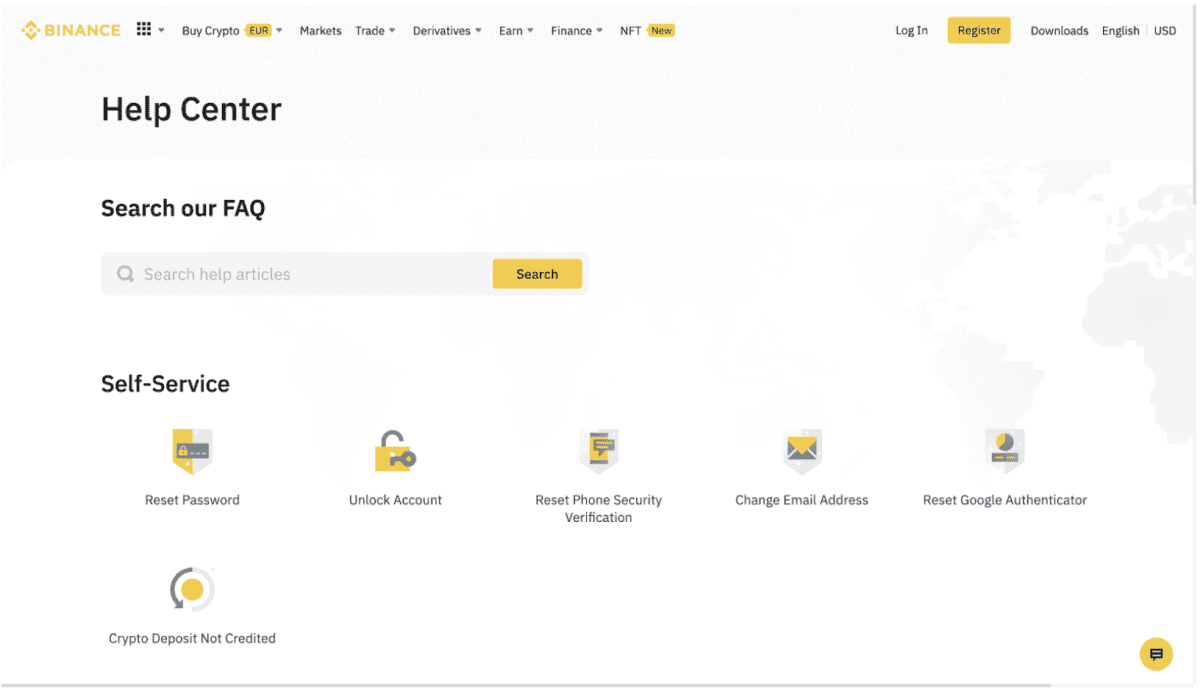 Aanmelden voor Binance
Het aanmelden voor Binance is een fluitje van een cent. Het proces begint met het invullen van je persoonsgegevens om vervolgens de benodigde verificatiestappen te doorlopen. Vanaf november 2021 heeft Binance een verplichte ID-verificatie ingevoerd. Hiermee voldoen ze aan de regels die in Nederland gelden om een cryptobeurs te runnen. Binance is een grote partij, wat betekent dat de verificatie goed geregeld is en relatief efficiënt verloopt. Als alles meezit kun je binnen no-time aan de slag en je eerste stappen zetten in de wondere wereld van cryptocurrencies bij Binance.

Vorige week maakte de grootste crypto exchange ter wereld, Binance, bekend dat het alle handelskosten die voortkomen uit LUNA classic...

Binance, de grootste cryptocurrency exchange ter wereld, is klaar met de concurrentie op de markt voor stablecoins en schopt alle...