BTC Direct is een Nederlands crypto platform, opgericht in 2013. Ten tijde van de oprichting was het kopen van bitcoin en andere cryptocurrencies een heel moeizaam proces. Daar kwam de missie van BTC Direct uit voort; cryptocurrency voor iedereen veilig en toegankelijk maken. In het kort draait het bij BTC Direct om 3 sleutelelementen; eenvoudig, veilig en instant. Bekijk hier ook onze BTC Direct review.

BTC Direct biedt echter veel meer diensten aan dan alleen het kopen en verkopen van cryptocurrencies. Zo hebben ze onder andere een webshop met crypto hardware wallets. Bovendien bieden ze gebruikers de optie tot private trading aan. Daarnaast kun je via BTC Direct ook (een deel van) je salaris meteen ontvangen in crypto. 
BTC Direct aanbod
De missie om crypto zo eenvoudig mogelijk te houden is terug te zien in het BTC Direct aanbod. Het aanbod is met 37 cryptocurrencies niet enorm, maar wel genoeg om de wereld van crypto goed te ontdekken. Naast bitcoin (BTC) biedt BTC Direct nog 36 altcoins aan. Het enthousiaste team is echter wel continu bezig met uitbreiden en ze staan bovendien open voor suggesties. Een greep uit het BTC Direct aanbod op moment van schrijven is:
bitcoin (BTC)

solana (SOL)

cardano (ADA)

binance coin (BNB)

ripple (XRP)

dogecoin (DOGE)

litecoin (LITE)

vechain (VET)

decentraland (MANA)
Zoals gezegd gaat het team van BTC Direct constant opties af om hun aanbod uit te breiden. Bovendien is het via de website mogelijk om een suggestie achter te laten. Het zou dan zomaar kunnen voorkomen dat die daarna terug te vinden is in het BTC Direct aanbod. 
BTC Direct diensten
First things first. BTC Direct heeft geen mobiele app, maar werkt uitsluitend met een website. De BTC Direct diensten die aan bod komen zijn dus uitsluitend terug te vinden op de website. Uiteraard is de voornaamste dienst die ze bieden het kopen en verkopen van cryptocurrencies, maar ze bieden ook andere diensten aan hun gebruikers en potentiële partners. Een aantal van deze BTC Direct diensten zijn:
Crypto sparen.

Met deze dienst van BTC Direct is het mogelijk om automatisch en periodiek te investeren na het opstellen van je persoonlijke spaarplan. Een eigen spaarplan kun je

hier

opstellen.
Private Trading Desk.

Wanneer iemand geïnteresseerd is om €50.000 of meer te investeren kunnen ze ervoor kiezen om gebruik te maken van de

Private Trading Desk.

Samen met een ervaren adviseur wordt er een investeringsstrategie opgesteld die helpt bij het kopen en verkopen van bitcoin.
Partner worden van BTC Direct. Ben je een blogger, vlogger, influencer, publisher of heb je op andere wijze een bepaald bereik? Dan kan het

affiliateprogramma

van BTC Direct interessant zijn. Door referrals naar BTC Direct te sturen kun je als partner heel eenvoudig passief inkomen genereren. Je ontvangt dan namelijk 25% commissie op al jouw referrals.
Salaris in bitcoin.

BTC Direct biedt sinds 2018 organisaties de optie om werknemers (deels) in bitcoin uit te betalen. Als organisatie heeft dit een aantal voordelen. Je laat namelijk zien dat je innovatie hoog in het vaandel hebt staan. Bovendien trek je mogelijk een bredere groep potentiële werknemers aan. Als laatste probeer je als organisatie bescherming tegen inflatie te bieden. Interesse? Lees dan

hier

verder.
BTC Direct website
Wanneer je een account aanmaakt wordt al snel duidelijk dat je alles moet doen via de BTC Direct website. BTC Direct heeft geen eigen mobiele app, al is crypto app BLOX wel onderdeel van het bedrijf. Na het inloggen op de BTC Direct website zijn er 4 tabbladen aan de linkerzijde weergegeven. Te beginnen met het tabblad 'koersen', waar alle 37 cryptocurrencies te volgen, te kopen en te verkopen zijn. Vervolgens krijg je het tabblad 'portfolio'. Gebruikers vinden hier hun saldo en investeringen terug. Ook is dit de pagina waar men geld kan storten. Het derde tabblad geeft een nieuwsoverzicht weer, waar frequent artikelen en video's worden geplaatst. Gebruikers van de BTC Direct website zijn hierdoor altijd op de hoogte van het laatste crypto nieuws. Het vierde en laatste tabblad, is het tabblad 'verdien'. Op deze pagina is het mogelijk om vrienden uit te nodigen. Vrienden die op de uitnodiging ingaan krijgen een gratis startsaldo. Zelf verdien je geld op iedere transactie die zij doen. Win-win. 
De BTC Direct website biedt daarnaast ook diensten en features aan zonder dat je een account nodig hebt. Zo hebben ze een bijvoorbeeld een vacaturepagina. Het is een snelgroeiende organisatie die nog veel mooie stappen wil zetten. Om die reden staan er eigenlijk altijd wel een aantal vacatures uit, om aan die doelstelling te voldoen. Ook beschikt de website over een uitgebreide kennisbank. Ben je een leek in het vak of benieuwd naar de betekenis van een bepaalde term? De kennisbank staat vol met bitcoin, crypto en blockchain gerelateerde begrippen waardoor gebruikers de wereld van crypto beter kunnen begrijpen.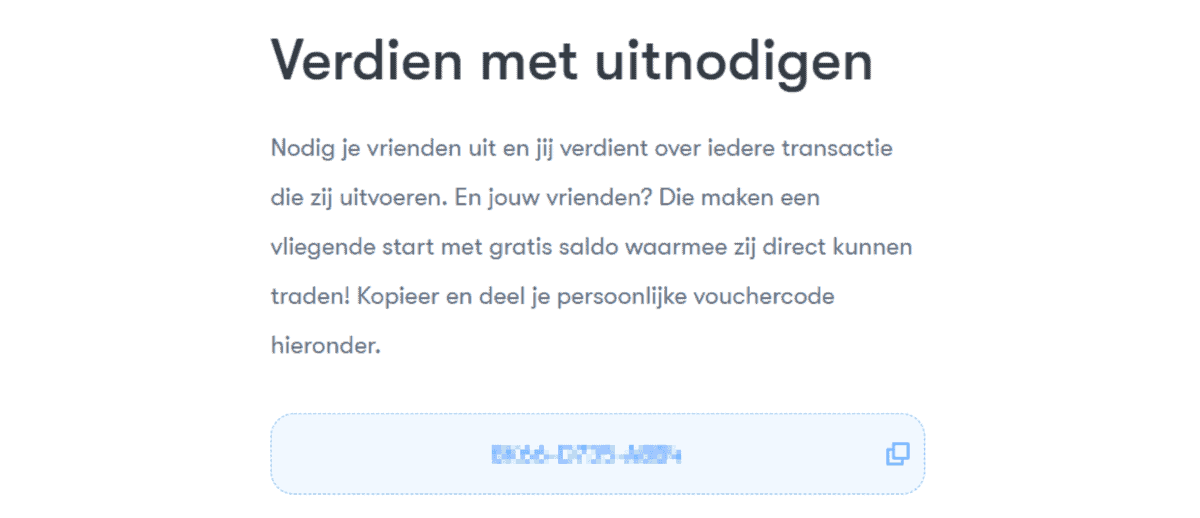 BTC Direct heeft ook een webshop, met meerdere categorieën. Zo kun je hier hardware wallets kopen van bijvoorbeeld Ledger. Ook verkopen ze boeken en accessoires. 
BTC Direct dashboard
Bij BTC Direct is eenvoud een van de key words. Dat is ook terug te zien in het BTC dashboard. In het dashboard hieronder zie je gelijkenissen met die van BLOX. BLOX is de cryptocurrency app van BTC Direct, waar eenvoud, snelheid en veiligheid zo mogelijk nog centraler staan dan bij BTC Direct. Met name beginners in het vak hebben niet meer nodig dan het onderstaande dashboard.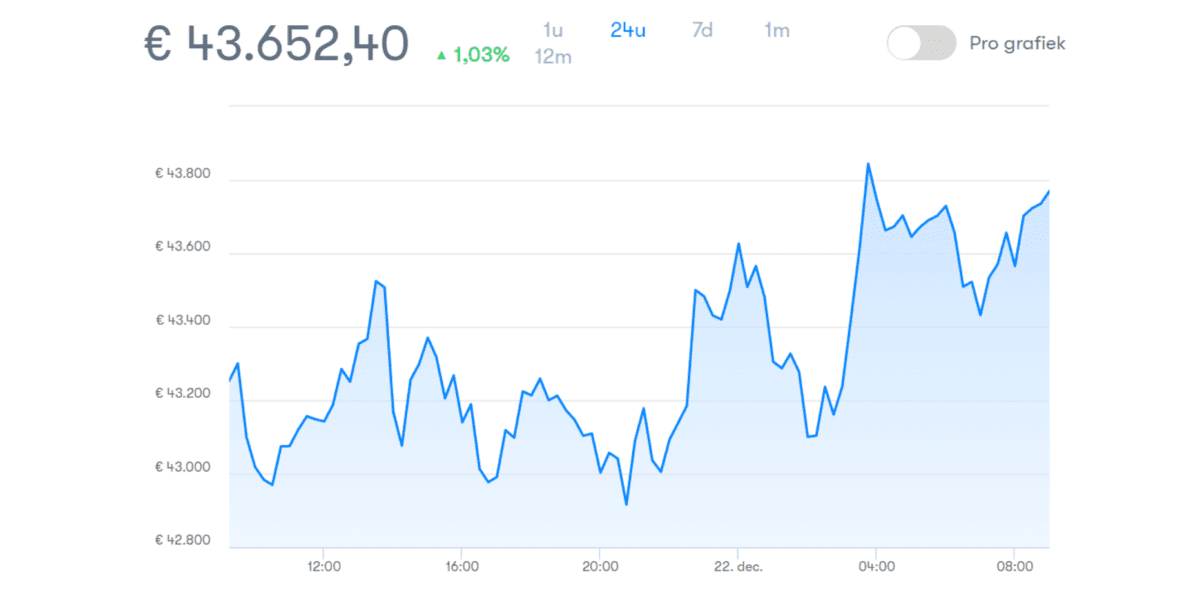 BTC Direct heeft echter ook een 'pro grafiek' optie op het dashboard ingebouwd. Gebruikers kunnen hier bijvoorbeeld candles per minuut bekijken of indicatoren inschakelen. Het BTC Direct dashboard heeft op die manier iets weg van die van crypto exchange gigant Binance, maar eigenlijk is die vergelijking niet helemaal terecht. Wel is het zo dat de 'pro grafiek' meer opties biedt dan het standaard dashboard. BTC Direct is hierdoor niet alleen interessant voor beginners, maar ook wat meer ervaren crypto investeerders.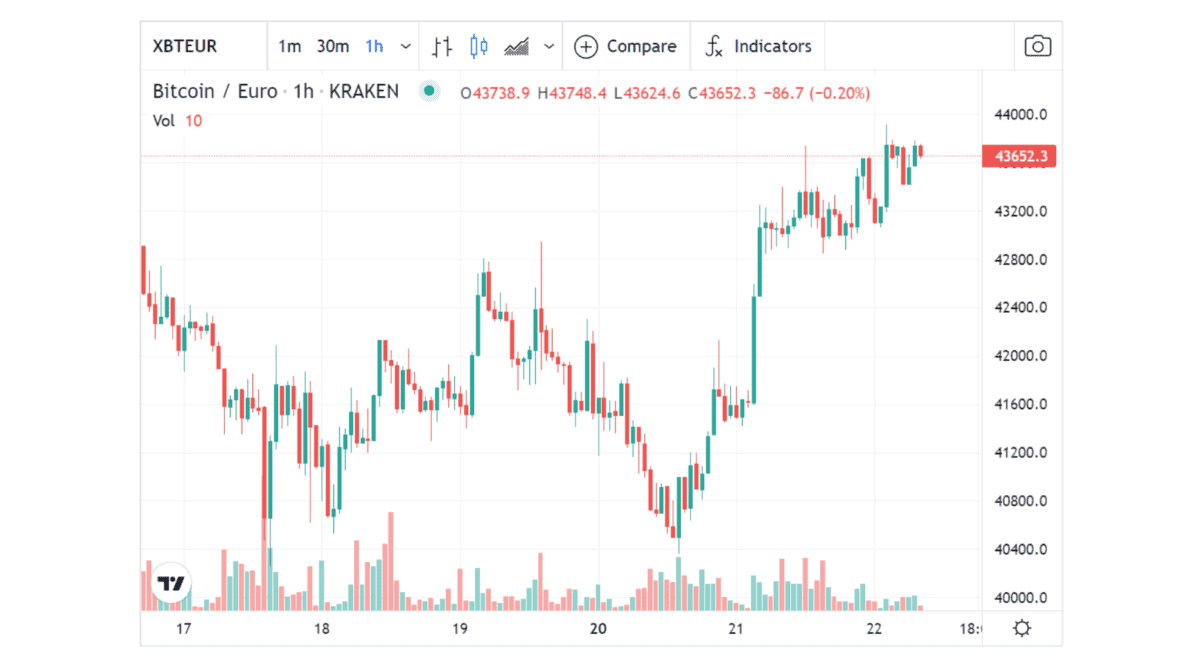 BTC Direct betaalmethodes
De BTC Direct betaalmethodes, voor het storten van euro's naar je portfolio, zijn te zien in de afbeelding hieronder. iDEAL is de veiligste en meest gebruikte optie, maar storten met SEPA of een Visa of Mastercard creditcard is ook mogelijk.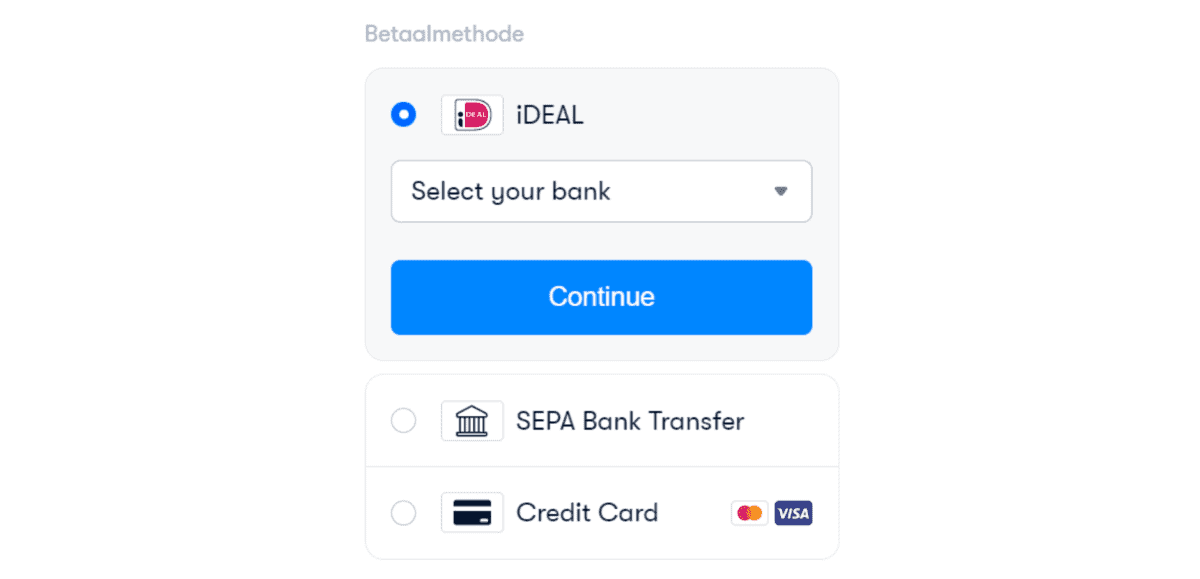 BTC Direct handelskosten
De BTC Direct handelskosten, of fees, zijn in het onderstaande overzicht terug te vinden. Er zit dus een verschil in cryptocurrencies en in het kopen en verkopen. Ook hanteert BTC Direct handelskosten per gekozen betaalmethode. Alle fees zijn zichtbaar voor het definitief plaatsen van een order, waardoor gebruikers nooit voor onverwachte verrassingen komen te staan.