Coinmerce is een in Nederland gevestigd handelsplatform waar je terechtkunt voor de handel in meer dan 200 verschillende munten. De digitale beurs zag in 2017 het levenslicht en heeft zich sindsdien ontwikkeld tot een speler die in heel Europa actief is. De voornaamste focus van Coinmerce is gebruiksvriendelijkheid. "Onze focus ligt op jou, de echte persoon die Coinmerce gebruikt. We verwelkomen alle ervaringsniveaus en richten ons op veiligheid en het veranderen van beginners in professionals", zo valt te lezen op de website. De missie van Coinmerce borduurt daarop voort: "cryptocurrency voor iedereen, overal." Daarmee geeft Coinmerce op de website zelf al de best mogelijke samenvatting van wat je kunt verwachten van het handelsplatform.
"Geef je geld toekomst"
De reden dat Coinmerce de cryptowereld zo toegankelijk mogelijk wil maken lijkt voort te komen uit de bovenstaande slogan die op de website terugkomt. Met "Geef je geld toekomst" verwijzen ze naar de inflatie en het verlies aan koopkracht van fiatgeld, waar onder andere de absolute schaarste van bitcoin in theorie de ultieme bescherming voor biedt. Meer leren over Coinmerce? Bekijk ook onze Coinmerce review.
👉🏼 Ontvang €10 gratis aan bitcoin als je een account aanmaakt bij Coinmerce

Coinmerce heeft een fysieke winkel
Wat Coinmerce een bijzondere partij maakt in Nederland is dat ze een fysieke winkel hebben waar je van maandag tot en met zondag kunt binnenlopen om geholpen te worden.
Het aantal traditionele banken waar je kan binnenlopen voor financiële informatie wordt met het jaar kleiner. Coinmerce gelooft erin dat juist het persoonlijke contact vertrouwen schept en belangrijk is voor de relatie met de klant. Door de persoonlijke begeleiding in het Crypto Information Center streven wij ernaar om dit doel te bereiken.
Wederom laat Coinmerce zien de ervaring van de klant op de eerste plaats te zetten. De cryptowereld kan op beginners een overweldigend en soms zelfs angstaanjagend effect hebben. Niet voor niets noemen mensen crypto weleens de digitale versie van het Wilde Westen. De regulering moet zich wereldwijd nog uitkristalliseren en er zijn helaas nog altijd een hoop schimmige projecten waar onschuldige mensen hun zuurverdiende spaarcenten mee verliezen.
In de fysieke winkel van Coinmerce is het mogelijk om persoonlijk contact te krijgen met vertegenwoordigers van het bedrijf. Die vertegenwoordigers geven direct antwoord op al je vragen en bieden bijvoorbeeld hulp met het aanmaken van een account. Je kunt zonder afspraak binnenlopen, maar het is ook mogelijk om op de website een afspraak te maken zodat je zeker weet dat je meteen aan de beurt bent. De winkel staat overigens in Amstelveen.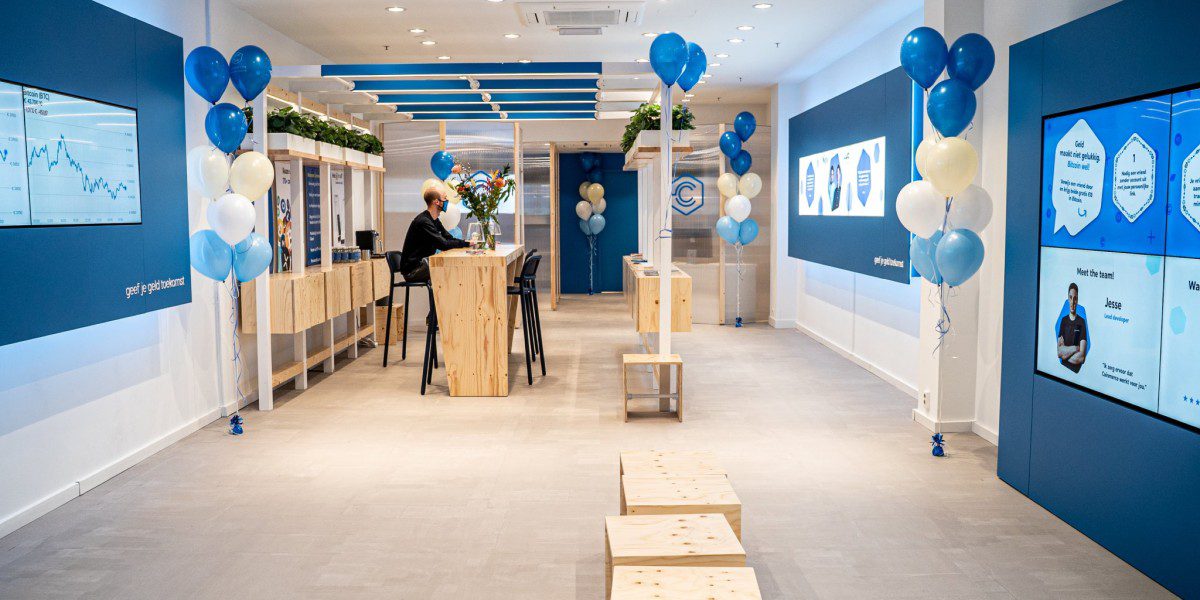 De kernwaarden van Coinmerce
Op de website geeft Coinmerce aan dat de waarden integriteit, toegankelijkheid voor iedereen en samen innoveren centraal staan in het beleid van het bedrijf. Laten we die kernwaarden eens stap voor stap langslopen.
Integriteit
Het puntje integriteit hebben we al enigszins aangestipt. De crypto-sector heeft voor de meeste mensen een wat duistere reputatie en dat maakt het des te belangrijker dat bedrijven als Coinmerce integriteit op de eerste plaats zetten. "De veiligheid van het platform en onze diensten staat voorop. Wij bieden als Nederlandse aanbieder altijd meer, lopen een stap voor. In alles wat we doen, onze uitingen, onze handelingen, maar ook in onze transparante omgang met de gebruikers blijkt onze betrouwbaarheid. Dit noemen wij kwaliteit", aldus Coinmerce op de website.
Integriteit is wat ons betreft niet alleen een belangrijke waarde voor Coinmerce, maar voor de industrie in het algemeen. Hoe meer partijen er op deze manier over denken, hoe beter de reputatie van de cryptowereld wordt.
Toegankelijk voor iedereen
De cryptowereld kan enorm lastig zijn als je niet weet waar je moet beginnen. Probeer maar eens terug te denken aan jouw eerste aanraking met bitcoin of misschien ben je wel een complete beginner. Er is tegenwoordig zoveel informatie te vinden dat je het gevaar loopt door de bomen het bos niet meer te zien. Coinmerce geeft aan erin te geloven juist op dit gebied het verschil te moeten maken en doet er wat gebruikerservaring betreft dus altijd een "schepje bovenop".
Samen innoveren
Als laatste geeft Coinmerce aan het belangrijk te vinden om samen met de gebruikers te innoveren. "We willen het altijd beter doen, voorlopen op dat wat er nu al is", dat is een uitspraak op de website die Coinmerce kracht bijzet met mogelijkheden als Staking, Coinmerce Earn en Trading Bots die automatisch voor jou kunnen handelen. Stuk voor stuk gave snufjes die maken dat Coinmerce zich qua kwaliteit kan meten met de grootste handelsplatforms ter wereld. En dat is een compliment voor een Nederlandse partij die pas in 2017 is gestart.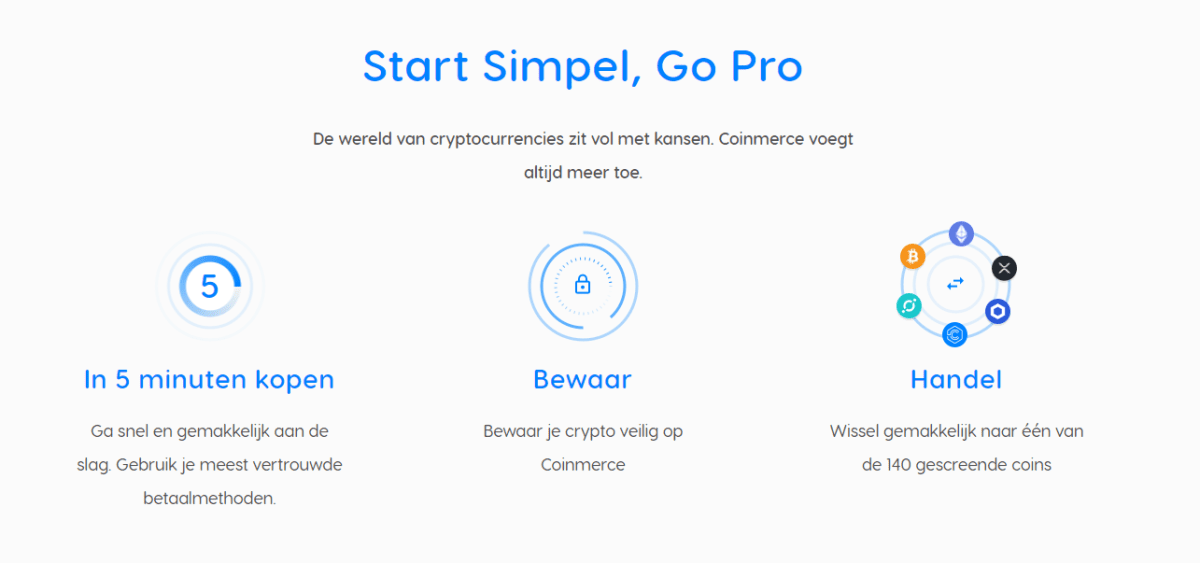 Kennisbank voor beginners
Ben jij helemaal nieuw in de cryptowereld? Dan heeft Coinmerce niet alleen met de fysieke winkel en de klantenservice middelen om jou te helpen. Op de website staat namelijk ook een rijk-gevulde kennisbank waarin jij op toegankelijke wijze over allerlei onderwerpen kunt leren. Onder het klopje "Blockchain" staan bijvoorbeeld onderwerpen als "Wat is een 51% aanval?", "Blockchain & Energy", "Proof of Work vs Proof of Stake" en nog veel meer. Uiteraard kun je in de kennisbank ook een uitleg vinden over specifieke munten. Voor de basis van Bitcoin, Ethereum, Litecoin, XRP en Tron kun je in de kennisbank van Coinmerce terecht.
Zo is er voor ieder wat wils op Coinmerce en mag het bedrijf zich met recht één van de meest professionele aanbieders van Nederland noemen. Met name beginners zullen zich snel thuisvoelen bij Coinmerce. De enige opmerking die we kunnen plaatsen is dat de transactiekosten relatief hoog zijn. Dat maakt dat de meer ervaren handelaren waarschijnlijk wat minder geïnteresseerd zijn in de diensten van Coinmerce. Alles bij elkaar is Coinmerce een goede partij en mogen we trots zijn dat dit bedrijf de Nederlandse vlag draagt. Meer leren over Coinmerce? Bekijk ook onze Coinmerce review.
👉🏼 Ontvang €10 gratis aan bitcoin als je een account aanmaakt bij Coinmerce