KuCoin is een wereldwijde crypto exchange die is opgericht in september 2017 en is gevestigd in de Seychellen. De technische architectuur achter het het platform bestaat overigens al sinds 2013, maar het kostte nog wel een aantal jaren om KucCoin te ontwikkelen tot wat het nu is.
Wat het nu is, is een van de grootste crypto exchanges ter wereld. Op onderstaande afbeelding is te zien dat KuCoin op basis van de 'beursscore' van CoinMarketCap op dit moment goed is voor een vijfde plek. Meld je aan nu aan op KuCoin en ontvang tot 500 USDT aan welkomstbonussen. 

KuCoin is de 'top 1 altcoinbeurs'. Het is via de exchange mogelijk om vele honderden coins te verhandelen, waaronder ook tal van veelbelovende munten die niet op een andere exchange beschikbaar zijn.
Daarnaast is KuCoin ook het grootste sociale handelsplatform. Gebruikers kunnen interactie zoeken met cryptobellegers overal ter wereld. KuCoin is ontworpen voor beleggers van ieder niveau en is beschikbaar in ruim 200 landen en meer dan 20 communities. Hun klantenservice is 24 uur per dag en 7 dagen per week bereikbaar.
KuCoin is dé altcoin exchange
In een wereld waarin cryptocurrencies steeds populairder worden is het zaak om je als crypto exchange te onderscheiden van de concurrentie. KuCoin doet dat onder andere door enorm veel altcoins aan te bieden. KuCoin ondersteunt ondertussen meer dan 630 projecten met ruim 1.100 handelsparen. 
KuCoin biedt niet alleen altcoins aan die al wat naamsbekendheid hebben. KuCoin staat er namelijk om bekend dat ze regelmatig veelbelovende crypto projecten helpen bij het lanceren van hun cryptocurrency. Doen doen ze door hun platform genaamd Spotlight. Spotlight wordt gebruikt voor investeringsrondes, ook wel initial exchange offerings (IEO's) genoemd. 
Vooralsnog heeft de exchange 17 Spotlight projecten gelanceerd. Deze bleken overwegend succesvol te zijn, met veelal een hoge return on investment (ROI), ten opzichte van de all-time high van desbetreffende coin. In de afbeelding hieronder is een grafiek te zien van de maximale ROI van alle 17 KuCoin Spotlight projecten.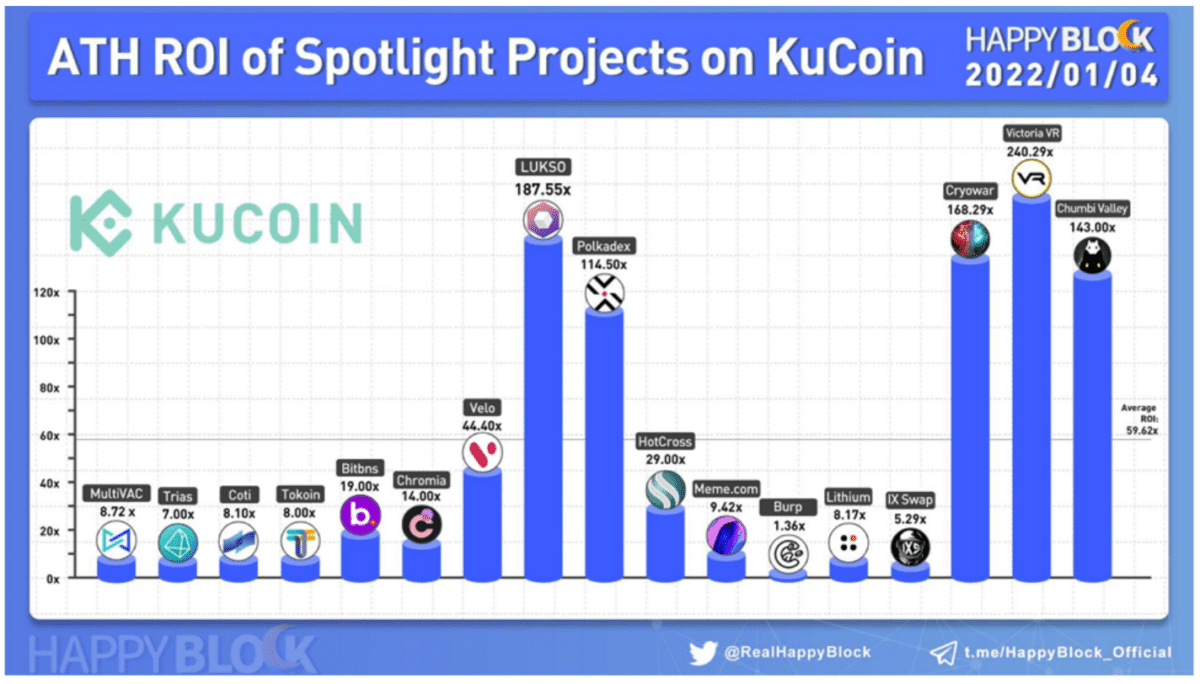 Passief inkomen met KuCoin
Naast het handelen en verhandelen van cryptocurrencies is het ook mogelijk om een passief inkomen te genereren op KuCoin. Hier biedt de exchange zelfs meerdere opties voor. Een aantal innovatieve manieren om een stabiel passief inkomen te krijgen zijn:
KuCoin Lending.

KuCoin Lending is een eenvoudige manier om crypto te lenen, waar gebruikers gebruik van kunnen maken op eenvoudige wijze, met lage kosten en zonder al te veel regulaties. Dit is anders dan bij traditionele banken. Er zijn op dit moment zo'n 90 coins die hiervoor beschikbaar zijn. Het lenen van tether (USDT) is hierbij het meest populair.
KuCoin Trading Bots.

De KuCoin Trading Bot is ontwikkeld om geautomatiseerd handelen mogelijk te maken voor gebruikers op ieder niveau. Dat betekent dat iedereen, van beginner tot professionele

trader,

gebruik kan maken van deze handige tool. Wereldwijd zijn er al ruim 5 miljoen bots aangemaakt, waarvan de instellingen eenvoudig over te nemen zijn. Hierdoor kan iedereen snel aan de slag met zijn of haar eigen KuCoin Trading Bot.

KCS Bonus.

Hodlers

van KuCoins eigen token (KCS) kunnen leuke beloningen opsparen als een soort blijk van waardering.

KuCoin deelt 50% van de totale dagelijkse gegenereerde fee's op haar platform met de KCS holders. Elke holder met minimaal 6 KCS deelt mee in de winst, hoe meer KCS je bezit hoe meer dagelijkse aandeel je hebt. Een ander voordeel van KCS bezitten, is de 20% korting op handelskosten. Betaal je jouw handelskosten (fee's) met KCS, dan krijg je 20% korting op jouw handelskosten.
Eenvoudig fiatgeld storten
Gebruikers van grote crypto exchanges zijn vaak op zoek naar eenvoudige manieren om hun fiatgeld te storten, voordat ze kunnen beginnen met het kopen van cryptocurrencies. KuCoin maakt dit gemakkelijk voor haar klanten. KuCoin biedt namelijk on-ramp diensten voor meer dan 50 fiat valuta's, tegen lage kosten. Vervolgens kunnen gebruikers kiezen uit een aantal opties om crypto te kopen met hun fiatgeld: P2P, fast buy, of third-party fiat gateways.
Daarnaast is het tegenwoordig ook mogelijk om via de SEPA-betalingsmethode te storten. SEPA staat voor Sinlge Euro Payments Area en telt 36 lidstaten. Het is een initiatief dat het betalingsverkeer binnen Europa moet harmoniseren. Er zijn een aantal voordelen die SEPA met zich meebrengt en wel de volgende:
Euro's storten op KuCoin zonder kosten

Hoger maximaal stortingsbedrag; tot €1 miljoen 

Eenvoudiger, veiliger en zonder tussenkomst van derde partijen

Het opnemen in euro's is ook mogelijk
KuCoin account aanmaken
Interesse in KuCoin en alles wat het platform te bieden heeft? Een KuCoin account aanmaken is een simpel proces waarbij de gebruikers slechts een aantal korte stappen hoeft te doorlopen. Eigenlijk is het aanmaken van een account heel erg vergelijkbaar met het proces bij veel andere exchanges. Na het bedenken van een wachtwoord ontvangt de gebruikers een verificatiecode en voilà, een account is aangemaakt. Nieuwkomers krijgen bij KuCoin tot 500 USDT aan welkomstbonussen. 
Wel is het belangrijker dat gebruikers het know-your-customer (KYC) protocol voltooien. Hierbij vraagt KuCoin om extra identificatie. Ook zonder dit te doen is het mogelijk om te handelen via KuCoin, maar de opties die dan overblijven zijn wel heel beperkt. Het account is, wellicht vanzelfsprekend, extra te beveiligen met two-factor authentication (2FA). Registreren is overigens mogelijk met zowel een telefoonnummer als een e-mailadres.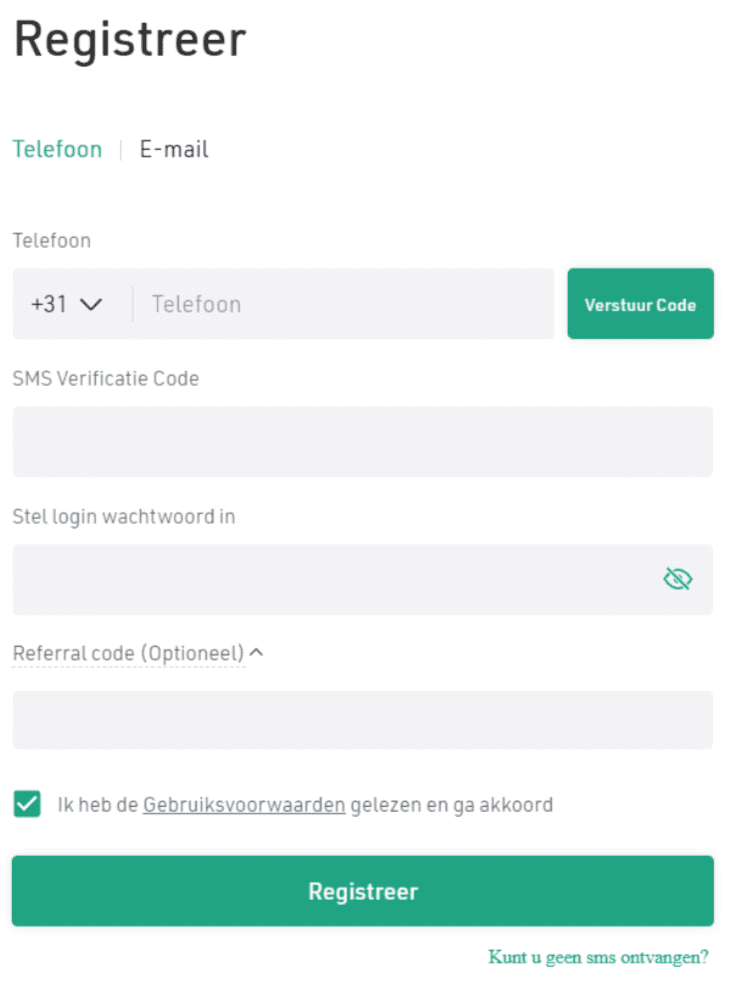 Meer lezen over KuCoin? Neem dan gerust een kijkje op de KuCoin review pagina en kom erachter of deze crypto exchange bij jou en jouw wensen past.