Nu bitcoin opnieuw bij $42.900 aankomt, trekt de crypto-markt weer ieders aandacht. Daarom lanceert de Bexplus Exchange een welkomstevenement. Nieuwe gebruikers, die nu een storting doen, kunnen een bonus van 100% krijgen over elke storting.
Als je dus bijvoorbeeld 1 BTC stort, kun je een bonus van 1 BTC krijgen.
Wat zijn de voordelen van de Bexplus welkomstbonus?
Handelaren kunnen de bonus gebruiken als marge om grotere posities te openen en zo grotere winsten te behalen.
Bovendien kan de bonus, als onderdeel van de marge, jouw risico op liquidatie verminderen.
Let op: de bonus kan niet worden opgenomen, maar de hiermee gegenereerde winst kan wel worden opgenomen.
Wat is Bexplus?
Bexplus, opgericht in 2017, is een toonaangevend platform voor crypto-derivaten, geaccrediteerd door MSB (Money Services Business). Het hoofdkantoor van Bexplus is gevestigd in Hong Kong met daarnaast vestigingen in onder andere Singapore, Japan, de Verenigde Staten, Brazilië.
Bexplus heeft het vertrouwen gewonnen van meer dan 1 miljoen gebruikers uit meer dan 200 landen en regio's. Momenteel biedt Bexplus permanente contracten voor BTC, ETH, ADA, XRP en DOGE met een hefboomwerking tot 100 keer.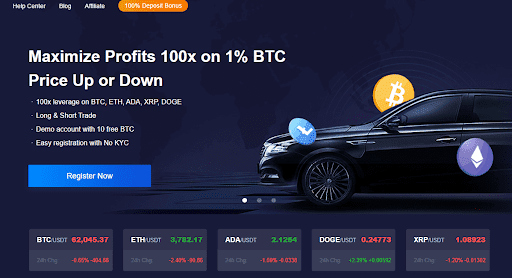 Wat zijn de voordelen van Bexplus?
Geen KYC – je hebt alleen een e-mail nodig om je aan te melden en hoeft geen andere persoonlijke informatie te delen;
100x hefboomwerking – je kunt long of short gaan en winst maken, ongeacht of de markt omhoog of omlaag gaat;
BTC wallet – een bitcoin portemonnee met een rentepercentage op jaarbasis van maximaal 21%, speciaal ontworpen voor lange termijn hodlers en bullish bitcoin investeerders;
Een simulatie account voor beginners – met onbeperkte stortingen kun je zonder risico vertrouwd raken met het platform, je handelsvaardigheden verbeteren en handelsstrategieën formuleren.
Op elk moment opnemen of storten – zonder enige tijdslimiet en zonder aanbetaling;
7/24 uur een-op-een service – los jouw problemen op elk moment op.
Klik hier om je te registreren om je stortingsbonus van 100% te ontvangen.
---
Bovenstaand artikel is een ingezonden stuk en valt buiten de verantwoordelijkheid van Crypto Insiders. Dit is geen financieel advies.