Onderstaand artikel is een ingezonden stuk en valt buiten de verantwoordelijkheid van Crypto Insiders. Dit is geen financieel advies.
---
De hele crypto-markt staat opnieuw in het rood, en de totale marktkapitalisatie is onder $1,1 biljoen gedaald. De Fear and Greed index van crypto komt nu weer in het gebied van extreme hoge angst binnen. Ethereum (ETH) en cardano (ADA) daalden in de afgelopen 24 uur wederom met zo'n 15%.
De bitcoin prijs ligt momenteel rond $24.000, een daling van maar liefst 20% ten opzichte van drie dagen geleden, toen Amerikaanse inflatiecijfers hoger uitpakten dan verwacht werd. Men vreest dat de prijzen nog dieper kunnen vallen in de komende maand waardoor aanzienlijke bedragen zullen wegvloeien. Desondanks suggereren verschillende factoren dat nu het beste moment is om de dip te kopen.
Redenen voor verdere verliezen van risicovolle activa
Volgens het ministerie van Arbeid is de consumentenprijsindex in mei met 8,6% op jaarbasis gestegen, vergeleken met 8,3% in april. De markt had een stand van 8,1% voorspeld. In de Verenigde Staten heeft de inflatiedruk de Federal Reserve ertoe aangezet om de rente sneller te verhogen, wat wijst op extra verliezen voor risicovolle activa. De prijs van bitcoin kelderde al naar $24.000, met de mogelijkheid voor meer dalingen.
Extreme angst en hebzucht voor bitcoin
De volatiliteit maakt de crypto-markt en particuliere beleggers bezorgd over de toekomstige prijs van het grootste digitale activum. De huidige bitcoin prijs ligt 65% lager dan het hoogste punt ooit van $69.000 vorig jaar.
Bovendien heeft de recente daling van BTC ook de rest van de crypto-markt onder druk gezet met een uitstroom van meer dan $1,5 biljoen. Er zijn toenemende zorgen dat we een nieuwe 'crypto-winter' ingaan vergelijkbaar met die van 2018. Hierdoor heeft de Fear and Greed index voor bitcoin een recordhoogte bereikt.
De hebzuchtindex geeft aan dat de markt "heet" zou moeten zijn
Warren Buffett zei ooit: "Wees hebzuchtig wanneer anderen bang zijn". Bij het analyseren van het huidige sentiment van de Bitcoin-markt, wordt vaak de fear and greed index gebruikt met een meting tussen 0 en 100. Nul betekent 'extreme angst', terwijl 100 'extreme hebzucht' betekent.
Wanneer beleggers te "hebzuchtig" worden, betekent dit dat de markt zich zal aanpassen, en wanneer de index wijst op "extreme angst", illustreert dit dat beleggers te bezorgd zijn. Maar het geeft ook aan dat het mogelijk een goede kans is om bitcoin te kopen. Slimme beleggers kunnen marktsignalen nauwkeurig identificeren en elke investeringsmogelijkheid aangrijpen. Zo kan deze grote daling ook kansen met zich meebrengen.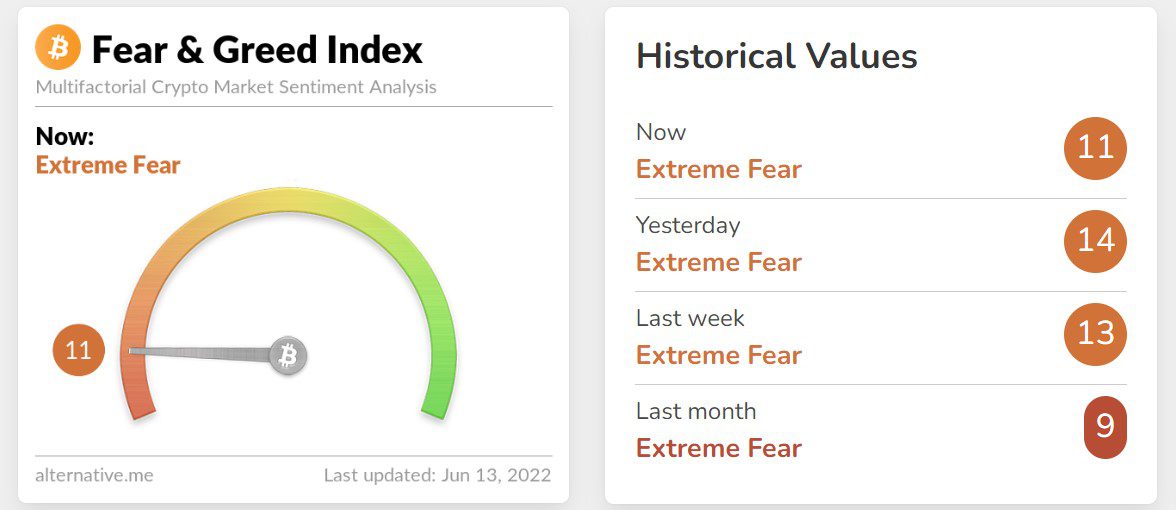 De beste tijd voor bitcoin investeringen
Sinds het bereiken van het hoogste punt ooit van $69.000 op 10 november vorig jaar, is BTC gedaald tot ongeveer $24.000, een daling van 65%. Met andere woorden, als je een bitcoin op de spotmarkt kocht voor $69.000, is jouw vermogen met 65% gekrompen. Zelfs als bitcoin weer herstelt, zal het moeilijk zijn om op de korte termijn winst te maken.
Er zijn echter nog steeds enkele handelaren die meer dan 1.000% rendement behalen in zo'n extreme markt. Ze gebruiken dan een van de meest populaire beleggingsmethoden: futures-handel met leverage van 100x.
In de traditionele spotmarkt kan je alleen kopen en wachten op een stijging om winst te maken. In futures-handel met 100x leverage, of hefboomwerking, kun je ofwel kopen (long gaan) of verkopen (short gaan). Dat betekent dat je winst kunt maken, ongeacht of de markt stijgt of daalt. Bovendien heb je dan de mogelijkheid voor leverage van 100x om jouw winst te vergoten. Houd er rekening mee dat dit natuurlijk ook de risico vergroot.
Hoe werkt 100x leverage?
Met een hefboomwerking van 100x kunnen handelaren 1 BTC gebruiken om een positie van 100 BTC te openen door long te gaan (je voorspelt dat de BTC prijs stijgt) of short te gaan (je voorspelt dat de BTC prijs daalt). Als we 1 BTC gebruiken om een long contract te openen tegen de prijs van $24.000 en dit sluiten wanneer bitcoin naar $30,000 stijgt, dan zal onze winst ($30.000 – $24.000) * 100 BTC / $ 30.000 = 20 BTC zijn, wat de ROI van 1.900% oplevert.
Aanbevolen handelsplatform met 100x leverage
Bexplus is een toonaangevend handelsplatform voor crypto-derivaten dat 100x leverage in futures op verschillende handelsparen aanbiedt: BTC, ETH, ADA, DOGE, XRP, enz. Bexplus vereist geen KYC en is populair bij meer dan een miljoen handelaren uit meer dan 200 landen en regio's. Bovendien is het geaccrediteerd door de Amerikaanse FinCEN Money Services Business (MSB).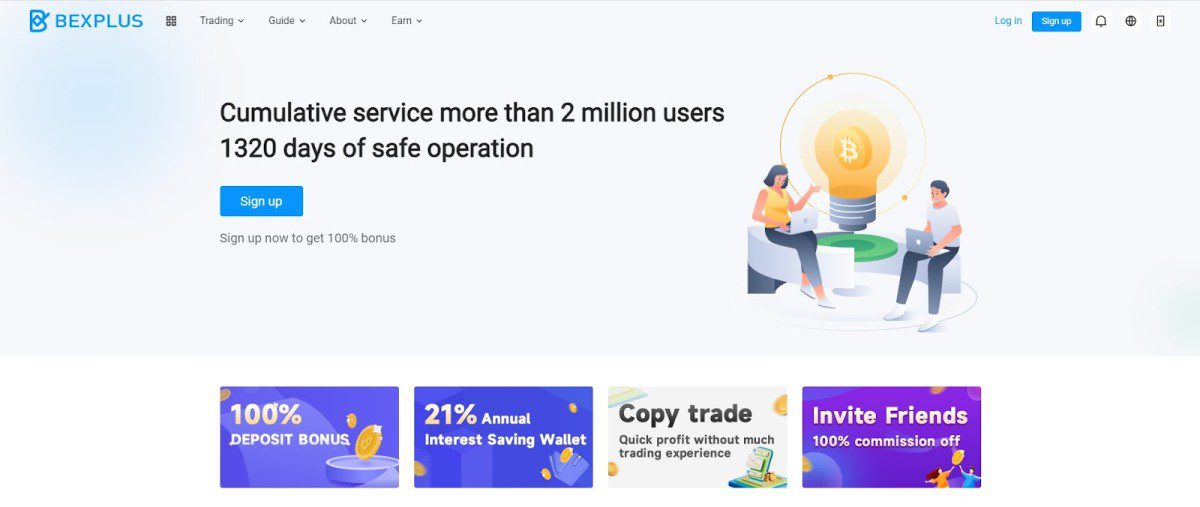 Andere opvallende kenmerken van Bexplus:
Demo account met 10 BTC voor handelaren om vertrouwd te raken met leverage.
100x leverage wordt aangeboden maximale winsten te behalen.
Copy-trading wordt aangeboden zodat superieure handelaren winst voor je kunnen maken.
Een bitcoin-wallet met een jaarlijkse rentepercentage van maximaal 21%.
Geen KYC-vereiste, registratie met e-mailverificatie binnen enkele minuten.
Intuïtieve en complete app in de Apple App Store en Google Play.
7/24 uur een-op-een service om jouw problemen op elk moment op te lossen.
Snelle opname zonder enige tijdslimiet en zonder aanbetaling.
Ook deze marktinzinking biedt overal kansen. Slimme beleggers weten altijd het juiste moment te grijpen om de markt te betreden. Mis de beste tijd om te profiteren niet! Klik hier om je te registreren en jouw 100% bonus te ontvangen!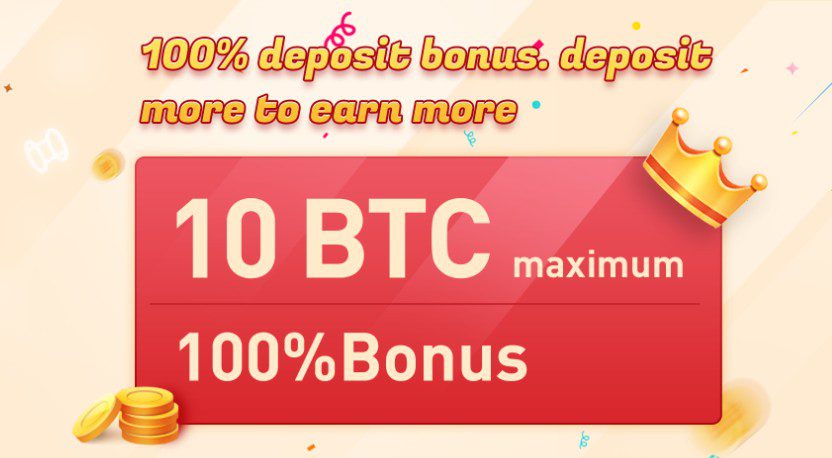 ---
Bovenstaand artikel is een ingezonden stuk en valt buiten de verantwoordelijkheid van Crypto Insiders. Dit is geen financieel advies. Beleggen brengt risico's met zich mee. Raadpleeg altijd een adviseur bij het maken van financiële beslissingen.