De cryptocurrencymarkt zit in een flinke dip nadat investeerders hun activa uit paniek hebben verkocht door de Amerikaanse aandelenmarkt en het rentebeleid van de FED. De koers van bitcoin (BTC) viel van $39.500 naar $35.500 in slechts 6 uur. Deze daling heeft er meteen voor gezorgd dat de stijging tot 5 mei teniet werd gedaan. Deze daling had ook als gevolg dat veel mensen bezorgd werden.
Rentebeleid
FED houdt een BTC stijging tegen.
Op 4 mei, nadat de voorzitter van de Fed, Jerome Powell, had aangegeven dat het niet waarschijnlijk is dat de rente boven de 75 basispunten verhoogd zal worden, schoot BTC vrijwel direct naar $40.000 voor een korte periode. Toch gaf Powell aan dat een verhoging van 50 basispunten besproken zal worden bij volgende vergaderingen om zo de focus weer te leggen op het verlagen van de inflatie naar 2%. Echter door de agressieve verwachtingen van de Fed en macro-economische situatie zou BTC zelfs terug kunnen zakken naar $32.900, ofwel het laagste punt sinds 24 januari.
Positieve Correlatie tussen aandelen en BTC 
De aandelenmarkt zag ook flinke rode cijfers op 5 mei als reactie op de aankondiging van de Fed. Waar de Dow met 1.120 punten daalde, ofwel 3,3%, viel de S&P 500 met 3,7%. De Nasdaq daalde met 5,2%. Dit is de hardste daling sinds 2020. Deze dalingen geven duidelijk aan dat de aandelenmarkt flinke invloed heeft op de besluiten van de Fed. Hogere rentetarieven kunnen ervoor zorgen dat technologie aandelen minder interessant worden aangezien het de waarde van toekomstige inkomsten van investeerders kan verminderen. Obligaties met een hoger rentetarief of andere veilige investeringen, zoals goud, worden steeds interessanter tegenover activa zoals aandelen en cryptocurrencies. 
Uit de statistieken van CryptoQuant blijkt dat de S&P500 en BTC ongeveer gelijk bewegen en hun positieve correlatie een nieuwe piek heeft bereikt in 2022, wat betekent dat de uitverkoop op de aandelenmarkt ook de BTC-prijs kan beïnvloeden.

Technische analyse
Op de dagelijkse grafiek zien we dat BTC onder een sterke steunlijn op $37.000, die is gevormd sinds januari, breekt. BTC is op het moment aan de onderkant van de Bollinger Bands aan het traden. Het lijkt er ook niet op dat BTC eerdaags nog een correctie naar boven zal maken. Ook zien we dat de BTC koers onder de 23,6% fib retracement level is gezakt, de MACD zakken onder de nul en de RSI is ook onder de 50 gezakt. Alle technische indicatoren voorspellen slecht weer. Op de korte termijn zal BTC dus verder naar beneden kunnen zakken, zelfs richting de bodem van januari die op $32.900 staat.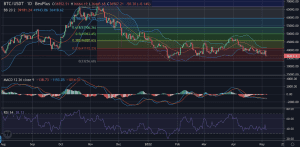 Hoe overleef ik een BTC bear markt?
Ondanks de dalende koers zijn er handelaren die meer dan 1000% winst hebben weten te maken. Maar hoe deden zij dit dan? Om daar antwoord op te geven moeten we eerst kijken naar een van de meest populaire manieren om te investeren, namelijk crypto futures trading met een hefboom van 100x. In een bear markt kunnen traders deze hefboom gebruiken om hun winsten te maximaliseren. Bexplus is een op bitcoin gebaseerde futures exchange waarbij BTC, ETH, ADA, DOGE en XRP perpetual futures contracten met 100x hefboom worden aangeboden. Hierbij kan een handelaar zowel geld verdienen als de koers stijgt, maar ook als deze daalt.
Zo kan je bijvoorbeeld een short positie, hierbij wed je op een prijsdaling, openen van 1 BTC wanneer de koers op $36.500 staat met een hefboom van 100x. Wanneer de koers van bitcoin dan daalt naar $33.000 maakt de investeerder winst. De winst is dan ($36.500 – $33.000) * 100 BTC/$33.000 *100% ≈ 10,6 BTC, wat een ROI van 1060% geeft.
Schrijf je in bij Bexplus en winsten van top traders 
Bexplus is een veilig platform, geaccrediteerd door de U.S. FinCEN MSB (Money Services Business). De onderstaande functionaliteiten zorgen ervoor dat Bexplus een prachtig platform is binnen de cryptocurrencymarkt.
Wanneer je BTC in je Bexplus account stort kan je gebruik maken van een 100% BTC bonus. Deze bonus kan ook gebruikt worden om futures contracten te verhandelen. Dat betekent dat als je 1 BTC stort, je 2 BTC in je account krijgt. Hoe meer je stort hoe meer bonus je krijgt. Je kan maximaal 10 BTC bonus krijgen. 
Bexplus biedt de unieke copy trading optie voor beginnende traders om een echte veteraan te worden. Gebruikers kunnen ervoor kiezen om top traders te volgen die bewezen hebben veel geld te kunnen verdienen in de markt. Hierbij heeft de gebruiker alsnog de mogelijkheid om zelf winst te nemen of een stop loss in te stellen wanneer zij dit zelf willen. 

21% rente op je BTC Wallet
Bexplus helpt gebruikers bij het maken van winst door simpelweg BTC te bezitten. In de BTC wallet krijg je tot 21% rente per jaar zonder enig extra risico
Andere Bexplus voordelen:
Demo account

met 10 BTC om mee te kunnen oefenen zonder risico.

Geen KYC, enkel een e-mail registratie.

24/7 1-op-1 klantenservice.

Snel geld opnemen zonder tijdslimiet en zonder kosten bij het storten.
Bexplus is een goed trading platform en is door zowel beginners als ervaren traders te gebruiken. Klik hier om een account aan te maken op Bexplus en de bonus van maximaal 10 BTC te claimen.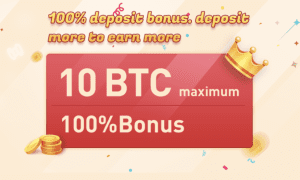 ---
Bovenstaand artikel is een ingezonden stuk en valt buiten de verantwoordelijkheid van Crypto Insiders. Dit is geen financieel advies.